Nothing beats the aroma of a freshly baked pizza right from a wood-fired pizza oven. Running a pizzeria will require you to get the right equipment that will last. With a wood-fired pizza oven, you are on the right path to making restaurant-quality pizzas. The aroma and taste of your pizza would be different from those baked with an electric oven.
We tested several models and selected these ten models as the best wood-fired pizza ovens. Here you will find our honest and unbiased reviews on the products chosen. Be rest assured that the suggestions in this review have been tried and trusted.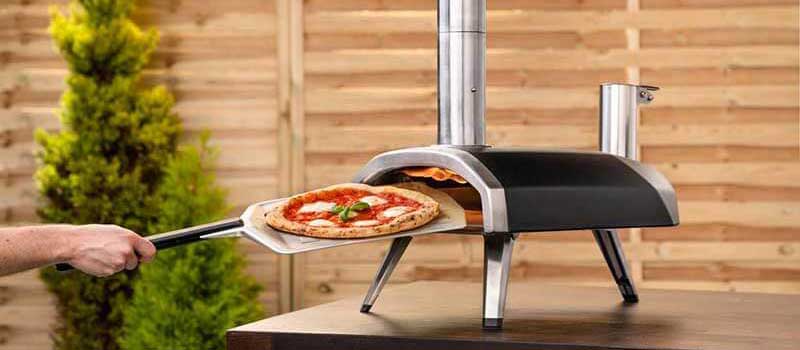 We also include a buying guide and some frequently asked questions to help you choose the right product.
Top 10 Wood-Fired Pizza Ovens
---
Best Wood-Fired Pizza Oven Reviews
---
When it comes to making the perfect pizza, wood-fired ovens are the gold standard. They produce an evenly cooked crust that is slightly charred on the outside and chewy in the center. Here are 10 of the best wood-fired pizza ovens on the market today.
1.

Green Mountain Grill Wood Fired Pizza Oven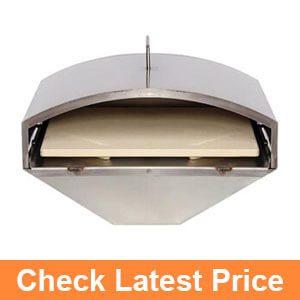 Have you been fascinated about owning a wood-fired pizza oven in your outdoor kitchen for a while now? Green Mountain Grill Wood Fired Pizza Oven will not only provide you with the perfect crispy crust but will add a bit of char flavor to it. You can make a wide variety of pizza, from Neapolitan pizza to Greek pizza, in less than four minutes with this quality wood-fired pizza oven.
Moreover, these best wood-fired pizza ovens didn't come alone – a ceramic pizza stone was added. You only need to get your pellet grill and your dough ready to get started. The housing chamber of this oven pizza enhances heat conductivity and is durable. This model is not just for making pizza alone; you can bake and roast several other foods with this oven.
Although Green Mountain Grill Wood Fired Pizza Oven is designed to work with selected pellet grills, Daniel Boone and Jim Bowie Pellet Grills, it can be fine-tuned to work with other grills: Pit boss, Traeger Pro 22, and Recteq RT-700 Bull.
What We Liked:
Ceramic pizza stone included
Premium quality stainless steel baking chamber
Even heat circulation up to 800 degrees
Bakes restaurant-quality pizzas
What We Didn't Like:
The pizza stone is sticky.
It is compatible with a few grills.
---
2.

KettlePizza Basic 22.5 – Pizza Oven Kit Kettle Grills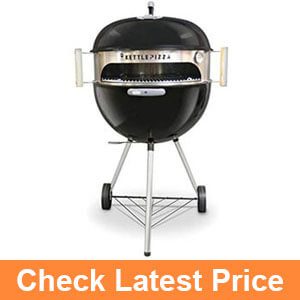 Anyone who owns a kettle grill can buy this model. KettlePizza Basic 22.5 Pizza Oven is specifically designed to work with all kinds of kettle grills and can also be used to prepare other foods when combined with a skillet. It features a laser-machined steel riser sleeve, making fastening the oven to any 18.5-inch or 22.5-inch kettle grill relatively easy.
Fabricated out of a food-grade 20 gauge, 304 stainless steel, this wood-fired pizza oven is one of the portable models in our review. When baking your thin New York pizza or thick Sicilian Pizza, you are assured that your pizzas will come out well-cooked all the time. There is a hole in the pizza oven's side that grants you access to the pizza without you opening the top lid.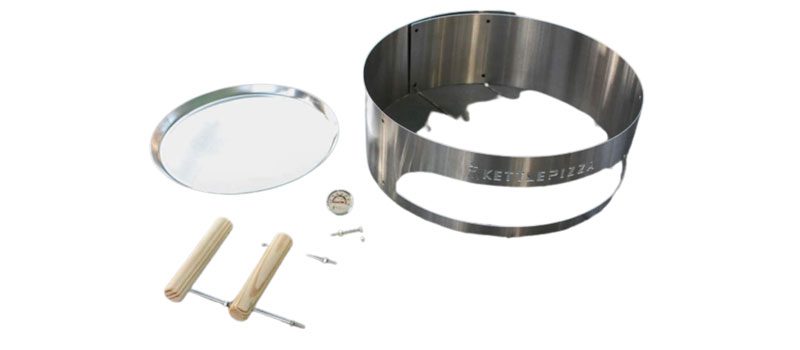 This US-made pizza oven is well built and has a cooking chamber that can hold up to 14-inch pizza. You can double the cooking chamber of this oven by adding a grill grate. Plus, this option comes with a 14-inch pizza pan, a thermometer, and wooden handles. It is well suited with hardwoods and charcoal.
What We Liked:
Versatile
No tool is required for assembling the various parts.
Portable
Easy to clean
Provides you with evenly cooked pizzas
What We Didn't Like:
Only suitable for kettle grills
---
3.

Andmakers Fremont Wood Fired Outdoor Portable Pizza Oven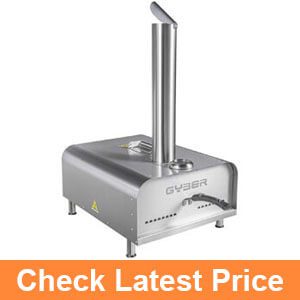 This pizza oven is made of premium food-safe steel and has constructive components that enhance the cooking experience. With this best wood-fired pizza oven from Andmakers, you can bake a 13-inch California pizza on extreme heat up to 700 degrees Fahrenheit in less than five minutes. This oven's heating system is located at the top and bottom of the cooking chamber for uniform results.
This wood-fired pizza oven also functions as a multi-cooker. It comes with five add-ons:
A pizza stone
A pizza peel
A pellet scoop
A pellet burner tray
A detachable door with a helper handle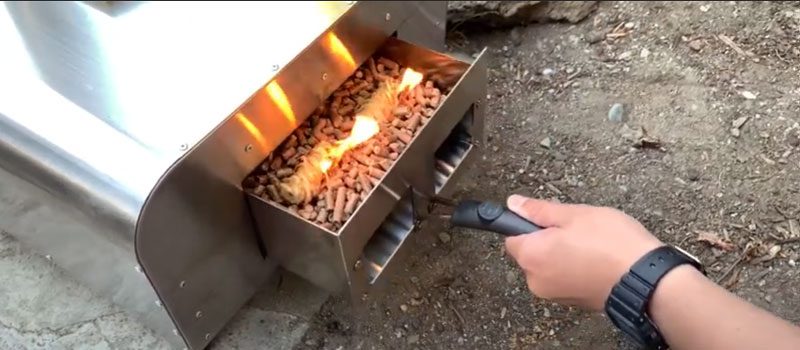 You can prepare quite a several meals with this outdoor oven like steaks, salmon, fish, burgers, and more.
Besides the toppings on your pizza, you can combine different pellet wood flavors to create a unique taste for your Greek pizza. The helper handle stays cool to the touch without using kitchen mitts. With the pizza peel, flipping your pizza as it cooks is easy.
What We Liked:
Heats up rapidly
Ideal for making 13-inch-sized pizzas
Food-safe material used
Includes various attachments
Adds flavor to your beef pizza
What We Didn't Like:
Fueled by only wood pellets
The instruction manual isn't detailed enough for first-time users.
---
4.

Ooni Fyra 12 Wood-Fired Hard Wood Pellet Pizza Oven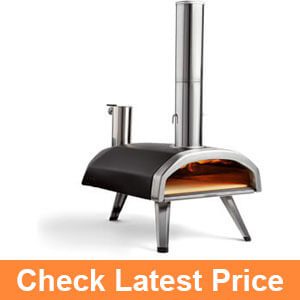 The brand Ooni believes everyone deserves to eat great pizzas and to achieve their aim; they are committed to creating premium quality ovens. This model from Ooni is the successor of the world's first mobile wood-fired pizza oven. The four legs attached to the base are foldable, making it easy to transfer this oven from your indoor kitchen to a camping ground or outdoor kitchen.
One terrific thing about this product is that once you get the hang of how to use and control the heat of this pizza oven, you won't want to let go of it. Ooni Frya 12 Wood Fired Outdoor Pizza Oven is easy to set up and reaches up to 932 degrees Fahrenheit in fifteen minutes. It cooks a wide variety of pizzas ranging from Detroit-style pizza to gourmet pizza in less than two minutes.

You use fewer pellet kinds of wood to prepare your favorite pizza all the time. Plus, this model features a tall wood hopper that constantly supplies the oven with pellets. However, you will need to get the recommended attachments from Ooni separately to enjoy this pizza oven. They include Ooni hardwood pellets, Ooni12-inch bamboo pizza peel or 12-inch perforated pizza peel, and a carry cover for optimum storage.
What We Liked:
Easy to assemble
Heats up to 500 degrees Celsius
Easy to carry around
Sturdy construction
Energy efficient
What We Didn't Like:
---
5.

Forno Venetzia FVP200C Pronto 200 Copper Outdoor Pizza Oven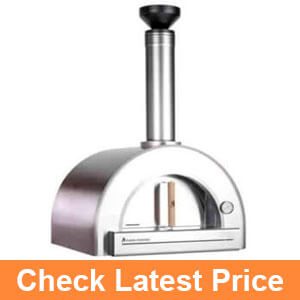 Outdoor kitchens with limited floor space would benefit more from Forno Venezia FVP200C – a suitable pizza oven for countertops. This unit comes with a commercial-grade refractory hearth made of brick and an exterior made of stainless steel. It also includes an integrated temperature gauge, an impressed chimney cap, and a two-year warranty.
This model can be used in baking bread, grilling steaks, broiling meat, and much more. The stainless steel exterior is coated with powder UV paint. This dome-shaped countertop wood-fired pizza oven is ready to be used without any assembling of parts required. It is available in two colors.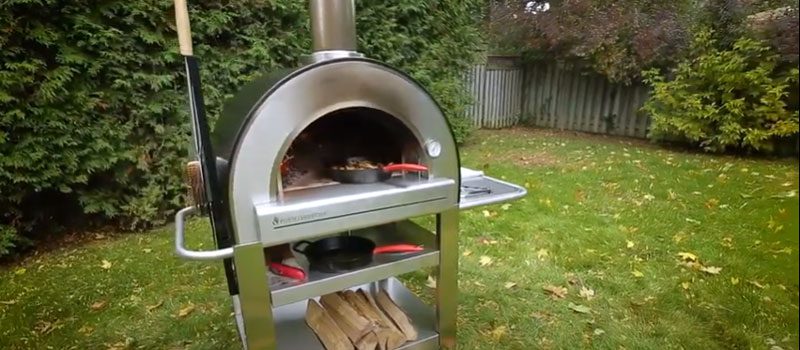 Even better, the brick hearth is surrounded by dual layers of ceramic insulation for uniform heat distribution and retention. The interior space is big enough to hold two individual-sized pizzas in one cooking. Besides, the oven door features a handle made of oak wood. This pizza oven is fueled by wood and takes about 15 minutes to preheat the cooking chamber.
What We Liked:
No assembly of parts required
Fully insulated interior
Large cooking surface
Built-in thermometer
What We Didn't Like:
No storage space for the wood
---
6.

ALFA Cupolino 27″ Wood-Fired Pizza Oven (FTDCUP70)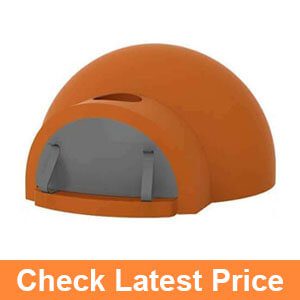 If you are a lover of DIYs and need a compact pizza oven to try out different pizza recipes such as pepperoni, chicken, beef, and a lot more, this is the best pick in our review. This compact pizza oven is packed with a lot of amazing features and is ready to be used.
Alfa Cupolino (FRCUP-L70) was developed by experts in Italy who combined both modern technology and ancient craftsmanship in creating this unique wood-fired pizza oven. With an interior that features high-quality refractory clay, you are assured of maximum heat circulation and retention. Moreover, the base, the door, and the dome-shaped top are crafted out of refractory bricks, offering you uniform heat distribution.
This space-saving model is perfect for small outdoor kitchens and small pizzas. It can hold and cook up to three personal-sized pizzas at the same time. This pizza oven gets to the extreme heat of about 840 degrees in less than half an hour. Besides, this product is easy to install and can be built into your patio or kitchen counters.
What We Liked:
It saves you a lot of space
Can bake three pizzas at once
Lightweight
Heavy-duty construction
Employs a compact flame tech
What We Didn't Like:
---
7.

Wood Fired Stainless Steel Artisan Pizza Oven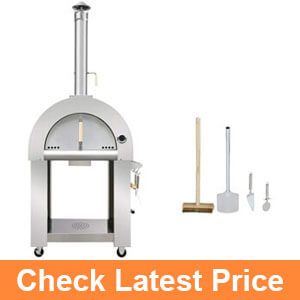 Pizza is one of those fast foods that lots of people never get tired of engaging in. Having a wood-fired pizza oven that is suitable for both indoor and outdoor cooking is a plus for avid eaters. This option from Thor is of top-notch quality. The housing chamber is made from polished 430-grade stainless steel, and the interior features fire brick for even cooking. It is constructed to withstand heavy use and takes five minutes to preheat the cooking chamber.
What's more? Everything you need to make your favorite pizza taste exactly like the one gotten from a restaurant is included. It comes with several attachments, such as a wire broom, a pizza cutter, a pizza turner spatula, a built-in thermostat, a large pizza peel, a pizza stone, and four castors. This wood-fired pizza oven features a temperature setting that ranges from 100 degrees to 800 degrees Fahrenheit.
Three compartments are built at the oven's side for storing the extra attachments when not in use. The large cooking surface is capable of holding up to 3 Neapolitan pizzas at once.
What We Liked:
FSC certified
Extra attachments are included.
Features castor for convenient transporting of the pizza oven
Detachable stand
Displays temperature precisely
What We Didn't Like:
Requires a large space to set up
---
8.

ilFornino Professional Series Wood-Fired Pizza Oven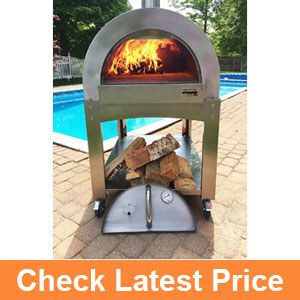 Chefs who run an outdoor kitchen and want an original wood-fired pizza stone should consider buying this option from ilfornoni.
This wood-fired pizza stone is a modified version of ilFornino basic. A few of the major differences made are in the material used and design. The stainless steel has a thicker gauge and features 430 steel with dual insulated walls. It takes 22 minutes to preheat the oven and get it ready to bake your crispy crust.
However, once the pizza oven is preheated, it conserves the heat for a longer period than the basic model. Thanks to the dual insulation. It takes less than two minutes to get your dessert pizza ready. The base of the oven is layered with a refractory pizza stone that has a 1.5-inch thickness. This machine includes a professional pizza peel and a brush. It features four wheels, a regulator gauge, and a wood storage space at the base.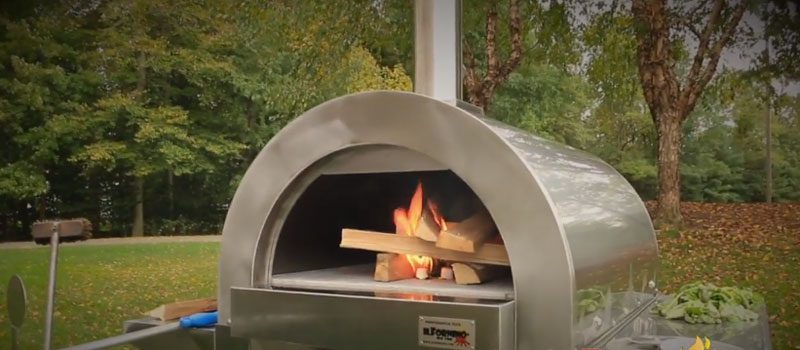 Plus, the cooking surface is approximately 1007 Square inches, which holds up to six mini-sized pizzas or three large-sized pizzas.
What We Liked:
A flat cooking surface
Fully assembled before shipping.
Double insulation
An extra-large cooking surface
The steel has a thicker gauge.
What We Didn't Like:
The chimney is sold separately.
The door handle is made of steel.
---
9.

Harbor Gardens KUK002B Monterey Wood-Fried Pizza Oven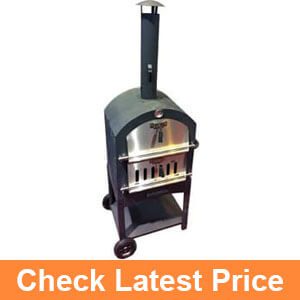 Are you looking for an outdoor pizza oven that does not only run on wood? Harbor Gardens KUK002B Monetary Pizza Oven runs on two different types of fuel. It works with both charcoal and wood. You can preheat the oven with coal, then add some flavored wood before placing the pizza for a distinct taste. The integrated thermometer notifies you of how hot the interior gets.
This pizza oven is ideal for preparing other kinds of meals such as bread, steaks, fish, and more. It features black matte paint, which adds to the longevity of the oven. The interior and exterior of this pizza oven are made from food-grade stainless steel. The added feet keep the oven stable as you use the oven.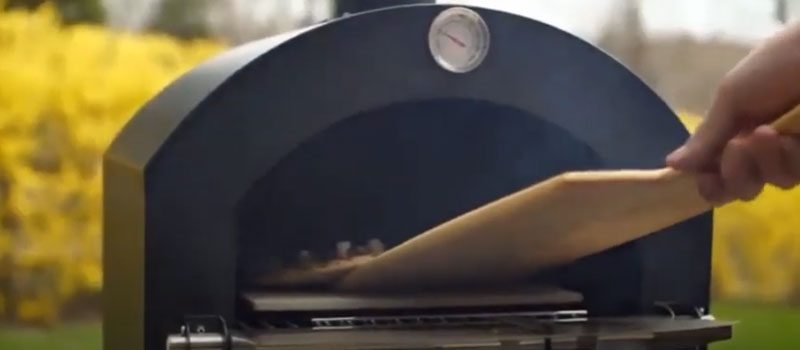 Additionally, this model is one of the best wood-fired pizza ovens that don't require you to break the bank. It features three different compartments. The top compartment is where the pizza is baked, the middle is for the wood or charcoal, and the bottom section collects all the ashes as they drop, offering you an effortless cleaning.
What We Liked:
Different fueling options are available
Easy to clean up
Includes a temperature gauge
Coated with a black matte paint
Heats up rapidly
What We Didn't Like:
Not well suited for daily use
---
10.

Ooni Karu 12 Outdoor Portable Wood-Fired and Gas Pizza Oven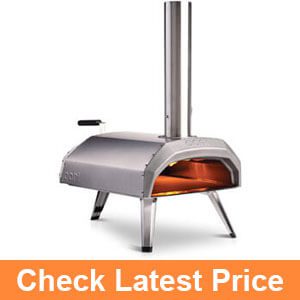 Every pizzaiolo would love to have this premium quality pizza oven in their backyard because of its versatility and portability. Ooni Karu Outdoor Pizza Oven is a perfect addition to your pizzeria or outdoor home kitchen. It is equipped with a patented flame keeper technology that ensures even heat dispersion within the oven. This product makes 12-inch pizzas with a round shape intact and features a tall, thin hopper.
This model allows you to choose between three fueling options. Although you will have to buy the gas burner separately, this pizza oven is designed to be fueled by either wood, coal, or gas. As long as the cooking chamber has been preheated, preparing your thin-crust breakfast pizza or reheating a frozen pizza takes a maximum of one minute.

Although it will take some trial and error before you get the hang of using this oven, this product from Ooni heats up to 500 degrees Celsius. It comes with two openings at the sides—one for refueling and the other for sliding the pizza into the oven.
What We Liked:
Utilizes a flame keeper technology
Highly versatile
Heats up to 932 degrees Fahrenheit
Sturdy construction
The legs are foldable.
What We Didn't Like:
Features no wheel
The gas burner doesn't come with the pizza oven.
---
What You Need To Know When Buying A Wood-Fired Pizza Oven
If you are having issues selecting the best wood-fired pizza oven from the seas of available products, this buying guide will help you with the factors to pay more attention to when choosing.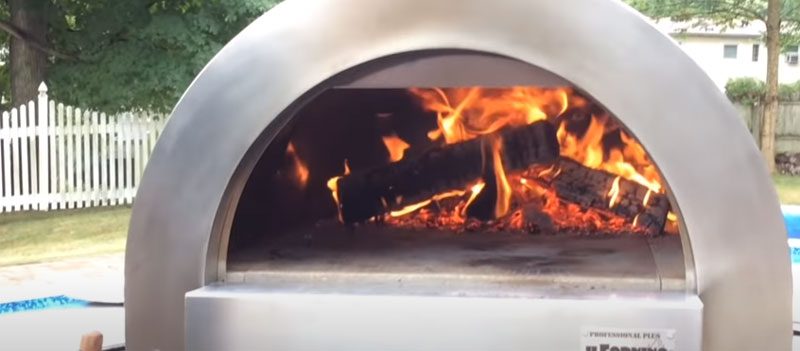 Design
Will you rather settle for a pizza oven that is portable or built-in? The design of every wood-fired pizza oven varies based on the brand. Some are easy to wheel around from one location to another, while others are fixed in a permanent space. However, whichever design you settle for, ensure it meets your needs.
Cooking Capacity
The bigger the pizza oven, the more pies it can hold. The number of people you want to cater to will determine the cooking capacity you settle for. If you often cook for a large crowd or you run a pizzeria, a large pizza oven is what you need.
Construction
For your pizzas to cook evenly, you will need a pizza oven that distributes and retains heat without creating hot spots. Most wood-fired pizza ovens come with stainless steel housing because of how well they retain heat.
The material used in constructing the interior cooking surface also differs. Some are layered with ceramic, and others come with bricks that have refractory elements.
How To Use A Wood-Fired Pizza Oven And Covering?
Understanding how a wood-fired oven works will help you achieve better results. A wood-fired pizza oven is easy to use. Before you start making your pizzas, you will need to preheat the interior for some minutes before placing the pizza stone, and then your pizza dough follows suit.
After using the oven, it is essential to keep the pizza oven dry at all times. A protective cover will extend the life shelf and safeguard the oven from all kinds of weather conditions and harmful UV rays. It protects the pizza oven from snow, dust, rain, and pollen. The protective cover can also be used as a case for transporting the pizza oven.
---
Frequently Asked Questions and Answered
---
What is the perfect temperature for making pizza in a wood-fired pizza oven?
There are different types of pizza, and because of the texture and crust shade, there is no perfect temperature. However, the temperature of the wood-fired oven will determine the cooking time.

No matter how thick or thin the pizza crust is, the ideal temperature for making pizza in minutes ranges from 436 degrees to 485 degrees Celsius. A Sicilian pizza will take a longer cooking time than a Neapolitan-style pizza depending on the crust shade you want.

No matter how thick or thin the pizza crust is, the ideal temperature for making pizza in minutes ranges from 436 degrees to 485 degrees Celsius. A Sicilian pizza will take a longer cooking time than a Neapolitan-style pizza depending on the crust shade you want.
Can I Cook Other Things in a wood-fired Pizza Oven?
Yes, you can cook a wide variety of foods in any of the best wood-fired pizza ovens reviewed in this list. The wood-fired flavor improves the taste of your vegetables, steaks, seafood, and even bread.

Moreover, even after you finish making your pizzas, the cooking chamber remains hot and can be used to roast chicken, and grill steaks, among others.
What Makes a Wood-Fired Pizza Oven Different from Pizza Ovens?
Aside from the type of fuel used, which is wood, there are a few things that differentiate this pizza oven from others. A wood-fired pizza oven heats faster than an electric or gas pizza oven. It uses both indirect and direct heat to cook. Also, the pizza tastes differently from others, depending on the type of wood used.
What type of wood is suitable for a wood-fired pizza oven?
There are several types of wood, and not all are safe to use in a pizza oven. Some woods emit toxic chemicals that are harmful to human health. The woods suitable for wood-fired pizza ovens are beech, oak, maple, walnut, ash, hickory, almond, apple, and birch.
Why is my wood-fired pizza oven smoking?
One of the primary reasons your pizza oven will emit smoke is using the wrong type of wood. To prevent your pizza oven from smoking, make use of dry hardwoods and not Greenwoods.
Conclusion
Right from your backyard, you can make Greek pizzas that will beat anything you buy from a pizzeria. The best product in this review is Wood Fired Stainless Steel Artisan Pizza Oven. It comes with the perfect attachments to get you started on your pizza journey.
However, any of the options on our top 10 best wood-fired pizza ovens list is ideal for both home use and commercial ventures.