The thought of a pizza with a sumptuous crispy crust is enough to make your mouth water. However, you don't have to always go to your favorite restaurant just to experience quality, restaurant-grade pizza, thanks to the electric pizza oven.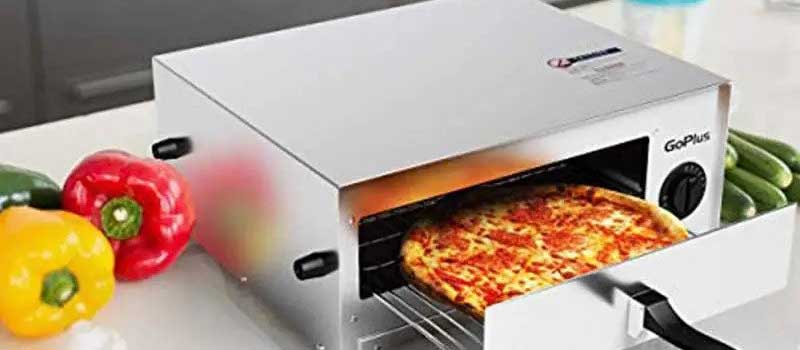 The modern man can now cook their favorite pizza in minutes and enjoy the magical taste of a homemade pizza. But first, you need to purchase a very good oven to ensure palatable results.
Sadly, there are hundreds of options out there, which makes choosing the best electric pizza oven overwhelming and challenging. Luckily, in this post, I'll discuss the top five electric pizza ovens to guide you in making a smart investment.
Top 5 Electric Pizza Ovens for Home
---
Best Electric Pizza Ovens Reviews
---
1.

Bakers Pride HearthBake Electric Counter Top Pizza Oven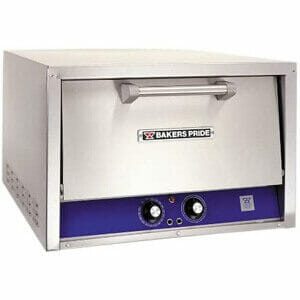 The Bakers Pride P44-BL brick-lined electric countertop pizza and pretzel oven is an improved version of the P-44S electric countertop pizza and pretzel oven. It offers top heat intensity, increased production, and excellent speed recovery.
This model comes with an independently-controlled baking chamber featuring a Cordierite ceramic hearth baking deck. This unique design makes this oven suitable for baking flatbreads, pretzels, baking pizza, and other bakery products.
This electric countertop oven is a go-to for baking directly on your baking sheets, bun pans, or hearth deck. Bakers Pride P44-BL brick-lined electric countertop pizza and pretzel oven is fully insulated: a heat-tolerant, aluminized steel on the interior and a heavy-gauge type 430 stainless steel on the exterior to deliver superior heat retention and an easy cleaning experience.
What's more?
This appliance is equipped with three Incoloy tubular elements to deliver even heat distribution from the top and bottom between 284 – 690 degrees F. This unit sports a 15-minute electric timer with a continuous ring timer and manual shutoff, including 4-inch adjustable legs.

Even better, the 3,600W pizza oven has a tubular stainless steel door handle for easy access to the food. Plus, removing the Cordierite hearth decks is a breeze for replacement or cleaning.
Additional Specification
Best For: Fresh-dough pizza
Temperature Range: 300–650°F
Dimensions: 26 x 28 x 17 inch
Baking time: 15-minute
Baking Chamber: Single
Strengths:
Easy to maintain
Even heat distribution and excellent heat retention
Durable construction
Digital electronic timer
Weaknesses:
---
2.

Hamilton Beach (31334) Electric Toaster/Pizza Oven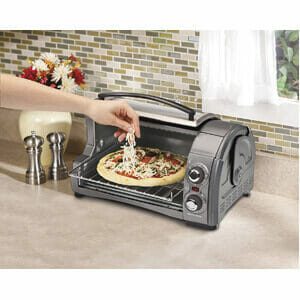 The first thing I love about Hamilton Beach (31334) Pizza Oven is its unique Roll-Top Door hardly found anywhere else. This unique design offers easy access to your food. That's not the only benefit of this large opening.
The Roll-Top Door design opens above the appliance, which helps free up more countertop space in front and makes maintenance a breeze since food won't spill on the door. With its spacious interior, cooking your family-sized meals is no trouble.
With three cooking settings and a 4-slice toast capacity, this model can handle everything from mouthwatering roasted vegetables to broiled fish and crispy toast. This pizza masker has two rack positions to allow you to fit a wide variety of food, based on their shape and size.

Like our top choice, Hamilton Beach (31334) Pizza Oven is equipped with a 30-minute timer with auto-shutoff.
Also, it comes with an optional stay-on setting to allow users to bake their pizza for a little longer. Furthermore, it comes with a removable crumb tray for easy cleanup, an oven rack, and a baking pan.
Again, this toaster oven offers broil, bake, and toast functions to allow cooking a wide variety of foods besides pizza.
Additional Specification
Best For: Countertop space
Color: Gray
Dimensions: 13.6 x 17.6 x 10.6 inches
Capacity: 4-slice
Material: Stainless Steel
Strengths:
Easy access to food and countertop
Bake, broil, and toast functions
Optional stay-on setting and 30-minute timer with auto-shutoff
Easy cleanup
Weaknesses:
The Roll-Top door design makes it easier to forget to close it or turn the appliance off.
---
3.

Betty Crocker BC-2958CR Metal Pizza Maker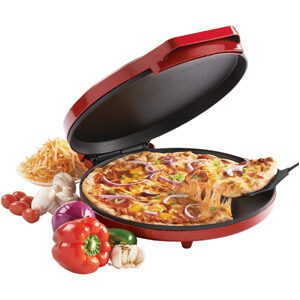 If you want a fun, fast, and energy-efficient way of creating flatbread or homemade pizza with fresh toppings, I suggest the Betty Crocker BC-2958CR Pizza Maker. Regardless of whether you're starting with a frozen pie or fresh dough, this pizza maker will deliver a 12-inch pizza with a deliciously crispy crust always.
Here's more.
The appliance is an ideal choice for people who need to make quick meals and creative snacks. I find it interesting that this pizza maker is also perfect for a wide range of foods, including hors d'oeuvres, giant cookies, quiches, croissants, nachos, mini frittatas, quesadillas, and more.
More so, it's equipped with a self-regulated thermostat to ensure this appliance offers a golden, crispy perfect pizza crust every time. It sports an illuminated Power On and Ready-to-Bake indicator lights to notify users when to add their favorite ingredients.

This model features a sturdy construction and compact design, which allow you to tuck away the pizza maker when not in use. Talking about smart storage, its cord-warp simplifies storage and keeps things clutter-free.
On top of that, its baking plate features are enameled with a nonstick material for easy food release, the right crispy level, and a hassle-free cleaning experience.
Additional Specification
Best For: Bake 12″ Homemade or Frozen Pizza
Temperature: Medium temperatures
Dimensions: 13.78 x 15.87 x 5.04 inches
Power: 1440 Watts
Baking Surface: Non-Stick
Strengths:
Perfect for baking a 12-inch homemade or frozen pizza
Feature power-out and ready-to-bake indicator light
Nonstick baking surface
Easy to clean up
Weaknesses:
Lacks a temperature function
---
4.

Continental Electric PS-PO891 Countertop Pizza Oven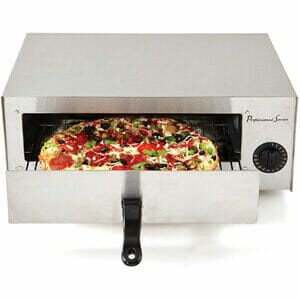 If you want to cook up a 12-inch pizza in less than 15 minutes, Continental Electric PS-PO891 Pizza Oven is a go-to. This model is great for your door room, kitchen, tailgating parties, and camping.
This appliance comes with a 30-minute timer to notify home cooks when the food is ready. Continental Electric PS-PO891 Pizza Oven features an adjustable heat control offering users total control for a perfect taste.
Here's more: it's built not only to cook pizza but also large cookies, quesadillas, and more. This model features a removable pull-out crumb tray to make cleaning this unit hassle-free.
With Continental Electric PS-PO891 Pizza Oven, preheating takes only a few minutes, which makes it an ideal choice for anyone looking to make a quick breakfast in this fast-paced world.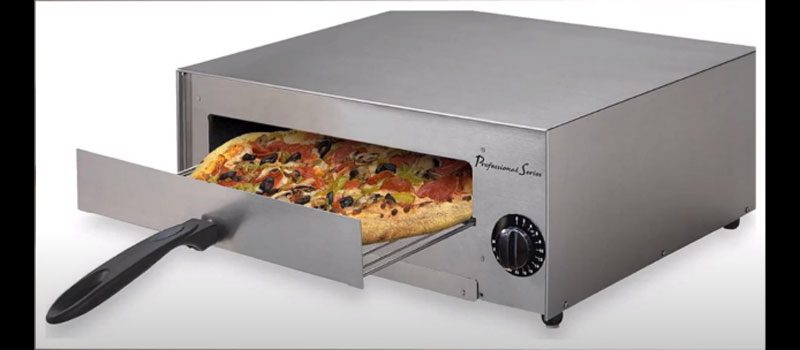 To ensure even baking, this model has top and bottom heating elements. This professional series features stainless steel construction for extra durability. It features a cool-touch handle for easy and safe food retrieval. Also, it heats up to 460 degrees F, which is enough for cooking up pizza and other bakeries.
Additional Specification
Best For: Door room, Kitchen & Camping
Temperature Range: 430-460 degrees
Dimensions: 24 x 18 x 15 inches
Baking time: 8-10 Minutes
Power: 1450 Watt
Strengths:
Durable stainless steel construction
Removable, pull-out crumb tray
30-minute timer
Cool Touch handle
Weaknesses:
---
5.

Goplus Stainless Steel Electric Pizza Oven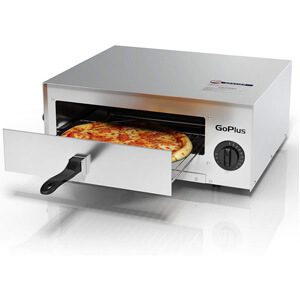 The Goplus Stainless Steel Pizza Oven is designed to fit a sizeable 12-inch pizza. It's arguably the best professional electric pizza oven featuring a compact and sleek design to fit your office or kitchen countertop.
This oven also comes in handy for baking delicious cooking, cheese bread, egg rolls, chicken fingers, and other snacks. Keep in mind that this unit isn't ideal for baking greasy food. This pizza oven is equipped with a heat-insulated material to allow users to take out the tray without burning their fingers.
Besides, this appliance sports an automatic shutoff timer offering more control over the baking process based on the food. Plus, it helps avert burning your pizza. Goplus Stainless Steel Pizza Oven only features one easy-to-use turning knob, which is suitable for novice cooks. With its high-quality stainless steel construction and removable crumb tray, this oven is easy to clean.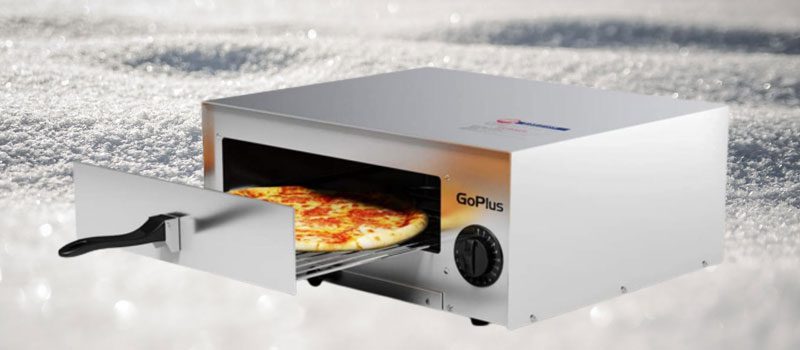 If you are on a medium budget, the Goplus Stainless Steel Pizza Oven is one of the best electric pizza ovens in this range. Note, that this product is not on the high-end side of this review, but it's not the lowest either.
Additional Specification
Best For: Office or Kitchen Countertop
Frequency: 50-60 HZ
Voltage: 120 V
Baking time: 8-12 minutes
Power: 1450 Watt
Strengths:
Heatproof handle
Drawer-type baking tray
Dual heating element
Stainless steel construction
360°air circulation
Weaknesses:
Not ideal for baking greasy food
---
What is an Electric Pizza Oven?
An electric pizza oven, as the name implies, is a cooking tool for baking pizza using electricity to produce heat.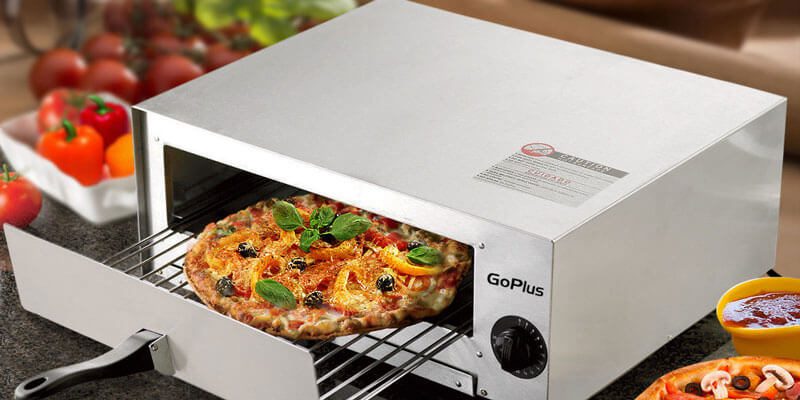 Typically, these modes are smaller and more portable than most other types out there. These electric models feature hot plates made of stone, a suitable material to bake your pizza to perfection. These ovens, like other options, attain high temperatures for ideal pizza baking.
Things to Consider When Purchasing an Electric Pizza Oven
Generally, these electrical models are more compact, energy-efficient, and convenient than the classic wood-fired pizza ovens.
So, before opting for any pizza oven, it's essential to consider the following factors:
Type of Pizza
Before setting your heart on any model, you need to determine the kind of pizza you want to make. Some pizza ovens are designed to make certain dishes, such as deep-dish pizzas. However, some models are more versatile than others, which allows users to make more than regular pizzas. Therefore, the ovens that best suit you depend on what you intend to make with them.
Usage
If you want to make your everyday cooking a bit more fun, then you should consider pizza makers on the cheaper side with a couple of features. But for those who want to cook large servings for their guests, friends, and family without taking all day in the kitchen, it's best to opt for a pizza maker that can keep the food coming quickly.
Features
These appliances are built to offer a vast range of functionality. Therefore, it's crucial to check their capability before splurging on a model. Pizza ovens with more features are more attractive picks. However, these features might not be needed for everyday cooking, and it won't be a smart decision to pay for features you won't be using at all when baking.
Price
Pizza makers are available in a wide price range, making it wise to set a budget, which narrows down the endless options of pizza ovens. Plus, it helps you get the best bang for your buck without having to go through hundreds of models.
User-friendly
For wannabe cooks in the pizza-baking game, it's best to consider models that are very user-friendly. But for seasoned cooks, the robust options might suit you better. Also, these products make baking faster and easier.
Size
In most kitchens, counter space is expensive and compels you to be particular about the pizza maker's size to purchase. Pizza ovens can be massive and challenging to keep on your expensive counter.
So, it'd be best to measure your available counter space before heading out to purchase the best electric pizza oven out there. This way, you don't end up with a machine that's too small or too big.
Product Feedback
Always remember to check out other people's experiences with the pizza oven you are eyeing. Reviews give you an insight into how durable, functional, and easy to use the product is. Also, it would be best if you didn't take one person's word for it. Sometimes, the bad reviews result from misuse, while the 5-star reviews are paid writeups to allure buyers to settle for the product.
How to Use an Electric Pizza Maker?
Of course, there are different models of countertop electric pizza ovens. However, they feature almost the same operating mechanism.

You start by plugging in the appliance and setting your preferred temperature. Bear in mind that some pizzas are best cooked at lower temperatures – others at higher settings.
Once the pizza appliance attains your preferred temperature, place it inside the oven – your uncooked pizza with your favorite toppings, and set the ideal cook time. In a matter of minutes, your pizza should be ready and entirely made to your own taste and flavor.
---
Electric Pizza Maker Questions & Answered
---
Are electric pizza ovens worth it?
Electric pizza ovens can be a great investment for people who love to cook and eat pizza. For many, the convenience of not having to preheat a stove or oven is worth the price.
Can you cook other things in an electric pizza oven?
Yes, you can cook other things in an electric pizza oven. You can use the bottom heating element to bake anything that doesn't require constant attention or a lid.
Can you bake bread in an electric pizza oven?
Yes, you can bake bread in an electric pizza oven! The best way to do this is to preheat the oven to 400 degrees Fahrenheit and then place the dough on a baking sheet. Bake for about 10 minutes, or until you see that it has risen and is golden brown.
Do you need exhaust for an electric pizza oven?
No, an electric pizza oven does not require exhaust.
Conclusion
There's no one-fits-all pizza oven. This means we all have our preferences and needs when it comes to cooking a sumptuous pizza with a delicious crispy crust. Some people prefer small indoor electric pizza makers, while others want a large oven.
Luckily, we have reviewed some of the best electric pizza ovens to help you make a smart decision. But suppose you're in a rush or having issues deciding after checking out our buying guide. In that case, I recommend purchasing.
Bakers Pride HearthBake Electric CounterTop Single Compartment Pizza and Pretzel Oven for high performance and Goplus Stainless Steel Pizza Oven for people with a medium budget.