Purchasing the right pizza oven for your pizzeria can be a challenging and tiring decision since it demands excessive research and quality time. However, it's vital that you buy a suitable pizza oven if your business must thrive.
Your pizzeria needs a machine that is capable of baking A1 pizza while saving time to ensure there are no long delays. More importantly, the kind of model to go for depends on your establishment's size and several other factors such as space, source of fuel, and type of pizza you intend to offer.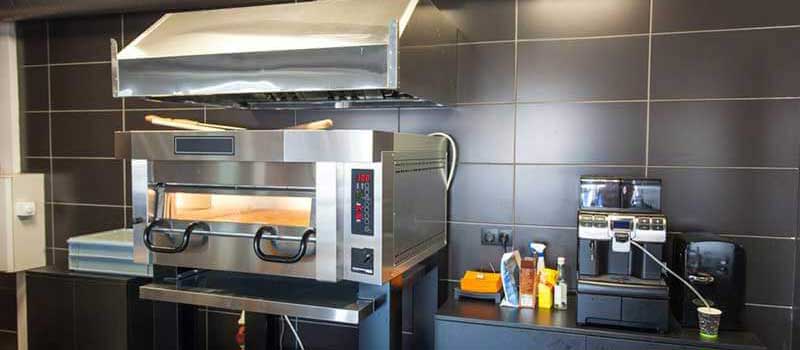 Unfortunately, you still need to consider the tons of brands out there, which makes choosing the right oven overwhelming. Luckily, we've done the research and expertly handpicked the top 5 best commercial pizza ovens for your pizzeria, including their pros and cons, which should make your decision-making process a tad easier!
Top 5 Best Commercial Pizza Ovens
---
Best Commercial Pizza Ovens Reviews
---
Commercial pizza ovens are designed to make the perfect pizzas for any event. The best ovens are versatile, can handle big parties or small ones, will last for years, and are easy to use. Here are five of the best commercial pizza ovens on the market today.
1.

Waring Commercial WPO750 Double Deck Pizza Oven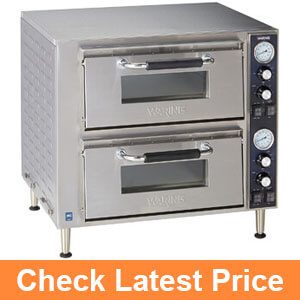 If you want a compact commercial pizza Deck oven that fits a small storage space, then you can't go wrong with Waring Commercial WPO750 Double Deck Pizza Oven. This model features a vertical design that allows you to stack your pizza over each other instead of side by side, as seen on most traditional options.
However, depending on your budget and requirement, you can have this model with up to 4 decks. The Waring Commercial WPO750 is a 28-inch wide electric oven with a double deck and separate doors for easy access to the compartments. I prefer the separate doors, but there is an option for a single door to access both decks at once if it's not a deal-breaker for you.
Regardless of the variant, it will feature independent chambers with dedicated deck controls. This allows you to control both chambers' temperatures separately for cooking completely different dishes.
Another thing to love about deck ovens is their ability to cook several batches of different dishes at specific temperatures at a time. This flexible commercial pizza oven comes in handy for preparing various items in a pizza van or fast food parlors.

The decks are made of ceramic and can accommodate an 18-inch diameter pizza. Plus, it houses standard ½-size sheet pans, and its aluminized steel interior cavity ensures each compartment distributes heat uniformly. Each deck offers a wide range of temperatures from 150 – 840 degrees F to support creating various recipes.
More so, this best double-deck commercial pizza oven features 4-inch adjustable legs to ensure a flat cooking surface and has a 25-inch total depth, making it easy to sit on your counter. Aside from being designed to meet commercial requirements, Waring Commercial WPO750 Double Deck Pizza Oven is NSF Certified to give you peace of mind with your purchase.
Additional Specification
Ideal For: Make fresh, deliciously baked pizza
Material: Stainless Steel
Style: Dual Door
Wattage: 3200.0 watts
Includes: 2 Ceramic Pizza Stones
What We Liked:
The compact design of 28 x 28 inches
Independently-controlled chambers
NSF Certified
Wide temperature range
What We Didn't Like:
Take along to preheat for higher temperatures
---
2.

Wisco 561 Deluxe Pizza and Multipurpose Oven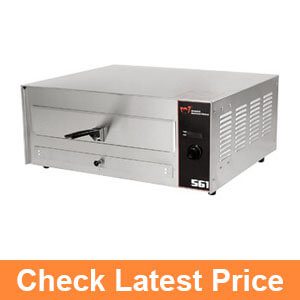 The Wisco 561 Deluxe Pizza and Multipurpose Oven are some of the best commercial pizza ovens with a creditable temperature range of 150 – 650 degrees F. This product is designed to precisely maintain the cooking temperature.
Besides, it comes with rotary dial controls for stress-free temperature selection, especially during rush hours.
What's more? Wisco 561 Deluxe Pizza and Multipurpose Oven are equipped with a wide 20-inch clean-out tray to make cleanup a breeze. Furthermore, this pizza oven can cook a 16-inch pizza with enough room to turn and move.
This unit's overall dimension is 23.625 Width x 19.5 Depth x 10.25 Height, meaning it would fit any pizza parlor nicely.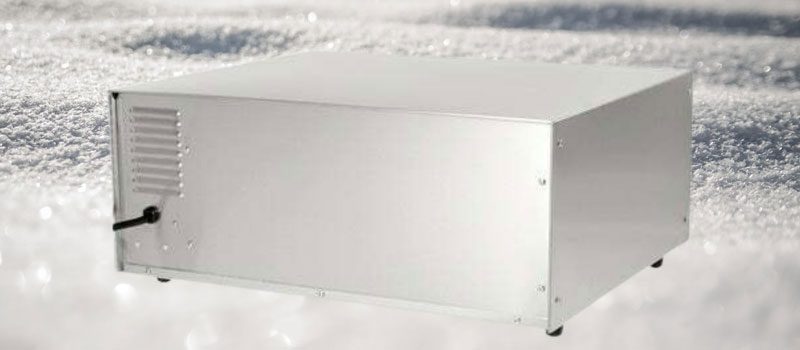 However, it's best to operate this pizza oven on an individual circuit branch. This commendable oven is perfect for cooking all kinds of pizzas conveniently and quickly. Wisco 561 Deluxe Pizza and Multipurpose Oven come with a 30-minute digital display featuring a "Hold" option.
Even better, it sports a One-Touch setting with temperature memory and time. The LED display further augments its convenient use. This product is a go-to for anyone with a thing for brands.
Additional Specification
Ideal For: Easier storage
Length: 19.5-Inch
Height: 10.25-Inch
Opening: 2.875
WATTS: 1700
What We Liked:
Crafted from stainless steel
Sports a flip-up handle
Includes a removable clean-out tray
Impressive heat retention
What We Didn't Like:
The timer and buzzer pose some challenges sometimes.
---
3.

Omcan 11387 Conveyor Commercial Pizza Oven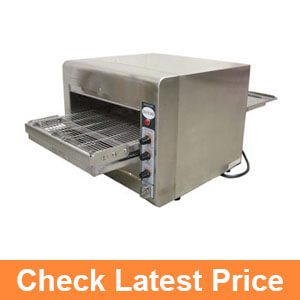 If you want a conveyor pizza oven to cater to your commercial needs without having to break the bank, the Omcan 11387 Counter Top Pizza Baking Oven is a decent choice. This commercial oven has a peak output of 25 (9-inch) Pizzas/hr, 19 (12-inch) Pizzas/hr, and 16 (14-inch ) Pizzas/hr. However, this appliance does not offer enough room to bake pizzas larger than 14 inches in diameter since its width is limited to 14 inches.
Apart from this drawback, the Omcan 11387 Counter Top Pizza Baking Oven comes with a lot of bells and whistles to ensure your pizzeria thrives. This product retains heat well and attains high temperatures up to 500 degrees F, making it a decent commercial pizza oven.
What's more? Its heating chamber's top and bottom are equipped with a heating element. With such a design, Omcan 11387 Counter Top Pizza Baking Oven ensures even cooking and reliable consistency always. It brings optimal performance to your commercial kitchen countertop for low to moderately busy pizza ventures.

Despite its conveyor design, this unit is a bit compact to fit in any way nicely. Plus, it offers hassle-free and swift handling. The temperature of the top and bottom heating elements is not the only thing adjustable; users can adjust the conveyor belt's speed.
As such, you can cook a wide variety of foods besides pizza. Even better, Omcan 11387 Counter Top Pizza Baking Oven is backed by a 1-year warranty to offer peace of mind with your purchase.
Additional Specification
Ideal For: Bread, bagels, and baking/reheating pizza
Material: Stainless Steel
AMPS: 15 Amps
POWER: 3.6 kW
TEMPERATURE RANGE: 60°C – 260°C / 140°C – 500°F
What We Liked:
Adjustable conveyor speed
Adjustable top and bottom heating elements
Wide temperature range 140 – 500 degrees F
What We Didn't Like:
Can't cook different meals at the same time
---
4.

TurboChef FRE-9500-1 Convection Commercial Electric Pizza Oven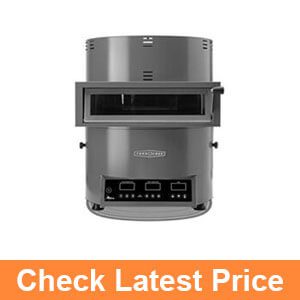 The TurboChef FRE-9500-1 Convection Commercial Electric Pizza Oven is an electrical model with one deck that holds up to 14-inch thick or thin pizzas. This model does not feature a vent. It comes with a top and bottom heating element and a separate automated temperature regulator to allow you to change the temp while cooking.
Also, this machine sports a 60-preset timer for cooking an array of foods. The demountable lower access panel features two 14-inch aluminum pizza screens and a stainless steel paddle. More so, it features sturdy stainless steel construction and includes a 6-foot plug and nominal cord.
On top of that, stainless steel construction ensures extra durability, easy cleaning, and maintenance. However, this oven takes about 30 minutes to preheat and is ready to cook your pizza in less than two minutes.

Even more importantly, the TurboChef FRE-9500-1 Convection Commercial Electric Pizza Oven utilized a convection heating mode, which is very effective and delivers better results. This machine sports a catalytic converter letting it create the perfect cooking environment for prepping most pizza recipes.
Further, TurboChef FRE-9500-1 Convection Commercial Electric Pizza Oven allows you to choose and set your preferred cooking temperature and 60 present timers to cook other recipes besides pizza. Plus, its individual temperature controls placed up and down helps regulate the settings to create the perfect crust.
Additional Specification
Ideal For: Up to 14″ thick pizza
Fuel Type: Electric
Watts: 3702/4870 watts
Amps: 30.0amps
Item Weight: 75 Pounds
What We Liked:
Cooks pizzas pretty fast
Sturdy stainless steel construction
Simple to clean
Compact design
What We Didn't Like:
---
5.

BLACK+DECKER TO3240XSBD Convection Countertop Toaster Oven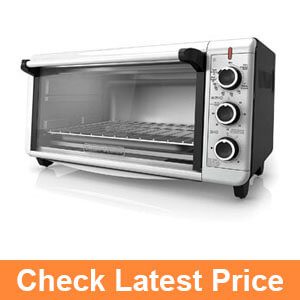 While this appliance comes with an affordable price tag, it packs a real punch. This model has a generous capacity and does more than just make pizzas. The BLACK+DECKER TO3240XSBD utilized convection heating for better cooking consistency and speed.
It is also equipped with a convection fan for circulating hot air throughout the pizza oven for even and fast cooking. Plus, it's energy-efficient – it pays off in the long run. The included broil rack and bake pan are reliable and sturdy.
The latter doubles well as a drip tray when placed beneath the slide rack when broiling.
With an extra-large interior space coupled with its excellent convection heating, BLACK+DECKER TO3240XSBD cooks faster since it does not require preheating except for broiling and baking. Talking about its cooking space, this appliance can accommodate a 12-inch pizza or eight slices of toast at a time.

Due to this, it comes with a timer feature to allow this toaster oven to go up to 60 minutes to cook larger food items. This unit has four preset cooking modes: Toast, Broil, Bake, and Keep Warm functions to handle your commercial cooking needs.
Another thing I love about this product is its removable crumb tray that slides out from the front for easy detachment and clean-out.
Additional Specification
Ideal For: Baking, broiling, toasting, and keeping food warm
Material: Stainless Steel
Wattage: 1500 watts
Maximum Temperature: 450 Celsius
Item Weight: 16.25 Pounds
What We Liked:
Extra-wide interior
Fits a 9 x 13 inches pan with handles
Convection heating and four cooking functions
60-minute timer
What We Didn't Like:
Only one wire rack included
---
Best Commercial Pizza Oven – Buyer's Guide
---
Types of Commercial Pizza Ovens
A commercial oven is a decent choice for people with an all-pizza restaurant for making pies, pizza, and several yummy-licious dishes.
So, let's consider the types of pizza oven options and how to make the right choice.
Brick Ovens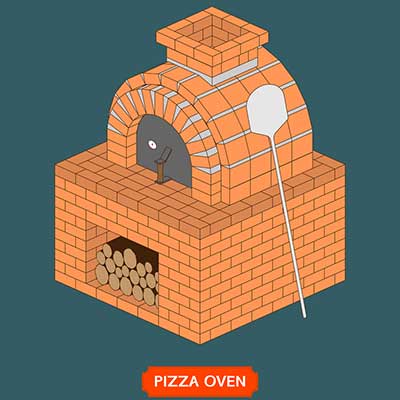 If you want to prepare your pizza recipe more traditionally, then the brick pizza oven will be an integral part of the process. These ovens are made with heat-resistant bricks to ensure it delivers an authentic, rustic, crispy, and typical Italian wood-fired pizza taste.
However, the latest versions are now more than just brick structures but brick wood-burning models. These commercial brick ovens come with constructive elements that help you cook your pizza perfectly by combining conduction, convection, and reflection heating mode.
Convection Ovens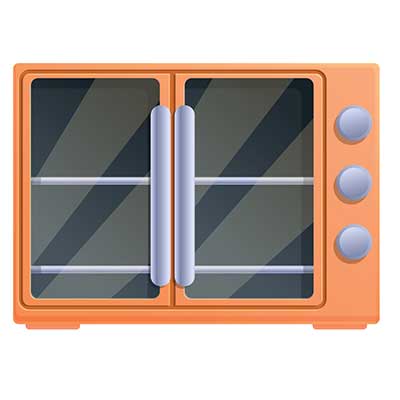 For a more versatile cooking experience, the convection ovens might be your best bet as it allows you to cook any sort of dish, including pizzas. This multi-purpose commercial oven is a suitable choice for an all-around restaurant looking to serve a variety of dishes.
Furthermore, these models usually feature a compact design to ensure it fits your countertop space in your kitchen, making them a decent choice for a pizzeria with limited space. The countertop convection utilizes proper air circulation to bake pizza and other dishes, unlike other models using a conveyor belt. With such a design, you can save more on your restaurant's energy costs.
Conveyor Ovens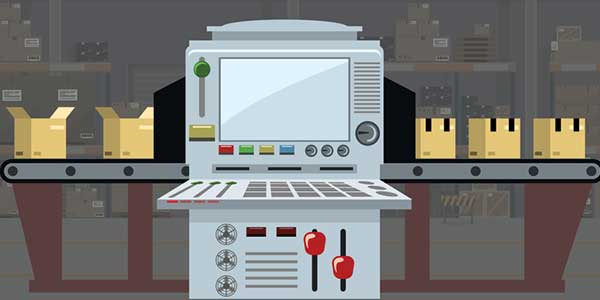 This type of commercial oven is equipped with a conveyor belt to pull the pizzas through the oven's cooking chamber. Another feature that sets the conveyor ovens apart from their competitors is their fast cooking time since it has a short preheating time. Without spending hours preheating the oven, your pizzeria can always avoid delays and achieve a very tasty pizza.
So if your restaurant menu will feature a different pizza recipe, you can't really go wrong with the commercial conveyor ovens. More so, it helps cook several batches of pizza automatically, which gives you more time to handle other stuff in the kitchen.
Deck Ovens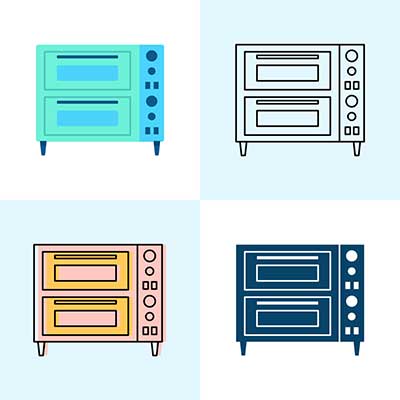 The deck ovens are another decent choice for people looking to achieve crispy and authentic taste without having to sacrifice much space in your kitchen. However, they are not designed to handle a high level of workload. The deck ovens are made with ceramics, stone, brick, and metals.
Even better, controlling the temperature while baking your pizza is hassle-free. This advantage also supports creating a perfectly customized pizza. More so, this commercial pizza oven features sturdy construction, ensuring it serves your purpose for a long time. Plus, it offers a hassle-free cleaning experience.
How to Shop for the Best Commercial Pizza Ovens?
By now, you must have figured out that there are tons of commercial pizza ovens to pick from, making it not only overwhelming but also challenging to make the right choice. Fortunately, we're here to help with that. In this section, we'll discuss some key factors to consider when making a choice.
Menu
What's going to be on your menu can also determine the type of commercial pizza oven to purchase. Therefore, you need to decide whether you will be serving your customers a New york-style pizza, Chicago-style pizza, a Neapolitan-style pizza; a thin base pizza, or a thick crust one.
Remember that the convection oven is excellent at preparing multiple pizzas simultaneously. But for a fast and everyday dining experience, it'd be best to opt for a commercial gas oven equipped with a rotating deck. However, you can only make a Neapolitan pizza with an authentic taste and flavor using a wood-fired pizza oven.
At this point, you should have realized that the type of commercial pizza oven worth investing in should cater to the needs and preferences of your customers.
Space
Another important yet often ignored factor is the available kitchen space. No doubt, your kitchen's layout, and design determine the kind of commercial oven, which also impacts your productivity. Therefore, it's important to design your kitchen in such a way that it enhances your efficiency and makes working easier.
So, if you've got a small kitchen or limited space, it's best to consider a convection pizza oven. Keep in mind that this type of oven takes longer to make a pizza, but definitely squeezes into any space stress-free.
But for kitchens with small but tall kitchen space, commercial pizza deck ovens are your best bet. They are designed to make several batches of pizza vertically, which helps you optimize your tall but narrow kitchen space. However, kitchens with huge spaces are better off with a commercial conveyor pizza oven or a commercial brick pizza oven.
Budget
How much you are willing to invest in a business determines the type of commercial pizza oven you should think of purchasing. As discussed here, there are four types of pizza ovens, and the cheapest option of all is the convection oven, which ranges between 100 to 1000 USD.
Although the conveyor pizza oven comes with a price tag, it requires the least maintenance cost. Deck ovens, are available at different prices based on the kind of configuration you want. Lastly, the brick oven's prices vary and totally depend on who builds the oven for you.
Type of Fuel
When it comes to pizza ovens, there are three primary fuel types offered at present:
Gas
Wood-fired
Electric
Dual fuel
The wood-fired oven can be a bit stressful because it requires continually adding wood to maintain the heat level. However, it's a common choice for chefs looking to make a more traditional pizza with an authentic taste.
More so, there are models designed to run on both wood and gas. These ovens offer the best of both worlds – easy fire management and delightful pizza flavor. But if you need to choose between electric or gas, here are a couple of things to consider:
Gas models are cheaper with fewer problems compared to its counterpart. Nonetheless, electric models are easier to use and more adaptable. Furthermore, baking your pizza in a gas or electric oven varies. The latter takes up more time to achieve mouth-watering results compared to the gas models. There is an argument that gas ovens bake more pizza per hour, making them very suitable for commercial purposes.
Number of Pizzas Per Hour
If you need an oven to handle high production, you can't go wrong with a conveyor oven. These ovens are designed to deliver more numbers of perfectly-baked pizzas per hour. But for medium production, brick ovens and deck pizza ovens are smart picks. Alternatively, convection ovens are best suited for low-volume production.
---
Frequently Asked Questions and Answered
---
This section contains answers to several concerns regarding purchasing a commercial pizza oven, especially for first-timers.
How do I know when my commercial pizza oven is well-preheated and ready?
Newer models now come with an indicator to notify users when the oven is preheated and ready to bake their pizza. However, if you own a traditional brick oven, it's better to wing it.
Can you use a commercial pizza oven for baking other stuff?
Pizza ovens are not only ideal for making pizza. They are ultimately helpful in roasting meat, making cookies and cakes as well as baking bread. Just set the cooking temperature and time accordingly.
How to keep a commercial pizza oven clean?
Cleaning a commercial pizza oven clean isn't a stressful task, provided it is cleaned frequently. Before rubbing the interior with a slightly damp cloth, ensure that the oven is unplugged. Also, you can purchase some cleaning products to make cleaning your oven a lot easier. However, you should only use a small amount of liquid.

Also, removable parts can be detached and washed just the way you want them. Plus, non-stick-coated parts require extra care for excellent food release.
How to install a commercial pizza oven?
Most ovens arrived ready to use straight out of the box. This means you just have to spend time assembling, just plug the oven in, and be ready to start baking. However, some ovens, such as brick pizza ovens, might require professional help.
How much do commercial pizza ovens weigh?
Commercial pizza ovens are usually lightweight, about 15 lbs except for brick ovens, which weigh up to 500 lb, and convection ovens close to 40 lb.
Conclusion
The pizza oven your restaurant utilizes has a huge impact on the efficiency of your business. Therefore, it's important to purchase the right pizza oven to deliver traditional flavored and unique-tasting pizza.
While purchasing a top-quality commercial pizza oven can be a huge investment, there are other decent, affordable types of pizza ovens that suit your distinct needs and preferences.
Hopefully, our extensive review of the best commercial pizza oven helps you pick the best option for your commercial cuisine operation. But if you still don't know which of the ovens to go for, Waring Commercial WPO750 Double Deck Pizza Oven can be your best bet.