Whether seasoned chefs or home cooks, grilling or cooking at the perfect temperature is imperative to ensure your dish turns out as expected. It's often the reason why home-baked pizza tastes slightly different from the ones in your favorite restaurant. This is where owning an infrared thermometer comes in handy.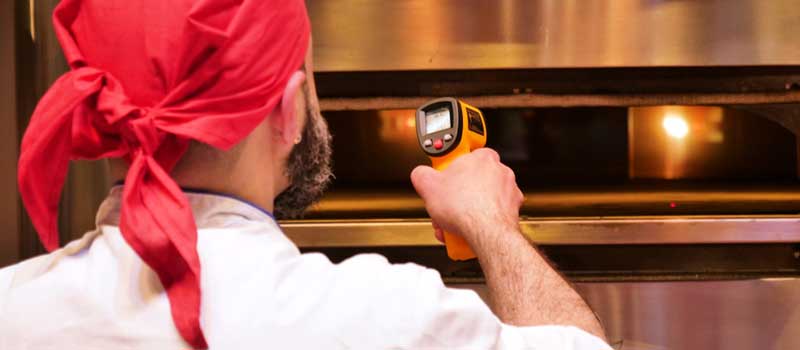 While home cooks and professional chefs might share the same recipes, the latter delivers a yummy, crispy pizza since chefs check and measure every aspect of the cooking process. With an infrared thermometer, you can easily measure the cooking temperature without coming in contact with whatever you are cooking.
However, hundreds of models exist out there, making choosing the best-infrared thermometer for pizza ovens not only overwhelming but also challenging.
Luckily, we've tested and expertly handpicked the top 5 infrared thermometers to bake your pizza to perfection.
Top 5 Infrared Thermometers for Pizza Ovens
Things to Consider When Shopping for the Best Infrared Thermometer for Pizza oven
When trying to pin down the right infrared thermometer, you need to consider a couple of factors, which include: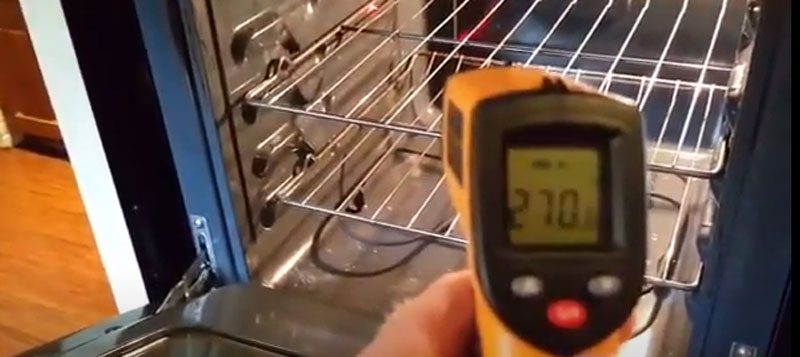 Emissivity
Hot surfaces emit infrared rays, which the infrared thermometers are designed to measure to determine the temperature of the surface. However, different materials' surface emits different IR levels for the same temperature.
Models with adjustable emissivity help ensure you can take the temperature reading of a wide range of surfaces from ceramic to wood, salt, metal, and more. In our personal opinion, this should be a deal-breaker.
Fortunately, the infrared thermometers reviewed in this guide allow users to set the emissivity value and include a handy table to make it a lot easier.
Temperature Range
This factor is crucial, especially if you want to also use your infrared thermometer for industrial applications. For your pizza oven, there's no need to care for a thermometer to be able to measure up to 1200 degrees F. A scanner that reads up to 750 degrees F is a decent tool for determining the cooking temperature of your pizza oven.
However, all thermometers on our list exceed this temperature, which means any of the products would be ideal for home cooks.
Fahrenheit and Celsius Switching
Not all parts of the world measure or state the ideal recipe's temperature in Fahrenheit. Therefore, it'd be handy to have a display that shows temperatures in both Fahrenheit and Celsius. This feature is essential. Thus, all products on this list allow you to measure the hot surface temperature in both temperature units.
Accuracy
What's the point of having a measuring tool that reads temperature inaccurately? However, an expensive thermometer features expensive and precise sensors to offer more accurate results.
But in my opinion, this factor shouldn't be a deal-breaker if you want to use the tool to take your pizza oven or food's internal temperature.
Cost
When deciding on the right thermometer to splurge on, the price tag is another factor worth considering. These scanners are more fun to use once you get the thermometer. You might even branch out to soap-making, brewing, or candy-making.
In short, you need to purchase an infrared thermometer that is not too heavy on your wallet.
Weight and Grip
An infrared temperature gun's weight and grip should be another factor if you have handgrip challenges such as arthritis. This factor is worth considering if a natural hand fit is a priority for you.
---
Infrared Thermometers for Pizza Ovens Review
---
1.

Fluke 62 Max pizza oven Infrared thermometer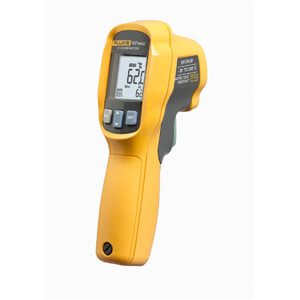 The Fluke 62 Max has a solid history. For decades, the manufacturer has been one of the best in this space for a wide range of measuring instruments.
This unit is another piece of equipment from the manufacturer that lives up to its hype. It features a sturdy build: water and dust-resistant while robust enough to withstand up to 3 feet drop.
This infrared thermometer is one of the largest and heaviest models in this guide. This unit records a temp reading in about 500 milliseconds. Another exciting thing about Fluke 62 Max Infrared Thermometer is its two rotating lasers and the 10-minute automatic shut-off features to extend the battery life.

That's not all: this product has a belt clip and a large backlit display. Sadly, this product does not come with explicit instructions, making it challenging to use for first-timers. However, there are detailed, step-by-step guides on using the thermometer with ease on the brand's website.
With this tool, users can easily keep track of the pizza stone's temperature and determine if it is ready for use. Baking at the right temperature is vital to making a crispy crust. Besides, its ergonomic design ensures it offers a more natural hand fit.
What We Liked:
Displays average, minimum, and maximum temperature and the difference
3-year warranty
Min/Max/Avg/Dif, Hi and Lo alarms
IP54 rated for water and dust resistance
What We Didn't Like:
No detailed instructions on how to use it
---
2.

EnnoLogic Pizza oven Infrared Thermometer Gun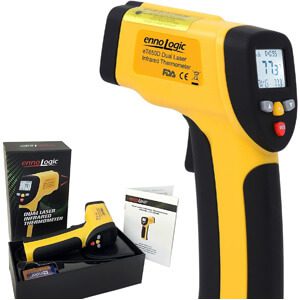 The ennoLogic Temperature Gun is equipped with a dual laser system offering reliable accuracy and impressive durability. This, among many features, makes tracking your pizza oven temperature a lot easier since it eliminates the hassle of reaching certain difficult spots.
Coupled with its adjustable emissivity, this product ensures you get the most accurate results regardless of the material you are taking your temperature reading. Even better, this high-end piece of equipment comes with an affordable price tag.
EnnoLogic Temperature Gun has a temperature range of -58 to 1202 degrees F with an accuracy of +/- 1 degree F. Furthermore, this accurate thermometer is straightforward to use and offers reliable results regardless of the variable materials and smoke in your pizza oven.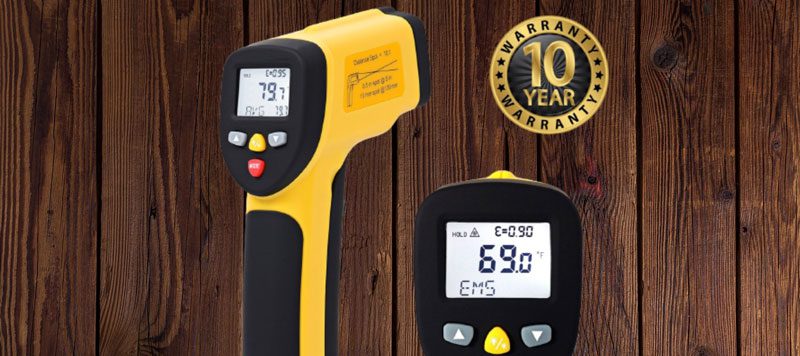 This product is equipped with a scan feature to help track the average, maximum, and minimum temperature readings instead of a spot. It helps monitor the temp variation and stores up to 20 readings in the manual log.
More so, it sports low and high-temperature alarms, which come in handy for cooking at a specific temperature. Its audible feedback notifies users when the set temperature is attained or exceeded.
What's more?
EnnoLogic Temperature Gun has a lock feature to allow you to take hands-free measurements conveniently. This feature, tailored with its audible low or high alarm, makes this thermometer a great addition.
What We Liked:
Large easy-to-read display with bright backlit
Fast power-up and response time of fewer than 500 milliseconds
Ergonomic, attractive, rugged design
Vast measurement range of 58 to 1922 degrees F
What We Didn't Like:
---
3.

Etekcity 1022D Dual Laser Infrared Thermometer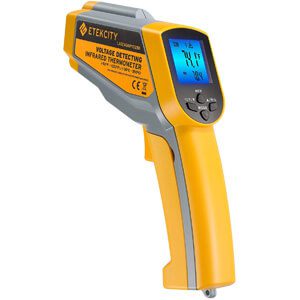 This dual laser temperature is designed for pizza lovers looking to get the most accurate readings. Etekcity Infrared Thermometer allows users to adjust the emissivity to ensure the utmost accuracy across a vast range of surfaces.
The unit is equipped with a target quicker and dual laser to allow users to visualize the area being measured by the IR thermometer for higher precision results than a single laser. Also, it has a temperature range from -50 – 550 degrees C.
This multifunctional thermometer offers a flawless user experience. Etekcity Infrared Thermometer has a backlit LCD screen for easy temp readout and an auto function. Also, it has a battery indicator to check if you're running out of power.
Etekcity Infrared Thermometer 1022D features a versatile design to make this ideal equipment perfect for incredible cooking results. Thanks to its infrared technology, you can easily measure the surface temperature of any material.
Also, this infrared thermometer for pizza ovens aids in detecting temp below the freezing points and above the boiling points. Even better, it performs excellent automatic maintenance as you cook.
What We Liked:
Adjustable emissivity for improved measurement accuracy
Versatile design
Clear, backlit LCD screen
Scan & Lock features
What We Didn't Like:
The battery holder is a bit odd
---
4.

Etekcity 774 Infrared Thermometer Temperature Gun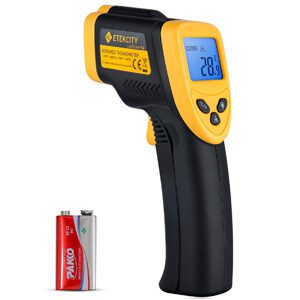 Another spot, another temperature gun from Etekcity. This product is practical for both outdoor and indoor use. The Etekcity Infrared Thermometer 774 allows you to safely measure the surface temperature from a safe distance without having to trade off accuracy.
This unit measures very high temperatures ranging from -58 – 716 degrees F. Its wide temperature measurement range and user-friendly operation make this equipment ideal for a vast range of applications, from oven temperature to internal electronic components.
Furthermore,
It sports a clear, backlit display offering crystal clear accurate readings. This temperature scanner sports the Scan & Lock features to hold the readings for 15 seconds on the display so users can record their readings.

Now, its impressive exterior construction ensures this unit serves your purpose longer. It has a UV paint coating that is scratch-resistant and robust enough to handle daily use rigors.
What We Liked:
Wide temp range: -58 to 716 degrees F
Backlit LCD screen with auto-off function
Sturdy exterior design
Scan & Lock feature
What We Didn't Like:
---
5.

ZOTO Digital Laser Infrared Thermometer for Pizza Oven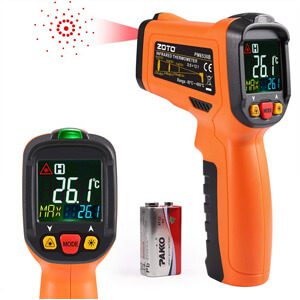 Earning a spot on our list is OTO Digital Laser Infrared Thermometer. This fast and accurate scanner is one of the best-infrared thermometers for pizza ovens, with 12 built-in red laser pointers for an excellent 12:1 Distance Spot Ratio and precise aiming.
Also, it supports emissivity adjustability to ensure users get accurate and reliable temp readings in less than 0.5 seconds. It has a wide measurement temp range from -58 – 1022 degrees F and allows you to take your reading at a very safe distance.
This temperature gun is a versatile tool and is also practical for cooking, electrical engineering, HVAC real estate, automobile maintenance, fire-watch, and more. It has a large color LCD screen, which makes it easier to keep track of the temperature at a glance.
That's not all: ZOTO Digital Laser Infrared Thermometer sports a low battery indicator and a hold/max data function. This scanner is packed in a well-made leather pouch for extra protection. Plus, its handhold features an anti-skidding design for a more comfortable grip.
Here's more
This infrared thermometer for pizza ovens has an auto-power-off function that activates after 25 seconds of inactivity. This model also features a warning function to notify users when the temperature exceeds the upper or lower limit settings. This way, users can bake their pizza at a specific temperature for a perfect crust.
What We Liked:
High-definition color LCD display
Compact and easy-grip design
Easy battery replacement
Built-in red laser for precisely aiming
Vast temp range from -58 -1022 degrees F with an accuracy of ±1.5% of reading
What We Didn't Like:
Not so accurate; seems to be off by +/- 5
---
Frequently Asked Questions and Answered
---
What's an Infrared Thermometer for pizza ovens?
An infrared thermometer is a tool designed to measure the temperature of your hot interior oven surface from a safe distance accurately. Infrared thermometers are used to check the floor temperatures inside a pizza oven. Also, it's used to monitor different temperatures on a grill.
What benefits of using an infrared thermometer?
This equipment helps pizza makers determine the defrost time for a sizable frozen pizza, roast, or bird.
What factors affect the accuracy of an infrared thermometer for pizza ovens?
Some factors that affect the accuracy of this tool's reading include smoke, fog, moisture, and frost. Also, take your reading through certain liquids and glass that are opaque.
Can an infrared thermometer measure the inner temperature of a pizza?
These scanners are only designed to measure the surface temperature and not your pizza's internal temperature.
Do you need an infrared thermometer for a pizza oven?
If you're a pizza oven operator, you might be wondering whether it's worth buying an infrared thermometer.
Conclusion
So there you have it – the best-infrared thermometers for pizza ovens. This equipment is practical, easy, and fun to use. Besides, they ensure your meal comes out just as expected and is very similar to the A1 pizza from your favorite restaurant.
Nonetheless, choosing the right one can not be overemphasized. So, ensure you go through our buying guide for a smart decision. But if you're in a rush, the Fluke 62 Max Infrared Thermometer is our favorite, with excellent performance and incredible durability for a precise cooking experience.