Nothing beats enjoying a yummy, cheesy, perfectly cooked pizza without ever leaving the comfort of your home. With a countertop pizza oven, you can bake a frozen or homemade pizza conveniently for a better melt and crispier crust.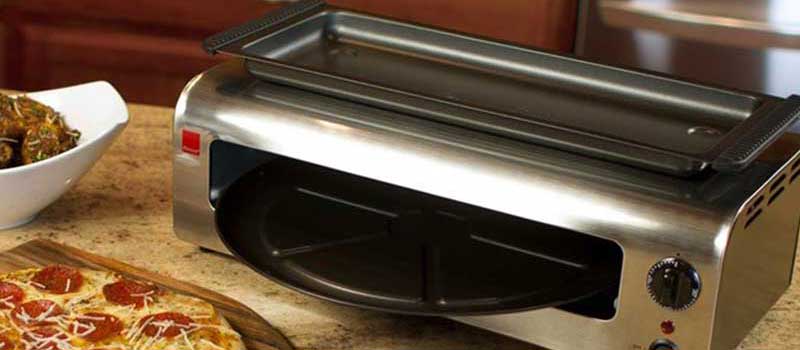 Also, it allows you to bake your A1 pizza easily, especially for people without an oven. However, shopping for a pizza oven can be challenging, considering the number of options out there.
Luckily, we've compiled a list of the best countertop pizza ovens offered at present and a detailed buying guide to ensure you make a smart decision.
Let's get started!
Are Countertop Pizza Ovens Safe to Use?
Countertop pizza ovens can be safe to use if used correctly and if the manufacturer's instructions are followed.
However, it is important to note that safety precautions should always be taken when operating any type of oven, including countertop pizza ovens.
Firstly, it is essential to ensure that the countertop pizza oven is placed on a stable and heat-resistant surface. This will prevent any accidents or damage caused by the oven tipping over or heating up surrounding materials. Additionally, it is crucial to keep the oven away from flammable objects and ensure proper ventilation to prevent overheating.
Secondly, users should always closely monitor the cooking process and avoid leaving the oven unattended. This will help prevent any potential fire hazards or overcooking of the pizza. Furthermore, following the recommended cooking times and temperatures provided by the manufacturer will help ensure that the pizza is cooked thoroughly without compromising safety.
Top 5 Countertop Pizza Ovens
---
Best Countertop Pizza Ovens Review
---
1.

Breville BOV900BSS Convection and Countertop Pizza Oven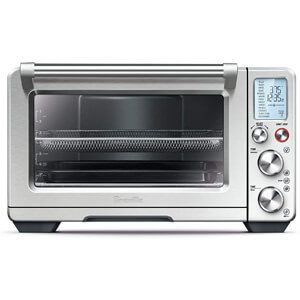 The Breville BOV900BSS Smart Oven is arguably the best countertop pizza oven – and for good reasons. This model offers a smart and ultra-efficient means of making savory pizzas. This appliance weighs 38.9 Pounds and measures 18.5 x 26 x 17 inches. It features stainless steel construction for extra durability and an easy cleaning experience.
Its most obvious feature is its extra-large interior, which is enough to toast and bake large meals. Further, it sports a large LCD screen to allow users to keep track of the cooking time. With the equipped Quartz Element IQ cooking technology, this smart pizza oven ensures even cooking.
Furthermore, Breville BOV900BSS Smart Oven has a detachable crumb tray that's dishwasher-safe and easy to clean. Also, it offers 13 preset cooking functions, which allow you to toast, warm, reheat, broil, air-fry, and bake food items.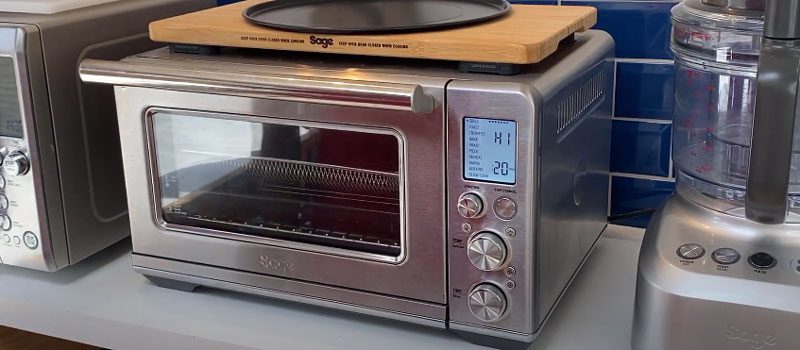 More importantly, it rocks a non-stick interior for effortless food release and prevents food stains. For the sake of safety, this model is equipped with a magnetic auto-eject rack for smart, safe food retrieval without burns.
Additional Specification
Ideal For: French fries & family
Material: Stainless Steel
Voltage: 110 to 120 Volts
Convection: Convection Powered
Capacity: 9 Slice Toaster
Strengths:
Super Convection Technology
Precision cooking with Element IQ
13 cooking functions
2-Year Limited Product Warranty
Weaknesses:
---
2.

Ronco Pizza & More Countertop Pizza Oven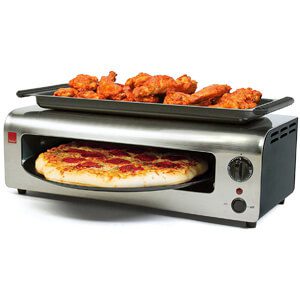 With the Ronco Pizza and More, Pizza Oven, you can cook frozen or homemade pizzas, wings, smores, meatballs, and other fun finger foods. This product includes a warming rack, which comes in handy for parties to keep the food warm while preparing other savory dishes below.
What's more?
This countertop pizza oven features dual heating elements – top and bottom – and a rotating pan to ensure fast cooking and be more energy-efficient. Ronco Pizza and More, Pizza Oven sports open-air convection, radiant heat, and a rotating design to prevent hot spots from even cooking.
More importantly, this model is equipped with a 30-minute timer to shut off the appliance when it's done cooking. With such a feature, you don't have to worry about overheating or overcooking. Furthermore, it has an open-air design to allow users to monitor their foods and retrieve them when ready.

Its stainless steel construction ensures an easy cleaning experience with few wipes. Plus, the included non-stick pan and removable warming tray are dishwasher safe.
Additional Specification
Ideal For: Hot and delicious pizza, snacks, and appetizers
Cooking Timer: 30-minutes
Color: Black
Item Weight: 12 Pounds
Dimensions: 17.82 x 12 x 7 inches
Strengths:
Automatic 30-minute timer
Dishwasher-safe parts for easy cleaning
Simple dials for convenient use
Durable construction
Include a warming tray
Weaknesses:
---
3.

Hamilton Beach 31700 Countertop Red Pizza Maker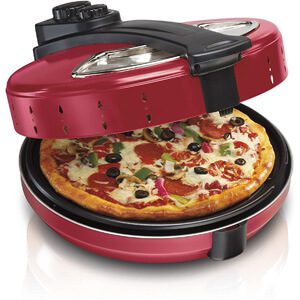 If you want a model that helps make delicious crispy pizza, then you should equip your countertop with Hamilton Beach 31700, 12 Inch Cooker. This unit is perfect for making hot and delicious appetizers and snacks.
This model helps cook a 12-inch pizza on a rotating dish to ensure it's cooked evenly. Another incredible feature of this countertop appliance is its viewing window, which allows users to monitor their food as it cooks.
That's not all: this equipment has a 30-minutes cooking timer with an auto-shutoff feature to protect the cooker and prevent overcooking your recipe. Also, it does not require preheating, which further augments its fast cooking claims and energy efficiency.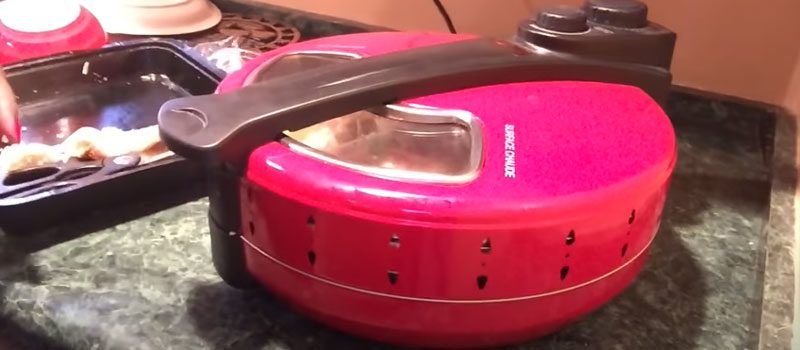 Even better, it offers an adjustable heat control to allow you to cook to perfection. This model delivers uniform heat and crispy pizza crust thanks to its enclosed top and bottom heating elements.
Additional Specification
Ideal For: Hot & delicious pizza
Material: Nonstick
Cooker Size: 12-Inch
Cooking Timer: 30-minutes
Item Weight: 6.36 pounds
Strengths:
30-minute cooking timer with auto-shutoff
Power light
No preheating required
Enclosed are the top & bottom heating elements
Adjustable heat control
Weaknesses:
Not very durable
The cord extension is a bit short
---
4.

Luby Large Countertop 4" pizza Toaster Oven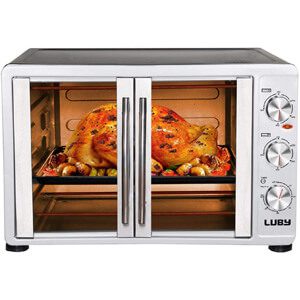 The Luby Large Toaster Oven Countertop is an ideal choice for big families and hosting large crowds. This appliance can do more than just bake pizza, but let's start with how well it performs as a pizza maker.
This model is designed for baking a maximum pizza size of 14 inches. Its large size allows you to bake more than one pizza simultaneously. Further, it has four racks, which means you can bake at least four large pizzas at a go.
Down to its other functions, this appliance can roast up to 20 pounds of turkey, which will come in handy during Thanksgiving. Furthermore, it has separate temperature regulators to let users cook in the top rack and bottom rack at specific temperatures based on the recipe requirement.

Also, this feature makes it very flexible to whip up a wide variety of dishes in a fraction of the time. Luby Large Toaster Oven Countertop is equipped with four heating tubes to amp up the heating for a quick-cooking experience.
Even better, this model not only cooks many foods quickly but also keeps them warm for a long period.
Additional Specification
Ideal For: Prepare big meals
Material: Iron
Pizza Capacity: 14 inch
Function: Broil, Bake, Toast
Timer with Auto-shutoff: 60-minute timer, Stay On
Strengths:
Cooks up to 14-inch pizza
Features four rack positions
French door designed
Separate temperature selector
60-minute timer
Weaknesses:
---
5.

BLACK+DECKER TO3250XSB Countertop Toaster/Pizza Oven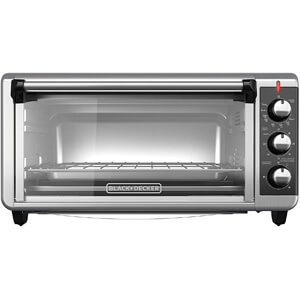 The BLACK+DECKER TO3250XSB is another oven with an extra-wide interior that fits most 9 x 13 inches with handles, a 12-inch pizza, or eight slices of bread. It features a powerful convection fan to circulate warm air throughout the appliance to ensure fast, uniform baking.
Other cooking functions offered include keeping warm, toasting, broiling, and baking. This oven sports a 60-minute timer and a stay-on functionality to help you bake for longer. Also, it has a dedicated toast timer to allow you to get the perfect shade.
With BLACK+DECKER TO3250XSB, you can use your existing pans to allow users to go straight from the toaster oven to the table. However, it comes with a broiling/baking pan that fits perfectly, which makes it easy to place and retrieve your food. Also, there's a toasting rack included.

Here's more: this model comes with a removable crumb tray to catch crumbs before burning in your oven's bottom. Hence, keeping your expensive countertop clean and messy-free.
Additional Specification
Ideal For: 12" pizzas
Material: Stainless Steel
Timer: 60-Minute Timer
Heating: Convection Heating
Dimensions: 14.5 x 22 x 11.5 inches
Strengths:
Extra-wide interior
60-minute precision timer with stay-on functionality
Convection heating and four cooking functions
Excellent convection heating
Weaknesses:
The heating element could be more durable
---
6.

Goplus Counter Top Commercial Pizza Oven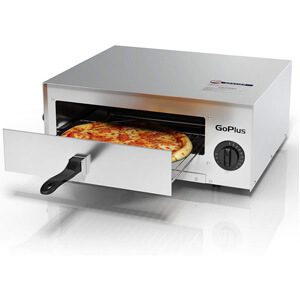 This sleek and compact pizza oven by Goplus features a stainless steel construction allowing users to bake up to 12-inch pizzas in the drawer. This unit comes with a dual backing element to boost the baking process. Its 360-degree air circulation increases the heating speed and ensures evenly cooked food.
With this component, this oven has an excellent heat transfer, which means you can put your frozen pizza in this appliance directly and expect a perfectly baked pizza in about 15 minutes. This electric pizza maker does not require preheating, which further shortens the cooking time.
Likewise, it comes with a removable crumb tray to make cleaning a breeze since it traps the crumbs and prevents them from burning on the bottom of your oven. More so, it features a high-quality stainless steel construction on the exterior and chrome bakeware to make cleaning hassle-free.
Another excellent feature is its auto-shutoff timer. With Goplus Stainless Steel Pizza Oven, you can set the baking time for your pizza, to anything between 8 – 12 minutes. Upon completion, this oven shuts off automatically.
Thus, saving you from burning your pizza and protecting the pizza maker from overheating. Also, the tray and food rack has an insulated handle for safe handling when taking the tray or rack out.
Additional Specification
Ideal For: Kitchen Use
Material: Stainless Steel
Product size: 19″ X16″ X 7.5″
Baking time: 8-12 minutes
Frequency: 50-60 HZ
Strengths:
Dual heating element
Built-in temperature control
Easy to clean
Auto shut-off timer
Foldable Cool Touch handle
Weaknesses:
Tend to get stuck when opening and closing
---
7.

Presto 03430 Pizzazz Plus Countertop Rotating Oven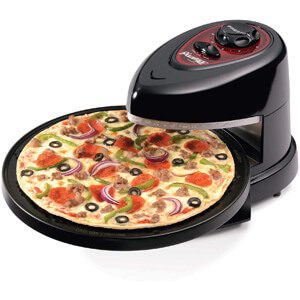 Presto offers a unique pizza maker known as Pizzazz Plus Rotating Oven. This product bakes your pizza on a rotating dish to ensure evenly cooked food. This product is best suited for smaller families and homes to make pizza occasionally.
It comes with a different design – nothing like the traditional oven. This product features an open structure similar to a record play. The rotating dish is where you place your pizza and wait till every inch gets perfectly cooked as it rotates.
The heat comes from both below and above to eliminate any hot spots and foster even heat distribution. That's not the best part. Users can adjust the heat levels of both the bottom and top heating elements separately based on the recipe.

This way, baking a pizza with any thickness or toppings is a cinch since you can alter the amount of heat to melt the recipe's requirements. Also, it comes with a timer that turns the heat off at the set cooking time. This feature helps prevent burning your pizza, should you forget to check on the pizza.
Best of all, its unique design required lesser components, meaning Presto 03430 Pizzazz Plus Rotating Oven uses less energy compared to the typical pizza makers. So if you want to cut costs on electric bills, here's a pizza oven that fits your criteria.
Additional Specification
Ideal For: bake frozen, homemade
Material: Nonstick
Voltage: 120 volts AC
Wattage: 1235 watts
Dimensions: 15.8 x 14.5 x 10.3 inches
Strengths:
Easy to clean
Timer for alerts
Separately-controlled dual heating elements
Energy-saving design
Weaknesses:
Not ideal for traditional pizza enthusiasts
---
8.

Toshiba AC25CEW-BS Digital Convection Toaster Oven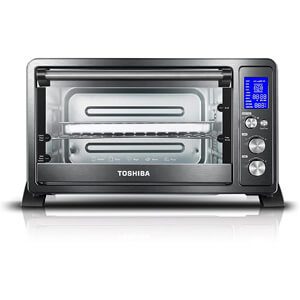 The Toshiba AC25CEW-BS Digital Toaster Oven is one of the best countertop pizza ovens to equip your kitchen countertop with. This product does not do more than just bake pizza.
It's ideal for cooking all sorts of other foods. This spacious oven offers a large interior to accommodate about 4 pounds of chicken and a maximum pizza size of 12 inches.
This unit sports ten cooking settings, meaning this product can easily replace a couple of kitchen appliances. This versatile model offers a wide cooking range from 150 – to 400 degrees F. Thus, you can cook various food items using this multipurpose oven.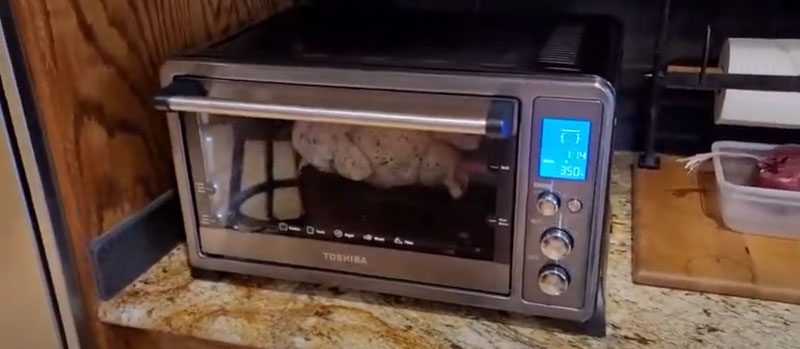 This model has a whopping 1500-watt heating element that runs solid with every use. However, there's an option for a higher wattage, 1700 watts, for better cooking performance. Even better, it has a digital display to take out the guesswork and ensure you cook to perfection.
Additional Specification
Ideal For: Convection & Rotisserie cooking
Material: Stainless Steel
Watts: 1500W
Temperature: 150 – 450 Degrees F
Capacity: 25L/6 slices
Strengths:
Ten cooking settings
Powerful 1500 / 1700 watts of power
Has a digital display
Decent temperature range: 150 – 400 degrees F
Weaknesses:
Can't bake at 400 degrees F
---
9.

Nostalgia RTOV2AQ Countertop Toaster/Pizza Oven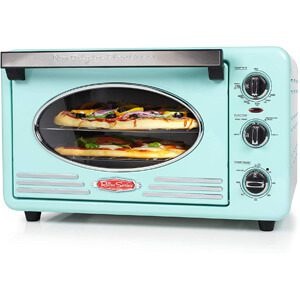 Next on our list of the best countertop pizza ovens is Nostalgia RTOV2AQ Convection Toaster Oven, with a huge cooking capacity to hold up to 12-inch pizza. Also, it can be used to make other sumptuous meals like cookies, steaks, or casseroles.
Furthermore, this multi-functioning oven offers several cooking functions: broil, bake, convection, and toast. Also, it has an indicator light to notify you to know when the oven is on. This product has an adjustable temperature range from 200 – 450 degrees F and four heating stages: lower, upper, lower & upper, and off.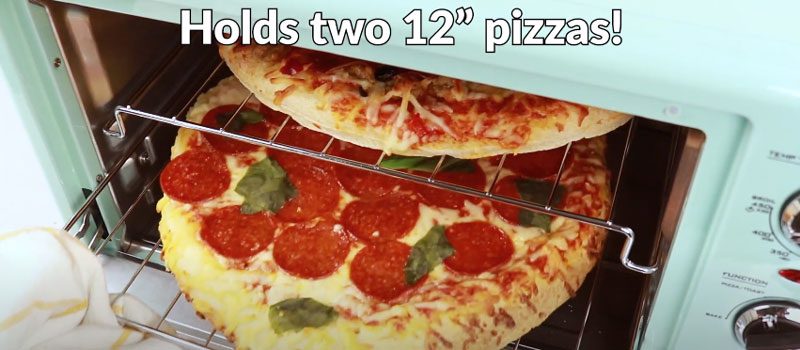 Nostalgia RTOV2AQ Large-Capacity Convection Toaster Oven comes with a clear-view window to allow you to monitor whatever you're cooking.
Additional Specification
Ideal For: Wide variety of tasty meals
Material: Aluminum
Wattage: 1500 watts
Capacity: up to 12 slices of bread
Adjustable Temperature: 200 to 450°F
Strengths:
Easy to clean
60-minute built-in timer
Clear-view window
Sturdy stainless steel construction
Weaknesses:
---
10.

Professional Series PS75891 Countertop Frozen Snack Pizza Oven
This pizza oven is designed to cook a 9-inch pizza in six minutes. Continental Electric Professional Series PS75891 features a compact design that makes it great for camping, dorm room, kitchen, and tailgating parties.
More importantly, it comes with a 30-minute timer to notify users when the food is ready, preventing overcooking your pizza or overheating the appliance. It only takes a couple of minutes to preheat and be ready for cooking pizza, cookies, quesadillas, etc.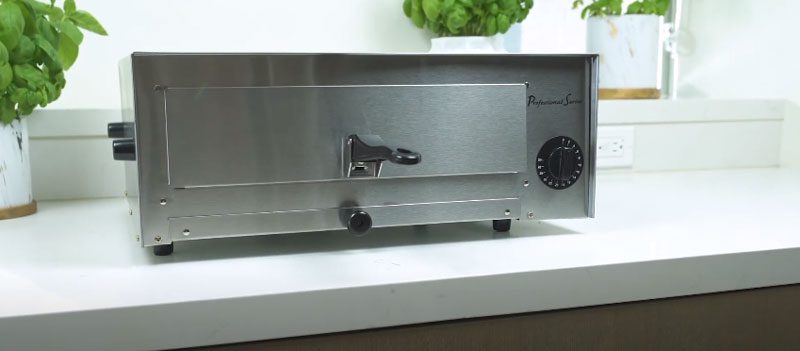 Further, it has a removable pull-out crumb tray to make cleanup a cinch. More so, this appliance features durable stainless steel construction for impressive durability.
Additional Specification
Ideal For: Kitchen, dorm room, camping, and tailgating parties
Material: Stainless Steel
Timer: 30 minutes
Wattage: 1450 watt
Measures: 20. 45 x 8. 95 x 17. 95 inches
Strengths:
Two-year manufacturer's warranty
1450W power
Easy to clean
Quick preheat time
Weaknesses:
Heat distribution could be even
---
What Do You Need to Know When Buying Countertop Pizza Oven?
While several different pizza ovens are available in the market today, they are definitely not all for you. How then do you know which pizza oven to get? This section will help shed more light on how to go about choosing the perfect pizza oven for your needs.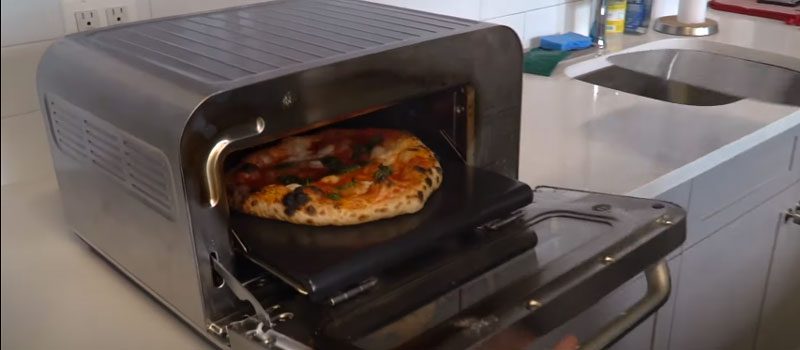 Size
Countertop pizza ovens differ from traditional ovens because of their portability and ease of use. However, you need to determine how much of your countertop you can afford to give the new pizza oven – before buying it.
You should put into consideration the proximity to the power outlet while creating space for it. This is because countertop ovens often come with very short power cords – for safety.
Budget
We know you really want the best value for your money – and you would rather spend less if you can on a pizza oven. However, it is usually worth paying the extra amount for it.
For one, higher-end ovens often have better power output and cook much faster. They are also built with high-quality materials that will withstand the test of time.
On the other hand, if you have a tight budget, you are better off sticking to it. In this case, focus on getting an oven with strong basic functions over those with fancy features you probably would never use. This way, you can make the most of what you have.
Functions
More often than not, your countertop pizza oven will be capable of doing more than simply baking pizza. This is interesting as you can save both kitchen space and money by buying one device that can perform multiple functions.
Many countertop pizza ovens can broil and make toast as much as they bake. Others have even more functions; they are capable of warming foods, making cookies, and bagels, roasting, air-fry, and slow cooking. But often not together.
You should note, though, that increased function usually adds to the price of the oven. Hence, it would be best if you prioritized which extra function is most beneficial to you. Which additional function would you be using as often?
Features
Features in countertop ovens abound. And they reflect the modern touch that differentiates them from traditional pizza ovens.
These features make your life much easier by increasing the convenience of using your oven. For instance, interior lights light up the inner parts of the oven so that you can check the state of your pizza without opening the door.
LCD screens show your settings and also help to notify you of the state of your dish. Timers help you set the duration you want your pizza to bake for – it automatically shuts down the oven once the set time is used up.
Several other impressive features would make your baking process much easier. But ensure you have the basics of the oven nailed before focusing on the features.
---
What Should I Look For In a Countertop Pizza Oven
---
When shopping for a countertop pizza oven, you have to make sure that it not only bakes but does it as efficiently as possible. On this note, we would briefly discuss important features and functions to look out for in a countertop pizza oven.
Energy Output and Baking Time
The amount of heat an oven can generate per unit of time is measured in BTU. And this directly affects how long it would take an oven to bake your pizza. As time is scarce, you should opt for an oven with higher energy output. Aim for at least 18,000 BTU when choosing a countertop pizza oven.
Convection Heating
While most quality countertop ovens often have convection heating, it is still important to mention. Convection heating ensures that every part of the pizza gets heated evenly.
Baking Accessories
You should ensure to choose a countertop pizza oven with the necessary accessories to aid your baking process. Some items to look out for include a baking pan, a pizza pan, or a pizza stone to place the pizza on within the oven. A removable crumb tray is also vital, as it would be easy to collect crumbs that fall while baking.
Cleaning Ease
Baking wears you out, and no one likes unnecessary stress. Therefore it is important to choose an oven that is easy to clean beforehand. You should look for an oven with a stainless steel interior/exterior as they are super easy to clean. If not, ensure that the oven has a non-stick interior so cleaning won't be a hassle.
---
Frequently Asked Questions & Answered
---
How do countertop pizza ovens work?
Countertop pizza ovens convert electric energy to heat using "heating elements" designed within them. They then use a fan to distribute the heat around.
What can I cook in a countertop pizza oven?
Besides baking pizza, you can bake cakes, chicken, toast bread, bagels, and broiled meat. Depending on the other specific functions of your oven, you might be able to air-fry, warm, and slow-cook food.
What is the ideal height for a countertop pizza oven?
The ideal height would be dependent on the space you have available on your kitchen counter.
What is the difference between a toaster oven and a countertop oven?
A toaster primarily makes toast and doesn't use much energy or generate much heat. A countertop oven, however, generates enough heat to bake at high temperatures.
Are our kitchen countertop pizza ovens worth buying?
Yes, they are definitely worth buying. Letting you bake at your convenience. Choosing one with versatile functions would give you more value for money.
Conclusion
Countertop pizza ovens are an important kitchen appliance to have in any modern kitchen. They allow you to make your favorite dishes without expending much effort.
Putting together all the important features and functions, Breville BOV900BSSUSC The Smart Toaster Oven is our choice for the best countertop pizza oven. Nonetheless, we are confident that you can't go wrong with any of the products on our list you decide to settle for.