Are you trying to achieve an authentically tasting home-baked pizza? You are on the right path by purchasing an outdoor wood pizza oven. Now, choosing the best wood pellets for pizza ovens ensures that you get that mouthwatering, rich wood-fired flavor and taste.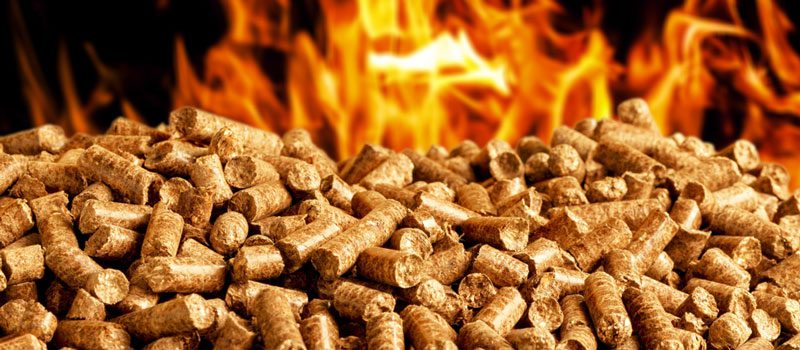 But with tons of options presented at the moment, it's easy to get overwhelmed and confused, especially if you don't know what to look out for or if this is your first time purchasing wood pellets for your outdoor oven.
Hence, we've compiled a list of the top 5 options on the market and a detailed buying guide to ensure you make an informed decision.
Top 5 Wood Pellets for Pizza Ovens
What Need to Know When Buying Wood Pellets for Pizza Ovens
When shopping for pellets to add an authentic smokey flavor to give your cuisine a nice kick, there are several factors to consider before making a choice. Here are the key factors to look out for when trying to pin down suitable wood pellets for your outdoor pizza oven.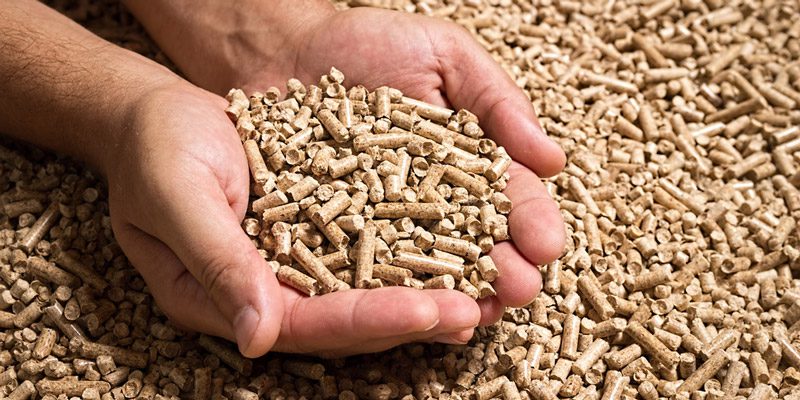 Type of Wood
Wood pellets are made either from softwood or hardwood. The latter offers a lengthy burning experience due to its denser nature, whereas the softwood delivers superior BTU content since it has lignin. Hence, pellets made from softwood burn hotter but only for a shorter period.
Regardless of your options, you want to purchase a product made from high-quality wood to ensure it serves its purposes efficiently. Most wood pellets out there are made from synthetics, cardboard, bark, and not natural wood. Using low-quality wood pellets would only result in large ash residue and an uneven burning experience.
Moisture Content
The best wood pellets for a pizza oven should have little to no moisture content – and for good reasons. Moisture tends to create the perfect condition for mildew and mold growth. So, low moisture content means the wood pellets would burn more efficiently for a longer duration and make it easy to store the rest.
Hence, it would be best if you considered wood pellets with a moisture content not up to 5%. Keep in mind that these high-quality pellets are expensive but will definitely be worth it in the long run.
Ash Content
Wood pellets with high ash composition tend to leave a lot of ash residue, which means extra work when cleaning. Also, large ashes residue can clog your pizza oven.
In addition, the ashes left behind tend to alter the flavor of your food. Hence, we recommend sticking with wood pellets with low moisture content for minimal ash leftover and a more genuine smoky flavor.
Heat Output
This is one of the most ignored factors. Before purchasing a product, it's advisable to consider the BTUs of the wooden pellets. The best wood pellet for a pizza oven should have a heat capacity of around 8,000 BTUs per pound. It's best to stick with higher BTUs, which means a hotter burn.
Flavor
One of the benefits of pizza ovens is infusing your food with sweet, smoky flavors using wood pellets or chips. Pitmasters can use hickory, apple, maple, etc., to add some sort of smokiness and improve your homemade pizza.
Keep in mind that there are different flavor options out there, and it usually boils down to preference. If you don't know to have a specific type of wood pellets in mind, then there's a quick guide to help you choose a more suitable flavor:
Maple
Maple wood is a versatile option when it comes to smoking, grilling, roasting, etc. This type of wood pellet is suitable for vegetables, meats, and even baking. Maple pellets offer your pizza tomato sauce a natural sweetness to create a sumptuous meal.
Oak
Oakwood pellets won't impart your food with intense flavor. This wood adds a smoked essence to your pizza. However, it's highly sought after for its vigorous burning experience delivering extreme temperatures to reduce cooking time.
Hickory
This type of wood delivers a pungent flavor, so they are usually used with most types of pork, including bacon and ham. So, if you love your homemade pizza with pork or similar ingredients, then pellets made from hickory wood are your best bet.
Cherry
Cherrywood is the perfect go-to if you intend to smoke or cook meat. The cherry wood offers an earthy and intense smoke flavor, an excellent option to cook pizza with a meat topping.
Apple
Applewood is a favorite for many pizzerias – and for good reasons. This wood pellet has impressive heat capacity and infuses your meals with a sweet wood-fired flavor. It offers the best of both oak and maple kinds of woods.
---
Wood Pellets for Pizza Ovens Review
---
1.

Traeger Grills Signature Blend 100% All-Natural Hardwood Pellets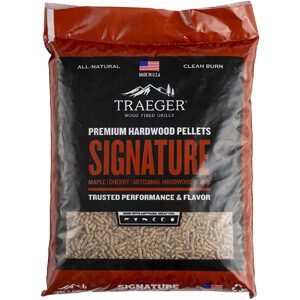 Taking our top spot is the Traeger Grills Signature Blend 100% All-Natural Hardwood Pellets with its unique blend of hickory, maple, and cherry hardwood for fantastic flavor. This product comes from one of the best brands in this space, and its unique compact cell structure ensures a balanced, reliable burning experience.
This manufacturer has always been our go-to for the best wood pellets for pizza ovens since their hardwood pellets have the right volume of moisture to guarantee a perfect burn-to-smoke ratio. These pellets are perfect for roasting, baking, grilling, and smoking. They burn faster and yield fewer ashes.
The Traeger Grills Signature Blend 100% All-Natural Hardwood Pellets go well with a wide range of foods, including seafood, vegetables, and meat. These made-in-the-USA wood pellets are easy to store and come in different size options.
Its versatile blend of hardwoods offers full-bodied flavor to ensure your foods turn out perfect, time and again. Indeed, all pellets are not created equal; this is superior to most options.
Verdict
This is a great pellet grill, and it's hard to beat the price. It's reliable, easy to use, and durable. It has all the features of a high-end model without the hefty price tag.
Strengths:
Clean burn with fewer ashes
Made in the USA
It pairs well with a wide range of foods
A versatile blend of hickory, maple, and cherry hardwood
Offers full-bodied flavor
Easy to store
Weaknesses:
Quality control could be better
---
2.

Ooni Wood Pellets Pizza Ovens – Premium Hardwood pellets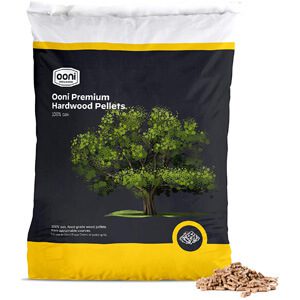 Next is the Ooni Wood Pellets Pizza Ovens made with all-natural oak. These premium hardwood pellets are naturally sourced from the US, which gives us high confidence that they will burn cleanly with fewer ashes.
This product contains about 20 lbs of natural oak pellets to offer up to 12 hours of cooking. This efficient fuel works well in the brand's pizza oven and other grill oven options from other manufacturers. Aside from the long-lasting clean burn, these pellets are a breeze to maintain.
What's more?
The Ooni BBQ pellets are effortless to light and maintain constant high grilling temperatures for perfect results. Their clean burn ensures they infuse your food with rich, authentic oak smokey flavor.
Verdict
When talking about the best pellet smokers for pizza, Ooni is a name that comes to mind. These pellets are well-made and deliver consistent results. What s more? The manufacturer offers a money-back guarantee on its products if you are not satisfied with their performance.
Strengths:
Minimal ash leftover for low cleaning experience
Infuses your food with mouthwatering, authentic smokey flavor
Double well as smoking pellets or grill pellets
Delivers a long-lasting clean burn
Easy to maintain and top up for constant cooking temperature
Weaknesses:
---
3.

Traeger Grills PEL305 Mesquite Hardwood Pellets Grill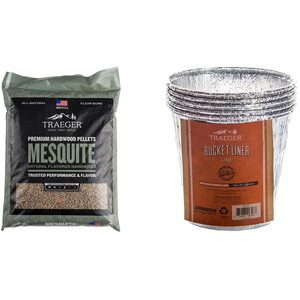 For grilling, smoking, and roasting, you can't go wrong with the Traeger Grills PEL305 Mesquite Hardwood Pellets Grill. This product is quite different from our top choice, Traeger Grills Signature Blend 100% All-Natural Hardwood Pellets, which is a blend of many hardwoods. This unit features mesquite hardwood to offer a robust and bold flavor.
The pellet is suitable for cooking any classic BBQ cuts, including beef. This best wood pellet for a pizza oven is made with quality materials for perfect smoke to infuse your meal with real taste. These 100% natural hardwood pellets feature a unique compact cell structure for a reliable and balanced burn.
The Traeger Grills PEL305 Mesquite Hardwood Pellets Grill pairs well with seafood, poultry, beef, etc. it is compatible with Ironwood 650 and 885, new Pro series 575 and 780, 20 series, 22 series, and 24 series grills. Furthermore, it has the right amount of moisture content for a perfect burn-to-smoke ratio.
Coming with 5 packs of liners, this wood pellet offers a clean burn and holds enough fuel for a long cooking session with minimal ash leftover. Needless to say, it's made in the USA, which gives us peace of mind with our purchase.
Verdict
If you're looking for a grill that has it all, look no further than the Traeger Grills PEL305. It has everything you could ask for and more to give you the most grilling experience for your money.
Strengths:
Infuse your food with robust and bold mesquite flavor
Clean burn with less ash residue
It comes with 5 packs of liners
Suitable for most cooking functions, from grilling to braising
Weaknesses:
Requires proper storage to prevent them from going rancid
---
4.

Louisiana Grills All-Natural Wood Competition Blend Pellets
Louisiana Grills All-Natural Wood Competition Blend Pellets is one of the premium cooking pellets on the market. This product is designed to serve as heating pellets. However, they come in handy when smoking, thanks to their 100% natural composition – hickory, cherry, and maple hardwood.
This unique combination delivers a tart, savory, and fruity flavor to change the flavor of vegetables, seafood, beef, chicken, etc. these pellets are sourced naturally from the US and do not include any artificial additives. Also, they come in large sizes to ensure pitmasters get a lengthy smoking and cooking experience.
That's not all: the Louisiana Grills All-Natural Wood Competition Blend Pellets have a lower moisture content to ensure a more efficient burn and excellent performance. Also, it leaves you with little ash to clean up and maintain.
This pack weighs about 1 pound, which should be enough for cooking for a couple of hours. With the Louisiana Grills All-Natural Wood Competition Blend Pellets, anyone should be able to create sumptuous BBQ meals with ease.
Verdict
Louisiana Grills All Natural Wood Pellets are a great choice for anyone looking for an excellent barbecue. These pellets come in a large bag, and you don't have to worry about the meat being cooked unevenly.
Strengths:
A perfect mix of tart, savory and sweet
Wood pellets are all-natural for a safe cooking experience
Comprised of Cherry, Natural Wood, Maple, Hickory
Heats up quickly
Weaknesses:
Lightning these pellets can be a bit challenging
---
5.

Smoker Pellets Variety Pack – Wood Smoking Pellet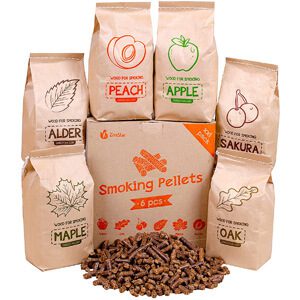 This product is a pack of fruit and hardwood to allow you to get a sweet and rich flavor. The pellets have a wide diameter to support a lengthy smoking and cooking session. The model is made of completely natural wood, making the chips of premium quality.
The Smoker Pellets Variety Pack leaves your meal with a breathtaking aroma. It's made of a 100% shredded variety of hardwood to provide BBQ lovers with an authentic smoke scent. On top of that, these wood smoking pellets do not include any additives, oil favoring, or glues.
That's not the best part: the product is compatible with gas, charcoal, electric, and smokers grills. These cooking pellets come in the right size and density to ensure they offer rich smoke for a long smoking session. Also, Smoker Pellets Variety Pack is perfect for veggies, seafood, poultry, pork, and beef. It infuses your food with a fragrant smokey flavor for an aromatic meal.
Verdict
This is the best wood pellet smoker for a beginner. It is easy to use and provides a convenient way to smoke your favorite food in minutes.
Strengths:
100% natural wood pellet
It comes in a pack of 6 or 9- Oak, Maple, Apple, Peach, Alder, and Cherry Wood pellets
Perfect for cooking just about anything
Suitable for grilling, BBQing, smoking, roasting, braising, etc.
Weaknesses:
The water content is a bit high
---
Frequently Asked Questions & Answers
---
How long do wood pellets last?
Pizza pellets can deliver continuous cooking for about 7 to 12 hours. The best wood pellets for pizza ovens should burn efficiently with less ash left behind.
Can I mix my charcoal with the wood pellet?
Wood and charcoal can be a perfect mix since the latter is more manageable and predictable, whereas the wood infuses your pizza with rich flavor. The blends offer you the best of both worlds in the right portions. However, you might not like this mix, especially if you hate the charcoal-fired taste.
Can I use any wood with my pizza oven?
While there is a wide range of woods you can use, it's best to stay away from Eucalyptus, Cypress, Elm, Redwood, Sycamore, Pine, and Fir.
What is the best fuel for a pizza oven?
When it comes to making the perfect pizza, the fuel used in the oven is a critical part of the equation. From wood-fired to gas, each fuel source has its own pros and cons. This article seeks to provide an overview of the best fuel for pizza ovens and why it is better than other options.
Conclusion
Homemade pizza can be easier and tastier with the best wood pellets for pizza ovens. But with hundreds of options on the market, choosing the right one can be a bit tricky and challenging.
Thus, we've reviewed the top 5 options and included a detailed buying guide to ensure you make an informed decision.