Making the perfect pizza starts with having the right tools. One of the most important tools for making great pizza is the pizza peel. A perforated pizza peel can make all the difference when it comes to transferring your homemade creation from the countertop to the oven without any mess or hassle.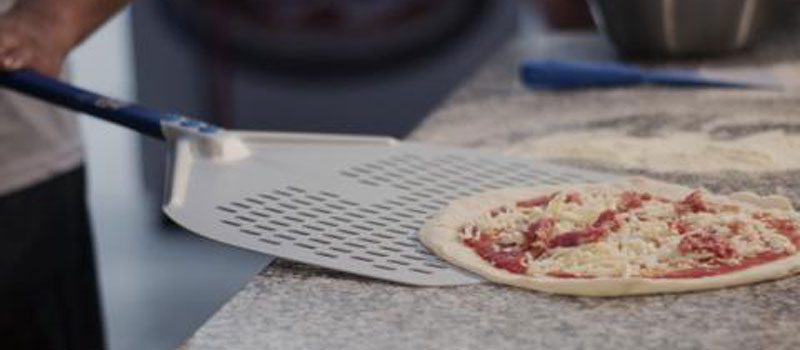 To help you find the best-perforated pizza peel, this article will review our top 5 picks that are sure to give you an effortless and successful pizza-making experience.
Top 5 Perforated Pizza Peels
---
Benefits of Perforated Pizza Peels
---
Remove Excess Flour
The primary purpose of a perforated pizza peel is to remove the excess flour from the base. Unfortunately, the excess flour tends to burn on the baking surface, especially the common fine wheat flour. Burnt flour tends to create smoke that fills your oven with dark, grey smoke. Also, burnt flour means more cleaning to do after baking. It'll be sticky and a hassle to clean.
Less sticking
This type of peel features a smaller surface, reducing the chances of your dough sticking to the surface. In addition, these products have a smaller contact surface which means less friction between the pizza and the peel. And less friction offers an almost nonstick experience. Keep in mind that you want to choose a product with smaller holes and not large holes. Bigger perforations are often counterproductive, and it would be better to stick with solid pizza peel instead.
Lower weight
Unlike solid peel, perforated versions are lighter since it has less metal. Its lower weight is responsible for its easy carry and handling experience.
Less condensation
When you retrieve your hot pizza from the oven, you should notice water forms under the pizza, making it slightly soggy. This moisture leading to less crispy pizza is often caused by using a non-perforated peel, as it traps hot air in between the smooth, solid surface and pizza crust. This is where perforated peel becomes a go-to for a crispy crust.
Key Features to Consider When Shopping for Perforated Pizza Peel
When it comes to this essential tool, there are many options – rectangular or round, big or small, wood or aluminum. Pizza peels come with different characteristics to meet a wide range of needs. Here are some tips to guide you in choosing the right peel for your needs.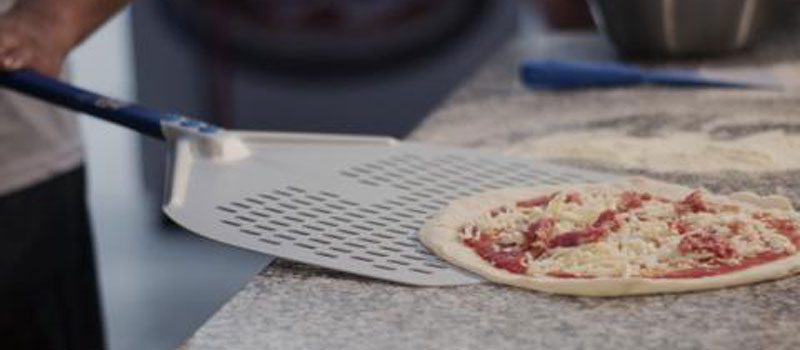 Materials
The kind of material a peel is made of determines the features and performance of the unit. Common material includes wood, stainless steel, aluminum, and wood composites.
Wood
It's not hard to find a wooden pizza peel. It's a common choice because it offers much-needed support when handling heavier pizzas. Further, this traditional material has high heat resistance, making it suitable for even the hottest pizza ovens. In addition, it offers impressive food release performance.
This unit requires more upkeep and care compared to other materials. For example, wooden pizza peels should never be soaked in water or used wet. Else, this baking tool might warp or crack. Above all, it can be challenging to sanitize wooden pizza peels.
Wood composite
This material is a combination of resin and wood materials. Resins are included to make the peel's body stronger. Thus, a wood composite pizza peel is thinner than wooden models, but it's just as strong and offers enough support to handle heavy pizzas.
However, composite versions are usually heavier than traditional wood models. Also, they usually come with short handles, which makes them a no-no for deep ovens. But on the brighter side, these models can be sanitized and washed.
Steel
Pizza peels crafted with steel are extremely durable. The steel blades are usually stronger and smoother than the traditional wooden blade. Unlike the latter, the steel versions are effortless to clean. Sadly, the raw dough does not slide off easily on a steel blade like wooden models.
In addition, steel peels have a wide range of handles, from plastic to steel, wood, and rubber grips. In our opinion, the rubber grips offer better handling and a comfortable grip.
Aluminum
Steel peels are heavier, and their heavy weight makes them a bit awkward to handle. So, if you prefer a lighter peel, then you should consider an aluminum peel. They are light and relatively easy to use. It's a decent choice for people who prefer metal peels but hate to deal with the weight of steel models or the demanding maintenance of traditional wooden models.
However, aluminum pizza peels are not as durable as steel peels but strong enough to last almost a lifetime. In addition, most aluminum pizza peels are perforated blades, which means less mess to deal with after baking and a crisper pizza crust to enjoy. Also, you want to make sure that the aluminum peels are anodized to prevent oxidation for extreme durability.
Shape & size
The shape and size of the blade determine the size of the pizza you can handle. Typically, pizza peels either come with round or rectangular blades. The rectangular peels are suitable for wide pizzas since they have around the front. Round pizza peels are perfect for turning and moving your smaller pizzas as they cook.
Therefore, before setting for a pizza peel, consider the shape and size that best suit your baking needs. Remember that rectangular pizza peels offer a large surface area to maneuver pizzas. Still, you don't want to go with a much larger pizza as it can be challenging to maneuver small pizzas.
In terms of the shape and size of a pizza peel, it'd be best to have both types on hand. A round pizza peel allows you to turn the pizza effortlessly as it cooks, and the rectangular versions are for taking out or putting the pizza in your oven.
Handle length
This is another essential factor to put in mind when trying to pin down the right pizza peel for you. You should consider your oven's depth and choose a corresponding handle.
If you own a wood-fired pizza oven, it might be best to go for a long-handle pizza to allow you to retrieve your pizza at a safe distance. In the same sense, if you bake with a kitchen pizza oven, then you might be better off with a short pizza peel.
---
Best Perforated Pizza Peels Review
---
1.

Gi 14″ Aluminum Perforated Turning Pizza Peel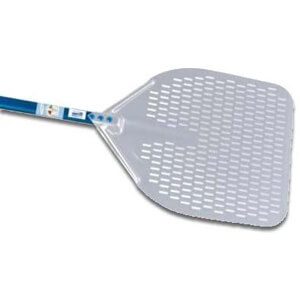 The Gi 14″ Aluminum Perforated Turning Pizza Peel is an ideal choice for bread, pastries, pizza, and much more. This product features a light blue anodized handle and a neutral anodized blade for optimal durability and performance.
Unlike the traditional models, this perforated peel is very light and extremely durable. It features an oval tubular handle for incredible stability sake.
Its light head is flexible to favor the scraper effect. Gi 14″ Aluminum Perforated Turning Pizza Peel comes with an extra-long 47-inch handle to allow you to turn and retrieve your pizza from the hot oven safely and conveniently.
The blades are riveted to the handle to guarantee safety and secure handling. Also, it eliminates vibrations and guarantees secure handling. More so, the perforation design offers low friction for easy food release and eliminates excess flour, which minimizes your chances of ruining your pizza.
Verdict
This pizza peel is made of the highest quality aluminum, making it lightweight and durable. With a 47-inch long handle, you can easily turn your pizza from the oven. This product is easy to use, store, and clean. It is rustproof and will guarantee you lifetime service.
Strengths:
Lightweight and durable anodized aluminum construction
Extra-long handle
30-day money-back guarantee
Three large rivets for secure handling
Weaknesses:
The handle might be too long for some bakers
---
2.

Ooni 12″ Perforated Pizza Peel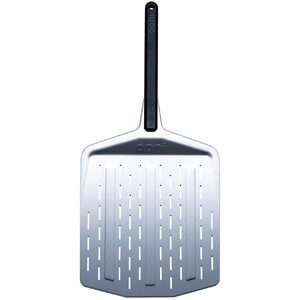 The Ooni has been a go-to for reliable pizza oven accessories for many years. This product features high-quality aluminum construction for outstanding performance in the hands of both amateurs and professionals. For pizza-making lovers, the Ooni 12″ Perforated Pizza Peel is perfect for launching your pizza into your oven without a sweat.
However, it's best to sprinkle this peel with flour before using it to guarantee excellent food release performance. In addition, its blade is perforated to remove the excess flour and prevent water from being trapped between the pizza base and blade, resulting in a soggy pie.
As said earlier, it's crafted with aluminum which makes it light and easy to maneuver your pizza with ease.
Verdict
If you're looking for a sturdy, high-quality pizza peel that s easy to use and clean, the Ooni 12 Perforated Pizza Peel is an excellent choice. But if you want something even more effective, look for another pizza peel like the Pizza Paddle instead.
Strengths:
Easy to use
Lightweight and sturdy construction
Hard anodized coating for corrosion resistance
Hyper-smooth surface for a seamless experience
Weaknesses:
---
3.

Perforated 12″ Aluminum Pizza Peel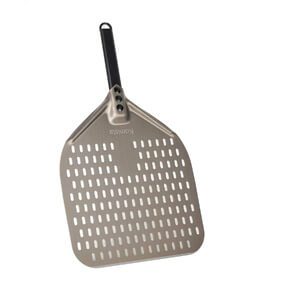 This is the best-perforated pizza peel from Krista. This baking accessory is made entirely from anodized aluminum for extreme durability and a lightweight design. Its sturdy construction makes it suitable for frequent use in high-heat pizza ovens.
Also, the Komista Perforated 12″ Aluminum Pizza Peel comes with a lightweight handle to keep your hands safe from the hot oven. Also, it features three rivets to guarantee impressive stability. Finally, this peel's blade is reinforced to ensure it withstands extreme heat and the rigors of daily use.
Similarly, it features perforations to remove the excess flour from the base, which minimizes your risk of burnt pizza crusts. On top of that, the perforation attenuates the surface friction to allow your pizza to slide off smoothly and incident-free.
In addition, it's lightness and flexibility offer that scraper effect to allow bakers to remove the pizza dough from their workspace with ease. The handle design is ergonomic, and its square shape blade fosters stability. The blade shape offers a large surface area to support pizzas of all sizes.
Verdict
The size, design, and material of this product make it one of the best pizza peels for home use. It is an excellent option for bakers who want to enjoy a fast and easy pizza-making experience.
Strengths:
Head-handle joint with sturdy three rivers
Lightweight, ergonomic handle
Full refund policies
Classic square shape offering a large surface area
Easy to clean
Weaknesses:
It's best to sprinkle flour beforehand
---
4.

Komista 9″ Stainless Steel Round Perforated Pizza Peel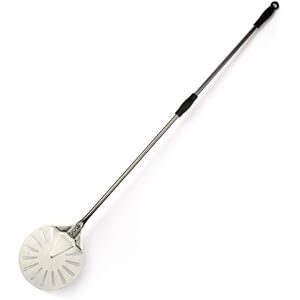 When it comes to the best-perforated pizza peel for rotating your pizza in the oven, you want to stick with the Komista 9″ Stainless Steel Round Perforated Pizza Peel for even, thorough baking. It has a long handle design for easy use and a perforated surface to deliver a crispier crust.
More importantly, the perforations reduce friction, which allows your pizza to slide off effortlessly. The round-shaped head has milling to allow this peel side under your pizza from the front or the side to smooth and incident-free.
This unit comes with a 47-inch handle to keep bakers at a safe distance while turning the pizza in the hot oven.
Unlike most models on this list, the Komista 9″ Stainless Steel Round Perforated Pizza Peel features a full stainless steel handle and head to minimize heat transfer and guarantee snappy cleanup and impressive cleanliness.
This stainless steel peel is built to withstand high-heat pizza ovens, and the handle is reinforced with three rivets for extra stability.
Verdict
The Komista 9 Stainless Steel Round Perforated Pizza Peel is a great option for serious pizza lovers and professional bakers alike. Its high-quality construction and durable stainless steel design deliver consistent results and make it easy to keep the kitchen clean.
Strengths:
Suitable for turning and spilling pizza with ease
Easy to clean
Durable stainless steel construction
Long handles to keep your hands away from the hot oven
Weaknesses:
The handle's quality could be better
---
5.

Homevibes 12″ Perforated Pizza Peel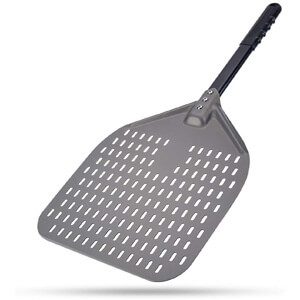 Earning a spot on our list is the Homevibes 12″ Perforated Pizza Peel. This model is made from light and robust anodized aluminum. The anodized coating protects the surface from oxidation for lifetime durability. Plus, this baking accessory is wear-resistant and can withstand high temperatures.
The Homevibes 12″ Perforated Pizza Peel slides under bread, stromboli pizza, sandwiches, and pizza with ease. This unit is 26 inches long and acts as a perfect arm extension for any baker. It's suitable for both commercial and personal purposes.
What's more?
Its flexible blade delivers an impressive scraper effect which requires less flour or cornmeal to transfer the pizza from the counter to the oven without a sweat. In addition, the handle features an insulated silicone jacket for extra protection from the oven surfaces.
Above all, the manufacturer claims to offer a 100% money-back guarantee if it doesn't live up to the hype.
Verdict
We can confidently say that this pizza peel is worth every penny. It s a high-quality, affordable tool that will help you out in the kitchen in no time.
Strengths:
Insulated silicone handle for safe handling
Anodized aluminum for impressive performance
It can withstand high temperature
Ideal for both personal and commercial purposes
Weaknesses:
Its nonstick performance could be better
---
Perforated Pizza Peel Questions & Answered
---
What is the best way to use a perforated pizza peel?
There are several ways to use this baking tool. It's best to figure out what works well and comfortably for you.
How do I prevent the dough from sticking to my perforated pizza peel?
This type of peel features small holes to offer hassle-free food release without adding much cornmeal or flour. However, if your perforated pizza peel sticks, then sprinkle flour or cornmeal for improved nonstick performance.
Can I use my perforated pizza to slice pizza?
It boils down to the material. Many wooden peels can be used as a cutting board. However, perforated pizza peels won't do a good job due to the small holes in the blade.
Why are some pizza peels perforated?
The perforations on a pizza peel help to release air pockets and steam as the pizza is transferred from the peel to the oven. This prevents the pizza from becoming soggy and allows it to cook evenly.
Conclusion
By now, you should have figured out that choosing the right peel is not an easy decision. Therefore, it's best to consider the factors discussed above and use our top 5 recommendations as a guide to ensure you end up with the best-perforated pizza peel.
But if you're still not confident about any of the products reviewed above, you should stick with our top choice – Gi 14″ Aluminum Perforated Turning Pizza Peel.