There are a lot of pizza steels out there, and it's hard to differentiate between them. One of many factors that should influence your decision is thickness.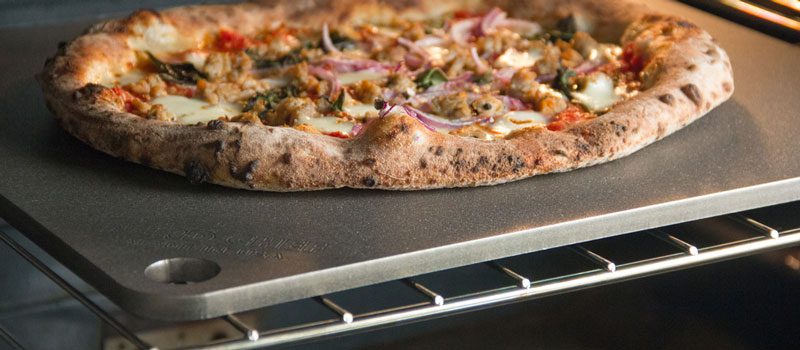 Here's a million-dollar question, what's the best pizza steel thickness for me?
The pizza thickness determines the number of pizzas you bake and the baking time. This makes choosing the right pizza steel within the range, of 3/16-inch to 1/2 -an inch, a bit complicated.
Thus, in this article, we'll discuss:
The advantages and drawbacks of different pizza steel thickness
How to use each of this thickness
How does the thickness of pizza steel affect the baking time and performance
Thin vs. thick pizza steel – How to choose the right one
The Effect of Pizza Steel on Baking Time
The thickness of pizza steel affects two factors: the number of pizzas you can make without reheating the tool and the time it takes to bake each pizza.
Baking Time
Before we get started with how the thickness of this baking tool affects the baking time of your pizzas, it's essential that you understand the significance of baking with pizza steel.
Role of a Pizza Steel on the Baking Time
Pizza ovens radiate heat from the oven's ceiling, which works in tandem with a hot baking surface to achieve the desired results. However, for kitchen ovens, you might need pizza steel to mimic the performance of a pizza oven.
Here's the trick;
Both top and bottom surfaces of an oven must bake at the same rate to ensure a perfect result – this isn't an issue with a pizza oven. However, with your regular oven and pizza steel, you need to be careful as you want both to bake at the same rate.
This means you don't want the pizza steel baking slower than the oven. Else, you might end up with burnt toppings and pizza crust. For excellent results, you need the steel's temperature and oven's heat to be balanced.
Nobody wants to bake their pizza forever but to achieve great Neapolitan pizza, you want to bake it at about 900 degrees F. Traditionally, this should be done in 1 – 2 minutes. However, your kitchen oven can't deliver such extreme heat, and this is where baking steel comes in handy.
Now, the important aspect;
If you own steel with incredible baking performance, you need to couple it with a home oven that delivers outstanding performance too, why? The pizza steel will likely bake the pizza base fast, and you need an oven that will bake your pizza top at almost the same speed.
There are several ways you can increase the temperature, but we recommend using a broiler. This tool is a heating element, which is often placed at the top of your kitchen oven. Thus, ovens with broilers are best suited for baking pizza with high-performing steel.
So, if your regular kitchen does not have a broiler, it's best to stick with slow-baking pizza steel.
The Role of Pizza Steel Thickness on Baking Time
The thickness of this tool determines how fast the bottom of your pizzas gets done. Pizza steels capable of retaining more heat can deliver more heat to the pizza crust for perfect crispy results in a shorter time.
While steel is known for excellent heat transfer, without retaining heat, it might take longer to bake.
In simpler words, thicker pizza steel will bake the same pizza faster than thin baking steel.
List of Pizza Steel Thickness and Baking Time
Given the same home oven temperature, the baking time for the same pizza varies from 3 – 8 mins.
3/16 inch \ 6 – 8 mins
¼ inch \ 5 -7 mins
3/8 inch \ 4-6 mins
3/8 inch \ 4-6 mins
1/2 inch \ 3-5 mins
Keep in mind that each pizza steel at a different thickness was preheated up to 550 degrees F. Also, baking at different temperatures translates to different baking times from the table. The table only gives you an idea of what to expect from pizza steel at that thickness.
Number of Pizza
The pizza steel thickness determines the number of pizzas you bake without having to reheat this baking tool. With each cold pizza placed on hot pizza steel, the temperature of the tool drops.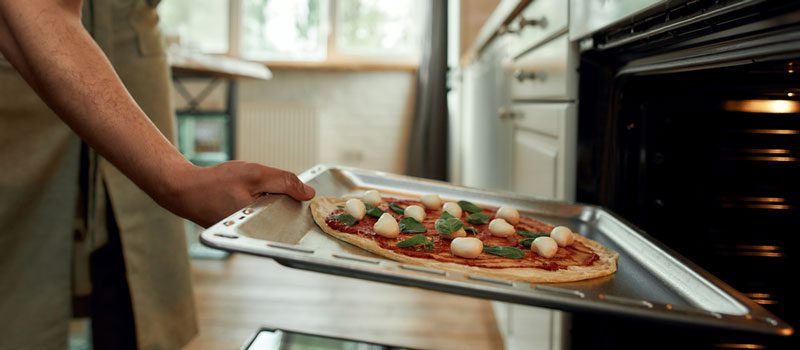 As said earlier, pizza steel retains more energy, which means it will hold temperature better than thinner versions. Thus, if you want to bake several pizzas without a sweat, you should steer clear of thinner pizza steel.
For 3.8-inch pizza steel, you should be able to bake two pizzas consecutively. However, you might notice a slight color variation when baking the second pizza. Besides, the second pizza won't be as crispy as the first pizza.
How Long to Preheat a Pizza Steel
Thicker pizza steel takes a long time to preheat – and for a good reason. They retain more energy, which means they spend more time absorbing the heat. For ⅜-inch baking steel, it takes about an hour, 45 mins for 3/16-inch pizza steel, and about 90 mins to preheat ½-inch pizza steel.
Thin vs. Thick Pizza Steel
In summary, the thin pizza steel won't do an impressive job when it comes to holding more heat for reducing baking time and allowing you to bake several pizzas consecutively. With more heat to help create a crisper pizza crust, you might notice some charring.
Furthermore, the thicker alternative will likely take longer to preheat than a thinner version. Also, thicker pizza steels are on the heavier side and tend to be pricier than the thinner models.
Pizza Steel Thickness – How to Make the Right Choice
When trying to pin down the best pizza steel thickness, you shouldn't be too focused on how much heat the baking stone can retain. Else, you will always end up with the thickest model on the market.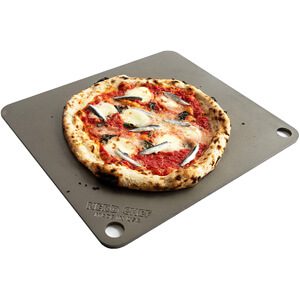 As stated earlier, the thickest version does not necessarily mean it's your best bet. You need the right pizza steel that bakes the bottom of your pizza just as fast as the oven bakes the pizza top.
Hence, for home bakers with an oven without a broiler that maxes out at 450 degrees F, you should stay away from thick steel. Here's why, the thicker steel will bake your pizza base faster than the top, which will ruin your pizza.
Thus, you should stick with a product that matches your oven's overall performance. If your kitchen oven lacks a broiler at the top, you are better off with a ¼ or ⅛-inch pizza steel. On the other hand, if you own a regular oven with a broiler, then you should consider the maximum temperature the appliance can reach. The max temperature determines the thickness of pizza steel to purchase.
In our opinion;
An oven with a maximum temperature of 500 degrees F requires a thickness of ¼ – ⅜ inch steel, while a pizza thickness of ½ inch is best for an oven capable of delivering high temperatures anywhere between 550 – 600 degrees F.
By now, you should have figured out that the hotter your oven, the shorter the baking time. Thus, it would be best if you had thicker pizza steel to keep up with your oven's incredible cooking performance.
Benefits of Pizza Steel
Using pizza steel allows you to make authentic pizza with crispy crust without any hassle.
Here are other reasons why you should consider using pizza steel with your kitchen oven:
Impressive heat conduction – guarantees a higher heat than what the regular home oven can deliver for a quicker baking process.
High heat retention – pizza steel can hold enough heat to allow you to bake several pizzas consecutively.
Easy to use and maintain – it's made of steel and requires the least maintenance.
Durability – the pizza steel is built to last a lifetime and won't break even if accidentally dropped.
So, if you are looking for the best way to make a sumptuous Neapolitan pizza with your regular kitchen oven, then you need the pizza steel. They are hassle-free to use and maintain. Sadly, the pizza steel is on the pricier side, and it can be a smart investment for pizza-making lovers like us.
Conclusion
While it might seem like thicker pizza steel is the right way to go, you don't want to use this version with an oven without a broiler. Sure, the thicker models hold more heat for faster baking time, but before opting for one of these, you might want to consider the heat output of your oven.
Choosing the wrong thickness will only leave you with either a burnt crust or burnt toppings. In addition, if you want to bake several pizzas right away, then it's best to use thicker pizza steel in an oven with a broiler.
Most importantly, you want to choose a thickness that bakes your pizza base just as fast as your oven bakes the pizza's top.