Everyone loves pizza nights, which can be one reason why most households are considering getting a pizza oven. Besides, whipping up these dishes is cheap and very easy with the right equipment.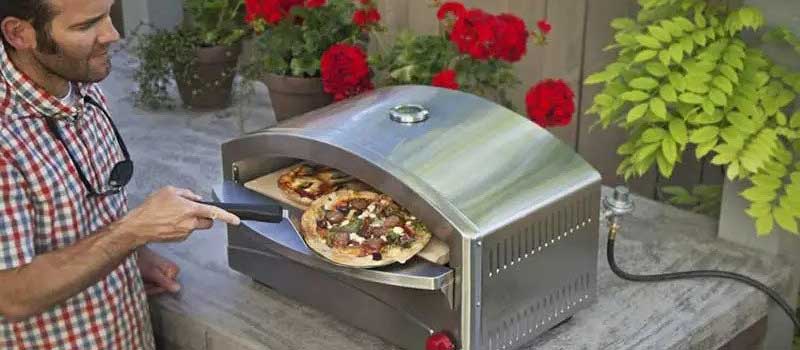 No doubt, you can make pizza with several appliances, but if you value convenience and consistent crispy results, the pizza oven is your best bet. However, there are different types of pizza ovens, from wood-fired pizza ovens to gas pizza ovens. But the latter offers incredible convenience, which makes it a perfect match for most homes. Plus, they are designed for outdoor purposes.
Propane pizza ovens are smaller alternatives to traditional brick ovens; many are portable enough to take anywhere.
So, if you're looking to own one of these products, check out our top 7 recommendations for the best propane pizza oven for your home.
Top 5 Propane Pizza Ovens
---
Propane Pizza Ovens Review
---
1.

Camp Chef Italia Artisan Propane Pizza Oven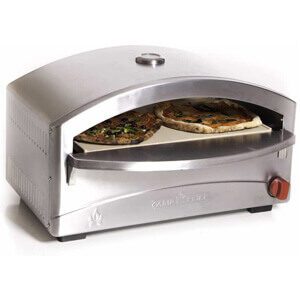 Designed to mimic a brick oven closely, this appliance is an ideal choice for making authentic Artisan Pizza. The Camp Chef Italia Artisan Pizza Oven is made out of smooth, stainless steel for a sleek design and hassle-free cleaning experience.
This impressive pizza maker features a portable gauge on the back of the appliance for controlling propane gas. Plus, it allows users to use wood to fire it up. With the built-in temperature gauge, you can easily control the heat of this oven for a perfect taste.
Also, it allows you to cook just about any type of recipe, not just pizza alone. Another thing I love about Camp Chef Italia Artisan Pizza Oven is its fast heating process, which ensures you don't spend lots of quality time baking a pizza.
That's not all: this pizza maker comes with several accessories to make sure preparing your favorite pizza is seamless such as pans, pizza peel, and a cutter. Further, the baking stone made out of a heavy-duty cordierite stone is built inside this appliance to help get rid of unnecessary moisture, which allows me to achieve a crispy pizza crust just the way I love it.
Camp Chef Italia Artisan Pizza Oven features a double-layered wall and ceiling for unparalleled heat retention and insulation, which comes in handy when baking and keeping your pizza warm for a perfect bite.
Again, this appliance is crafted using stainless steel for a light, easy-to-carry propane pizza oven that can easily tag along to your next outdoor event. This model features a dome shape, which allows the propane pizza maker to take advantage of the air around it for a more powerful flame. This unique design makes it suitable for use in windy areas as an outdoor oven since the extra wind fosters more cooking power.
Additional Specification:
Best for: Pizza, Baking bread, Roasting meats
Material: Stainless Steel
Dimensions: 30 x 19.5 x 18 inches
Reach temperatures: 700° F
Total Output: 17,000 BTU/hr
Strengths:
Lightweight stainless steel body
Built-in temperature gauge
Double-layered ceiling
Build-in valve for flame adjustment and reliable ignition
Weaknesses:
---
2.

Cuisinart CPO-600 Portable Propane Outdoor Pizza Oven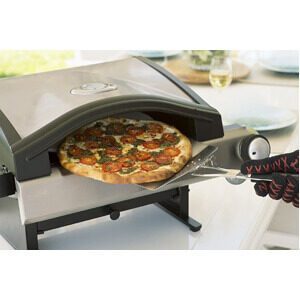 The Cuisinart CPO-600 Portable Outdoor Pizza Oven is another decent choice for anyone looking to purchase a brick oven replica. This model uses conduction, convection, and reflected heat to ensure an even cooking temperature.
This model is one of the few options out there not sticking to norms by going for a different design. You should expect this appliance to deliver crisp, delicious, evenly-cooked homemade pizza with such a design.
More so, this innovative pizza maker offers a total cooking space of 143 square inches, which should be plenty enough for cooking a 12-inch pizza without any issues moving or turning the pizza around. While it weighs about 36 pounds, I find Cuisinart CPO-600 Portable Outdoor Pizza Oven easy to carry and transport. Plus, the built-in handle always comes in handy.
In addition to that, it took only a while for me to assemble this appliance without having to grab my toolbox. So, you should be able to have this oven ready in a couple of minutes. This unit comes with a 13-inch pizza stone and a lower ceiling for an optimal cooking environment.
That's not all to love about Cuisinart CPO-600 Portable Outdoor Pizza Oven. This product comes with much-needed accessories like the 12-inch pizza peel, cordierite pizza stone, and Pizza Making Guide for a seamless cooking experience.
Also, it comes with a cover and stands to allow users to set this pizza maker anyway safely. Plus, it includes a conversion hose for the propane tank (20 pounds). Even better, it has a brush and a pizza cutter to help achieve even pizza slices.
Although this product barely goes above 700 degrees F, it cooks pizza within 5 minutes with a nice crust. You also get a temperature gauge on the lid to allow users to keep track of the inner oven temperature for perfect results. Above all, it's incredibly portable and compatible with a 1-pound propane gas tank, which makes it ideal for picnics and tailgating.
Additional Specification:
Best for: Turning the pizza around
Material: Stainless Steel
Dimensions: 18 x 27 x 14.5 inches
Reach temperatures: 700° F
Total Output: 15,000 BTU
Strengths:
Portable and lightweight
Built-in warming tray
Integrated smoke chip cup
Massive cooking power of 15,000 BTUs
Weaknesses:
---
3.

Ooni Koda Outdoor Propane Pizza Oven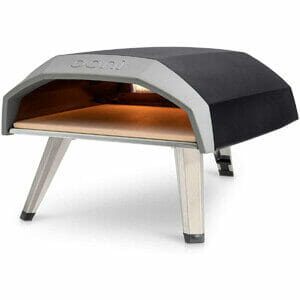 The Ooni Koda Outdoor Pizza Oven is a portable yet powerful pizza oven. This model is basically an alternative option instead of the larger Koda 16 from Ooni. This compact pizza oven with a single-line flame burner is perfect for cooking a 12-inch pizza.
Among the best propane pizza ovens mentioned in this post, Ooni Koda Outdoor Pizza Oven has the most awe-inspiring design. So, if the pizza oven design and looks can be a deal-breaker, Ooni Koda Outdoor Pizza Oven will better appeal to you with its three-leg design and angular construction.
Aside from its great looks, this small oven delivers pretty good cooking performance with its single burner placed at the back. With this appliance, you don't need a side burner like the Koda 16. Weighing about 20 pounds, this lightweight pizza maker is hassle-free to carry around and with you on your camping trips.
What's more?
The Ooni Koda features the manufacturer's patented Flamekeeper Technology, which ensures this appliance heats up to your desired temperature without needing a cover or a door. Thus, using this model outdoors won't be an issue as long as you keep the opening face opposite of the wind direction.
The Ooni Koda Outdoor Pizza Oven preheats within 15 minutes and attains a high temperature of about 800 degrees F. Because of its compact design, it only takes a small space, and storing it won't be challenging after use.
Even better, it's equipped with a powder-coated shell, which ensures this unit can withstand the rigors of a different environment. Considering this outdoor oven's size, I was surprised at the amount of cooking power it packs.
Nonetheless, like most outdoor equipment, tools, or appliances, it's advisable to protect this small unit from natural elements – cover and store them properly.
Additional Specification:
Best for: Cooking a 12-inch pizza
Weight: 1 pound
Dimensions: 15.7 x 11.6 x 24.8 inches
Reach temperatures: 950ºF
Total Output: 13,500 BTU/H
Strengths:
Lightweight and portable construction
Steel construction for heat retention
Great looking oven design
Quick preheat time
Weaknesses:
---
4.

Mont Alpi MAPZ-SS Table Top Propane Gas Pizza Oven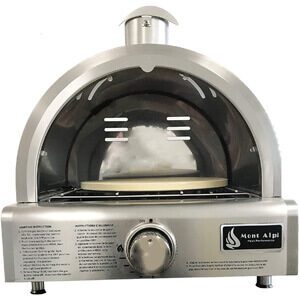 If you want a propane pizza oven with sturdy stainless steel construction, then you can't go wrong with Mont Alpi MAPZ-SS Table Top Gas Pizza Oven. This model shares a couple of concepts from traditional brick ovens.
One of these concepts includes its dome shape mimicking the brick oven's shape. As said earlier, Mont Alpi MAPZ-SS Table Top Gas Pizza Oven is made out of stainless steel, which sadly isn't on par with other models in terms of heat retention and insulation.
Because of this drawback, the manufacturer includes a cover attached to the lid for easy access to your pizza when you need to turn or move it for proper insulation and heat retention. Furthermore, it works well with a 1-pound propane gas tank for an on-the-go cooking experience. However, the manufacturer does not include an adapter for a 20-pound propane gas tank option, which means you've to purchase the attachment separately.
In about 5 minutes, this oven is preheated and ready to use. Another thing to love about this model is its efficient gas consumption. This oven can attain high temperatures of up to 540 degrees F within minutes to allow users to achieve a crispy pizza crust with great topping in just 5 minutes.
Despite its small stature, Mont Alpi MAPZ-SS Table Top Gas Pizza Oven can cook a 12-inch pizza without any problems. Plus, it has enough cooking room to turn and move the pizza easily. Thus, reducing your chances of burning your favorite pizza when cooking.
Another vital aspect is cleaning. For me, cleaning the Mont Alpi MAPZ-SS Table Top Gas Pizza Oven was a lot easier, thanks to dishwasher-friendly components, including its 12-inch baking stone.
The prime concern with this unit is its inability to reach a higher temperature, which is the recommended temperature range for making a perfectly crispy pizza crust. On top of that, the stainless steel construction is a bit flimsy, which leads to low heat retention.
Additional Specification:
Best for: Easy access
Weight: 27 pounds
Dimensions: 21 x 15 x 17 inches
Reach temperatures: 550 degrees
Total Output: 12001 BTU
Strengths:
Dishwasher safe components
12,000 BTU rating
Easy dial knob ignition and flame control
12-inch pizza stone included
Weaknesses:
No insulation for better heat retention
---
5.

Hiland PSL-SPOC Propane Pizza Oven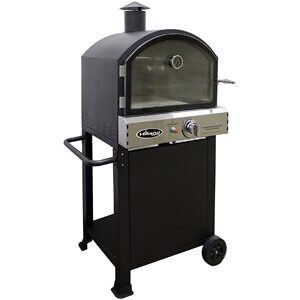 Hiland PSL-SPOC Propane Pizza Oven has a full-view front window, which allows you to monitor your pizza without having to open the door often. For the same reason, it's equipped with a temperature gauge for keeping track of the oven's internal temperature for a perfect result.
What's more?
It features a food-safe pizza stone and an electronic pulse ignition system to ensure a reliable startup every time. This model offers a massive cooking power of 15,000 BTU for endless hours of cooking outdoors. It has a sturdy construction that ensures this oven lasts a lifetime.
On top of that, this model is backed by a one-year manufacturer warranty against any craftsmanship defects.
Additional Specification:
Best for: Reliable startup every time
Weight: 81 pounds
Dimensions: 31.5 x 26.8 x 56.3 inches
Reach temperatures: 550 degrees
Total Output: 15,000 BTU
Strengths:
Two cooking surfaces
Full view front window
1-year manufacturer warranty
Great 15,000 BTU cooking power
Weaknesses:
---
6.

Camp Chef Outdoor Camp Propane Pizza Oven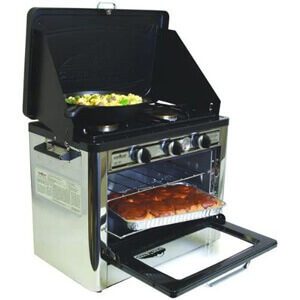 This 32-lb oven comes with two smooth brass burners above the oven. The cooking surface and the pan are enameled for a single-wipe clean experience. The burner and oven control are placed on the front for easy access.
Also, it features a matchless, electric ignition system for a reliable and convenient startup. This model folds down to the top for wind protection to ensure this oven delivers high cooking power. However, the windscreen gets a backlash as it does not always sit level. In my opinion, a locking or clasp mechanism would be better than a magnetic system.
The stove comes with two racks and three rack locations to help maximize the interior space. The cooking space is much larger and will easily accommodate a frozen pizza or a 9 x 12 glass pan. Camp Chef Outdoor Camp Oven has two carry handles with sturdy construction and stays cool to the touch. Besides, it packs well for easy and convenient transport.
That's not all: the front oven door is made out of glass and features three positions: open, venting, and closed. I'd have preferred if this unit had some sort of leveling feet to allow you to cook on a completely leveled cooking surface.
What's more?
This appliance can attain a temperature up to 400 degrees F and can run on a 1-pound bottle that will allow you to cook for more than 5 hours. This versatile model features a compact design to enable you to store it easily afterward.
But if you love group camping and tailgating, the Camp Chef Outdoor Camp Oven can be your best bet. All in all, you don't need to go through the hassle of charcoal. Plus, it helps keep your food warm until it's ready. This model lights well, makes pizza better, and is easy to transport.
Additional Specification:
Best for: Easy access
Weight: 35 Pounds
Dimensions: 18 x 24 x 31 inches
Reach temperatures: 400 degrees
Total Output: 7,500 BTU
Strengths:
Two 7,500 BTU brass range burners
Stainless steel construction
Fully adjustable heat-control dials
Nonstick enamel cooking surface for easy cleaning
Weaknesses:
---
7.

Bull Outdoor Products 77650 Gas-Fired Pizza Oven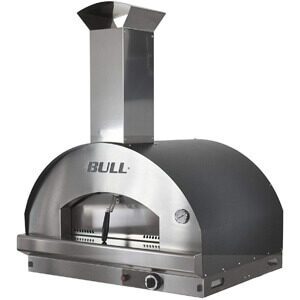 If you are looking to purchase an authentic quality pizza oven, you might want to consider the Bull Outdoor Products 77650. This model is a replica of the traditional wood-fired oven offering an authentic Italian wood-fired taste, except it runs on fuel for more convenience.
The Bull 77650 pizza oven is compatible with both natural gas and propane. However, the manufacturer does not include a natural gas kit, which means it has to be purchased separately. One of many things I find fascinating is its convenient cleaning experience since it does not require ash cleanup like wood-fired ovens.
Furthermore, this model features a stainless steel construction to ensure it's extra durable and serves your purpose for many years. This pizza maker weighs about 305 pounds and is fully operational within 15 minutes of preheating.
More so, this unit attains a maximum temperature of 900 degrees F, which should be enough to cook a wide range of recipes, including your favorite pizza. Also, its exterior surfaces are powder coated and electro-galvanized to ensure this unit is corrosion-resistant.
Equally important, this unit has a unique cooking chamber with a domed side-to-side and front-to-back, promoting uniform heat distribution and getting rid of hotspots.
Additional Specification:
Best for: More convenience
Weight: 305 pounds
Dimensions: 33.75 x 38.5 x 49.5 inches
Reach temperatures: 900°F
Manufacturer: Bull Outdoor Products
Strengths:
Sturdy stainless steel construction
Wide cooking surface
Easy to clean
Wide temperature range
Weaknesses:
Assembly can be time-consuming.
---
Why Choose a Propane Pizza Oven?
Since you're here reading this post, it's safe to assume that you're clearly interested in this pizza maker type. But if you're not so sure, I'll be discussing the benefits of choosing a propane pizza oven over other options out there.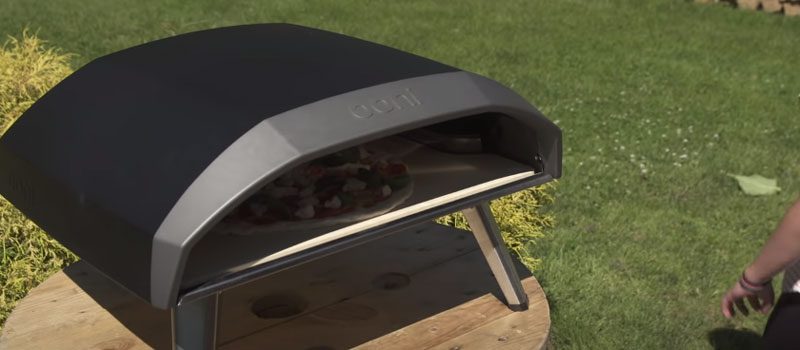 To start with, propane pizza ovens are incredibly portable and run on propane gas. They can be compatible with both small or large gas tanks based on your preference. The propane pizza ovens are much more compact than wood-fired models since it does not require a dedicated space for wood burning inside the appliance.
All these features make this model a highly portable pizza-making device that can be taken along on your camping trips or used in your backyard for a decent family meal. However, when it comes to portability, a propane pizza oven is not the only option. Electric models are also sought after because of their portability.
But, you might want to opt for a gas model for much better cooking results since the oven's inside is heated up at a relatively high temperature. This way, your pizza is cooked from top and bottom for a perfectly cooked topping and crunchy crust.
Factors to Consider When Purchasing a Propane Pizza Oven
Now that you've seen the best propane pizza ovens and know the benefits of owning a gas-powered model let's consider how to pick the best one to get started with your pizza-cooking adventure.
Product Features
There are hundreds of options available on the market, offering various features to make users' pizza cooking experience much better. Therefore, it'd be best to look out for models equipped with all sorts of features.
For instance, pizza makers featuring a matchless ignition system offer a quick means of starting the oven. Other features to look out for include temperature range, cooking space, design, and lots more. However, some people might prefer the essential features; others might want a couple of extra features.
Consequently, selecting a pizza oven based on the product features boils down to cooking needs and preferences. Thus, it's important to splurge on a product with everything you expect from a pizza oven for savory results.
Size
While using a pizza oven, you can make a 6-inch, 12-inch, and even an 18-inch pizza. However, most propane pizza ovens are meant for making a 12-inch pizza, and there are other models designed for baking a much larger 18-inch pizza.
Remember, ovens capable of baking an 18-inch pizza would be less portable than those for cooking smaller pizza sizes. Some ovens are also specially designed to allow you to cook some pizza styles, like the Sicilian and Neapolitan styles, without running into space problems.
Ease of Use
For people new to cooking pizzas at home, the propane pizza oven would be pretty much easy for you to use. As a novice, you should lean more towards models with features meant to make your pizza cooking experience fun and palatable.
Some pizza ovens come with a matchless ignition feature for a reliable startup without using a matchstick. Also, some options might include a gas stove above the oven. This feature comes in handy for other cooking options apart from cooking pizza.
Price
Propane pizza ovens come at different price tags. Most of them might come with a hefty price tag due to the number of bells and whistles offered. However, these high-end models are not designed for everyone, so you should weigh your options before making a choice.
Pizza stone
The pizza crust is a vital part designed for holding cheese, topping, and sauces for a sumptuous meal. To achieve this, the pizza stone is important for retaining heat and distributing heat uniformly.
Pizza stones are suitable for making crispy crust pizza as they eliminate moisture from the crust through evaporation. So, it should consider a pizza oven with a pizza stone for satisfactory cooking results.
Conclusion
Pizza ovens produce the perfect temperature and environment for cooking your favorite pizza. Unlike brick ovens, they are portable, cost-effective, and much easier to transport. Also, they achieve a high-temperature range that might result in a fire hazard if used indoors near flammable materials.
With almost endless options for a propane pizza oven, choosing the right one can be challenging. Thus, you should consider our list of the best propane pizza ovens and check out our buying guide to ensure you make an informed decision.
But if you're in a rush, I recommend the Camp Chef Italia Artisan Pizza Oven for both beginner and seasoned cooks looking to make pizza with authentic taste and flavor. Nonetheless, I'm confident that any of the models on this post will serve your purpose excellently.