When it comes to pizza, everyone has an opinion of which is the best pizza style. The wide range of options available today has led to a huge debate about which one is the best.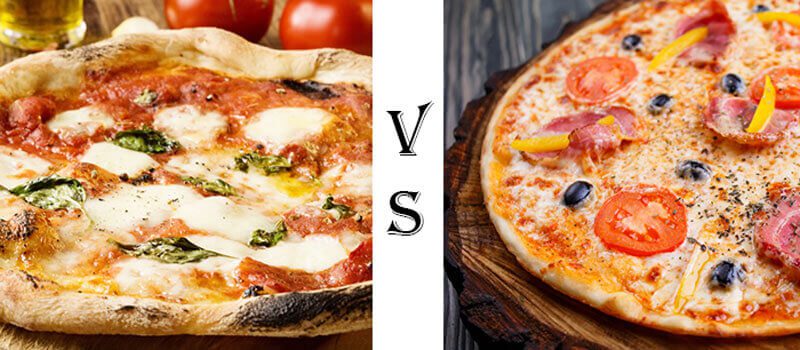 Some Italians would argue that theirs is still the best. Some people prefer a thick crust for its softness and crispiness, while others love thinner ones.
Trying to choose between common pizza styles can be slightly challenging, especially Neapolitan and Sicilian pizza. If you want to understand the similarities, differences, the bad and the good, read on to find out:
Neapolitan Pizza
The Neapolitan pizza is the oldest and most famous pizza of them all. It came in the 18th Century, from Naples. The idea behind creating this pizza is to make it relatively affordable to everyone. It should not be surprising that it comes with a cheap price tag and is readily available on the street.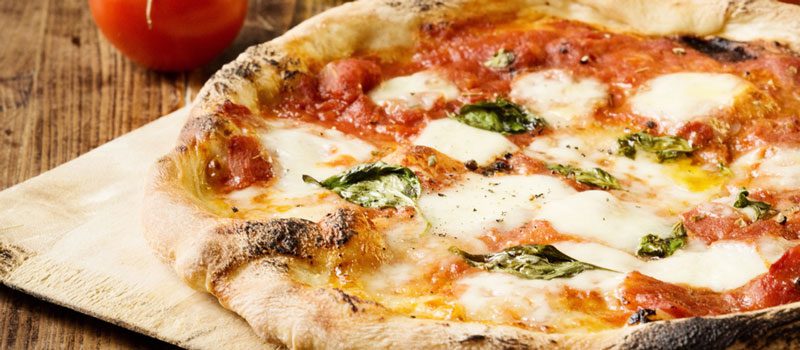 Most people, especially Italians, love it for classiness, which is probably why there are laws to guide how it's made and eaten to protect its rich traditional history. So if you want to make cash out of this pizza style, then it'd be best to stick to the rules set.
Some of the laws guiding making a Neapolitan pizza include the use of fresh traditional toppings and other selected ingredients such as Italian mozzarella and San Marzano tomatoes.
However, it's hard to adhere to these rules set, especially for those trying to make this pizza anywhere except in Italy. Therefore, it's safe to say that real Neapolitan pizzas are best found in Italy.
Types Of Neapolitan Pizzas
Although the Neapolitan pizza has a set of rules to strictly adhere to, making this pizza is easy to squeeze in any of the three types.
Pizza Marina
The pizza marina is easy to identify with the topping and has garlic, extra virgin oil, tomato sauce, and oregano.
Pizza Margherita
The pizza includes tomato sauce, fresh basil, fresh sliced mozzarella, and extra virgin oil.
Pizza Margherita Extra
This pizza has tomato sauce and is spiced up with fresh basil, sliced mozzarella di buffalo, and extra virgin oil.
Sicilian Pizza
The Sicilian pizza is also one of the oldest styles and originated in Sicily but is different from the Neapolitan pizza. This pizza features an extremely thick crust of up to 1 inch. Here you get plenty of sauces and cheese anchovies.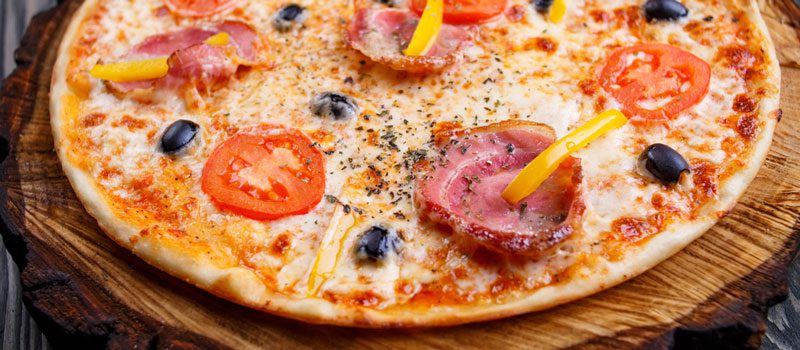 With its bread-like crust, it's easy to differentiate a Sicilian pizza from a Neapolitan pizza. The latter has a thin crust causing it to be stiff and flat.
All in all, the Sicilian pizza offers a perfect blend of some potent flavors and comes well seasoned with herbs. Usually, this pizza is served in a square shape. However, some places have Sicilian pizza coming in a circular shape. This is what sets them apart from most classic pizza options at present.
Types of Sicilian Pizza
Unique Sicilian / sfincione
This is the first Sicilian pizza and has a soft, rectangular base with a light consistency. It's topped with bread scraps, herbs, anchovies, onions, and tomato sauce. However, it's customary to use caciocavallo instead of mozzarella since it is mainly extracted from Sicily sheep.
New York-Style Sicilian
This is more of an American-style Sicilian pizza with a similar shape and thickness. Nonetheless, this variant utilizes mozzarella cheddar instead of toma cheddar or caciocavallo featured in the customary Sicilian pizza style.
Neapolitan vs. Sicilian Pizza: Similarities
The two types of pizza discussed in this post are street foods that have been eaten on Italian streets for a long time. This is probably because of its low price point. Both pizzas utilize fresh traditional ingredients. However, it's advised to use tomatoes from Italy for authentic taste and flavor.
Neapolitan vs. Sicilian Pizza: Differences
The obvious difference is the shape. The Neapolitan pizza comes in a round shape – nothing like the Sicilian pizza with a square or rectangular shape. Also, the Neapolitan pizza is often thinner compared to the other variants. Since it's thin, its lesser amount of topping and tomatoes is understandable. Keep in mind that Sicilian comes with more tomato sauces, cheese, and herbs.
Ingredients List
Neapolitan
For the dough, flour, water, salt, and yeast is used without olive oil – resulting in a soft, supple, fluffy, yet beautiful dough. Next, allow the dough to reveal its nutty flavors by refrigerating it for up to three days.
The mozzarella cheese is used primarily alongside basil and tomato sauce from San Marzano to keep the flavors out and pop. However, the amount of sauce is usually lesser than in a Sicilian pizza.
Sicilian
For this style, the dough is made using flour, yeast, olive oil, and salt. This spongy dough is prepared in a square pan and requires extra oil to ensure it is amazingly crusty.
The topping used includes onion, olive oil, and plenty of tomato sauce. Further, it includes spicy oregano, chopped anchovies as well as red peppers for a spicy sauce. The Sicilian pizza is baked in an extremely hot oven. However, it's best to use the caciocavallo cheese or together with other cheese styles like mozzarella cheese.
The Toppings
Neapolitan Pizza
The dough has less amount of fat and utilizes plenty of water to ensure it's wet and sticky for a melodramatic soft center. The topping, therefore, includes olive oil for the marina, oregano, tomatoes, and garlic.
Sicilian Pizza
This variant is just as thick as the American pizza dough. The toppings have strong cheese, tomatoes, anchovies, onions, and herbs. Also, they have olive oils and herbs too. Even better, they have other options you would like, such as pepperoni.
Neapolitan Vs. Sicilian: Which is Best for You?
The crust is a major difference between both styles. The Neapolitan is thin while the Sicilian is not. The latter is spongy and bread-like, while the formal is fluffy, soft, and thin.
The Sicilian pizza comes with a lot of sauce since its thick crust can accommodate plenty of the sauce. On the other hand, the Neapolitan has fewer toppings and lesser sauces; after all, it has a thin crust.
Nonetheless, the silician has more herbs and seasonings to influence the taste and flavors. If you want a pizza with intense flavors, the Sicilian one is your best bet. Obviously, choosing between both pizza styles depends on your preference.
---
Neapolitan vs. Sicilian Pizza FAQs
---
What makes Neapolitan pizza different?
The pizzas are baked in an oven heated to more than 700 degrees Fahrenheit. The dough is very thin and has high water content, which helps the crust get crispy. It also contains no yeast, which makes for a short rising time. Traditional toppings include tomatoes, mozzarella cheese, basil, and garlic (sometimes anchovies).
What makes Sicilian pizza different?
Known for its fluffy, light crust with a crunchy bottom, Sicilian pizza is different from other pizzas in many ways. Most notably, it's typically served in rectangular slices rather than round ones. It also tends to be much thicker than most pizzas. The dough typically contains olive oil or lard, which is very different from the dough used in most American-style pizza.
What is the difference between Neapolitan and Italian pizza?
Neapolitan and Italian pizzas are strikingly similar, but one main difference is the crust. Neapolitan pizzas typically have a thin crust while Italian pizzas are slightly thicker. Neapolitan pizzas also tend to be topped with only two or three types of cheese while Italian pizzas can be topped with up to five different kinds of cheese.
Is Neapolitan pizza soggy in the middle?
Pizza is a popular Italian dish that has been adopted by many cultures. In the United States, pizza has become a staple as a traditional meal as well as a treat. One of the most popular types of pizza in the United States is Neapolitan Pizza, which traditionally consists of three different types of cheese and tomato sauce on a pie with no crust.
Conclusion
In conclusion, Sicilian pizza is a thick, doughy crust with a lot of toppings. Neapolitan pizza is topped with fresh ingredients and made with a thin, crispy crust that cooks quickly in an oven.
If you're looking for a choice between Sicilian and Neapolitan pizzas, it's up to you which feels right for your taste buds. If you're feeling warm and want something salty and hearty, go for Sicilian pizza.