Among the few versatile, fascinating, and universally appealing foods out there is pizza. Some seasoned chefs have their entire lives dedicated to the perfect pizza craft – thickness, crust consistency, temperature variants, toppings, and sauces ratios.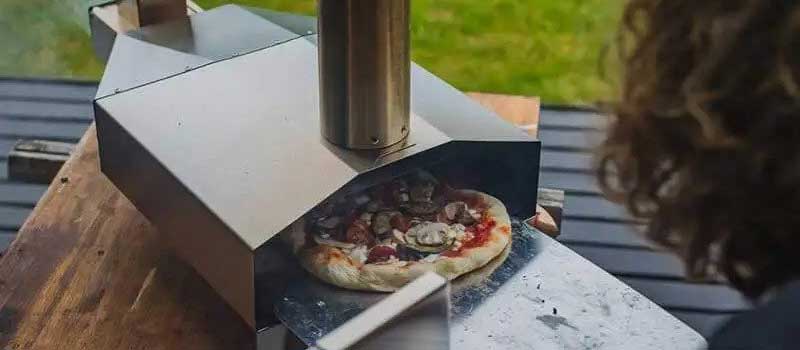 However, homemade pizza is a more flavorful and healthy option. Besides, it's a decent way to start a lifelong hobby. If making pizza at home is a sound that excites you, then purchasing a pizza oven is the next step.
Of course, you want an outdoor pizza oven for its ease of use, versatility, rapid cooking, and classic BBQ experience. With this oven, you can own your private pizzeria. Remember, outdoor pizza ovens are versatile models that come in handy for roasting chicken, searing steaks, and baking cookies.
Without further ado, let's check out the best outdoor pizza ovens and how they stack up based on features, performance, type, and quality.
Top 5 Outdoor Pizza Ovens
---
Outdoor Pizza Ovens Reviews
---
Here are the top 5 best outdoor pizza ovens to install in your outdoor kitchen:
1.

Ooni Koda 12 Gas Powered Outdoor Pizza Oven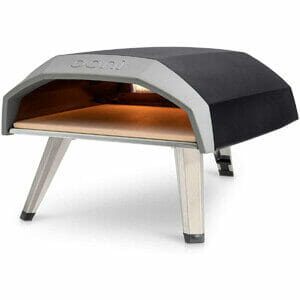 The Ooni Koda Outdoor Pizza Oven is arguably the best gas outdoor pizza oven – and for good reasons: convenience and ease of use, compact design, and ultimate speed. This model is equipped with a heat control dial for a wide range of cooking options, from roasting fish, steaks, and vegetables to cooking Neapolitan-style pizza.
Also, firing up this beast is as simple as turning a dial. Plus, it is powered by gas, which means lesser smoke and soot, making it a lot easier to maintain. More so, it features a stone baking board and insulated stainless steel to deliver optimum heat retention.
That's not all: it comes with a built-in, patented flame-keeper device that rolls down the flame onto your food for a perfect flame-cooked flavor. Ooni Koda Outdoor Pizza Oven has a built-in gas ignition system for reliable, instant flames and an adjustable heat control dial to allow you to cook effortlessly.
In our opinion, this pizza maker is the easiest outdoor pizza oven to assemble, handle, and use. Weighing only 20 pounds and coupled with its portable design, this machine is hassle-free to transport. As said earlier, this unit is easy to assemble as it comes almost ready to use straight out of the box.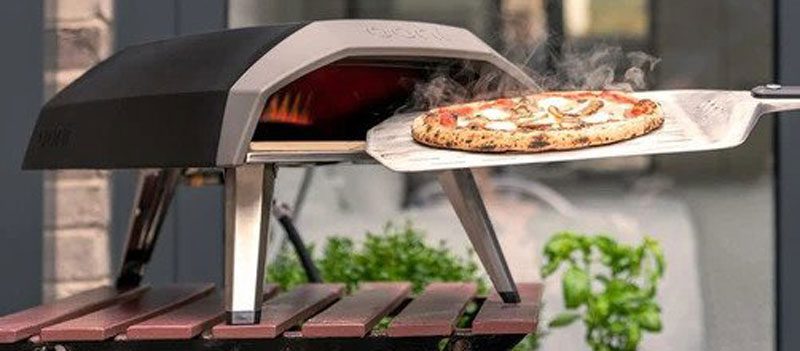 Another worthy mentioning hallmark of this Ooni Koda Outdoor Pizza Oven is its sturdy construction. This oven's exterior stays cool to the touch regardless of the interior temperature running up to 800 degrees Fahrenheit.
Additional Specification
Best For: 16-inch pizzas
Fast: Ready to cook in 15 minutes
Hot: Heats to 950ºF (500ºC)
Easy: No assembly, built-in gas ignition
Ready to Cook: 15 minutes
Strengths :
Compact design for easy storage
Simple to assemble
Sturdy construction
Attains high temperature
Reliable startup
Weaknesses:
The included peel lacks a handle.
---
2.

Summerset 'The Oven' Outdoor Countertop Gas Oven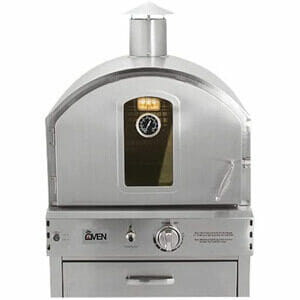 The SS-OVBI outdoor oven can be used on your countertop or installed as an integral part of your outdoor kitchen. This model only runs on clean-burning natural gas and not propane. It features a 304 stainless steel construction for extra durability and outstanding performance.
With double-thick insulated walls, this beast has excellent heat retention and delivers a massive 16,000 BTU cooking power – thanks to its stainless steel burner element. Further, its shape promotes better heat redistribution throughout the oven chamber for consistent satisfactory results. This unit has two stainless steel racks and adjustable positions to customize the internal space.
What's more? This pizza maker features a couple of handy accessories like a large pizza stone, a pull-out grease tray, a flame tamer, and a smoker box for wood chips. Also, it has protective feet for a wobble-free cooking experience when used as a countertop gas oven.
Talking about nice accessories, the SS-OVBI-NG Gas Oven's smoker box and pizza stone deliver incredible versatility without purchasing them separately. Plus, the cover is made of 304 stainless steel to provide a long-term gleam.

The Summerset Outdoor Built-in or Counter Top Gas Oven comes with internal halogen lights and a door featuring a window to allow users to monitor their pizza without having to open the door. Sadly, the window gets clouded up faster with smoke residue and soot when used by a smoker often.
Another thing to like about this model is how easy it's to clean and maintain. It has a large grease drawer to catch any drippings, which pull out easily and pour away. The removable stainless steel grates are a bit sticky when lean cuts of meat are placed on them.
Additional Specification:
Best For: Your outdoor kitchen
Main burner: 16,000 BTU
Capacity: Up to a 16-inch pizza
Includes: Three cooking racks
Fuel type: Liquid Propane
Max temperature: 450 F
Strengths:
304 stainless steel construction
Features electric starter ignition
It comes with lots of nice accessories
High-power halogen interior lighting
Weaknesses:
---
3.

ilFornino Professional Series Wood-Fired Pizza Oven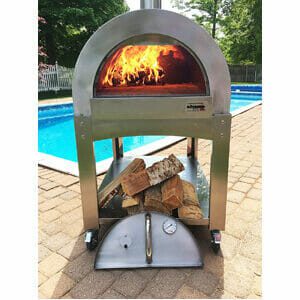 This Professional Series is an updated version of the ilFornino Basic series based on the older version's reviews. The improved version is made from thick-gauge 430 stainless steel, which is of a higher grade than the ilFornino Basic Series Wood Fired Pizza Oven.
It also features high-density insulation, which ensures this oven retains more heat than traditional pizza ovens. This pizza maker sports two heavy ceramic blanket insulation layers between the stainless steel dome double walls and another layer of ceramic insulation for excellent heat retention.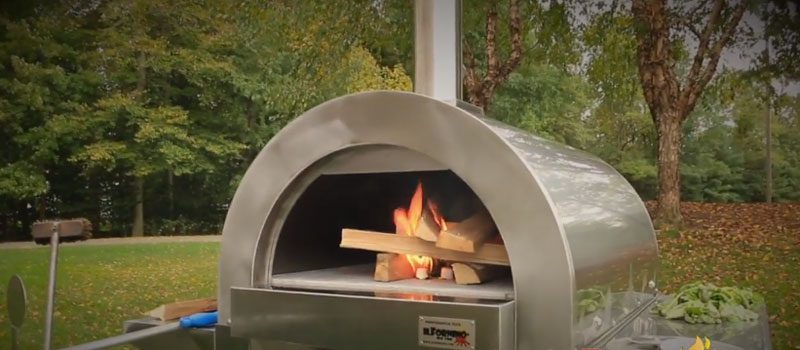 Also, the fire bricks are locally made to deliver impressive durability and a great cooking surface. This model offers a whopping 1007 square inches of cooking space. ilFornino Professional Series Wood Fired Pizza Oven includes a brush, a professional peel, and a manual.
Additional Specification:
Best For: Quickly Heating
Fuel Type: Wood
Cooking Surface: 1007 Square Inches
Width: 32.5 Inch
Class: Modern
Weight: 200 Pounds
Strengths:
Easy to assemble
Large cooking space
Superb heat retention
High Grade 430 Stainless Steel construction
Weaknesses:
---
4.

Mont Alpi MAPZ-SS Outdoor Portable Gas Pizza Oven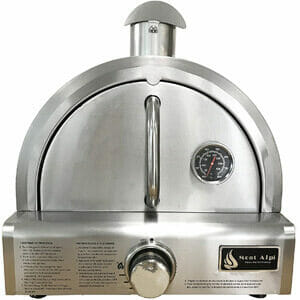 The Mont Alpi MAPZ-SS Table Top Gas Pizza Oven is our pick for one of the best portable propane pizza ovens. This unit only weighs 27 pounds, making it incredibly portable and safe to use at home; and on adventurous trips.
Despite its small size, this model offers plenty of cooking space to cook just about anything. The Mont Alpi MAPZ-SS Table Top Gas Pizza Oven includes a free 12-inch chef-style pizza stone for making your favorite pizza. Not just for pizzas, this machine comes in handy for roasting fish, whole chicken, ribs, and many more. Plus, it heats up to 620 degrees F in less than 5 minutes.
This portable pizza oven is compatible with smaller and larger propane bottles, making it a perfect choice for indoor and outdoor cooking. This pizza maker is constructed from stainless steel for extra durability and appealing looks.
The "U" shaped steel burner delivers a massive 12,000 BTU to cook a wide range of foods. Further, you can set the desired temperature – thanks to its precise temperature gauge.
After cooking and enjoying your favorite meal, cleaning this unit is stress-free. Mont Alpi MAPZ-SS Table Top Gas Pizza Oven includes a pull-out fat tray and a removable floor pan, both dishwashers are friendly for a convenient cleaning experience. Best of all, it comes with a 1-year manufacturer warranty to assure customers of satisfactory results.
Additional Specification:
Best For: Bake delicious, Crispy pizzas
Pizza Count: One
Main Grilling Area: 113 Square Inches
Cooking Grid Dimensions: 12″ Diameter
Number Of Burners: Single Burner
Weight: 27 pounds
Strengths:
Portable pizza oven
Sturdy stainless steel construction
Easy to clean
A massive 1200 BTU cooking power
Weaknesses:
---
5.

BakerStone O-AJLXX-O-000 Outdoor Portable Gas Pizza Oven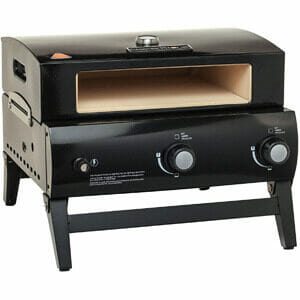 When it comes to pizza ovens with quick cooking time, the BakerStone O-AJLXX-O-000 Portable Gas Pizza Oven is the go-to. This model bakes pizzas in under 2 minutes. However, its performance depends on environmental conditions, grill performance, and other factors.
It features a 25,000 BTU burner system that reaches as high as 800 degrees F for a wide range of cooking options. Further, it comes with a firebox with a regulator, a pizza oven box, and folding legs. BakerStone O-AJLXX-O-000 Portable Gas Pizza Oven is removable for easy transport and a convenient cleaning experience.
This oven runs on propane and allows you to do more than just bake pizza but also sear and roast steakhouse-quality meats, vegetables, and fish.
Additional Specification:
Best For: Countertop
Fuel Type: Propane
Exterior Material: Porcelain Coated Steel
Max Temperature: 800˚ F
Total BTUs: 25000
Weight: 54.9 pounds
Strengths:
Easy to clean
25,000 BTU burner system
Reaches up to 800 degrees F
Features folding legs for easy transportation
Weaknesses:
---
Best Outdoor Pizza Ovens – Buyer's Guide
---
Wood Pizza Ovens vs. Gas Pizza Ovens
Pizza ovens are available in different fuel types, but gas pizza ovens and wood-fired pizza ovens are the most common options. Both types offer lots of options to pick from in color, size, shape, and configuration.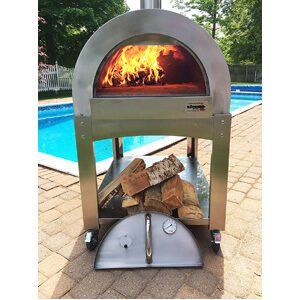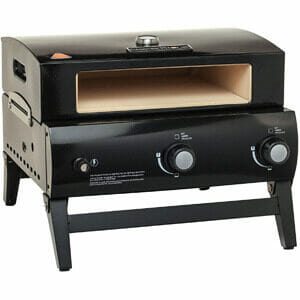 While both fuel types of oven can deliver fresh, hot, and sumptuous crispy pizza, they are quite different in their operation mode. The gas models are more convenient to use than the wood-fired pizza ovens.
But if you want an authentic wood-fired taste, you should opt for a wood pizza oven. This type of oven preheats faster but requires a hands-on approach, especially for maintaining the fire. Gas models are best for making molten, gooey pizza. Plus, they are convenient and effortless to use. You don't have to chop wood with this oven and go through the hassle of lighting a fire.
You can also watch this video. This video was created by our friend Got2EatPizza.
Pizza Oven Configurations
There are four configurations: built-in pizza ovens, freestanding pizza ovens, portable pizza ovens, and countertop pizza ovens.
Built-in Pizza Ovens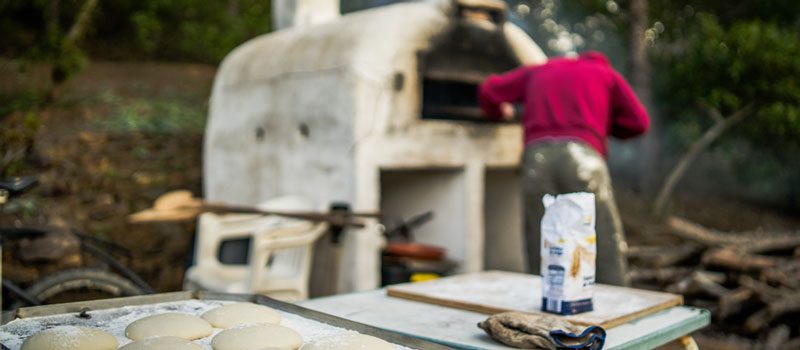 This oven features a stainless steel finish on the exterior and is usually mounted to a cart or built into an enclosure. Built-in pizza ovens have a stone or ceramic shell within a brick-constructed enclosure housing a chubby for storing wood or a propane tank.
Countertop Pizza Ovens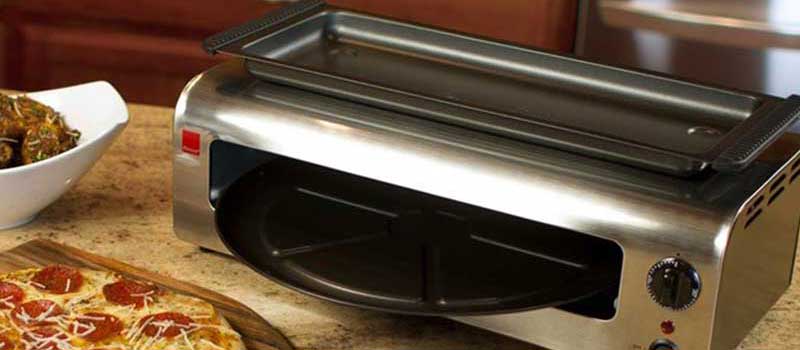 On the flip, the countertop pizza ovens are designed to sit atop your counter or cart. They vent the excess heat through open air. Thus, they are not meant to be used in enclosed areas. Countertop models are ideal for people who need to maximize their already sorted-out kitchen. However, they are great for more than just cooking pizza; this oven is perfect for roasting vegetables, braising lamb, baking cakes, and lots more.
Freestanding Pizza Ovens
For folks with limited space or who want to add more cooking capability to their outdoor space, freestanding pizza ovens are your best bet. In general, they are finished machines on a cart and available in different sizes and shapes to suit any environment. One of the hallmarks of freestanding pizza ovens is their incredible mobility. They are easy to set up anyway and store when not in use. Besides, this option is cheaper compared to building a pizza oven in your backyard.
Portable Pizza oven
If the mobility offered by a freestanding pizza oven is not good enough for you, then the portable pizza oven will suit you better. These models are a small and affordable option.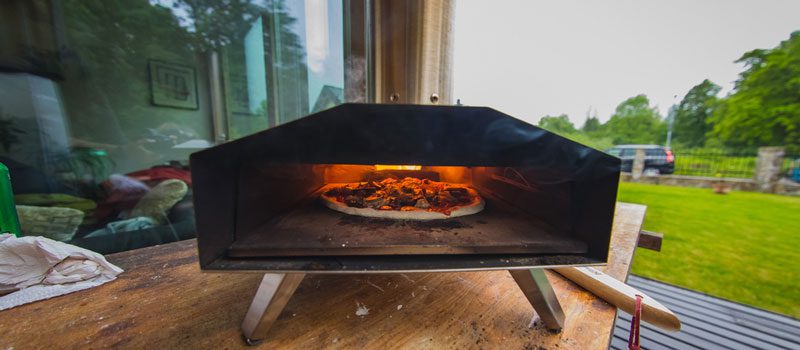 It has a small cooking chamber, which means minimal fuel consumption. Its compact design makes it a lot easier to store and carry on your tailgating and camping trips. The portable pizza oven is best for folk looking to bake occasionally, either at home or on the go.
---
Frequently Asked Questions & Answers
---
How long does it take to heat up an outdoor pizza oven?
It depends on the size of the oven and the temperature you are starting at. For a small oven, it could take an hour or more to heat up to the cooking temperature. For a larger oven, it could take less than an hour.
Can You Grill in a Pizza Oven?
You can grill in a pizza oven, but it's not the best way to do it. The heat is too concentrated in one spot, so your food will cook unevenly. It's better to use a grill pan or outdoor grill if you want to grill your food.
How much does it cost to build an outdoor pizza oven?
The cost of building an outdoor pizza oven can vary depending on the materials you use and the size of the oven. A basic oven can be built for around $100 using a metal barrel, cement, and insulation. However, more elaborate ovens with brick or stone construction can cost several thousand dollars.
Where should I put my outdoor pizza oven?
There are a few things you'll want to consider when deciding where to put your outdoor pizza oven. First, think about how much space you have. You'll need room to build the oven and to cook the pizza.

Second, consider the climate. An outdoor pizza oven works best in a warm, dry climate. If you live in a cold or wet climate, you'll need to find a sheltered spot for your oven.
Conclusion
By now, you should have figured out that there isn't a one-size-fits-all outdoor pizza oven. So, if you're in the market for the best outdoor pizza oven, you should splurge on Ooni Koda Outdoor Pizza Oven, Pizza Maker.