The best wood for pizza ovens is dry, seasoned hardwoods like birch, beech, ash, maple, alder, and Oak. With such a plethora of options, you might want to opt for Oak as it's safe, burns extremely hot, and is easy to source compared to the rest.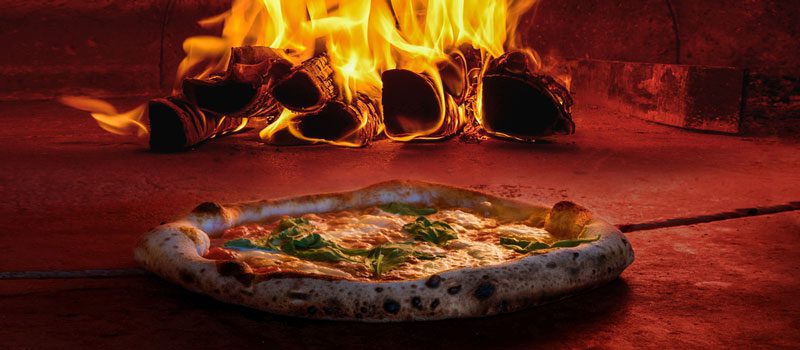 Hardwoods weigh about three times softwoods, which means they generate more heat for the volume. A greenwood, freshly cut tree, contains water. This means you need to season it or dry it out before using it.
The right wood should have approximately 20% moisture content. Using wood with less than 15% moisture content can be too dry and not provide the expected results. Therefore, you should check the firewood's cut ends for a darkened gray with radial cracks.
Choosing the best firewood for a pizza oven can determine the cooking speed, texture, and taste of your pizza. Everyone seems to focus on how to make pizza and less attention to the type of firewood used to cook the pizza, which plays an integral part in the process.
In this guide, we'll consider the factors to consider when trying to figure out the right firewood and the top 6 best kinds of wood for pizza ovens.
Top 6 Wood for Pizza Ovens
Types of Wood for Pizza Ovens
Not using the right wood might leave your pizza soggy and doughy since you won't be getting enough heat. That's not the only problem you might bump into if you cook with the wrong wood. You could also have to deal with creosote build-up and excessive soot, off-putting, irksome flavor, and a tiring long cooking time for an awful result.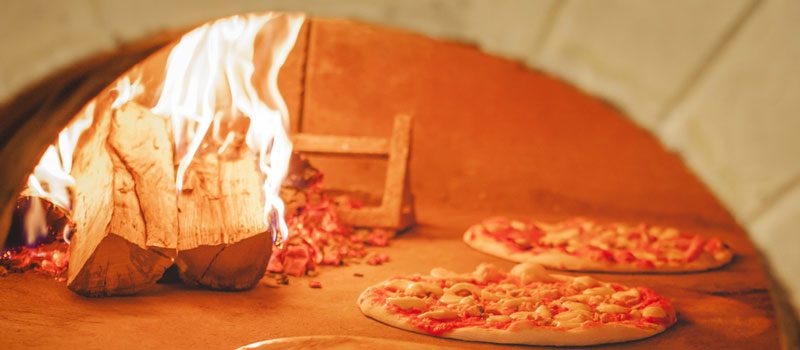 But to achieve a crispy, uniformly cooked pizza base, you should consider any type of wood for the pizza oven discussed below for high heat output and superior flavor.
Dried and Seasoned Hardwoods
As said earlier, the best woods to use with your wood-fired pizza oven are seasoned and dried hardwoods like ash, maple, and Oak.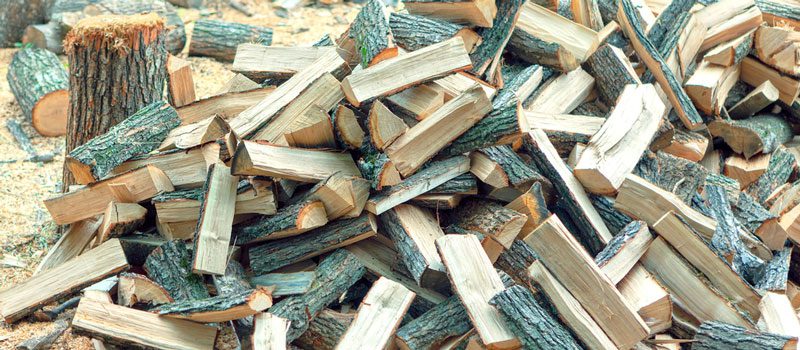 They are very dense and give off more heat compared to softwoods, which makes them a go-to for achieving high temperatures. Oak is readily available and burns consistently with less smoke.
Fruitwoods
If you want to add a bit of flavor to your pizza, you might want to opt for fruitwoods like plum, apple, and pecan.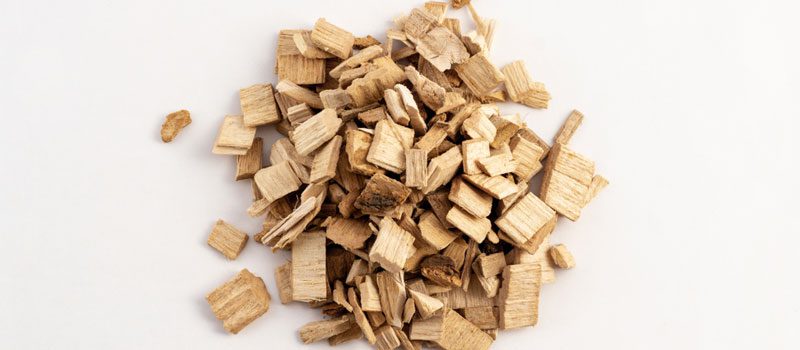 However, not all fruitwoods can deliver extremely high temperatures like regular hardwoods. Therefore, it's best used sparingly and with any hardwood for excellent results.
This unique combination lets you maintain the heat levels while achieving the desired aromatic flavor without being overpowering. With lots of fruitwood out there, choosing the right one might be a bit tricky.
Hence, you should experiment with this fruitwood and go for one that works best for you and your family without having an overwhelmingly strong taste. In our opinion, apple is the way to go. It burns at high temperatures and delivers a pleasant aroma and mild flavor.
Nonetheless, any of the mentioned fruitwood might work best for you; you just have to try them out and settle for a fruitwood that matches your favorite pizza toppings.
---
Best Wood for Pizza Ovens Review
---
If you are looking for the best wood for your pizza oven, you have come to the right place. In this article, we will discuss the top six kinds of wood that are perfect for making pizzas.
1.

Smoak Firewood Oak Kiln Dried Woo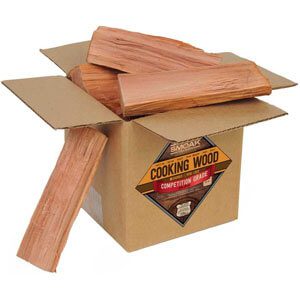 If you're in the market for the best oak wood for a pizza oven, then the Smoak Firewood Cooking Wood Logs is your best bet. This product is a dense and heavy wood that makes it ideal for achieving extreme temperatures for crispy pizza crust.
The Smoak Firewood Cooking Wood Logs burn slowly with little smoke and last longer in your pizza oven. On top of that, it imparts a clean, earthy flavor to ensure your pizza comes out with a great taste.
Further, this red Oak is a better choice over the white Oak, as it offers more intense smoke for a slightly more amazing flavor. The logs are USDA Certified, which means no chemicals or artificial.
This organic wood is a perfect choice for your wood-fired pizza oven. It can be used alone or with fruitwood for a more pronounced flavor. The Smoak Firewood Cooking Wood Logs are also perfect for fire pits, smokers, outdoor/indoor grills, pizza ovens, or any cooking style that requires dried and seasoned wood.
Verdict
Smoak Firewood Cooking Wood Logs are an excellent choice for your wood-fired pizza oven. The oak wood is naturally dried and seasoned, making it a great choice for a variety of cooking styles.
What We Liked:
I like that it's made in the USA, which guarantees high-quality oak woods
It comes in several sizes and weight options
It's free from pests and chemicals
It burns longer and infuses that sweet wood flavor
What We Didn't Like:
---
2.

Weber 17148 Hickory Wood for Pizza Oven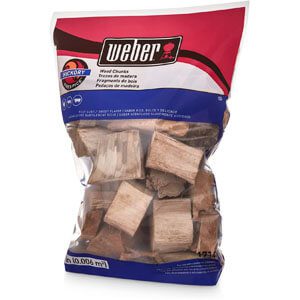 For those who want a nuanced flavor for your homemade pizza, the Weber 17148 Hickory Wood Chunks won't disappoint you. This product has a sweet, rich flavor that makes these aromatic woodchucks a good choice for Pizza and poultry, pork, and beef.
So, if you want to experiment with wood chips and chunks to pair with your favorite pizza topping, these woodchucks deserve that trial. They are made for outdoor grills, smokers, and wood-fired pizza ovens for an awe-inspiring backyard cooking experience.
The Hickory is known for its strong, slightly sweet aroma, which is not too bold. Thus, it's popular for making bacon and sausage dishes. Also, it pairs well with chicken and beef. However, this wood might overpower some dishes due to its pungent smoke flavor.
More importantly, these woods are made of 100% natural materials, guaranteeing healthy and high-quality smoked food. But before use; the manufacturer recommends soaking these wood chips in water for about 20 minutes for the best results.
Verdict
The Best Choice Products Wood Pellet Grill and Smoker are designed for ultimate convenience of use. It has a large cooking surface which is perfect for entertaining large gatherings of friends and family. Plus, it has a storage rack that allows you to keep your wood pellets nearby while smoking.
What We Liked:
It has a rich flavor
These wood chips come in a perfect size
It's 100% natural hickory wood
What We Didn't Like:
The packaging is slightly inconvenient
---
3.

Camerons Apple Wood for Pizza Oven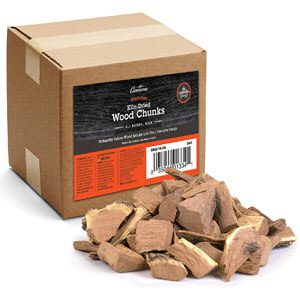 For pizzerias looking to enhance the flavor and aroma, the Camerons Smoking Wood Chunks are just what you need. This wood burns extremely hot and lasts longer, thanks to its mildness. With such peculiarities, this product is best for cold-smoking meats and cheese.
This product weighs about 10 pounds and might vary due to the chip size and wood density. The Camerons Smoking Wood Chunks are perfect for seafood, salmon, and more. This unit is prized for its sweet, fruity flavor that goes with any pizza topping.
For a small pizza oven, this applewood tends to pop intensely which can cause your pizza to have traces of ashes. Nonetheless, you'll find its flavor-enhancing capabilities a good bang for your buck.
Verdict
This wood is a must-have for your grilling sessions. The Camerons Smoking Wood Chunks are perfect for seafood, salmon, and more.
What We Liked:
It has a pronounced smokey aroma
It heats up very fast
Its packaging is very convenient
The Applewood has impressive flavor-enhancing properties
What We Didn't Like:
It's a bit of a pricey side
---
4.

Camerons Cherry Firewood for Fizza Oven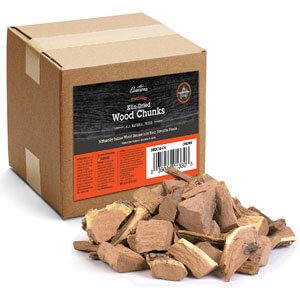 Use the Camerons Products Smoking Wood Chunks to infuse your food with a zesty cherry flavor. You can place the woodchuck directly on the wire shelf, smoking box, or pizza oven and combine them with your homemade pizza, red meat, and pork for the best results.
This product is ideal for smoking cheese, vegetables, pork, beef, and poultry. If you intend to use these wood chunks on charcoal grills, then it's best to pre-soak these chips for 20 minutes before placing them in your smoking box or wood-fired pizza oven.
These wood chips are kiln-dried to ensure they ignite quickly and generate smoke fast to deliver that sweet, delicate smokey flavor.
More so, they are 100% natural precision-cut raw timber that guarantees outstanding performance. Above all, these cherry wood chips pair well with game, lamb, pork, beef, and poultry.
Verdict
These cherry wood chips are well-made and deliver the best performance. They are affordable and easy to use.
What We Liked:
It infuses your food with a mild fruity flavor
It burns slowly
It's suitable for use with electric, gas, and charcoal grills
What We Didn't Like:
The aroma is not as intense as other brands
---
5.

Camerons Maple Firewood for Pizza Oven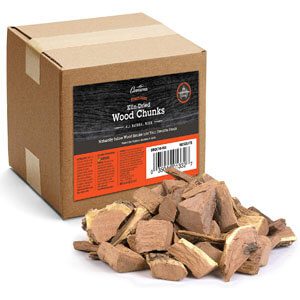 Add sophistication to your homemade pizza with this maple wood chip. Before placing them over the coal, it's paramount that you soak them in water for optimal results.
These maple wood chunks have a pungent flavor, making them suitable for smoking poultry, lamb, and pork. Some professionals might soak the wood chips in apple cider, beer, or wine for a distinctive smell.
This fruitwood is not as dense as cherry, but it's a decent choice for pizza toppings such as ham or BBQ chicken.
Verdict
This is a versatile product that you can use for grilling, smoking, and baking. It's also a good choice for seafood. Pros Made from real wood. No artificial flavors or additives Cons Some users say it burns quickly.
What We Liked:
It's kiln-dried which makes it easier to ignite
It can achieve the extreme temperature
It creates and infuses your food with a sweet smokey flavor
What We Didn't Like:
It produces too many ashes
---
6.

Smoak's Pecan Firewood Logs for Pizza Oven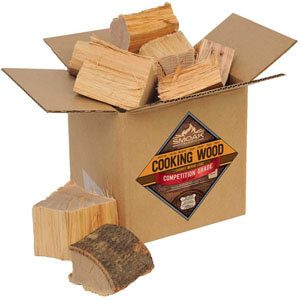 The Smoak Firewood Cooking Wood Chunks come with USDA certification, which means it's safe to cook with. This product includes kiln-dried wood from high-grade quality woods sourced in the United States.
These chunks have been properly cleaned and processed at the ideal temperature ( above 160 degrees F) for up to 48 hours. The results guarantee a wood chunk that emits consistent smoke for a perfect flavor.
The size of the chips is perfect for any grill. Plus, its quantity is generous enough to make lots of pizza a couple of times. Its consistent moisture delivers the right amount of smoke, perfect for smoking your meat.
Verdict
You should go for this product if you're looking for a wood chunk that's made from kiln-dried wood. It provides consistent smoke, perfect for smoking meat.
What We Liked:
The chips are cleaned and the process
It burns for a longer period
It can be used straight out of the bag
What We Didn't Like:
It comes with a hefty price tag
---
What is the Best Wood for a Wood-fired Pizza Oven?
Wood-fired pizza ovens have been used for years to make pizza because it helps create that distinctive pizza flavor and texture. It's an easy pick over the regular kitchen oven when making great pizzas with authentic taste.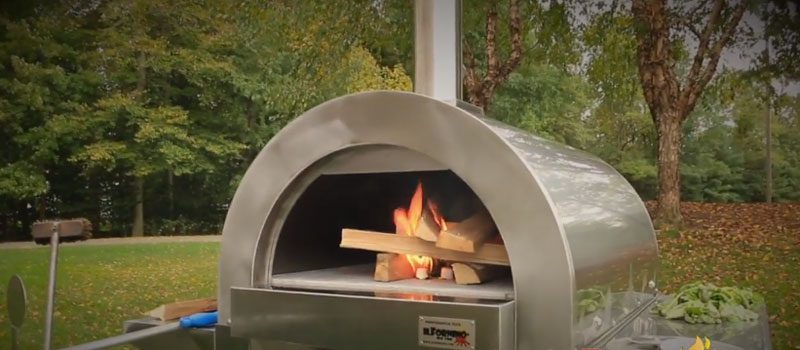 With that in mind, the kind of wood you use to cook your pizza tends to impact the overall quality of your dishes, including pizza. Therefore, in this section, we'll discuss how to pick the best wood for making authentic wood-fired pizzas.
Type of Wood
The type of wood to go for depends on the availability of the species of wood, preferred quality, and flavor. Generally, there are two types of wood, as discussed above: hardwood and softwood.
The softwood is perfect for quick ignition, and it burns rapidly. Hardwood burns slowly and takes a while to ignite. In addition, it generates more heat per unit compared to softwood, which makes them more fuel-efficient.
Woods to Avoid
It's easy to believe any wood stock looks healthy and is perfect for making wood-fired pizzas. Sadly, it's wrong. The moisture content of fresh-looking firewood is too high to create that crisp and authentic taste you expect. Wet firewood produces lots of smoke and doesn't heat up in time. Therefore, it's best to opt for dry pieces of wood for better results.
You can also watch this video to clear your confusion. This video was created by our friend The Wood Fired Oven Chef.
---
Frequently Asked Questions & Answered
---
How to pick the right wood flavor?
This often boils down to your taste and preference. However, you can experiment with these fruitwood options out there like Apple, Maple, and Hickory to find something that suits your taste or matches your favorite toppings.
How many firewood options are available for baking pizza?
There are two types of wood options, including hardwood and softwood. The denser option, hardwood, is perfect for making authentic wood-fired pizza.
What's the effect of moisture content on cooking?
The ideal moisture for the best firewood for pizza is a low moisture content of about 20%. Damp or wet wood is not ideal for making wood-fired pizza. They produce a lot of smoke and tend to run your dough.
How much firewood do I need?
The quantity of chips to use depends on a couple of factors:

1. The types of wood.
2. The size of the chunk.
3. The number of pizzas you intend to bake.
What wood do Italians use in pizza ovens?
In Italy, wood-fired ovens are most commonly used to make pizza. The type of wood used in these ovens varies depending on the region and the style of pizza being made.
Generally, hardwoods such as oak, beech, ash, or chestnut are preferred for their ability to burn hot and slow. These woods are also known for producing a smoky flavor that helps to enhance the taste of the pizza.
Conclusion
The making of authentic wood-fired pizza demands a lot of attention, talent, and patience. From selecting the right tomato sauce to choosing the best firewood, everything impacts your cooking.
In this post, we've reviewed the top 6 best kinds of wood for pizza ovens; now it's up to you to settle for the right product considering the flavor and types of wood. But if you are still not confident in any of the products, you can always settle for the Smoak Firewood Cooking Wood Logs for the best wood for pizza ovens.