Making your favorite pizza at home can be fun-packed. Plus, you get to make a pizza just how you want it with your preferred toppings and crust texture. However, the pizza is usually placed directly on the oven's rack to ensure the crust comes out perfectly.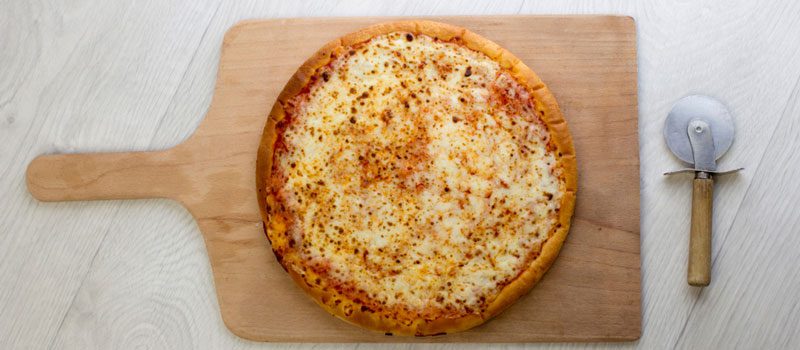 But if you're going to do this, you need to own a quality pizza peel. This tool looks like a giant spatula or a paddle to allow users to slide the pizza in and out of the oven with the least effort.
The right pizza peel should be smooth to prevent the pizza from sticking to it and a beveled or slanted edge to make it easier for this tool to slide under the pizza ease.
Without further ado, let's consider the best wooden pizza peels and key factors that should influence your decision.
Top 5 Wooden Pizza Peels
Why Should I Choose a Wooden Pizza Peel Over Other Materials?
There are several reasons why choosing a wooden pizza peel over other materials can be advantageous.
Firstly, wooden peels are known for their ability to absorb moisture, which helps prevent the dough from sticking to the surface. This can be particularly useful when dealing with high-hydration doughs or sticky toppings.
Secondly, wood is a natural insulator, meaning it will not conduct heat as readily as metal or other materials. This can help maintain the temperature of your pizza while transferring it into and out of the oven.
Additionally, wooden peels tend to have a smoother surface than metal ones, reducing the likelihood of tearing or damaging your pizza during transfer.
Lastly, wooden peels are generally more aesthetically pleasing and can add a touch of rustic charm to your kitchen. They are often handcrafted and come in various shapes and sizes to suit your specific needs.
Overall, choosing a wooden pizza peel can enhance your baking experience by providing better control, maintaining temperature, and adding an appealing visual element to your cooking process.
Things to Consider When Shopping for the Best Wooden Pizza Peel
Before splurging on any pizza peel that crosses your path, you should consider some pointers for making a smart accessory for your baking needs. There are different options out there, ranging from good to great.
So, if you're looking to purchase the right wooden pizza peel, here are key factors to consider before setting one: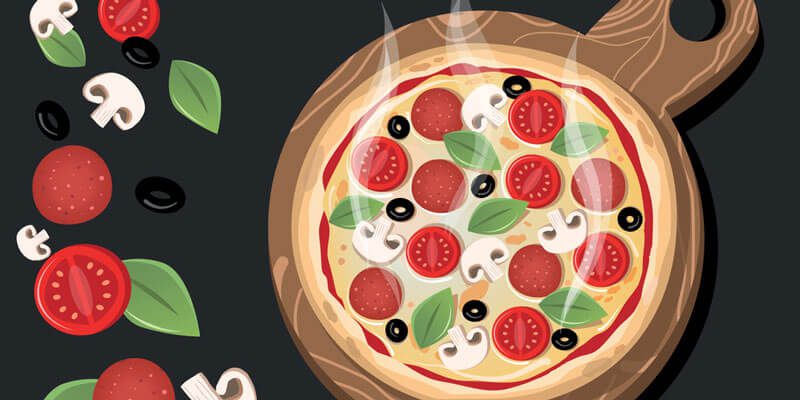 Surface
When it comes to pizza peels, wood is one of my favorite materials since it can withstand high temperatures. This characteristic makes wood pizza peel safe for placing and retrieving your pizza from the oven.
Also, you want to ensure that the surface is smooth and finished to avoid splintering, splitting, and cracking of the wood.
Length of the Handle
The purpose of pizza peels is to allow you to retrieve your pizza from your oven while preventing burning your fingers/hands. So, it's important to opt for a peel with a long handle. However, the right handle length should allow you to remove that sizzling pepperoni or fresh veggie pizza safely from the oven.
The handle is a must-have feature for optimal control and a secure grip to allow you to move the pizza around. If the handle is too short, it'll be difficult to hold and maneuver.
Blade Size
Another thing to consider is the size of the blade. The flat surface or the paddle portion to accommodate your favorite chicken pizza. So, you should consider if the surface will be large enough for your typical pizzas.
Also, pizza peels come in two shape options – rectangular and circular. Besides, they are available in different sizes. Hence, it's important to settle for pizza that offers enough space that work for you.
Type of Pizza Peel
Mainly, there are two types of pizza peel: wooden peel and metal peel. However, most homemade pizza chefs prefer to use wooden models since they allow bakers to build the whole pizza on the pill directly.
Traditional methods involve building the entire pizza on a marble worktop or other cold surfaces. The pizza is then transferred into the oven using a thin metal peel that easily slides under the pizza.
When choosing between these two types of pizza peel, your kitchen may influence your decision. It'd be best for those with a cold marble or granite surface to opt for a metal pizza peel.
On the other hand, kitchen settings with a wooden or laminated surface need a wooden pizza peel for a seamless baking experience.
---
Best Wooden Pizza Peels Review
---
1.

TOSCANA – Brand Acacia Wood Pizza Peel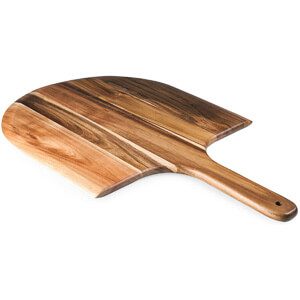 The TOSCANA Wood Pizza Peel is arguably the best wooden pizza peel out there. This tool is made from beautiful acacia wood. This exclusive construction makes it look artfully beautiful when hung on your kitchen wall using the notch at the handle's tips.
On top of that, the pizza peel features a flat paddle design to ensure users can transfer the bread or pizza from a hot oven to their expensive countertop safely. The tapered handle makes this product feel comfortable to hand and offers a steady grip and secure handling.
When it comes to maintenance, the TOSCANA Wood Pizza Peel requires the least effort: wipe the surface with a damp cloth. Another thing to love about this wooden model is its incredible versatility.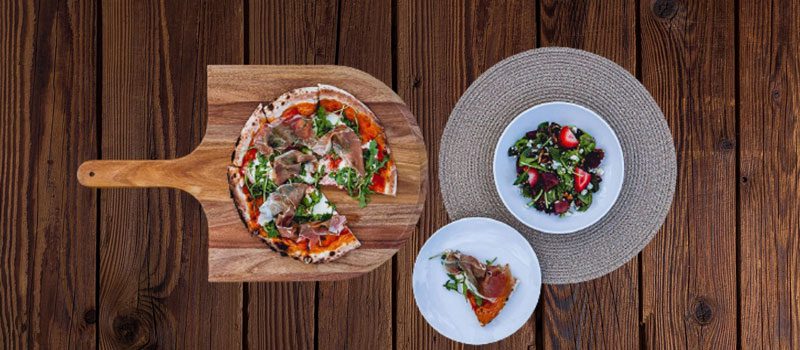 It is the perfect size for slicing and looks beautiful to also double as a serving tray. Nonetheless, this model is built to last and is a brand that stands by its products.
Additional Specification
Ideal For: Safely Transferring Pizza
Material: Hardwood
Color: Brown
Dimensions: 22.3 x 13.8 x 0.05 inches
Item Weight: 2.7 Pounds
Strengths:
Easy to clean
Sturdy and durable wood construction
Flat paddle design
Tapered handle for safe and secure handling
Weaknesses:
---
2.

Hecef Wooden Pizza Paddle 12-Inch Pizza Peel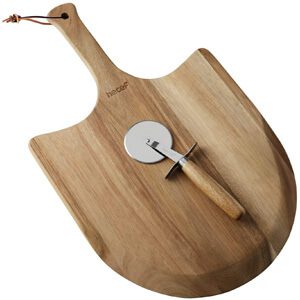 The Hecef Wooden Pizza Peel is another decent option offering multiple uses. This product includes a slicer for cutting pizza slices. It's also great for preparing bread, cheese, pie, and other foods, making it an essential tool in any kitchen.
This pizza peel is easy to clean, like our top choice, since you just have to rinse it with soapy water and use a damp cloth to wipe it clean. It features an advanced design that supports quick cleanup. More so, this essential accessory has a wide taper edge of about 1.3 inches, which allows it to slide under your pizza with ease.

That's not all: this pizza peel is made from acacia wood, which makes this product a delightful and durable peel. Besides, this unit looks great on your countertop. Its premium acacia wood constriction makes it suitable and safe for use in any kitchen.
With this peel, you can do much more – as it is perfect as a serving board to place wince, snacks, fruits, and so forth.
Additional Specification
Ideal For: Homemade Pizza
Material: Acacia Wood
Color: Nature Wood Color
Occasion: Congratulations
Dimensions: 20.3 x 12.8 x 1.2 inches
Strengths:
Versatile design
Easy to clean
Wide tapered edges
Made from premium acacia wood
Weaknesses:
Repairing this product once it starts peeling can be challenging.
---
3.

New Star Foodservice 50295 Wooden Pizza Peel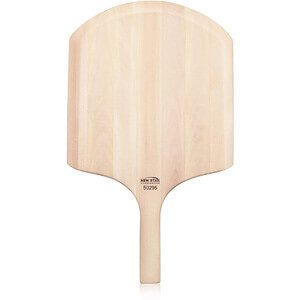 This wooden pizza peel is a durable, sturdy, and lightweight option featuring a basswood construction. This peel offers a fine, even texture that doesn't secret oils and makes it less prone to cracking. Unlike other conventional pinewood pizza peels, this product is more durable and won't react with your food.
This unit comes in an ideal size, making it perfect for lifting muffins, cupcakes, bread, or pizza out of the oven while staying at a safe distance from the heat. The New Star Foodservice 50295 Restaurant-Grade Wooden Pizza Peel sports a half-inch blade edge to ensure it slides the pizza easily.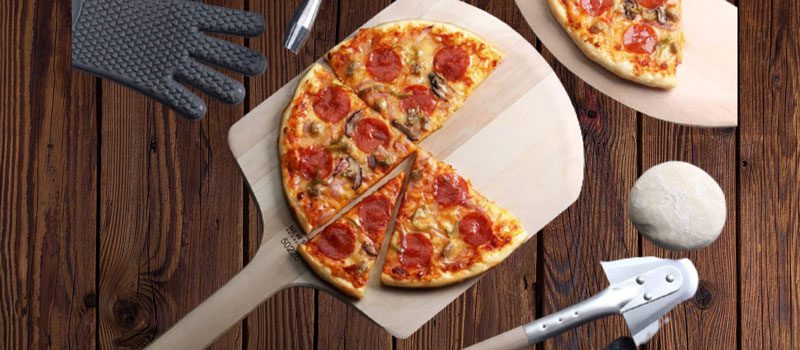 Even better, this product is available in a wide range of lengths, shapes, and sizes. Furthermore, the peel's handle allows users to safely load and remove their pizzas since it offers optimal control. Equally important, it's best to hand wash and not toss it into a dishwasher.
Additional Specification
Ideal For: Lifting pizzas, Cakes, Bread
Shape: Round
Dimensions: 27 x 18 x 1 inches
Material: Lightweight Basswood
Item Weight: 1.4 pounds
Strengths:
Wide tapered blade
Lightweight and durable
Versatile design for multiple uses
Easy to clean
Weaknesses:
A clinging chemical odor that lasts a while
---
4.

Winco 24-Inch Wooden Pizza Peel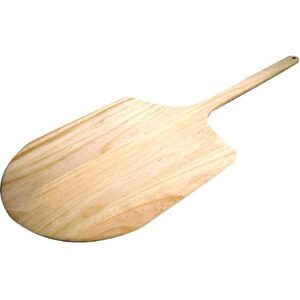 The Winco 24-inch Wooden Pizza Peel is a decent choice for bakers looking for a short-handled design product. This feature allows users to place their pizza in the oven and retrieve it to the countertop with minimal effort.
This wooden pizza peel looks elegant. Thus, it doubles excellently as a serving tray; also, it's large enough to accommodate most pizza sizes. Furthermore, the Winco 24-inch Wooden Pizza Peel features sturdy construction, ensuring this product serves your purpose for a long.
Verdict
Overall, the Winco 24-inch Wooden Pizza Peel is an impressive quality product that serves its purpose excellently. Its large size makes it suitable for accommodating most pizza sizes, and its sturdy construction ensures durability.
In addition to being used as a pizza peel, it can also function as a serving tray. The short handle design allows for easy lifting and maneuvering.
However, one weakness of this product is the absence of a drilled hole on the handle for hanging storage.
Additional Specification
Ideal For: Sliding pizza in & out of the oven safely
Material: Beechwood
Color: Tan
Dimensions: 23.81 x 13.88 x 0.44 inches
Item Weight: 0.8 Pounds
Strengths:
Impressive quality product
It can be used as a serving tray.
Short handle design for easy lifting
Zero maintenance required
Weaknesses:
No drilled hole on the handle for hanging
---
5.

Pizza Royale Ethically Sourced Wooden Pizza Peel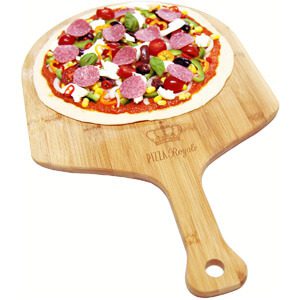 When it comes to the top wooden pizza peel on the market, the Pizza Royale Ethically Sourced Premium Natural Bamboo Pizza Peel is highly rated. This product is made with naturally sourced bamboo and comes in several size options to cater to your baking needs.
What's more?
This unit features a nice long handle offering secure and comfortable handling. Despite its sturdy construction, this unit is not overly heavy, making it very comfortable to handle and meet your needs.
That's not all: this unit can also be used as a cutting board or a serving board if you need it. Further, it has a drilled hole on the handle to allow users to hang this peel up for storage reasons.
Talking about the handle, the Pizza Royale Ethically Sourced Premium Natural Bamboo Pizza Peel comes with a slim handle for a comfortable grip and a sturdy feel. With proper maintenance, this pizza peel won't split, crack, or splinter. Plus, it's hassle-free to clean. And, it's best to hand wash for durability purposes.
Additional Specification
Ideal For: Use as a serving block
Material: Bamboo
Dimensions: 19.6 x 0.6 x 12 inches
Item Weight: 2.05 Pounds
Brand: Pizza Royale
Strengths:
Bamboo construction that won't crack, warp, or split.
Large size for impressive versatility
Comfortable, easy-grip handle
Easy to clean
Weaknesses:
---
Frequently Asked Questions & Answered
---
What's the best wood for a pizza peel?
Every pizza peel should be made of wood. The best wood for a pizza peel is either maple or cherry, but it depends on your personal preference. Maple is more resistant to wear and tear, but cherry has better stain resistance.
can a wooden pizza peel go in the oven?
When preparing a delicious pie, it is often necessary to use a pizza peel or oven peel to help with the cooking process. The heated surface of the peel helps to soften and cook the dough and the wooden paddle can be used for several purposes including sliding the pizza into an oven, pulling out a pizza from an oven, and then transferring it to a cutting board. However, many people may wonder if this tool can be put in the oven.
What's the best way to use a pizza peel?
Place the pizza peel at a 45-degree or 30-degree angle and scoop the pizza up quickly. If you slide the pizza peel under the pizza slowly, you'll have trouble scooping the pie up. Tilt the peel move it quickly under the pizza and lift.
Do I really need a pizza peel?
Pizza peels are essential tools that always come in handy. However, I must admit you won't know what you're doing until you try one. These accessories make baking pies a breeze. They are designed to eliminate the struggle of getting your pie in and out of your pizza oven with ease.

Further, a pizza peel allows you to move the pizza inside your oven to ensure it cooks evenly and comes out perfectly.
How to make the peel non-stick?
A lot of people tend to deal with their pizza sticking to the pizza peel. There are a couple of ways to handle this situation. Some models feature a non-stick coating to ensure fast food release, which means you don't have to deal with the stickiness. For peels without a non-stick coating, sprinkle some cornmeal before placing your pizza on the peel. This way, you don't have to deal with dough sticking to your wooden pizza peel.
What is the best wooden pizza peel size to buy?
There is a wide range of pizza peel sizes, which makes choosing the right one a bit tricky. It's best to consider a peel that would accommodate your pizza and offer enough room to turn/rotate the pizza with ease.

Keep in mind that the pizza should go over the edges to prevent burning. It's better to go for a larger pizza peel than for one that might be too small for the pizza.
What's the best way to maintain your wood pizza peel?
Similarly, the wooden pizza peel requires adequate maintenance to ensure it serves your purpose for a longer period. It's important to let the peel dry fully before storing it. It would also be best if you put it away in a cool, dry place out of direct sunlight.

Some home cooks prefer to treat this essential tool with oil. However, it'd be best to rub the wood peel with a little food-grade oil to prevent drying out.


If you want to know how to transfer a pizza with a wooden pizza peel, you can watch this video. This video was created by our friend The Companion Group.
Conclusion
Taking everything into account, the TOSCANA Wood Pizza Peel is our top pick for the best wooden pizza peel on the market. This product is easy to maintain and clean. Plus, it has a large flat surface to accommodate most pizzas with enough room to turn and flip your pizza.
Even better, it has a comfort-grip handle to make it easier to transit the pizza from your work surface to your oven with the least effort. Also, its long handle allows you to retrieve your pizza from the oven while staying away from the heat.
The surface of the peel is made from durable wood, which is hygienic to use. Plus, it won't crack, split or splinter easily with proper maintenance. Nonetheless, we are confident that whichever peel you decide to go for will offer good value for your buck.