Pizza peels are one of the essential tools for every baker. This shovel-like tool comes in handy for retrieving bread, pizza, pastries, and other items from your blazing Big Green Egg grill. Since you opted for one of the Big Green Egg machines, quality and high cooking performance are top of your list.
However, your Big Green Egg can not deliver that pizzeria-quality pizza you crave without the right tools like the peel. With hundreds of options on the market, it's challenging to decide which of the peels will be a perfect match for your BGE machine.
Without further ado, here is the best pizza peel for Big Green Egg to allow you to grill meat, smoke meat, and cook pizza and vegetables with ease. But before that, check out our comprehensive buying guide to ensure you make an informed decision.
Things to Consider When Shopping for the Best Pizza Peel for Big Green Egg
Material
When it comes to pinning down the right peel for your Big Green Egg machine, you want to consider the build materials. Peels are made with different materials for different purposes. Hence, you want to stick with one that would serve your intentions and works with whatever you've on hand.
Aluminum
This is the common option since most people prefer their paddle to be lightweight for easy handling. In our review, we've recommended some aluminum-made peel that would stand the test of time and deliver an incredible pizza-hauling experience.
They are thin, which means they are easier to slide off for the pizza. Also, maintenance and cleaning won't be an issue. However, the nonstick performance is not up to par. So, you might want to solve this issue by adding some cornflour.
Stainless steel
Stainless steel pizza peel takes the lead in terms of strength and durability. They can be nearly as thin as aluminum versions and easy to maintain. They are also lightweight and suitable for beginners.
Wood
This is the oldest option and is still relevant today. Wooden peels have an appealing appearance and offer a classic look. Thus, they double well as a serving plate for your delectable pizza. This type of pizza paddle takes away the hassle of transferring your deliciously baked pizza from your oven to a different serving tray.
On the downside, wooden pizza peels are heavier and can be challenging to maintain. They are not dishwasher friendly, which leaves you with only one option – hand washing. Also, you have to ensure the wooden model is dried before use, and you cannot wash it with detergent.
Edge
Pizza peels with tapered edges make the baking experience more fun and easy. However, stainless steel or aluminum paddles don't have to be tapered if their edges are very thin.
On the flip, you want to stay away from wooden paddles without the edges being tapered. Hence, you will turn into trouble trying to get the peel under the dough,
Handle
This is another factor you don't want to ignore. The handle determines the handling experience. So, it's best to opt for one with an ergonomic design for a secure grip and easy handling. Also, a long handle is necessary if you want to protect your hands from the oven's high heat.
However, you might want to consider short handles for more comfortable handling on a grill. The short handle offers better control and fewer chances of the dough sliding off.
That's not all: if you are going for a long handle, it's best that the handle can be folded down for an easy, convenient storage experience. Needless to say, you want the handle to be sturdy and robust enough to handle the weight.
Shape
The next factor to bear in mind when purchasing the best pizza peel for Big Green Egg is the tool's shape. Awkward-shaped paddles might seem alluring, but they are usually not practical. Therefore, it's best to go for a product designed to hold your dough without sliding off.
Furthermore, you would find two main shapes in the market – round and rectangular. Regardless of your choice, you want to purchase a large peel to provide enough room for your pizza. There will be fewer chances of your pie sliding off the blade.
Top 5 Best Pizza Peel for Big Green Egg to Buy
1.

Checkered Chef Pizza Paddle – Large Stainless Steel Peel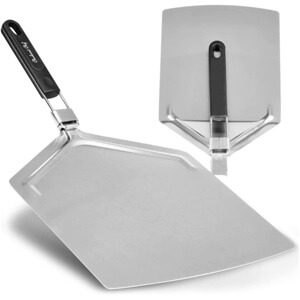 If you are looking for a pizza peel with low maintenance requirements, then the Checkered Chef Pizza Paddle is your best bet. This product is designed to serve your purpose without the demand for much in return. This device allows you to focus on the important stuff like baking, prepping, etc., instead of spending quality time taking care of pizza peel.
Thanks to its stainless steel, this device is exceptionally durable and won't be replaced anytime soon. Also, its sturdy stainless steel construction ensures you can toss this device into your dishwasher for a convenient cleaning experience.
Talking about conveniences, this essential tool comes with a folding handle to make storing a breeze. The handle is one of the best things about the Checkered Chef Pizza Paddle. It comes with a hole to allow users to hang the tool for easier storage and access.
What's more, the handle features rubber, which makes handling this best pizza peel for Big Green Egg safer from the heat and easy to maneuver. Above all, this peel features super-thin edges to allow it to slide effortlessly under a thin crust without compromising the shape or form of your pizza.
Strengths:
Ultra-thin edges
Rubber handle for best grip
Suitable for indoor and outdoor use
Foldable handle for easy storage
Durable stainless steel construction
Weaknesses:
---
2.

Epicurean Pizza Peel, 21-Inch by 14-Inch, Natural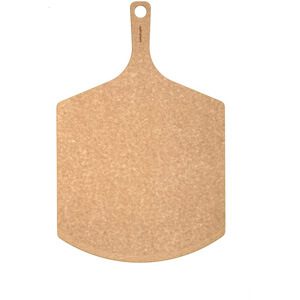 This list won't be complete without the Epicurean Pizza Peel. It's one of the best pizza peels out there – and the reasons are not far-fetched. To start with, this tool features a rugged, heat-resistant wood construction.
The front edge is beveled to easily allow bakers to reach under the dough for a fuss-free transportation experience. This paddle is made using natural materials and comes with natural color. The Epicurean Pizza Peel is lightweight and can easily fool anyone.
This tool is durable and offers a non-porous and knife-friendly surface. Also, it's a breeze to maintain. The Epicurean Pizza Peel is suitable for both home and commercial applications and comes with NSF certification to back the manufacturer's claims.
This 21-inch by 14-inch paddle can withstand the rigors of daily use. More so, it's heat safe up to 350 degrees F to allow you to scoop your pizza easily into and out of your Big Green Egg. In addition, this model can double well as a prep surface to cut and serve your pizza without bothering about it cracking or warping.
On top of that, the Epicurean Pizza Peel can be tossed into the dishwasher for a fuss-free cleaning experience. However, you might want to hand wash with hot soapy water to ensure it's thoroughly cleaned.
Strengths:
Lightweight design
Easy to store and use with its built-in hole
Dishwasher safe and knife friendly paddle
Durable construction
Impressive versatility
Weaknesses:
---
3.

Outset Stainless Steel Pizza Peel with Collapsible Rosewood Handle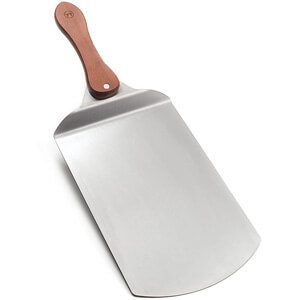 If you are looking for a pizza peel to add more fun to the baking experience, then the Outset Stainless Steel Pizza Peel is a great choice. This model saves you from the troubles of scooping the dough into and out of the hot oven.
This best pizza peel for Big Green Egg is made with food-grade stainless steel to offer a smooth surface for safe and easy transport of the dough from peel to pizza stone to peel to serving tray. Outset Stainless Steel Pizza Peel comes with a beautiful rosewood handle to protect your fingers from the heat and fold down for easy, convenient storage.
Furthermore, the handle features an ergonomic design to allow users to handle and maneuver the peel with ease. It's available in different size options to ensure a perfect paddle for home, restaurants, RV, camper, or apartment applications.
Strengths:
It's made from food-grade stainless steel
Features an ergonomic rosewood handle
Available in the different size options
Perfectly balanced to support transporting baked goods, including pizza and artisan bread, with ease.
Weaknesses:
Not perfect for transporting round pizzas
---
4.

Connsole Casa-Metal Pizza Peel 12 Inch Pizza Paddle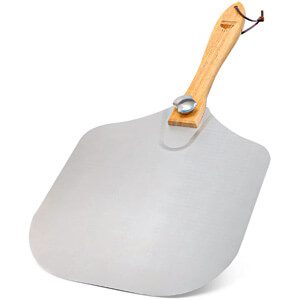 The Connsole Casa-Metal Pizza Peel 12 Inch Pizza Paddle is Earning a spot on our list with its foldable handsome rubberwood handle and corrosion-free aluminum blade. The handle is sturdy to offer a secure grip and easy maneuvering experience.
This paddle is designed to offer the much-needed support to prevent the tool from turning or bending when transporting the tastiest and heaviest pie. This unit comes with a 1.5mm thick blade and a reliable lock technique to ensure safe transportation.
In addition, it's one of the lightest models on this list and offers a wide plate for extra support. The handle folds away for easy storage. Also, it comes with a premium storage box for a more convenient storage experience.
However, you might want to add some cornflour to the aluminum blade for better nonstick performance. Above all, it's rust-proof and a cinch to clean after use.
Strengths:
Easy to maintain
Foldable handle for easy storage
Premium lock mechanism for safe handling
Rust-proof aluminum blade
Weaknesses:
The edges are a bit sharp
---
5.

American Metalcraft 3714 37″ Aluminum Pizza Peel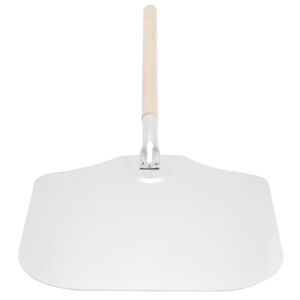 The American Metalcraft 3714 37″ Aluminum Pizza Peel is one of our favorites thanks to its length and superior durability. It has a broad face to hold larger pizzas, at least 14 inches. This product comes with a striking design – a perfect combination of wood and metal for the best pizza-hauling experience.
The metal blade offers excellent food release performance to ensure your dough slides off easily into the oven or on the serving tray. Also, it comes with a 12-inch wooden handle to allow you to reach your pie without burning your hands.
That's not all: the long wooden handle is easy to grip and comfortable to maneuver. The blade is made of aluminum, which means you can expect this pizza paddle to be lightweight and easy to clean.
Even better, the American Metalcraft 3714 Aluminum Pizza Peel is available in different sizes from 28-inch to 66-inch to ensure you find the right peel length that works for you.
Strengths:
Sturdy 14-gauge aluminum blade
Lightweight construction for easy cleaning and use
The authentic and rustic appearance
Wooden handle for comfortable handling
Weaknesses:
Pizza tends to stick to the aluminum blade
---
Frequently Asked Questions and Answered
Is a pizza peel really necessary?
If baking an authentic pizza is your intention, then a pizza peel will come in handy. They are designed for bakers to safely and efficiently transport the dough from the workspace to the hot Big Green Egg grill and back to the serving tray.
What else can I use my best pizza peel for Big Green Egg to do?
Pizza peels are essentially used to get the dough in and out of the oven or grill. However, they can double well as a cutting board or a serving tray. Keep in mind that this versatile nature is only present in the wooden version. It's not advisable to use the metallic pizza peel as a serving tray as the edges are sharp and can likely result in an accident.
How to prevent my pizza paddle from sticking?
If the dough sticks to the peel, you might want to spring some flour or cornmeal on the blade before placing the dough on it. Or better still, purchase a pizza peel with a stick-free coating for excellent food release performance.
Conclusion
By now, you should have figured out that pizza peels are not created equal. Also, choosing the right one is not an easy task, considering the number of products out there and the factors that will influence your decision.
Luckily, we've done the hard part for you and compiled a list of the best pizza peel for Big Green Egg, with the Checkered Chef Pizza Paddle – Large Stainless Steel Peel taking the lead. However, we strongly advise that you check out our detailed buying guide to ensure you make an informed decision.