The essential factor for crispy pizza dough is flour. The type of flour used will define how your pizza dough will taste and look. 00 flour is a very finely ground powder that gets soft on the inside and crispy on the outside when baked in the oven; it is also known as pastry flour in the US.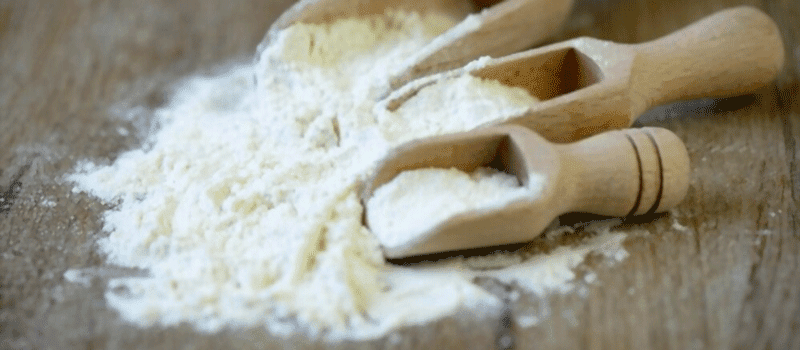 00 flour is a high-quality flour with the least amount of brand and wheat middling and gives your dough the perfection you desire. The gluten content will vary depending on the type of wheat the flour is made from and can be made of different kinds of wheat, both hard and soft
To make your baking easier, we've reviewed the top 5 best 00 flour for pizza in this article.
Top 5 Best 00 Flours for Pizza
Should You Use 00 Flour for Pizza?
Pizza is a culinary masterpiece that has captured the hearts and taste buds of people all over the world. From its humble origins in Naples, Italy, pizza has evolved into a global phenomenon with countless variations and toppings. While the debate over the perfect crust continues to divide pizza enthusiasts, one ingredient that often sparks controversy is flour.
Specifically, the use of 00 flour for pizza dough has become a hot topic among both professional pizzaiolos and home cooks alike.
So, should you jump on the 00 flour bandwagon or stick to traditional alternatives? Let's delve into this doughy dilemma and uncover whether this fine Italian flour truly makes a difference in creating exceptional pizzas.
---
Best 00 flours for Pizza Reviews
---
There are many types of flour available for making pizza, but which is the best? Here are five 00 flours that are popular among pizza aficionados.
1.

Antimo Caputo Chefs Flour for Italian Pizza
Antimo Caputo Chefs Flour is a good choice for Italian bakers for the long fermentation of baking. It is a natural flour with intense elastic gluten, and it is made of finely selected grains. The intense elastic gluten helps hold the dough together to rise and gives it a unique texture during the long fermentation process.
Antimo Caputo Flour from 1924 is of high quality and great for making Neapolitan classic pizza.
However, this flour is perfect for various recipes because it absorbs water at the highest level, which helps bake the crunchiest and crispiest pizza, cakes, dough, and pasta.
Thus, Antimo Caputo Chefs Flour also has a unique texture that will give your pizza a crispy result on the outside and tender on the inside, and it bakes well at up to 500 degrees Fahrenheit in the oven.
Verdict
This is a high-quality flour that has been imported from Italy. It is made from the finest ingredients and is perfect for making pizza, pasta, and bread at home.
Strengths:
Suitable for home ovens that heat up to 500˚F;
It has a unique texture;
The flour has no additives.
Weaknesses:
Not suitable for gluten-sensitive people.
---
2.

Cento Anna Napoletana Tipo "00" Extra Fine Flour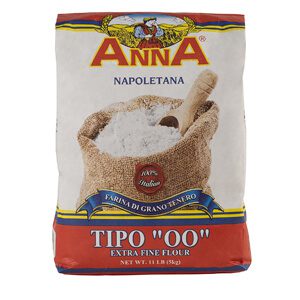 Cento Anna Napoletana Tipo 00 Extra Fine Flour is another of the top best flour for pizza chefs. It has a solid quality that makes delicacies like pasta and ravioli very crunchy; this flour consistently adds an authentic taste and lightness to your food.
Anna Type 00 is an old-world 100% Authentic Italian Naples Style flour that holds up to the high temperatures necessary for pizza making. It is finely milled with a soft texture, yielding a crispy crust every time.
Fortunately, this Cento Anna flour comes with no additives, and it is GMO-free; there is no risk of toxic or harmful chemicals to the body with this flour. Cento Anna Napoletana Tipo 00 Extra Fine Flour is very affordable, and it is an Italian product. It is a good choice for any baking needs.
Verdict
If you are looking for good flour that is made in Italy and will give you excellent results, this Cento Anna Napoletana Tipo 00 Extra Fine Flour is worth the purchase.
Strengths:
No GMOs.
Finely, powdery texture.
no additives
Affordable compared to other brands
Handles high heat well
Weaknesses:
Spoils easily after being opened
---
3.

King Arthur 00 Pizza Flour For Pizza Dough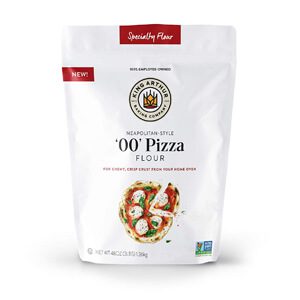 Another top best flour for pizza dough is King Arthur 00 Pizza flour for a crispy and crunchy base. This flour is organic-free, so King Arthur flour is for you if you are always extremely conscious about what you consume.
It is made up of a proprietary blend of hard and soft wheat to exacting '00' standards and is also a healthy alternative compared to flours with added chemicals.
However, this product Company is a 100% Employee-Owned Company. It is a secret ingredient for a Neapolitan-style pizza crust for homes. One of the things that makes King Arthur 00 Pizza flour one of the best is its fewer adverse effects on bodies. The crust made from this flour is mostly thinner in the middle; thus, it's not best to eat this flour raw mixed dough or batter.
Verdict
The King Arthur 00 pizza flour is a healthier variant of the normal flour that is usually used for baking. It has a slightly nutty taste to it and can be substituted in any recipe calling for regular flour.
Strengths:
No trip to Italy is required before you can get the flour
Incredibly finely milled
100% American-grown wheat
It contains a proprietary blend of hard and soft wheat
Weaknesses:
---
4.

Antimo Caputo Pizzeria 00 Flour for Pizza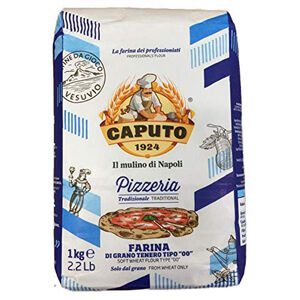 Antimo Caputo Pizzeria 00 Flour is made from top-quality soft wheat flour that is all-natural and gives a flavorful thin crust. With the help of a wood-fired oven, you can make an authentic Neapolitan pizza with a tender bottom and bubbles in its cornicione.
Its resistant gluten and low protein result in a consistent long-rise dough; this flour will give you the perfect taste of Italian pizza.
However, for optimal water absorption and superior yield of the dough, it is milled slowly. You can make your dough unique for a family treat by mixing the flour with Neapolitan yeast, water, and salt and kneading with a mixer on low speed.
One of the features that make Antimo Caputo Pizzeria 00 Flour one of the top best 00 flour is that it is suitable for cooking in an oven of over 700 degrees Fahrenheit.
Verdict
Antimo Caputo Pizzeria 00 Flour is an excellent choice for use in making pizza as well as other Italian pastries and bread. The flour has superior performance, with water absorption and dough yield being excellent. It also has a smooth texture and consistent color.
Strengths:
No additives
suitable to be prepared in a wood-fired oven
Can allow the heat up to 700 degrees Fahrenheit
Weaknesses:
---
5.

Antimo Caputo Pizzeria Flour Blue for Dough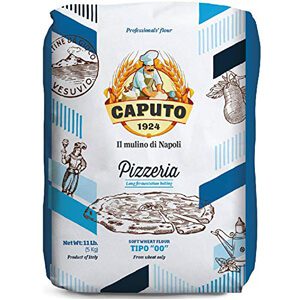 Antimo Caputo Pizzeria Flour Blue is a professional pizza flour from the Antimo Caputo brand that is 100% wheat flour and suitable for long fermentation. The flour contains high-quality protein and elastic-resistant gluten, which gives it a long-rise dough and a flavorsome taste.
The flour is a unique blend of high-quality wheat to handle high temperatures; it is ideal for baking pizza at over 700 degrees Fahrenheit and perfect for home oven pizza!
This flour is also one of the best 00 flour for pizza; it is usually made with various ingredients or recipes. Thus, Antimo Caputo Pizzeria flour blue has a perfect texture; it offers soft baking, which is crispy on the outside, tender on the inside, and at the same time flavorful.
It is blended with Farina Manitoba to give your baking more strength, and for home ovens, it's best to use Red Chef's flour which is designed for temperatures under 500 degrees Fahrenheit.
Verdict
When you are looking for high-quality flour, I suggest that you consider using Antimo Caputo Pizzeria Flour Blue. It is suitable for many types of baking and cooking like pizza, pasta, bread, bagels, pretzels, cookies, and pastries.
Strengths:
No additives
It contains more Farina Manitoba, which gives the dough more strength.
Weaknesses:
---
Use of Wood for 00 Flour for Pizza
If a pizza is "wood-fired," it means that the pizza has been prepared in a wood-fired oven. Pizza cooks faster in a wood-fired oven; the bottom of the crust cooks quickly, leaving a pleasing flavor on the edges that make the pizza taste just a little smoky in a unique way.
The hot oven also cooks the cheeses and toppings instantly; it retains their freshness rather than being burnt and dried to a crisp in a slower cooking oven.
Although there might be a few large bubbles on the crust, it's the nature of fast cooking and high heat. It leaves the bottom texture of the crust slightly "charred" and the top chewy and buoyant. If you are seeking pizza perfection, wood-fired pizza is a good choice!
Why Use 00 Flour?
00 flour has a lower gluten content than most flours, and it is finely ground. When starch is removed from wheat grains, the natural protein that remains is gluten; it creates the elasticity you feel in pizza dough. If the flour's protein content is less, the gluten content will also be less, and if the gluten content is less, your pizza dough will have less elasticity.
---
The Best Substitute for 00 Flour for Pizza
---
For Gluten-Free, thin Pizza Crust, Use Almond Flour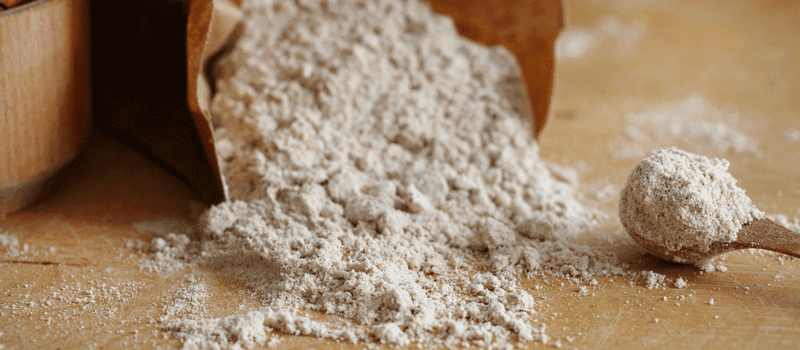 Almond flour is best if you want a cracker-like, thin pizza crust; it doesn't contain gluten. If you want a flour that will offer you a gluten-free pizza crust that's raised around the edges and chewy, try a gluten-free flour blend like King Arthur Measure Gluten-Free Flour or Caputo Gluten-Free Pizza Flour. These two are the best almond flour.
Use Bread Flour for a chewy pizza crust;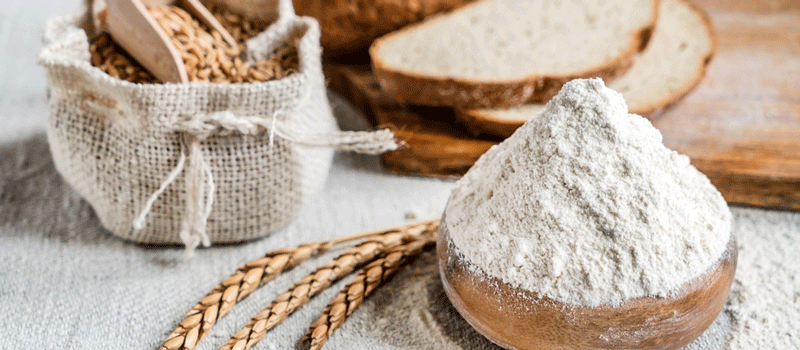 Higher protein content means higher gluten content; using bread flour in your pizza dough will offer you a stretchy dough that's not likely to tear. When you make your dough with bread flour, you get a very chewier, more bread-like pizza crust.
Use Whole Grain Flours for Nutty Pizza Crust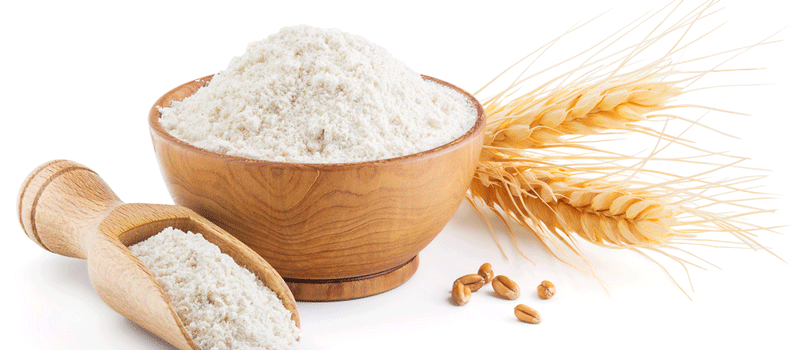 Whole grain flours like whole wheat are denser in texture and higher in protein and gluten. Your pizza dough will be dense and nutty if you use 100% whole-grain flour for your pizza dough.
You can watch this video. This video will show you how to make thin-crust pizza dough with 00 flours. The video was created by our friend This Dad Goes to 11.
---
Frequently Asked Questions & Answered
---
Is 00 flour good for pizza dough?
00 flour is a high-quality flour that is often used for pizza dough. It has a low gluten content, which makes it ideal for dough that is going to be baked.
Do Italians use 00 flour for pizza?
No, Italians do not use 00 flour for pizza. 00 flour is a very finely ground flour that is used for pastries and desserts. Italians use a different type of flour for pizza dough, which is a more coarsely ground flour.
Is 00 flour better than bread flour for pizza?
00 flour is a type of Italian flour that is finer than bread flour. It is often used for making pizza dough because it creates a crust that is light and crispy.
Is semolina flour the same as 00 flour?
No, semolina flour is a type of durum wheat flour, while 00 flour is made from soft white wheat. Semolina has a higher protein content and is used in pasta dishes and other dishes where a harder texture is desired.
Conclusion
For a crispy and chewy pizza crust, use the best 00 flour for your pizza dough. The top 5 listed above are the best 00 flour for pizza; it's important to remember that 00 flour can come in many forms. The ones with lower proteins are commonly used for pasta, while the higher protein ones are used in Italian pizza, bread, and dough making.
We've tested the top 5 listed in this article, but it's essential to test out the different flours for yourself and know your preference.