There are specific tools required for making authentic pizzas, including a pizza stone, fresh baking ingredients, an oven, and, importantly, a pizza peel.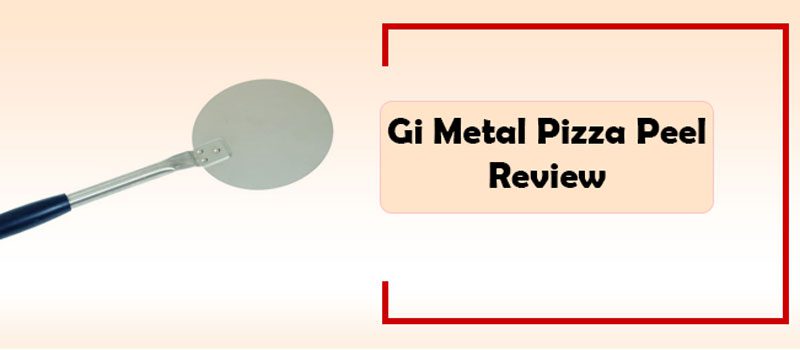 Gi Metal is a distinguished Italian brand that manufactures specialized tools for pizzaiolos. It has been in business for more than 30 years with about nine various manufacturing lines for different budgets, categories, and needs.
This bakeware brand is the first brand to have designed and constructed perforated pizza peel. The True Neapolitan Pizza Association endorses its products. Let's get started with Gi Metal Pizza Peel Review.
In this article, you will find all that you need to know about this model. Starting with the key features, why you should consider them, pros, cons, and more.
Gi Metal Pizza Peel Comprehensive Review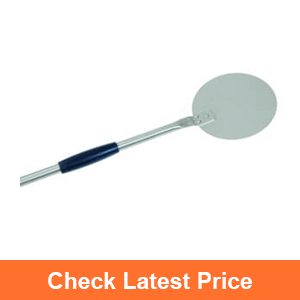 GI Metal Turning Pizza Peel is a high-quality utensil used by many home cooks. It is constructed with food-safe aluminum and steel. The head measures approximately 8 inches and the handle measures about 47 inches.
This pizza peel is an ideal option for carrying small-sized and medium-sized pizzas. The aluminum head is smooth and slippery, which makes the placement of the crust in the oven or on the pizza stone easy. One of the noticeable features of this peel is the rubber at the center of the handle, which functions as an insulator against high heat.
Key Features
Like other Gi Metal Pizza Peel, this product has the following features:
Build Quality
The material and construction of the peel are of high quality. They are food-safe and not susceptible to breakages. Gi Metal is known for quality, innovation, and a passion for meeting pizza makers' needs.
Weight
Aluminum pizza peels are usually lightweight when compared to wood or steel peels. GI Metal Turning Pizza Peel is no exception. It undergoes a special treatment process that enhances its resistance to friction.
Surface
The surface of the peel is smooth, solid, and not perforated. It is easy to clean and resist friction.
Round shape
The shape of the peel allows the pizzaiolos to take up the crust from any side without deforming it. The round head is riveted to the handle for stability.
Heat resistant
The aluminum head is designed to resist the most intense heat from the oven. Plus, thanks to the handle that keeps the hands away from the hot oven and the material for preventing burns.
Handle
The 47-inch handle is triple riveted to the peel head and comes with a hole at the edge for hanging after use. The long handle makes the job of transferring the pizza crust from your worktop to the oven easier. Also, you don't have to worry about the heat burning your hands.
Our Thoughts and Test Results
After several tests, we found out that this peel is useful for both sliding in the dough and also taking it out of the oven. Using your bare hands to transport the crust to the oven will deform the shape.
This metal pizza peel solves this problem by helping you maintain the form/structure of your pizza crust during the transferring process.
Why Should You Consider
The first factor to make you consider purchasing this peel is your need to make well-formed pizzas. From consumer reviews, the only drawback is the small size of the peel. Therefore, if you love to make small-sized pizzas, this is the ideal option for you.
Additional Specification
Best For: Wood Burning Pizza Oven
Peel Size: 47 Inches
Color: Black Handle
Item Weight: 1.8 pounds
Product Dimensions: 55 x 8 x 1 inches
Manufacturer: GI Metal
Strengths:
Features a loop at the end for storage
It offers a nonslip grip
Heat resistant handle
Top-quality materials
Suitable for small and medium pizza size
Weaknesses:
Not ideal for professional ovens
The long handle is not detachable, making it challenging to store in a tight place.
---
Ooni Pizza Peels vs. GI Metal Pizza Peels
---
Design
In terms of design, Gi Metal has several lines of production with tons of designs to choose from. Ooni pizza peels also have various models but can't beat Gi Metal.
Shape
Both peels come in different shapes, styles, and sizes. Generally, peels come with either the traditional round blade or the rectangular blade.
Material
Ooni and Gi Metal are prominent for being creative with different types of materials in manufacturing their peels. They ensure the material used is not only of standard but also food grade and food safe.
Summing Up
Making pizza from the comfort of your home is a fun activity that brings your family together. It is healthier and costs less than ordering takeout. From this review, you could tell that this pizza peel is of high quality and is best suited for home cooks.
Besides, the smooth surface makes this peel stand out from tons of other available options. We hope that you find our Gi Metal Pizza Peel Review helpful.