In the past, pizza chefs made authentic pizzas with coal or wood-fired baking ovens. At the same time, there are still some commercial pizzerias sticking to this traditional configuration, either running on gas or electricity.
Of course, this type of oven is not appropriate for home pizza bakers; some practical models offer almost the same baking conditions to achieve restaurant-style pizzas. With electric and gas options for home bakers, there's always a machine to fit your lifestyle.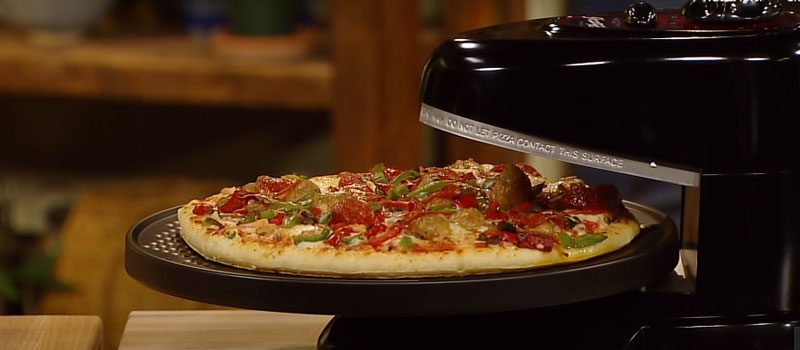 Unlike your standard kitchen ovens, a pizza maker consumes less energy and is ideal for making a pizza from scratch or preparing a frozen pizza. The pizza maker always delivers a perfectly baked pizza with little hassle.
Also, pizza makers can achieve high temperatures of more than 400 degrees F, which is a perfect temperature range to fully cook your toppings, perfectly melt cheese, and guarantee a baked crispy crust.
But with hundreds of options flooding the market today, pinning down the best pizza maker can be challenging and overwhelming. Thus, we've whipped up a list of the top 6 Best pizza-making machines.
Top 6 Best Pizza Makers
---
Best Pizza Makers Reviews
---
There are many different types of pizza makers on the market today. Some are better than others. Here are six of the best pizza makers that you can buy.
1.

Presto 03430 Rotating Pizzazz Pizza Maker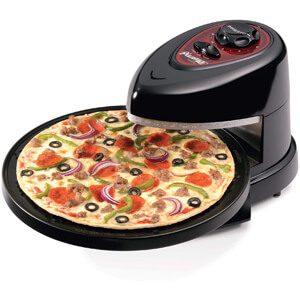 The Presto 03430 Rotating pizzazz pizza maker is our best electric pizza maker and only takes up minimal countertop space. This machine cooks frozen pizza to perfection!
But that's not all:
The Presto 03430 Rotating pizzazz pizza maker requires preheating or warming, which means you can start baking your pizza instantly, even if it's frozen solid. This pizza-making machine can make a 12-inch pizza within 15 minutes.
If you want a pizza maker to ease your baking process, you can't go wrong with Presto 03430 Rotating pizzazz pizza maker. It comes with a nonstick cooking plate that offers unbeatable food release performance and a damp-wipe cleaning experience.
This unit is equipped with two burners: one overhead and the other for the plate. This setup guarantees your pizza toppings are cooked, and cheese melts effectively. Also, it makes this pizza-making machine versatile for preparing different kinds of favorites like jalapeño poppers, pizza rollers, and wings.
On top of that;
This beast is backed by a two-manufacturer warranty, which assures customers of reliable performance and extreme durability. Besides, it's a perfect choice for people with charming little ones, as they love watching the rotating dish.
Additional Specification
Best For: Countertop
Voltage: 120 volts AC
Dimensions: 15.8 x 14.5 x 10.3 inches
Material: Steel & plastic
Manufacturer: Presto
Strengths:
It comes with top and bottom heating elements for even baking results
It's equipped with a removable nonstick baking pan for a no-fuss cleaning experience
No need to preheat the machine
Easy to control heat
Weaknesses:
Not suitable for outdoor activities
---
2.

Courant Pizza Maker, 12 Inch Pizza Cooker
If you want to purchase the best pizza maker, the Courant Pizza Maker, 12 Inch Pizza Cooker, can be your best bet. This product is ideal for cooking a wide variety of food aside from pizzas.
The Courant Pizza Maker is designed for baking 12-inch pizza with a delicious, crispy crust. This model bakes in a fraction of the time. It is equipped with a self-regulated thermostat to ensure your content is perfectly baked.
This product has ready-to-cook and power-on indicator lights, which makes baking hassle-free. The Courant Pizza Maker 12-Inch Pizza Cooker comes with a nonstick coated baking plate that guarantees a crispy crust and an effortless cleaning experience.
Furthermore;
This model features a compact design to allow users to store this pizza maker without fuss. The prime concern about this model is its heat distribution which could be better for even baking. Without proper monitoring, you might end up with overcooked or uncooked baked pies.
Additional Specification
Best For: Delicious Pizza
Voltage: 120 volts
Dimensions: 17.72 x 13.78 x 5.11 inches
Material: Aluminum
Manufacturer: Courant
Strengths:
It's easy to use and clean
Impressive food release performance
It's equipped with a power-on and ready-to-bake indicator
It bakes faster
Weaknesses:
The wire could be a bit longer
The durability is not up to par
---
3.

Betty Crocker BC-2958CR Pizza Maker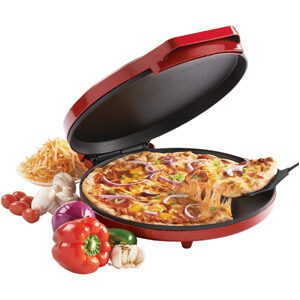 The Betty Crocker BC-2958CR Pizza Maker is another decent meal-making machine you want to have on your kitchen countertop for excellent cooking versatility. This model is suitable for making a variety of items, including tostadas, quesadillas, and nachos.
This pizza maker requires only 10 minutes to warm up and be ready to start baking your pies. More so, it has an indicator light to alert users when the appliance is ready, which takes out the guesswork.
Thanks to its easy setup, Betty Crocker BC-2958CR Pizza Maker is no fuss to use. All you have to do is open the top and place your 12-inch pizza on the plate.
You might also need to keep track of the cooking process to ensure you get a crispy pizza crust and gooey top. Like any product on our list, this appliance is effortless to clean.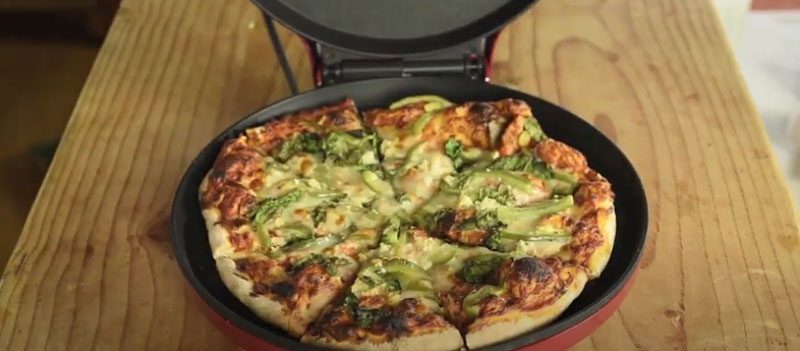 On top of that;
Its compact and lightweight design makes storage convenient. Betty Crocker BC-2958CR Pizza Maker comes with an affordable price tag and delivers satisfactory baking performance.
Additional Specification
Best For: Bake 12″ Pizza
Baking Surface: Non-Stick
Dimensions: 13.78 x 15.87 x 5.04 inches
Material: Stainless Steel
Manufacturer: Westinghouse
Strengths:
It comes with nonstick-coated cooking plates for easy cleaning and a better crust.
It has power-on and ready-to-Cook indicator lights to take out the guesswork
Easy to store
It offers a versatile cooking experience
Weaknesses:
Temperature adjustment is not impressive
---
4.

Hamilton Beach 31700 12 Inch Red Pizza Maker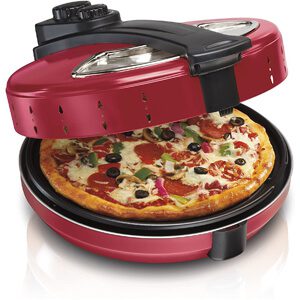 If you want to make the best homemade pizza, then you can go wrong purchasing the Hamilton Beach 31700 Red Pizza Maker. This product takes only about 15 minutes to make a great homemade pizza.
Wait, there's more;
This cooking appliance features a viewing window on the top of the lid, making it easier to monitor the cooking process effortlessly. This model is equipped with a large tray to accommodate up to 12-inch pizza.
The large tray rotates, ensuring a more consistent, evenly cooked pie. More so, it's equipped with a shut-off timer that automatically shuts off the cooking machine after 30 minutes.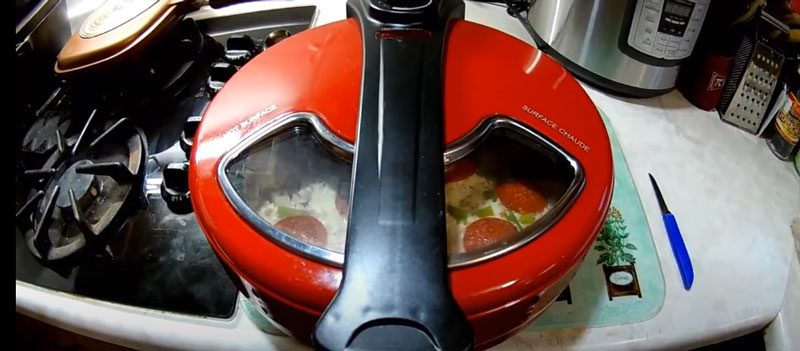 In addition, it features an adjustable head control knob to allow users to regulate the heating temperature for excellent results. On the downside, this model is on the pricey side. Thus, it might not be the right option for people looking for affordable alternatives.
Additional Specification
Best For: 12-inch pizza
Dimensions : 15.88 x 13.38 x 7.13 inches
Cooking Timer: 30-minute
Material: Nonstick
Manufacturer: Hamilton Beach
Strengths:
It comes with a viewing window
It has an auto-turn-off heating
This product cooks faster and saves energy
Its nonstick coating makes it easy to clean
Weaknesses:
---
5.

Commercial Chef CHQP12R 12″ Pizza Maker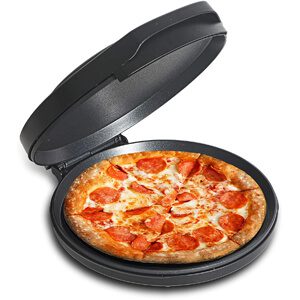 This best tabletop pizza maker can be the way to go if you want an efficient cooking appliance to handle all your kitchen needs, especially in baking.
To start with;
The Commercial Chef CHQP12R 12″ Pizza Maker comes with nonstick-coated plates to deliver better food release for an effortless cleaning experience. Also, this machine eliminates any worries about the cord and storage space, thanks to its compact design.
Even better, this machine has a light indicator to notify you when it is ready for baking or done with it. This pizza maker offers a good buck for the bang.
What I like;
This product is versatile and can cook or bake a different variety of food. It's perfect for baking your favorite pizzas and pastries.
Sadly, the Commercial Chef CHQP12R 12″ Pizza Maker tends to create a short circuit, making it a bit unreliable. Also, it's not as durable as other options on this list.
Additional Specification
Best For: 12.5" pizzas
Dimensions : 15.3 x 13.4 x 4.7 inches
Temperature: Up To 401°F
Material: Plastic
Manufacturer: Commercial Chef
Strengths:
Easy to clean
It comes with an affordable price tag
It offers a versatile cooking performance
It delivers a better food release
Weaknesses:
It tends to malfunction over time
---
6.

Breville Crispy Crust Pizza Maker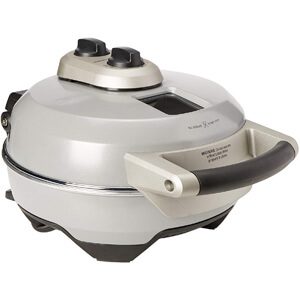 Breville is one of the top brands in this space, and the Breville crispy crust pizza maker lives up to the hype. This model features solid construction, which makes it very durable and feels sturdy.
This best pizza maker mimics the performance and result of a brick pizza oven. This machine comes with a ceramic pizza stone instead of a nonstick-coated pizza pan, as seen on most products on this list.
Breville crispy crust pizza maker offers two heating elements on top and bottom, to heat the ceramic pizza stone to 660 degrees F. This unit is capable of making a 12-inch pizza for your family and guests.
And lastly;
This machine is equipped with a heat adjuster on the upper lid to control the crust setting. Also, you can control the cooking time and temperature for desirable results.
Additional Specification
Best For: Countertop
Dimensions : 19.49 x 12.6 x 19.21 inches
Temperature: Up To 660°F
Material: Ceramic
Manufacturer: Breville
Strengths:
It's equipped with
Three crust settings: thick, thin, and medium
It's perfect for making 11-diameter pizza
It's equipped with an adjustable cooking temperature and time
Weaknesses:
Not suitable for making pizza with lots of toppings
---
Things to Consider When Shopping for the Best Pizza Maker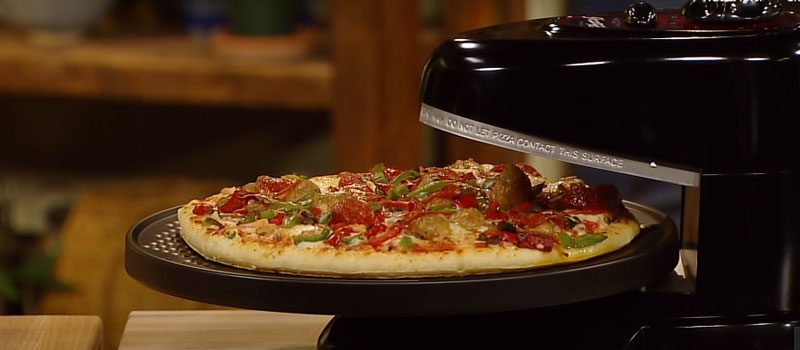 Outdoor or Indoor
It would be best if you determined where you want your cooking appliance to be. The indoor models are great for people who want quick access to cooking appliances year-round or don't have enough space in their backyard for a pizza maker.
But if you want a perfect spot outdoors to place your pizza maker, then the outdoor model is likely your best bet. Keep in mind that portable outdoor pizza makers can easily tag along on your subsequent outdoor activities.
These outdoor models need wood or gas, unlike indoor models that run on electricity. In addition, it's essential to have an outdoor outlet on your deck or porch if you will be going for a gas pizza maker.
Weight and size
The size of the pizza maker determines the size of pizza you can make with it. Also, you don't want to settle for an appliance that's too large, which might be challenging to store.
For those who tend to bake for family, then you should steer clear of small models, especially if you hate to bake several batches. More so, if the machine won't sit on your kitchen countertop all year, then you want to lean towards lightweight pizza makers. This makes it hassle-free to carry out for a baking session and store after.
Temperature range
If you want to make a pizzeria-quality pizza; you need a machine that can achieve high temperatures. With extreme temperatures, you can easily get your favorite charred spots and bake your pizza in a fraction of the time.
Also, the oven should be able to keep a consistently low temperature to offer impressive cooking versatility to cook other pastries and warm leftover pizza.
Controls & accessories
Depending on your preference, you can choose to settle for a basic pizza maker or a sophisticated one. For me, I prefer a machine with more options to allow more control over the baking process for perfect results.
Also, there are models with predetermined cooking settings to take out the guesswork. Some models come with accessories like peels, stones, and trays for a smooth cooking experience. There's always a pizza maker to suit your lifestyle and help you achieve the desired result.
---
Pizza Maker Questions & Answered
---
What are the advantages of purchasing a pizza maker?
They are small and compact to take up less space. Plus, this portable cooking machine makes your favorite pizza in a fraction of the time without creating a mess.
How fast do pizza makers cook?
This cooking appliance takes less than 30 minutes to make your favorite pizza.
Does a pizza maker require warming before use?
You don't need to preheat them; just open the lid, place the dough and toppings on the plate, and turn on the machine.
Conclusion
If you are a pizza lover, then investing in a pizza-making machine is a smart decision. This cooking appliance will help you create a restaurant-style pizza in the comfort of your home.
In conclusion, there are a number of great pizza makers on the market today. No matter which one you choose, you're sure to enjoy a delicious and piping-hot pizza pie. So get out there and start cooking!