While pizzas are in any topping combination, size, and style, the Detroit-style pizza takes a different spin. This pizza is made using a rectangular, deep-dish pizza pan for a thick, chewy, and crispy crust.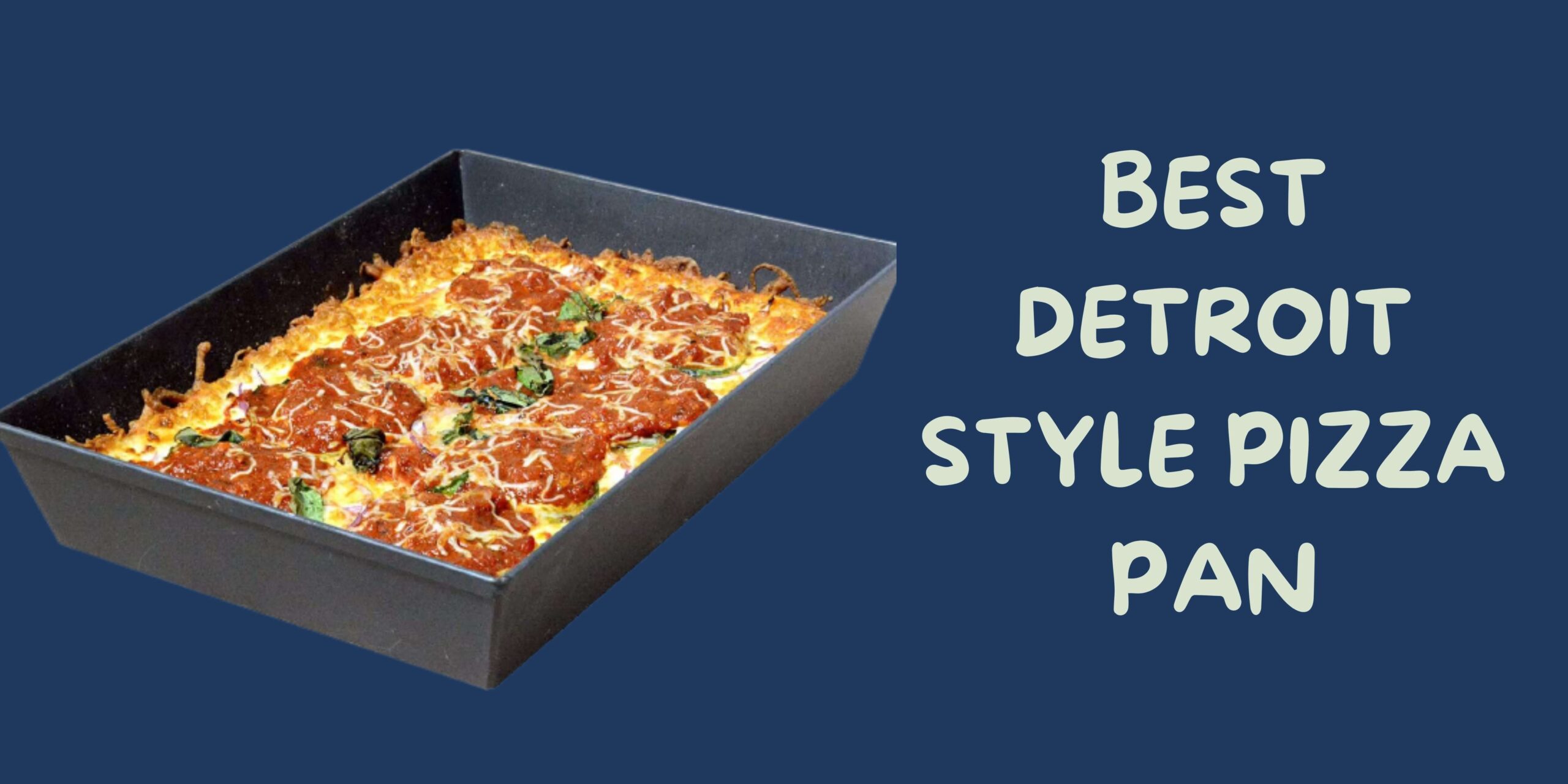 The secret to cooking up some mouthwatering pies is the Detroit-style pizza pan. It's nothing like the traditional round pans. These trays can handle the extreme heat from your oven, the extended baking time, and most importantly, the heavy crust size.
In the guide, we've expertly selected and reviewed the Best Detroit Style Pizza Pan and included a comprehensive guide to ensure you make an informed decision.
Top 5 Detroit-Style Pizza Pans
What Is A Detroit Style Pizza Pan?
With lots of hype around this baking tool, it's only reasonable to wonder what's unique about the Detroit-style pizza pan. Well, this type of pizza pan is so distinctive – far from the round pizza tray usually used to make your dine-in or ordered pizzas.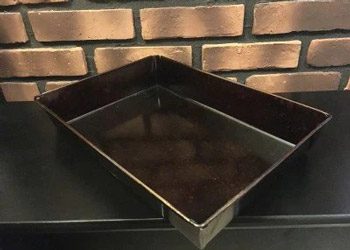 Let's get started; this distinctly styled pizza pan comes in a rectangular shape with a thicker crust. They are available in different shapes and depths, depending on your preference.
However, these pans feature slanted sides, which offer effortless food release after you are done baking. The pan's depth lets you create healthier deep-dish pizzas with a bit of both chewy and crispy crust. The pan's depth helps make healthier deep-dish pizzas.
Furthermore, they are made of either hard-anodized aluminum or steel for superior heat transfer, high heat capacity, and even heat distribution. Since they go through the hardening process, you might not need to season these pans.
How to Season a Detroit-Style Pizza Pan?
Seasoning your pizza pan means adding a thin layer of oil to the tool. This makes the tray non-stick and non-porous. Also, it helps prevent rusting.
It's best to season a pan that did not go through any hardening process, which means it's bare metal. The seasoning should be done straight out of the box before using the pan for cooking up some pie.
Add a small amount of vegetable oil to the Detroit-style pizza pan
Spread the oil evenly around it.
Bake the tray at 350 degrees F for 60 minutes
Allow the hot Detroit-style pizza pan to cool
Wipe up the excess oil
Things to Consider When Shopping for a Detroit-Style Pizza Pan
Style
Deep-dish pizza pans are available on different types of surfaces which affects the baking performance of the kitchenware.
Here are the common styles out there:
Solid
Most deep-dish pizza pans come in this style. The solid surface is suitable for mixing all the ingredients since there are no holes or nibs. With this style, you shouldn't expect easy heat or airflow.
Ergo, a solid deep-dish pizza pan requires extra caution when using it for baking your Detroit-style pizza to prevent undercooking or burning the crust.
Perforated
These types of pans have holes in the bottom part of the utensil. These perforations facilitate better heat and airflow to ensure the center and edges of the pizza cook at the same rate.
For beginners looking for an even faster cooking style, a perforated deep-dish pizza pan is for you.
Nibbed
Another common style is the nibbed pizza pan with the bottom featuring small bumps. The nib style works similarly to perforated options. It ensures proper heat/airflow for even baking. Hence, the crust gets crisped easily and quickly.
Thickness
If you love to munch on crunchy pizza crust, then you should stick with a thin pan. With a thin pizza pan, the crust gets heated easily for a crispier result.
But for a chewy crust, you might be better off with a thick Detroit-style pizza pan. Thick options protect your pizza crust from moisture and direct heat.
Coating
Detroit-style pizza pans are usually coated with sturdy, heat-resistant materials such as nylon and Teflon. There are different coating options, which are:
Uncoated
This type of coating material features a light reflective color responsible for its ability to manage extreme temperatures impressively. Notwithstanding, this coating requires seasoning before using it straight out of the box.
Silicon-Glazed
Unlike the uncoated option, this type of coating does not require seasoning before using it. Silicon-glazed bakeware offers decent non-stick performance.
Anodized Hard-Coated
One of the best things about anodized materials is that they are less prone to corrosion. They are dark coated, and you won't have to worry about these pans flaking.
Shape and Weight
Lightweight or heavyweight? This boils down to your preference. Heavyweight models can handle and retain heat better. However, handling them might be a bit challenging since you have to find the right weight balance for a comfortable grip.
Also, some deep-dish pizza pans can be stacked for easy storage. They range from 5 inches to 22 inches in size. The best Detroit-style pizza pan size to go for hinges on how many people you intend to feed.
Before splurging on a pizza pan, you should consider the size and shape to ensure it matches your needs.
---
Detroit Style Pizza Pans Reviews
---
Detroit-style pizza is a unique and delicious type of pizza that is becoming more and more popular. If you're looking to make Detroit-style pizza at home, you'll need one of the best Detroit-style pizza pans available.
1.

LloydPans Kitchenware 8×10 Detroit Pizza Pan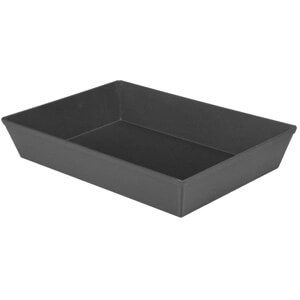 Days, when you need to make your own delicious homemade Detroit pizzas, LloydPans Kitchenware 8×10 Detroit Pizza Pan, is the ideal go-to for making restaurant-grade pizzas.
This baking tool features hard-anodized aluminum construction, which guarantees high heat resistance up to 700 degrees F. The LloydPans Kitchenware 8×10 Detroit Pizza Pan comes with a non-stick coating delivering superior food release performance and getting rid of the hassle of seasoning your pans before using them.
Talking about its top layer stick-resistant coating, it's non-toxic and PTFE-free, which addresses any concern about safety and health.
Coming in a deep black color, this rectangular shape measures 10 x 14 inches with a depth of 2.5 inches. Ergo, this commercial-grade Detroit pizza pan also comes in handy for preparing other baked goods like casseroles, bread, enchiladas, roasting meat, and many more.
That's not all: cleaning the LloydPans Kitchenware 8×10 Detroit Pizza Pan is a breeze. Plus, its 76-degree nesting angle makes it easier and more convenient to store these heavy-duty pans when it's not baking.
Like most baking pans from this top brand, this product is rust-resistant and assures long-lasting performance.
Strengths:
PTFE-free non-stick coating
No pre-seasoning is recommended or required
Easy to use and store
Commercial-grade hard-anodized construction
Made in the USA
Weaknesses:
---
2.

Chef Pomodoro Detroit Style Pizza Pan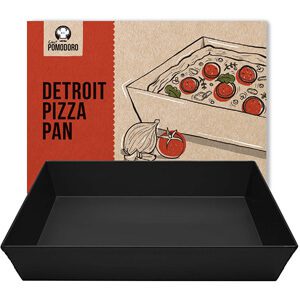 Earning a spot on this list is the Chef Pomodoro Detroit Style Pizza Pan. This product is 2.5 inches deep, which allows you to make an authentic all-corners deep Detroit pizza packed with flavor and fillings for mouthwatering results.
What's more?
This square pan features hard-anodized aluminum to ensure it holds up to rough-and-tough use. Also, its heavy-duty construction ensures even heat distribution and excellent heat transfer for a perfect Detroit-style pizza crust.
Unlike most of its competitors, the Chef Pomodoro Detroit Style Pizza Pan comes pre-seasoned, allowing you to start baking straight out of the box. Plus, its top layer non-stick delivers superior food release performance. Hence, cleaning this deep-dish pizza pan is a cinch.
On top of that, this versatile baking utensil can be used to make focaccia, casseroles, extra thick brownies, deep-dish dessert, ultra-sized cakes, and many more.
Strengths:
Comes pre-seasoned
hard-anodized aluminum construction
Excellent food release performance
Impressive versatility
Easy to clean and use
Weaknesses:
It tends to leak at the corners
---
3.

New Seasoned 10 x 14 – Authentic STEEL Detroit Style Pizza Pan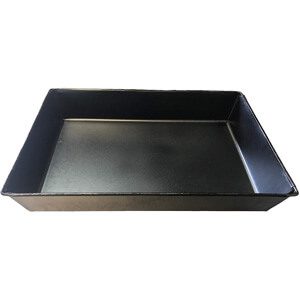 For superior baking performance, the New Seasoned 10 x 14 – Authentic STEEL Detroit Style Pizza Pan might just be what you need. This model comes with a new and improved seasoned coating to ensure your pie slides out easily and makes cleanup after you're done easy peasy.
This pizza pan is made of 26 gauge steel to deliver proper heat conduction for the crispiest and evenly-baked Detroit-style pizza crust. This pan allows you to build a unique flavor profile for better results with repeated use.
More so, this 14-inch x 10-inch x 2.5-inch deep dish pan is effortless to maintain and clean, thanks to the included step-by-step cleaning instructions.
Strengths:
Durable steel construction
Superior baking performance
Easy to clean and low maintenance
Outstanding heat conduction
Weaknesses:
---
4.

Authentic STEEL 8×10 Detroit Style Pizza Pan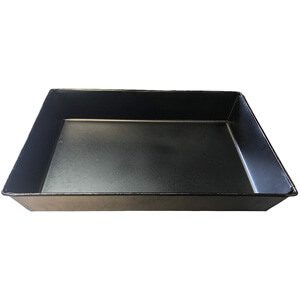 If you enjoy making deep-dish pizzas, the Authentic STEEL 8×10 Detroit Style Pizza Pan is ideal. This product is made out of alloy steel and is pre-seasoned. This pan delivers the authentic Italian taste.
Steel is known for its durability and excellent heat distribution. It comes with a non-toxic coating to offer a reliable non-stick performance. The Authentic STEEL 8×10 Detroit Style Pizza Pan comes in a dark color, which means you might likely burn the pizza crust if you are not a seasoned pizza maker.
Thanks to its excellent heat retention, the Authentic STEEL 8×10 Detroit Style Pizza Pan bakes efficiently and offers more consistent overall cooking. Even better, this versatile kitchenware doubles well as a rough-and-ready wok for frying vegetables and meat.
Strengths:
It comes pre-seasoned and ready to use
Durable and heavy-duty alloy steel construction
Holds heat better for even, efficient cooking
Easy to handle and maneuver
Made in the USA
Weaknesses:
---
5.

Chef Pomodoro Aluminum Detroit Style Pizza Pan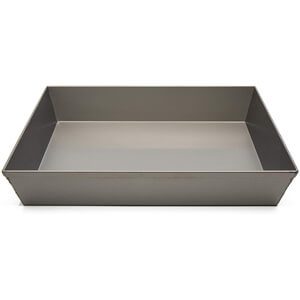 If you are on the hunt for a deep-dish pan, then the Chef Pomodoro Aluminum Detroit Style Pizza Pan won't disappoint. This heavy-duty kitchenware is deep and large, which makes it perfect for making Detroit-style pies.
This pan is hard anodized, and the top layer is coated with a PTFE-free non-stick material. Thanks to its non-stick solution, this pizza pan comes ready to start baking straight away for a deliciously crispy and chewy crust.
More so, this aluminum pan is oven safe up to 700 degrees F, which makes excellent bakeware for consistent great cooking results. It offers even heat distribution and quick heat-up for a satisfyingly crunchy crust.
The Chef Pomodoro Aluminum Detroit Style Pizza Pan is a perfect fit for both at-home and professional pizza makers.
Strengths:
Excellent heat retention
Durable, hard-anodized aluminum construction
Quick heat up and even spread
Natural non-stick coating
Weaknesses:
On the pricey side
Challenging to handle and maneuver without handles
---
Frequently Asked Questions & Answered
---
Is it necessary to use my Detroit-style pizza pan with a lid?
While it's not a must, using a lid helps trap moisture and heat for faster proofing. Also, it makes stacking these pans easier. But if your pizza pan delivers even heat distribution and has a stackable design, then you don't need the lids.
Is Detroit-style pizza pan dishwasher-safe?
Not all pizza pans can be tossed into the dishwasher for a convenient cleaning experience. While it might sound great, it's best to hand wash this kitchenware even if they are labeled dishwasher safe.
Do I need to preheat my Detroit-style pizza pan?
It's hard to say, as it depends on your preference. For golden, crispy results, you should preheat the pan for at least 20 minutes.
What pizza chain makes Detroit-style pizza?
The Detroit-style pizza is a unique take on the classic pizza. It has a thick, crispy crust and is topped with cheese that extends to the edge of the pan. The most well-known chain that makes Detroit-style pizza is Buddy's Pizza. They have been making this style of pizza since 1946, and they are credited with creating the original Detroit-style pizza.
Conclusion
In the end, the Best Detroit-style Pizza Pan is one that suits your cooking needs in terms of size, thickness, weight, and price. However, the best options should allow you to bake authentic Detroit-style pizza conveniently at home.
We've reviewed the top 5 products on the market capable of delivering sumptuous results. However, we strongly advise you to check out our buying guide to ensure you make an informed decision.
But if you are still on the fence, you should try our top choice – LloydPans Kitchenware 8×10 Detroit Pizza Pan. This pizza pan delivers incredible baking performance for authentic Detroit-style pizza.
Related Resources: