A thick pizza with a fried bottom layer of dough and a crispy texture is Detroit-style pizza. On the other hand, Sicilian pizza is a crisp, thin pizza made with bready dough generally at least 1 inch thick.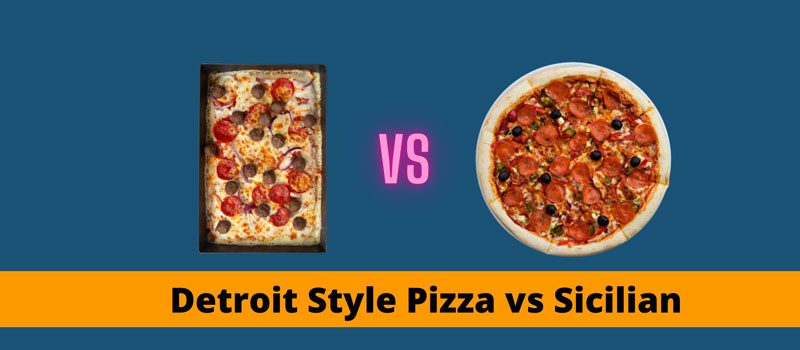 Another common feature of Detroit-style pizza is the addition of sauce at the end, either after the pizza has been baked or just before. Sicilian pizza is prepared by layering veggies, cheese, seasoning, and meats.
However, despite their numerous differences, these two pizzas are among the world's best-known. This article will assist you with all the facts you need to know regarding these two pizzas. At the same time, you'll also know about the difference between Detroit-style vs Sicilian-style pizza in this article.
What is Detroit-style pizza?
Detroit is a city known for its music, pizza, and cars. A descendant of Sicilian pizza, Detroit-style pizza owes its origins to a single individual-Gus Guerra. When Gus was the owner of Buddy's Rendezvous in 1946, he wanted to add something fresh to the menu. It is currently referred to as the Detroit-style square and is one of the most famous pizzas due to its light crust and rectangular form.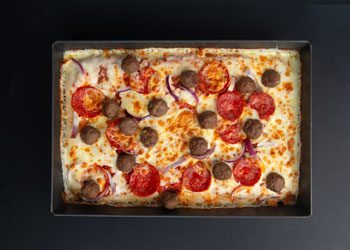 In the United States, Detroit pizza is also referred to as "grandma" pizza. The toppings on Detroit-style pizza include tomato sauce, cut pepperoni, and Wisconsin brick cheese.
How to cook Detroit-style pizza?
To prepare Detroit pizza, you first need to prepare the dough. Its dough should have a proper ratio of water to flow and be sufficiently hydrated for the airy and crusty texture on the outside. The wetted dough is an excellent idea for a better crust on this pizza.

When it comes to a pan for preparing this Detroit-style pizza, an industrial steel pan with outward-facing sides is recommended. A pan with a black surface of 10 to 14 inches in diameter is ideal for beautiful crisp and making sure the dough fills the whole pan.
When cooking this Detroit pizza, the cheese and toppings are layered on top of the sauce. Wisconsin Brick cheese commonly caramelizes the crust and adds a cheesy flavor to this pizza.
However, you can also use mozzarella or any other soft cheese to prepare this recipe. In most scenarios, cheese is added first, followed by other ingredients. Toppings can bake right into the dough. The milder brick cheese, which has a flavor akin to cheddar, goes perfectly with the pizza's tomato sauce. This sauce can apply in the form of thick, racing-stripe-like lines or blotchy dollops.
The "red top" pizza is another recipe for this pizza. The sauce is applied to the pizza once it is cooked or taken out of the oven in this recipe. Regardless of whether the sauce is put on the pizza before or after it is placed in the oven, it should cook for around 13 minutes at approximately 40 degrees F to ensure perfect pie. When the pizza is done, it is sliced into squares and served right away.
What is Sicilian pizza?
In the mid-19th century, pizza was famous in Sicily. Sfincione is most likely descended from the much ancient focaccia, an Italian yeast bread cooked on a flat sheet pan. Then, in the United States, sfincione developed into what we now call Sicilian-style pizza.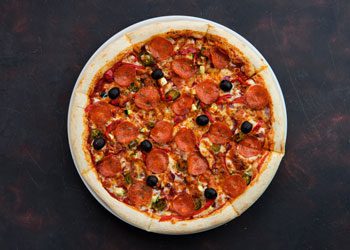 Sicilian pizza is a spongy base pizza with a meatless sauce comprised of herbs and a few ingredients such as onion, anchovies, and tomatoes. In addition, this pizza is topped with an optional grating of hard cheese and breadcrumbs.
How to Cook Sicilian pizza?
To prepare the spongy dough for Sicilian pizza, use olive oil, water, flour, and yeast. All of these ingredients are kneaded together and let rise. The dough is then carefully placed into an oil-greased square baking dish.

The crust is then covered with a sauce prepared with oregano, sautéed onion in olive oil, tomatoes, crushed red pepper, and minced anchovies. Again, before baking, spread this sauce with caciocavallo cheese and breadcrumbs.
The same spongy dough can use to prepare New York-style Sicilian pizza. However, the toppings are different. Top with mozzarella cheese and tomato sauce to make this Sicilian pizza in the New York style. Additionally, Sicily has a wide range of regional variations. Pizza in Catania, Palermo, Siracusa, and Messina has its particular flavor.
Detroit-style pizza vs Sicilian
Sicilian pizza is cooked on a square pan with generous olive oil, but the dough is different. The dough is allowed to rise longer in Sicily, resulting in a softer crust layer that resembles Focaccia bread rather than the classic New York-style pizza.
On the other side, to make Detroit-style pizza, the pepperoni is sliced more thinly so that the pieces form little "cups." Pepperoni cups' fat is retained and used to enhance the pizza's taste during baking.
The cheese on Detroit pizza is also a standout feature. Compared to other pizzas, Detroit pizza contains a lot of cheese on top. Sicilian pizza is made with many tomatoes that can often overwhelm the cheese.
Sicilian pizzas are more like deep dish pizzas, with a lot of heavy cheese and sauce on top and a much doughier bottom. The softcore and crispy exterior of Detroit-style pizza, on the other hand, distinguish it from different types of pizza.
What is the difference between New York and Detroit-style pizza?
The crunchy crust, the scorched cheese, and the chubby size are all features of Detroit-style pizza. New York-style pizza, on the other hand, seems out of place. For one thing, it's flat, with a doughy crust that's slippery with grease, and is served without the use of utensils, among other things.
Final Verdict
In the United States, around 350 pizza slices are sold per second. People's appetite for pizza is growing by the day. Every day, we consume a variety of pizzas, the Detroit and Sicilian pizzas are also popular among them.
Overall, pizza has such a stronghold on people's hearts. So, if you're a pizza aficionado, I hope you have found this article helpful in learning about the differences between Detroit-style pizza vs Sicilian.