Making your favorite pizza at home allows you to control what goes on and into it, making it great, especially for health-conscious individuals. Also, it can be a nice thing to do with the kids for fun during the weekends.
However, you don't want to run into trouble and end up with a mess. For excellent results, you want to use a pizza pan crafted to deliver pizzeria-quality pizza without any hassle. This cookware can withstand extreme temperatures up to 500 degrees F to guarantee a crispy pizza crust.
Sadly, there are tons of products from good to great, which complicates the decision process.
Luckily, we've whipped up the top 9 best pizza pans and a detailed buying guide to ensure you make a smart investment.
Top 9 Best Pizza Pans Reviews
1.

AirBake Nonstick Pizza Pan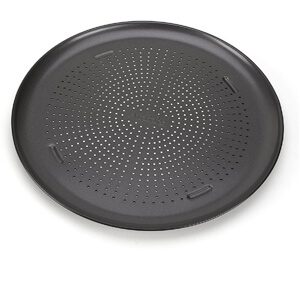 The AirBake Nonstick Pizza Pan is our top pick for the best pizza pan – and for good reasons. This product features an impressive non-stick coating to deliver an excellent food release performance. With this feature, your pizza or pie pops out without having to scrape it out.
This sleekest pizza pan on our list is available in two color options – metallic brown and black. The surface to place the dough is dotted for better, even airflow throughout the bakeware. Also, it features a dented end to keep the crust up for a smooth slide right off the pan.
Plus, this dented ends design guarantees that crispy pizza crust and less mess. More importantly, the perforated design releases the dough's moisture as it cooks for an evenly baked pizza with authentic taste.
Above all;
AirBake Nonstick Pizza Pan is backed by a 10-year manufacturer warranty, which shows the manufacturer's high level of confidence in this product. While this pizza pan is not dishwasher safe, it's sturdy enough to withstand temperatures up to 425 degrees F.
Strengths:
It features a premium non-stick coating for better food release performance
It delivers even cooking
Perforated surface for a crispier result
10-year manufacturer warranty
Weaknesses:
Not dishwasher safe
On the pricey side
---
2.

Cuisinart Chef's Nonstick 14-Inch Pizza Pan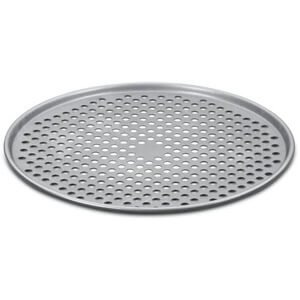 When it comes to cookware, Cuisinart is a brand to stick with. This model features a perforated bottom to allow seasoned chefs and beginners to achieve crispy crusted pizzas.
This thin pizza pan offers a 14-inch baking surface that takes about half the time to bake an authentic pizza on traditional pans. If you need a pan to bake pizza quickly, there's no going wrong with the Cuisinart Chef's Nonstick 14-Inch Pizza Pan.
Thanks to its perforated surface, this model bakes with little or no oil. That way, health-conscious pizza-holic can enjoy their favorite food without many calories. This cookware is crafted with heavy-gauge aluminized steel that delivers even heating throughout the surface and saves you from ruining your pizza.
Furthermore, it sports a non-stick coating on the exterior and interior, responsible for the hassle-free cleaning experience. Also, it guarantees that your pizza would pop out of the pan easily and smoothly.
On top of that, Cuisinart Chef's Nonstick 14-Inch Pizza Pan can be tossed into your dishwasher for a convenient cleaning experience. Even better, its thick rolled edges ensure this bakeware does not warp, and you have got a lifetime warranty to protect your investment.
Strengths:
Sleek design and perforated surface
Non-stick exterior and interior
Easy to clean
Thick rolled edges for a warp-free experience
Weaknesses:
Only one size is available: 14-inch
---
3.

Wilton Perfect Results Premium Pizza Pan for Oven
Another spot, another non-stick pizza pan designed to bake cookies, cakes, muffins, and pizzas for you. This product is crafted with durable steel for ultimate durability and offers a 14-inch baking space that should be enough to cook any size and style of pizza.
With the non-stick coating, you don't have to deal with pizza sticking to the pan. Users can easily slide the baked food right out of the pan to the plate. Also, it makes it easy to clean since food won't stick to it. This product is perfect for both home and commercial purposes to create authentic pizzas.
That's not all; Wilton Perfect Results Premium Pizza Pan doubles well as a serving tray. Due to its incredible performance, this pan is a go-to for professional chefs. Its edges are widened for better handling and easy carry. Also, it's compatible with your dishwasher for convenient cleanup after baking.
In short, Wilton Perfect Results Premium Pizza Pan is a must-have if you love baking at home. Aside from its impressive performance and great durability, the manufacturer backs this pan with a 5-year limited warranty.
Strengths:
Secure handling with widen edges
Steel construction for optimal durability
Dishwasher safe pizza pan for easy cleanup
It comes with a 5-year manufacturer warranty
Weaknesses:
The non-stick coating could be more durable
---
4.

American Metalcraft TP18 TP 18″ Aluminum Pizza Pan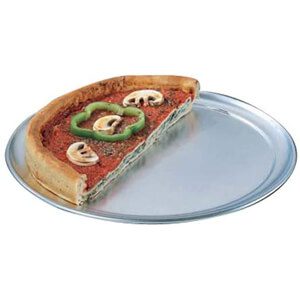 This pizza pan by American Metalcraft is highly durable cookware with an appealing silver color. Talking about its durability, this pan is made of 18-gauge heavy-duty aluminum to serve your purpose for many years to come.
In addition, this pizza pan is an ideal tool for every pizza lover to make baked foods at home or in a pizzeria. It delivers incredible performance and an effortless cooking experience. American Metalcraft TP18 TP Aluminum Pizza Pan is built with sturdy metal to eliminate any hot spots for even baking.
This model comes in various size options, from 6 – to 20 inches. With such a wide size range, every baker should easily find a product that meets their needs. This reliable pizza pan offering unparalleled performance can make small, large, and extra-large pizzas depending on your demand.
American Metalcraft TP18 TP Aluminum Pizza Pan features elevated edges to keep your content in the middle for easy food release and crispier crust. Unfortunately, this product is not dishwasher safe. Thus, you have to hand wash.
Strengths:
It can be suitable for both restaurants and home applications
Available in a wide range of size options
Elevated edge for easy handling and crispy crust
It doubles well as a serving tray
Weaknesses:
---
5.

LloydPans Kitchenware Detroit Style Pizza Pan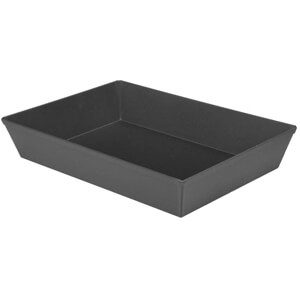 If you are looking to make Detroit pizza pans, then the cookware from LloydPans Kitchenware is a decent choice. This product features a stick-resistant, toxic-free coating that delivers a durable baking surface.
What's more? This coating does not require preseasoning, which saves effort and time. This ready-to-use pan features a dark finish, making the pan bake hotter and faster than most aluminum products out there. This model delivers even baking with a consistent great crust.
LloydPans Kitchenware Detroit Style Pizza Pan is crafted to withstand the rigors of a commercial kitchen. This product is metal utensil safe, non-stick, durable, and easy to clean. This model is perfect with your home grill and oven to make great authentic pizzas.
Strengths:
Easy to bake with and maintain
It's effortless to clean
It's perfect for commercial pizzerias
It's heat safe up to 700 degrees F
Double thick flat rim for extra strength and long-lasting durability
Weaknesses:
---
6.

Chicago Metallic 14″ Deep Dish Pizza Pan
The Chicago Metallic 14″ Deep Dish Pizza Pan has a smooth cooking surface and features deep dishpans to allow you to create the best Chicago-style pizzas. This deep-dish pan is a better alternative to your old-fashioned pizza pans.
This product is perfect for baking cookie pies, pizzas, and lots more in your oven. It is crafted to help achieve great textures and tastes. This best pizza pan is built with carbon steel for incredible durability and features a sturdy finish that guarantees this unit will last many years.
On top of that, this bakeware features a silicone-based non-stick coating for an easy food release surface. Also, it makes this product easy to clean up after each baking session. Chicago Metallic 14″ Deep Dish Pizza Pan is dishwasher safe for a snappy cleanup, but it's best to hand wash to extend the life of this pan.
Strengths:
Easy to clean
Heavy-duty carbon steel for strength and durability
Impressive food release
Deep pan model
Weaknesses:
---
7.

Cuisinart 4 Piece mini Pizza Pan Set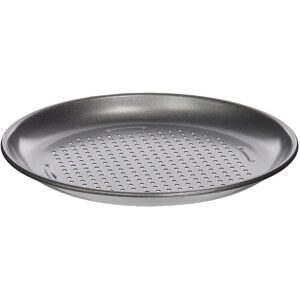 Here's another pizza pan from Cuisinart; you want to consider if you need the best bakeware to make delicious, crispy pies. This product is designed to make snacks and appetizers with ease. These 7-inch mini pizza pans feature a perforated design to deliver crisp crusts and uniform heat distribution.
Each piece is crafted with heavy-gauge steel for optimal durability and performance. Additionally, they feature a high-performing non-stick coating to allow your freshly-placed baked foods to slide off the Cuisinarts pizza pans right onto your serving board or plate with the least effort.
What else? This 4-piece bakeware set is suitable for baking delicious double chocolate brownies, sugar cookies, and carrot cake. After the baking session, it's good to know that you can toss these baking pans into the dishwasher, which makes cleaning a breeze.
Strengths:
It delivers easy food release
This product is dishwasher safe
Perforated design for even baking
Easy to clean
Weaknesses:
---
8.

Calphalon Nonstick Bakeware, 16″ Pizza Pan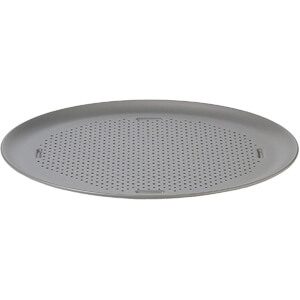 For making delectable results, you might want to stick with this pizza pan from Calphalon. This bakeware features a toffee-colored non-stick surface that delivers a flawless food release every time.
This model features a heavyweight construction that boasts longer life and uniform heating. The Calphalon Nonstick Bakeware, 16″ Pizza Pan is a decent choice for anyone looking to bake an extra-large pie.
On top of that, this non-stick bakeware has perforated surfaces that allow you to circulate air evenly for a perfectly baked base, whether it's a store-bought frozen pizza or your favorite homemade pizza.
With its heavy-gauge steel construction, this bakeware guarantees that this pan won't warp and facilitates even heat distribution to eliminate hot spots for evenly and perfectly browned cakes and cookies.
Talking about construction, each piece sports interlocking non-stick layers touted to offer a high-performance food release. It's protected by the brand's 10-year limited warranty, which gives an insight into how durable, safe, and well-performing this pizza pan is.
Equally important, this 16-inch pizza pan can be tossed into the dishwasher, which makes cleaning a breeze. This model is also oven safe up to 450 degrees F.
Strengths:
It bakes evenly
Excellent food release
Warp-resistant construction
Dishwasher safe
It's backed by a 10-year manufacturer warranty
Weaknesses:
It's not metal utensil safe
It comes at a hefty price
---
9.

LloydPans Pre-Seasoned Sicilian Square Pizza Pan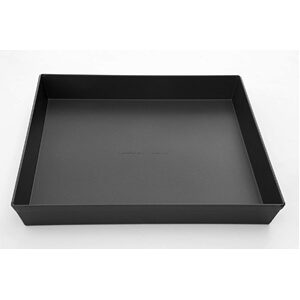 Last on our list is an incredible pizza pan from LloydPans. This is arguably the best pizza pan for making Sicilian pizza. This bakeware features a double-thick flat rim that delivers long-lasting durability and extra strength.
Speaking of its build quality, the product features a heavy-duty 14 gauge aluminum construction to facilitate the better transfer of heat for excellent results. The LloydPans Pre-Seasoned Sicilian Square Pizza Pan sports a tuff-kite finish that eliminates the need to pre-seasoned this cookware. This way, you can use this pan right out of the box.
Furthermore, its stick-free interior coating guarantees easy food release and a hassle-free cleaning experience.
Strengths:
Easy to deplane and cleanup
Stick-resistant baking surface
Thick aluminum construction for better heat conduction and distribution
Made in the USA
It's sturdy and extremely durable
Weaknesses:
There is no handle for easy carry
---
Best Pizza Pans – Buyer's Guide
Making scrumptious pizza at home requires the right mindset, ingredients, and cookware. Therefore, it's essential to bake with a pan that meets your preference and taste.
So, without further ado, let's consider the key factors to help make an informed decision.
Types of Pizza Pans
Before splurging on a pizza pan, it is important to determine the type of pizza you intend to make. Here are the main types of pizza pan:
Deep Dish Pizza Pan
This type of pizza pan features high sidewalls, which makes them perfect for making Chicago-style pizzas. This deep-dish pizza pan is available in a square or round shape.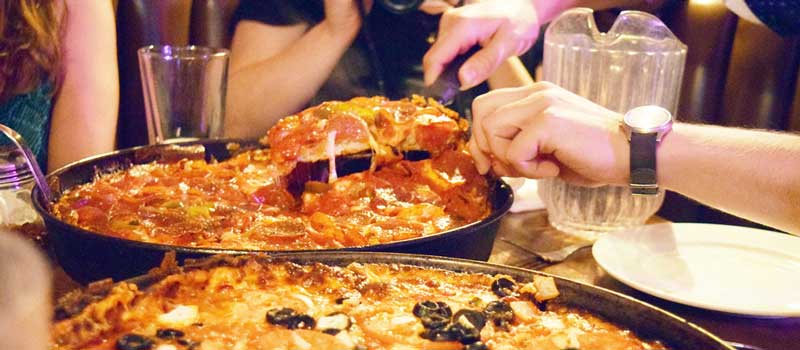 Pizza Disk / Screen
This pan comes with a mesh bottom to deliver easy heat transfer. They are a decent choice for creating crispy thin pizza crust.
Pizza Stone
This pan is crafted with cordierite or ceramic and has a porous surface to absorb the excess moisture from the dough for a crispy crust.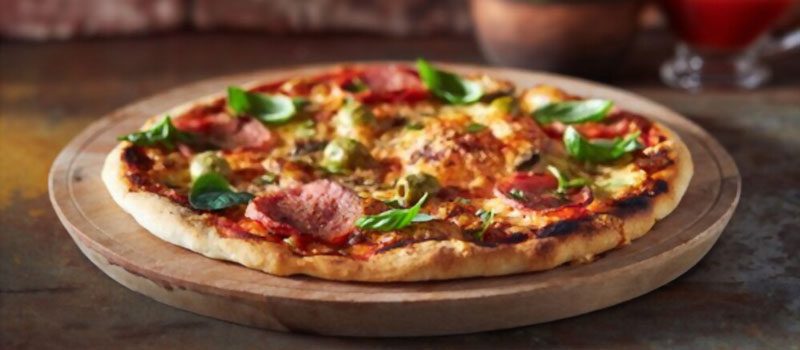 Wide Rim Pizza Pan
This type of bakeware is suitable for people looking to handle, slice, and serve their pizza effortlessly.
Cast Iron Pizza Pan
With a cast iron pizza pan, you can bake your pie on the stovetop, broiler, oven, and grill.
CAR Pizza Pan
This pan sports curved edges that make it perfect for baking rolled pizza dough.
Regular Pizza Pan
They are your go-to's for durability and ease of use. Also, they double well as a serving tray.
Surface Design
Perforated Surface
This type of pizza pan comes with holes on its baking surface. The holes facilitate even heat distribution directly under the dough for a crispy crust.
Solid Surface
Pizza pans with a smooth surface are called solid surfaces or non-perforated pans. The performance of solid surface pizza pans depends on the material construction. This kind of material used to craft this bakeware determines how crunchy, crispy, and well-baked the pizza crust will be.
These products are usually made with heavy gauge metals to deliver unparalleled heat conduction and distribution. If you prefer the solid surface pizza pan, opt for a pan made with cast iron, aluminum or steel.
Fluted Surface
A pizza pan with ridged or fluted surface offers better heat distribution. Also, it makes releasing your baked content hassle-free. The prime concern with this type of surface is its challenging cleanup since you have to clean the food stuck in between the pan's grooves.
Material
Stainless steel
These pans do not come with any sort of stick-resistant coating. However, they make use of a mirror finish to achieve a no-fuss cleaning experience. For quick food release, you have to grease the pan properly with flour, butter, or oil.
Aluminum pans
Some aluminum pizza pans feature a stick-resistant coating on them. On the downside, they easily get stained and scratched since it's a weak metal. Also, they are not dishwasher safe. But if you are on a budget, the aluminum pizza pan is your best bet.
Cast iron pans
Among these options, cast iron pans are the most durable. If you want a pan to pass down to your grandkids, these pans are your best bet. However, these heavy-duty pans need regular seasoning. While the cast iron pans lack a non-stick coating, their ridge surface makes it a lot easier to lift off your baked content without scraping.
The Shape of the Pizza Pan
Flat edge
This pizza pan comes with a completely flat edge that makes it ideal to use as both pizza peel and pan. This bakeware provides easy food release and convenient use. However, some users may find it dangerous to use as it requires extra caution to prevent the pizza from sliding off the pan.
Sloped edge
This pan has a sloped edge to allow users to create pizza covered with toppings, as its name implies. This shape ensures that the cheese and other toppings stay in place without falling out.
Deep dish
This shape of the pan is preferred by people who love lots of cheese and toppings on their pizza. However, the pan must be built with premium metals for excellent heat conduction that guarantees a crispy, well-baked pizza crust without the edges burning.
Non-stick coating
Teflon coating
Products with this coating utilize a chemical called Teflon, PTFE. It makes baking and cleanup snappy and effortless. At extreme temperatures, Teflon emits harmful gases, which makes them infamous lately.
However, most pizza pans with Teflon coating are completely safe to use, provided the cooking temperature is kept below 570 degrees F.
PTFE-free non-stick coating
When it comes to PTFE-free non-stick coating, there are different kinds, from Dura-Kote finish to silicone-based coating. These types of coating require the least maintenance and are safer to use. Also, they are permanent coating, which means you don't have to season with oil regularly.
Mirror finish
This type of finish is only offered by a stainless steel pizza pan to make it easier to clean after each baking session. In addition, the pan needs to be greased with butter, oil, or flour to improve its food release performance.
Pizza Pan Questions & Answered
What's the best way to wash up a pizza pan?
Some pans are designed to be dishwasher safe for a convenient cleaning experience. However, it's recommended to handwash the bakeware for long-lasting performance. Use some warm water to get rid of stains on the pan instantly. If you want to soak the pan overnight, then use only aluminum-specific detergents.
Should a pizza pan be perforated?
For many bakers, pans with holes facilitate better airflow to bake the dough evenly. However, it's not a decent choice for people looking to create authentic, pizzeria-style Italian pizza.
Is it important to grease my pizza pan before placing the dough?
It's best to sprinkle a little flour on the pan's interior surface to prevent the dough from sticking rather than greasing the bakeware.
Is it right to preheat my pizza pan?
Yes, preheating a pizza pan for at least 20 minutes will help make a crispy crust.
Conclusion
There you go, the top 9 best pizza pans out there. So to make sumptuous pizza, you need the right pizza pan. There are different types of pizza pans, each offering certain bells and whistles to ensure your pizza has authentic taste and flavor.
Therefore, it'd be best if you check out our detailed buying guide to ensure you make a well-informed decision. Needless to say, if you're still not certain about the pizza pan to purchase, consider our top choice – AirBake Nonstick Pizza Pan. It delivers impressive cooking performance and is hassle-free to wash up after every use.
Related Resources: