Yes, I can use spaghetti sauce for pizza sauce. Of course, there are differences between pizza sauce and spaghetti sauce. The two tastes will not be the same. Although the basic ingredients of these sauces are the same, these sauces are made with tomato, but because the process of making the sauces is not the same, there is a difference in taste between them.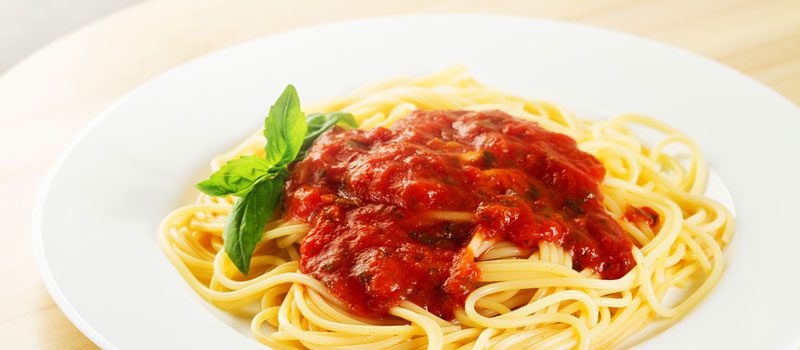 So you have to make pizza and spaghetti with ideas about it. But if the right way is followed to make pizza with spaghetti sauce, I don't think it will be too bad to eat. Rather it will be delicious eating.
How much can spaghetti sauce be used to make pizza?
There is no specific amount of spaghetti sauce or pizza sauce used. You have to use the sauce according to the size and taste of your pizza.
The similarity between spaghetti and pizza sauce
The main similarity between pizza sauce and spaghetti sauce is that the main ingredient in both sauces is tomato. Different spices, oils, salts, etc., are used to make the two sauces.
These sauces are not very difficult to make, they are easy to make, and they play an important role in making pasta and pizza delicious. If you are a good and skilled cook, you can also make delicious pizza with spaghetti sauce. I think it would be great to eat.
Difference between spaghetti and pizza sauce
Making Pizza Sauce and Pasta Sauce differs in taste and quality. The making process of the two sauces is different. One of the differences is that pasta sauce is cooked tomato sauce, and pizza sauce is not cooked. It is cooked together while making pizza. Pasta sauce is less thick than pizza sauce. Pizza sauce is made by blending raw tomatoes with garlic, pepper, olive oil, chili flakes, etc.
You can also make it at home. The pizza is then made by adding chicken or beef by spreading the sauce over the pizza dough. But you don't have to make pasta sauce this way. You can make pasta sauce beforehand and store it. Then you can eat it with noodles or pasta whenever you want.
The instant pizza-making process at home-
Pizza sauce is suitable for making pizza. Because this sauce is specially prepared to make pizza, if you want to make a difference in the pizza test or don't have the ingredients to make pizza sauce at home instant, you can make pizza with spaghetti sauce. I also make pizza this way at home; it tastes a little different but is delicious to eat.
Recipe for pizza Sauce
Ingredients:
Tomato paste (1-6 oz can) -6 oz
Tomato sauce (1-15 oz can) -15oz
Oregano – 1-2tablespoon
Italian seasoning -2tablespoon
Garlic powder -1/2teaspoon
Onion powder -1/2teaspoon
Garlic salt -1/2tablespoon
Freshly ground black pepper -1/4teaspoon
Sugar -1teaspoon (coconut sugar is best for omit or paleo)
Instructions:
Prepare a medium-size bowl until well-combined mix tomato paste and sauce together into it. (You have to incorporate all the lumps of paste into the sauce).
Add all the ingredients perfectly (onion powder, garlic salt, pepper, sugar, oregano, Italian seasoning, and garlic powder). Now mix all the ingredients well.
Now, use it for making your pizza.
I follow this way to make my pizza sauce, I use tomato paste also to make the sauce thicker, and by this technique, I get a delicious pizza that is non-soggy. You can try this.
However, you can pick different processes to prepare your sauce. If your making process is perfect and you can add all the ingredients perfectly, your pizza will be so yummy. You can refrigerate this sauce for two weeks.
Recipe for Spaghetti sauce
Ingredients:
Olive oil -2tablespoons
Large white onion (minced) -1
Garlic (crushed) – 5cloves
Chicken broth -1/2cup
Crushed tomatoes -1 28ounce can
Tomato sauce -1 15 oz can
Tomato paste -1 6-ounce can
White sugar -1tablespoon
Fennel seeds -1tablespoon
Ground oregano -1tablespoon
Salt -1/2teaspoon
Ground black pepper -1/4teaspoon
Chopped fresh basil -1/2cup
Chopped fresh parsley -1/4cup
Instruction:
Prepare a large pot with medium-high heat. Pour olive oil into the pot. Now, for about five minutes, sauté onion in the oil. Wait until the onion is soft. Now, for about 30-60 seconds, sauté 5 cloves into it.
Pour crushed tomatoes, tomato paste, tomato sauce, fennel, sugar, oregano, pepper, basil, salt, parsley, and chicken broth. Reduce the heat of the stove.
Simmer the mixture for about 1-4 hours on low heat. To make the sauce soft and smooth, use an immersion blender.
Looking at these recipes, you will understand that their main ingredient is tomato. Pizza sauce and spaghetti sauce are made with tomatoes. So using spaghetti sauce as a pizza sauce will not be a problem for your pizza. Rather, you will be able to bring a little different flavor to your pizza.
Which sauce would make pizza more delicious?
Of course, using pizza sauce to make pizza will be perfect and delicious. But if you want to try something different, spaghetti sauce will not be bad. The pizza we usually eat will give a slightly different taste. I tried it with spaghetti sauce, and I like it, and I think food lovers who like to try different flavored foods will also like it.
How to make pizza without pizza sauce?
If you can't make pizza sauce at home for any reason, you can use one of the substitute sauces of pizza sauce. Here are some sauces that you can use as an alternative-
Ricotta cheese
Pesto
Ranch sauce
Olive oil and garlic
Tapenade
Balsamic glaze
Chimichurri sauce
Alfredo sauce.
Final Verdict
Pizza is popular in almost all countries of the world. People of all ages, from small to big, love pizza. So, in addition to eating pizza at restaurants, everyone tries to make pizza at home. Pizza is also my favorite food. I make pizza at home in different ways.
You can make pizza at home by following the above recipes. I think you will enjoy it most.