Lifting hot items from an oven can be seen as a nightmare if not done with the right tool. Not all kitchen gloves will always prevent your fingers from getting burnt. As a pizzaiolo, there are specific tools that make the job easier and faster. A pizza pan gripper is one of such handy tools you must possess in your arsenal.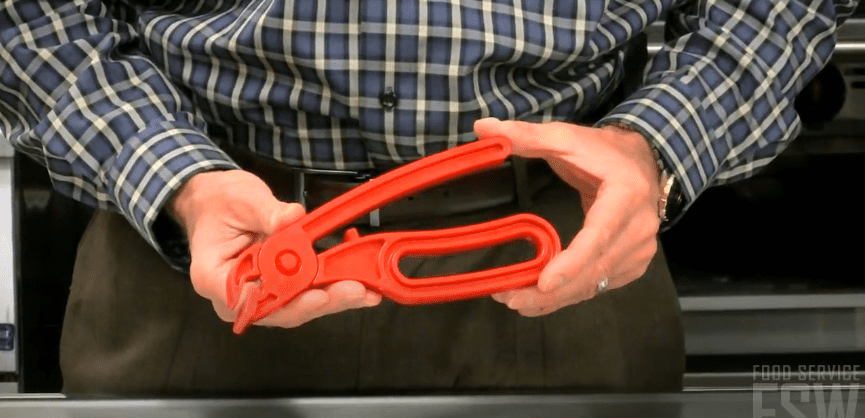 A pizza pan gripper is designed to safeguard your hands while holding hot pizza pans or oven racks. It is a crucial kitchen accessory that every pizza maker needs. Piazza pan gripper provides insulation against extreme temperatures and also reduces painful burns. It makes the removal of baking pans, pizza pans, and racks easier.
If you are hunting for a quality pizza pan gripper for your pizzeria, here is a list of the best pizza pan grippers on the market. This post includes their pros, cons, and even a buying guide.
Top 5 Pizza Pan Grippers On the Market
What You Need To Know When Buying A Pizza Pan Gripper
Picking a pizza pan gripper may seem like a simple thing to do, but there are several options for grippers to choose from. To make the right choice for your pizzeria, you will need to keep some factors in mind because knowing these factors will help you make better decisions when buying. They include: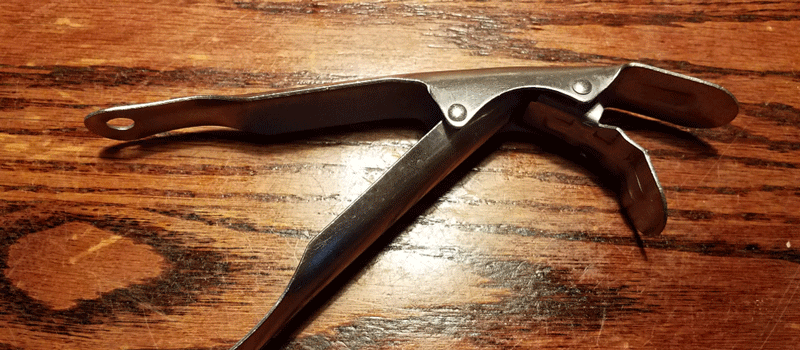 Material
The efficiency and performance of the pizza pan grippers are largely dependent on the material used. And the choice of material is dependent on personal preferences. The material used varies from steel to aluminum to cast and enhanced plastic or nylon.
Design
Pizza pan grippers come in a wide variety of designs. There are various models of grippers that are explicitly designed for either shallow pans or deep pans. While others are suitable for all kinds of pans, the lips can be used interchangeably.
Ensure you pick one that complements your cooking style or your kitchen decor. You cannot be using a deep pizza pan gripper for a shallow pan. The type of pizza you often make will also need to be considered when choosing a particular design. Some grippers will ruin the pizza if it is not designed for the pan used.
Size
The length of the gripper must also be put into consideration when picking. It is best to go for something you are comfortable with when handling. They come in various lengths and dimensions.
Self Locking Mechanism
It is essential to look out for safety features such as clamps and locks because not all grippers come with a locking mechanism. This feature makes the gripper easy to store in the cabinet without fear of the lips intertwining with other tools.
Also, the clamps and locks ensure the pan is held tightly and securely.
Ease Of Cleaning
Irrespective of how often you use your gripper, you will want one that does not take up much time to clean. Some models are safe with the dish machine, which adds to the user's comfort, and others are not.
Ensure to settle for a pizza pan gripper that is easy to clean regardless of the washing technique used.
Uses
Although the main function of a pizza pan gripper is to hold hot pizza pans, it can also be used for several other purposes. Some of these grippers are used in lifting pots and other hot items in the kitchen, such as a pot or rack.
However, when picking, consider a gripper that serves multiple functions.
Use of Wood for Pizza Pan Gripper
Traditionally you won't find any pizza pan grippers made of wood on the market, except manufacturers begin to make new grippers using wood. However, pizza pan grippers are usually made from several other materials that are more resistant to heat and durable.
These materials include metal, steel, cast aluminum, reinforced plastic, or nylon.
---
Pizza Pan Grippers Review
---
1.

Winco PPG-8A Premium Pizza Pan Gripper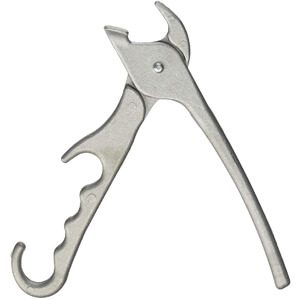 Winco PPG-8A Premium Pizza Pan Gripper is one of the most sturdy pan grippers on the market. It is an excellent option for picking a hot pizza pan from the oven, grill, campfire, and even an air fryer. This product protects your fingers from extreme heat.
This product has a unique design and is made of aluminum cast material that resists high temperatures. One side of the handle is shaped with several notches for optimal hold. Although this gripper is designed for wide-rim pizza pans, it can handle pans with both rims or without rims.
Verdict
One downside of this pizza pan gripper is that the material is not coated with scratch-resistant material to prevent scratches. However, this product is excellent bakeware for every pizza maker.
Strengths:
Unique design
Reinforced bottom curves
It fits into any hand size
Perfect for picking pans
It offers a secure grip
Weaknesses:
Scratch the pan
The metal chips off
---
2.

SHANGPEIXUAN Deep Dish Pizza Pan Gripper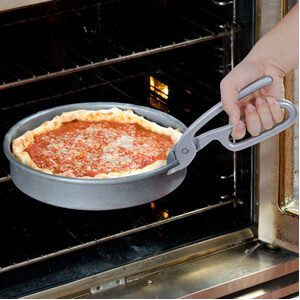 SHANGPEIXUAN Deep Dish Pizza Pan Gripper is constructed from heavy-duty food-grade cast aluminum resistant to rust, corrosion, and scratch. It is one of the perfect options for pulling out a hot pizza pan from the heat source and moving oven racks.
This product does not only fit into any size of hand but can also be used either facing down or up. It can lift a pan that weighs up to 7kg. The wide lip on the gripper holds the rim of the pizza pan securely without wobbling.
Both old and young chefs can use this gripper without feeling any strain on their muscles. Thanks to its lightweight
Verdict
This pizza pan gripper is safe to use in the oven, microwave, and grill. Although it features no locking mechanism, it comes with a hook that makes storage easier.
Strengths:
An ideal gift option
Premium quality materials
Rust resistant
Multipurpose gripper
User friendly
Weaknesses:
---
3.

Winco Shallow Pizza Pan Gripper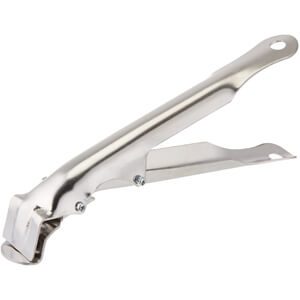 Winco Shallow Pizza Pan Gripper would be a great addition to any pizzeria utensils. It is made from food-safe stainless steel that is non-toxic to your food. This commercial-grade pizza pan gripper is durable and easy to use. With its 8-inch length, you are sure your hands are away from the heat source when lifting the pans.
However, due to the design of the gripper, you will need to apply some pressure when in use to hold the pan tightly.
This product features a self-locking clamp that prevents the gripper from catching other utensils when stored in the cabinet. Plus, the handle has a hook for easy storage.
Verdict
The handle of the gripper is comfortable to hold and is heat resistant. Although this product is lightweight, it is well-constructed and solid.
Strengths:
Well suited for shallow pans
Sturdy
Fairly priced
Features a self-locking clamp
Heavy-duty materials
Weaknesses:
Poor grip.
Causes pressure on the hand
---
4.

American Metalcraft N9494 Pan Gripper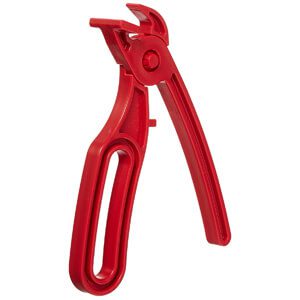 Are you tired of buying silver pan grippers? Do you need a colored pizza pan gripper to match your other pizza tools? American Metalcraft N9494 Pan Gripper is the best choice on this list for coated pans.
This top-quality pizza pan gripper is designed to help you move or place your pizza pan safely in the oven without deforming the pizza. It is made from reinforced nylon material that withstands high heat and keeps you safe from burning your fingers.
This product is better suited for 1-inch to 2-inch deep pizza pans. Plus, the pizza pan gripper is dishwasher-safe for added convenience.
Verdict
The sleek color of the gripper makes it easy to find on your counter, and the handle is nonslip for maximum grip.
Strengths:
Sleek design
Comfortable to hold
Nonslip handle
Suitable for mostly deep pans
Non-scratch lips
Weaknesses:
Not an ideal option for lifting a heavy pan
---
5.

New Star Foodservice 50479 Pizza Pan Gripper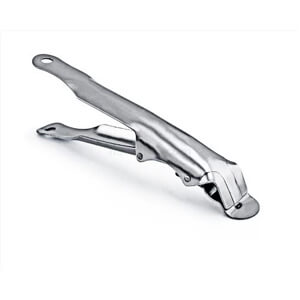 The last pizza pan gripper on this review is from New Star Foodservice. This product is one of the best options for both home bakers and professional bakers. It features locks and clamps that ensure the pan is well-secured and doesn't slip off the lips.
If you often bake Chicago-style pizzas, New Star Foodservice 50479 Deep Pizza Tray Pan Gripper is the perfect choice for it. This product is built from durable stainless steel material.
The entire length is 8 inches, which is long enough to protect your fingers from getting hurt or burned as you transfer the pizza pan from the oven to the counter.
Verdict
This pan gripper is designed explicitly for deep pizza pans. Plus, the holes at the end of the gripper make it easy to hang or store after use.
Strengths:
Budget-friendly
Stainless steel material
Easy to use
It comes with a self-locking mechanism
Easy to store
Weaknesses:
---
Pizza Pan Gripper Questions & Answered
---
Do Pizza Pan Grippers Are Safe and Reliable for Cast Iron Pizza Pans?
Pizza pan grippers are mostly made with metal, so they are reliable and safe for pizza pans. Typically pizza pans are made with cast iron, ceramic, cordierite, and steel. Not only cast iron but all of these materials are safe and reliable for use with pizza pans grippers. If your pizza pans belong to these materials, check the material's details to know whether it's safe to use on not.
Are Our Pizza Pan Grippers Able to Be Used on Hot Pans?
Pizza pan grippers are specially made to remove the hot pans or hot pizza trays from the oven when it's extremely hot. Because it's not safe to remove the hots pans from the heated oven with bare hands, keep in mind what type of materials is used in the pans. As most gripers are made with metals and are metal safe, you can use the pizza pan grippers to remove them from the oven.
Can Pizza Pan Grippers Be Used to Remove Bowls or Pots From the Microwave?
Yes, a pizza pan gripper can be used to remove hot pizza pans from the microwave. But you can also use it multi-purposely if you want. First, you have to know about its shape and which type of shape it can carry. If your bowls or pots are easily adjustable with the griper, then you can surely use them. But keep remembering that your safety is essential. So don't use the grippers for any specific pans or pots if you feel it's not adjusting with the grips.
How Much Weight Can a Pizza Pan Gripper Hold?
When you search for the best pizza pan gripper for making a pizza of your own, this question will arrive in your mind: Is this gripper holding my pizza properly? The answer is yes. Usually, a pizza pan gripper can hold a large pizza pan. But as our safety comes first, you can use two pizza pan grippers if you are baking an extra-large pizza.
Conclusion
The best pizza pan gripper does more than just hold hot pans. It protects your fingers from sizzling pans, pots, and even blistering oven racks. It is comfortable to hold even with wet hands.
Our overall best pick is American Metalcraft N9494 Pan Gripper. It is beautifully designed with top-grade material that withstands heavy usage.
Almost every pizzaiolo must have at one point in time accidentally held a hot pizza pan. This oversight can lead to burns or even ruined pizzas, but it can be avoided by equipping your pizzeria with any of our top 5 best pizza pan grippers.