Making your pizza at home is wonderful for its amazing freshness and flavor. While you can always use a plastic pin from the toy store or a wine bottle to prepare your dough, the results won't be impressive, and it'll only make the whole process an exhausting one.
Like other essential tools, all rolling pins are not the same. The French rolling pin is usually 20 inches long; the marble rolling pins are shorter with a 10-inch length, and metallic, wooden rolling pins come with a standard length of 12 inches.
By now, you should have figured that there are different types and sizes of rolling pins, which makes choosing the right one for making the perfect pizza dough a bit frustrating.
Luckily, we've whipped up the top 6 best rolling pins for pizza dough and included a detailed buying guide to ensure you make a smart decision.
Top 6 Best Rolling Pins for Pizza Dough
Types of Rolling Pin
It's important to choose the right type of rolling pin to make all your work easier.
Marble Rolling Pin
This roller is made of stone but functions similarly to any rolling pin. The handles are usually made using marbles, while some manufacturers opt for wood.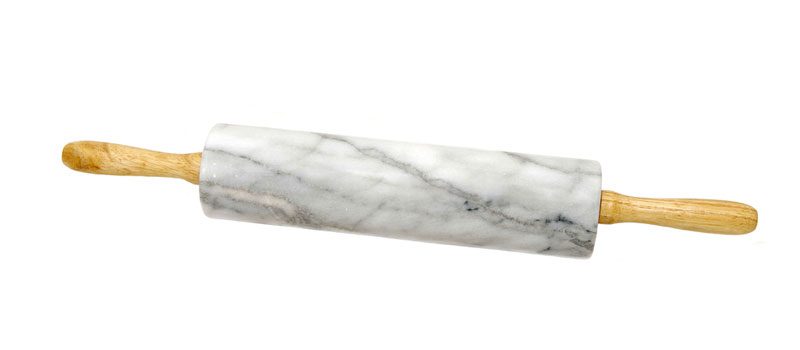 While the marble roller can serve its purpose excellently, one of its prime concerns is its heavy weight, which can be uncomfortable for some users. Another disadvantage of this type of roller is its sticky surface which requires users to coat it before using it.
Rolling Pin Dowel
This product does not include a handle but employs a latch. It's an ideal choice for people looking for a tool to roll the dough in different ways, depending on your needs. Further, it's hassle-free to clean, but this product tends to have longer dowels and might be bulkier than other types.
If you need a product to handle any dough, the rolling pin dowel is your go-to event for your pizza dough.
Traditional style
This is the oldest type of rolling pin. This product has handles on either side, making it easier to hold and maneuver the pin for excellent results. This traditional-style rolling pin offers the utmost control over where you want to weigh in, and, more importantly, the handle allows you to press the dough without hand fatigue easily.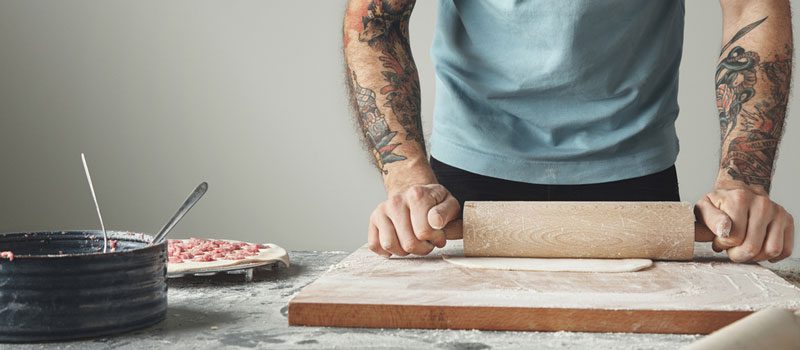 French Model
The French model does not come with handles like the traditional style. Some models feature a straight-in design, while others sport tapered ends. Most bakers prefer this model for its incredible feel when working on your dough.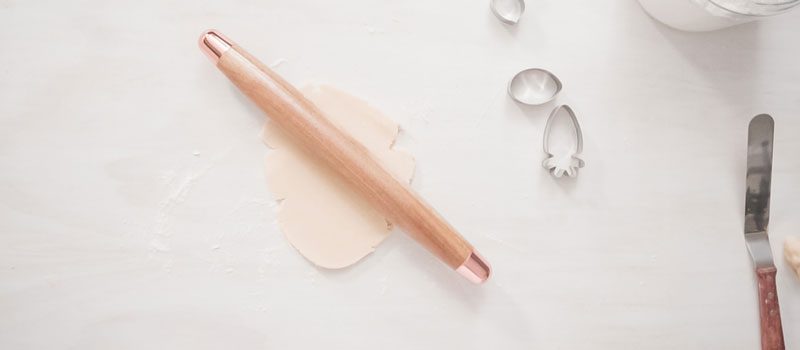 ---
Key Factors to Consider When Shopping for the Best Rolling Pin
---
Non-stick surfaces
When it comes to rolling sticks, wood is the oldest and cheapest option. However, many manufacturers make these wooden products cheaply, which ends up not appealing to bakers. These rolling pins tend to be sticky and won't be able to serve your purpose for long.
Therefore, it's best to settle for stainless steel or marble pins that feature a non-stick coating. With a non-stick roller, you can easily roll your dough to perfection. Although this feature might seem unnecessary, it makes it easier to use than rolling with your wood.
However, it doesn't mean wood sticks are not effective for rolling your pizza dough.
Comfort
It's best to settle for a rolling pin that is effortless to handle. The easier the roll is to use, the better. The product should be nice and comfortable to handle, allowing you to roll the pizza dough with ease and much faster.
For bakers looking to invest in a roller with handles, it's important to steer clear of ones with handles that don't fit their palms and hands perfectly.
Material
Most people often ignore the material used to make the roller when trying to pin down the best rolling pin for pizza dough. The kind of material you choose determines the durability and performance of the roller.
There are three main materials to pick from – marble, stainless steel, and wood. Each of these materials has its advantages and drawbacks. Therefore, it's important to understand the pros and cons of these materials before making a choice.
Flexibility
The next factor to consider is how the product rolls. You want a model that rolls smoothly to guarantee ease of use. However, you don't want to end up with a wobbling rolling pin that makes the whole process frustrating.
---
Best Rolling Pin for Pizza Dough Reviews
---
There are a lot of rolling pins on the market these days, so how do you know which one to buy for pizza dough? We did the research for you and found the 6 best rolling pins for pizza dough.
1.

French Rolling Pin – WoodenRoll Pin for Dough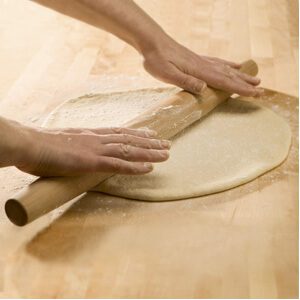 Taking our top choice is the French Rolling Pin – WoodenRoll Pin for Dough from Karryoung. This product is made from solid rubberwood that guarantees long-lasting use and utmost durability. It's designed with the rigors of everyday, heavy-duty use in restaurants and homes.
This wood roller features a timeless and authentic French-inspired design that looks stylish and complements your kitchen decor. This best french rolling pin for pizza dough coupled with non-stick silicone baking mats and marble countertops delivers unbeatable performance.
What's more? This sturdy product is 18 inches long, which means no hassle storing it in your kitchen cabinet or drawer. It's a great choice for rolling cookie dough, braids, bread, cookie dough, fondants, pizza dough, and much more.
The French Rolling Pin – WoodenRoll Pin for Dough sports a tapered design that delivers incredible control and allows bakers to roll with the least effort. It rocks a smooth surface without crevices for a mess-free and stick-free experience.
Strengths:
It's easy to clean and use
18-inch long for smart storage
Heavy-duty wood construction
Requires the least effort to use
Weaknesses:
---
2.

Farberware Classic Wood Rolling Pin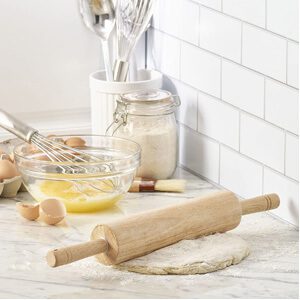 The Farberware Classic Wood Rolling Pin is another durable product, thanks to its moisture-resistant hardwood construction.
This unit features easy, comfortable grip handles for better control and extra comfort. This wooden rolling pin features rust-proof nylon bearings to guarantee a smooth rolling experience. More so, its easy-grip handle is coupled with a 360-degree rotatable roller to deliver unparalleled performance.
In addition, this essential baking tool is a perfect choice for rolling out cookies, tarts, pie crust, pizza dough, and much more. Farberware Classic Wood Rolling Pin is not dishwasher safe, and it's best to hand wash with a damp cloth for long-lasting use.
Strengths:
Crafted with sturdy wood for heavy-duty use
Well-sized roller head for extensive coverage
Easy-grip handle for comfortable use
Easy to handwash
Weaknesses:
The finish and fit could be better
---
3.

Dishwasher-Safe French Rolling Pin for Pizza Dough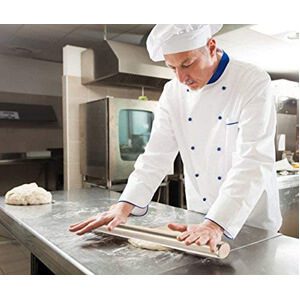 The Ultra Cuisine French Rolling Pin is arguably the best stainless steel rolling pin out there. This essential kitchen tool rocks a smooth, non-porous surface to allow you to roll ravioli, dumplings, tortillas, pizza, paste, etc.; with such a surface, this roller is a breeze to clean by hand and can be tossed into the dishwasher for a convenient cleaning experience.
On top of that, this french rolling pin features a tapered design to allow bakers to sense the thickness of the dough. This tactile feedback provides you with the necessary information to determine the amount of pressure to apply.
This rolling pin isn't as heavy as the marble roller but offers cooling properties for excellent results. Furthermore, this model features a brushed matte finish to prevent this stainless steel baking tool from absorbing any colors, odors, or flavors like other types of rolling pins.
Above all, its versatility is another thing we find impressive about this model. This product is kid-friendly, which means your charming little ones can use it for play-doh, clay, arts, and crafts.
Strengths:
Dishwasher safe and easy to hand wash
Lightweight design with cooling features
French design for excellent tactile feedback
Kid-friendly design
Weaknesses:
It requires proper maintenance to prevent rusting
---
4.

OXO Good Grips Non-stick Rolling Pin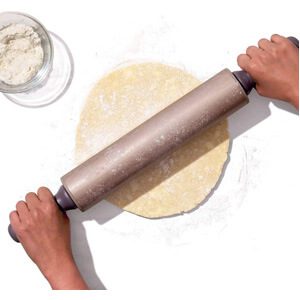 If you need a rolling pin for making cookies, biscuits, pie, and more, you can go wrong purchasing the OXO Good Grips Non-stick Rolling Pin. This 12-inch roller features a non-stick coating to guarantee easy food release and better performance.
This unit features raised handles to prevent your hands from hitting the surface and ensure smooth rolling for desired results. Furthermore, this model features contoured handles for an easy, comfortable grip. Also, it minimizes hand fatigue, making it a great choice for bakers looking to make several batches.
However, it's best to prechill this stainless steel rolling pin to keep the pizza dough from getting warm.
Strengths:
Excellent food release performance
Raised handles for uninterrupted rolling
Ergonomic handles for comfortable handling
Sturdy stainless steel construction
Weaknesses:
The non-stick performance could be better
---
5.

Fox Run Polished Marble Rolling Pin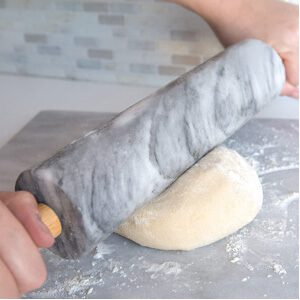 For bakers looking to get their hands on the best marble rolling pin for pizza dough, the Fox Run Polished Marble Rolling Pin can be your best bet. This unit comes with the right weight to allow you to roll your dough quickly and effortlessly.
What I like about this rolling pin is its white finish which makes this product look luxurious. The manufacturer opted for a wooden handle for a comfortable grip and easy handling.
Fox Run Polished Marble Rolling Pin has the right size and length to add to its already impressive ease of use. With this piece, you can roll a wide range of dough types and get consistent results.
This model combines marble and wood to create an incredible rolling pin that's safe to use on your food. Unlike other models, this unit does not absorb odor, making it a perfect choice for health-conscious people.
Thanks to its construction, this baking tool has a smooth surface to prevent the dough from sticking to the tool. It comes with nylon ball bearings for outstanding smooth rolling.
Strengths:
It comes pre-chilled for a non-stick rolling
It's easy to clean
White marble for a luxurious feel
Wooden handle for easy and comfortable handling
Weaknesses:
On the heavier side, due to marble construction
It might shatter if dropped
---
6.

KitchenAid Gourmet Rolling Pin For Dough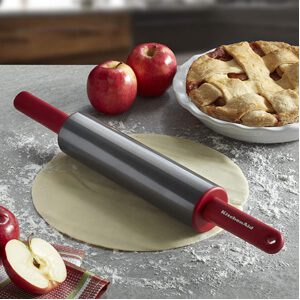 The KitchenAid Gourmet Rolling Pin For Dough is your best bet for rolling different doughs without a sweat. While this product may not be as attractive as the Fox Run Polished Marble Rolling Pin, it gets the job done quickly.
It features carbon steel construction to create a smooth rolling pin. This model is a great choice to handle a wide range of dough styles. It's suitable for making pizzas, pies, and cookies. This piece features a non-stick coating that makes rolling hassle-free.
The handles are built for easy handling and knowing how much pressure is necessary. The rolling pin is 22-inch long and comes with nylon 66 Offset handles for the perfect grip clearance. Above all, this model has a hole that eliminates the hassle of storing this essential tool.
Strengths:
It has a great look and practical design
This model is light and easy to use
It's suitable for different styles of dough
It's easy to store with the hole design
Weaknesses:
The non-stick coating could perform better
---
Frequently Asked Questions and Answered
---
How can I wash my rolling pins?
It's best to stick with the manufacturer's instructions. However, most pins are best hand-washed with a damp cloth. But if you have got a stainless steel pin, then it's likely that it's dishwasher safe.
How to stop my roller from sticking to the dough?
For those using stainless steel pins, this can be a hassle. Therefore, it's better to prechill the tool before using it for a non-stick rolling experience.
What's the best rolling pin for me?
If you are a mother who loves to bake with your kids, then consider stainless steel pins. They are easy to clean, light, simple to use, and kids-friendly. But for those planning to get a beautiful yet effective rolling pin, you might want to stick with marble pins.
Should you use a rolling pin for pizza dough?
A rolling pin is one way to roll out pizza dough, but you can also use your hands. Some people prefer to use a rolling pin because it gives them more control over the thickness of the dough. Others find it easier to simply use their hands. Ultimately, it's up to you which method you prefer.
You can watch this video to know How to Roll & Shape Pizza Dough. This video was created by our friend Howcast.
Conclusion
If you want to start creating sumptuous homemade pizza, then the best rolling pin for pizza dough is a must-have for the best results. There are hundreds of options available, making it a bit frustrating to pin the right one, especially if this is your first time shopping for a pin to roll your dough. In short, the French Rolling Pin – WoodenRoll Pin for Dough is our top choice, and you won't be going wrong with purchasing this product.