Everyone loves pizzas! It's one of the most crowd-satisfying foods out there. But, while it's easy to order your favorite pizza from your pizzeria, making your own at home is a lot better – and for good reasons.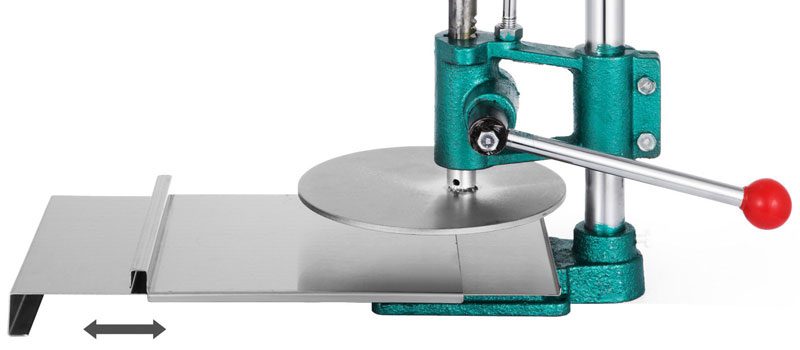 With the right tools, ingredients, and mindset, making pizza from scratch is easy and fun. Also, you get to decide what goes into and on your pizza for a perfect, healthy, and delectable meal.
Whether you're looking to bake pizza at home with your charming little ones or start a business venture, one of the many essential tools to have when making pizza is the pizza dough press.
Although you can knead the dough with your hands, it's faster and easier to use a pizza dough press. Plus, you don't have to deal with hand fatigue afterward.
But with lots of options available today, it's easy to get overwhelmed and confused. Thus, we've whipped up the top 6 best pizza dough presses to buy and included a detailed buying guide to ensure you make a smart investment.
Top 6 Pizza Dough Presses
Why Use a Pizza Dough Press?
A pizza dough press is a valuable tool in the food service industry for several reasons.
Firstly, it helps to ensure consistency in the size and thickness of pizza dough. By using a press, you can achieve uniformity in your pizzas, which is important for both presentation and cooking time. This is particularly beneficial in high-volume establishments where efficiency is key.
Secondly, a pizza dough press can save time and labor. Pressing the dough manually can be time-consuming and physically demanding. With a dough press, you can quickly and effortlessly flatten the dough, allowing you to focus on other aspects of pizza preparation or attend to customer needs.
Lastly, using a dough press can contribute to better-quality pizzas. The even distribution of pressure from a press helps create an evenly cooked crust that is crispy on the outside while maintaining a soft texture on the inside. This enhances the overall taste and texture of the pizza, resulting in a more enjoyable dining experience for customers.
Overall, a pizza dough press offers numerous benefits such as consistency, time savings, and improved quality. It is an essential tool for any food service establishment looking to streamline their pizza-making process and consistently deliver top-notch pizzas.
---
Best Pizza Dough Press Reviews
---
1.

DKN 19-Inch Pizza Dough Roller Machine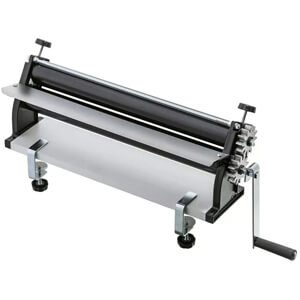 When it comes to making pizza, getting the dough right is a bit tricky and difficult to deal with. But thanks to the DKN 19-Inch Pizza Dough Roller Machine, you can make the perfect dough with the least effort consistently.
This top product is 19 inches high to allow you to roll out several doughs at once. This best pizza dough roller machine rolls your dough very thin, about 2 mm. It is fully adjustable to achieve the preferred thickness for a delectable homemade pizza or pasta.
The DKN 19-Inch Pizza Dough Roller Machine features a smooth and powerful hand crank to let you work for a longer period without fatigue. It's a better alternative to your old pasta maker. Its durable construction guarantees that this model will last for many years.
Talking about build quality;
This machine is mainly made of aluminum and steel material for exceptional and long-lasting performance. The product is suitable for making extra-large pizzas and is ideal for a pasta roller, tortilla, croissant roller, and fondant roller.
On the downside;
While this machine is fully adjustable, the manufacturer did not include an indicator to easily read the dough's thickness. Also, some components are reported to be flimsy.
Strengths:
Perfect for pizza dough
It features a strong and powerful hand crank
Easily adjustable thickness for desired results
It's constructed with premium materials
Weaknesses:
It has a flimsy plastic frame
No thickness indicator
---
2.

VEVOR 7.87-Inch Pizza Dough Press Machine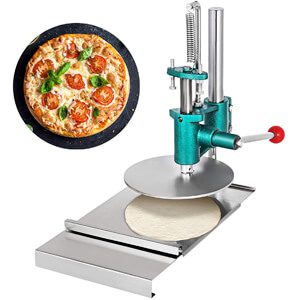 The VEVOR 7.87-Inch Pizza Dough Press Machine is another solid, long-lasting product worth every penny. This machine is built with premium quality materials to ensure this press is an almost indestructible and invaluable tool to add to your kitchen.
What's more?
This product is hassle-free to use and delivers incredible pie within a couple of minutes. This powerful press weighs about 37.8 lbs and features a robust iron base to prevent the machine from dropping.
In addition to that;
The drawing plate, and disc, long plate are made of food-grade stainless steel, while the handle and column are crafted from galvanized stainless steel making this machine rugged and durable.
The VEVOR 7.87-Inch Pizza Dough Press Machine is impressively versatile, as it's suitable for pizza base, puff pastry, pie crust, chapati sheets, roti sheets, bread molders, pizza dough, and many more.
More so, it's designed with more stability in mind. This press features a longer handle for effortless usability. It's equipped with a more powerful pressure plate, and the drawing plate has an armrest to prevent hurting your hands.
Strengths:
It is constructed using top-quality materials
It delivers impressive performance
This machine is easy to use
It's equipped with a convenient pulling plate
Weaknesses:
No instruction manual included
Poor packaging
---
3.

Uno Casa Cast Iron 10 Inch Tortilla Dough Press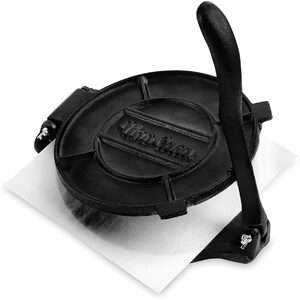 This product is arguably the best tortilla dough press out there. It's a bit larger than your standard tortilla marker. The Uno Casa Cast Iron 10-Inch Tortilla Dough Press is a must-have if you want to make your next taco night a great, memorable one.
This model uses its leveled, weighty surface to press the flour or corn dough into a perfect circle with the least effort. This tortilla dough maker comes pre-seasoned and ready to use straight out of the box.
What else;
Uno Casa Cast Iron 10-Inch Tortilla Dough Press comes with 100 pieces of parchment paper to use between the dough and the cast iron. This machine will easily become your kitchen assistant for making great Mexican food.
This unit will come in handy for making anything you plan for dinner, from mini pie shells, dumplings, empanadas, or Rotis, to tostones, arepas, or chapatis. In addition, this multipurpose machine comes with several bonus items such as a digital eBook, an extra screw set, and a 100-pack of parchment paper rounds.
Strengths:
It has a sturdy construction
Includes lots of extras
It has a large diameter
It's faster than a rolling pin
Weaknesses:
---
4.

Dshot Automatic Pizza Dough Sheeter Machine
If you want an automated machine, the Dshot Automatic Pizza Dough Sheeter Machine is your best shot. This model seems to be able to handle everything from making small to extra-large pizza dough.
This model can deliver up to 250 pieces of pizza dough in an hour and much more when it comes to tortillas, flatbreads, pie crusts, dumplings, bread, steam buns, pizza dough of 6 to 16 inches, and noodles.
This system weighs about 125 lbs and is much larger than its competitors. This best pizza dough press from Dshot is constructed using food-grade stainless steel that guarantees lifetime performance and durability.
That's not all;
This well-designed machine offers a hands-free operation process that boasts a crispy pizza crust every time. However, with such good reviews and lots of recommendations, it's challenging to contact the manufacturer. This means if the machine develops an issue, reaching them for solutions is off the table for you.
Strengths:
Leak-proof and corrosion-free design
Well-built, rugged construction
Hands-free operation for consistently great results
Backed by a lifetime warranty
It can deliver about 250-pieces of pizza dough in an hour
Weaknesses:
On the heavier side
Reaching the manufacturer is a challenge
---
5.

DOITOOL Tortilla Wooden Pizza Dough Press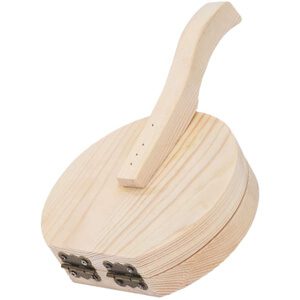 The DOITOOL Tortilla Wooden Pizza Dough Press is another decent choice for anyone looking to own a press to make it easier to prepare tortillas. This product is made with high-quality wood material, which makes it lightweight and extremely durable.
This model is a go-to for making mini pie shells, dumplings, empanadas, arepas, and more. This essential and practical tool is hassle-free to use; all you have to do is insert the dough and press it once.
Verdict
The DOITOOL Tortilla Wooden Pizza Dough Press is one of the best pizza dough presses on the market. It is easy to use and install. This product is an excellent choice for anyone looking to make their own tortillas, as it makes the process easier and produces a delicious end result. It is lightweight and durable.
Strengths:
Easy to use
Lightweight and durable design
High-quality wooden construction
Weaknesses:
The hinges could be more durable
---
6.

Victoria 8 Inch Cast Iron Tortilla Dough Press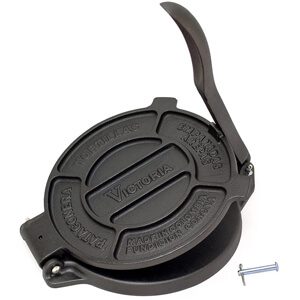 The Victoria 8 Inch Cast Iron Tortilla Dough Press earns a top spot on our list with its portable and heavy-duty design. This dough press is easy to use and delivers stunning results.
This model rocks the traditional design to offer a reliable and classic press on pizza crust. It's also great for making tortillas; thanks to its reinforced design, it offers excellent resistance to ensure a powerful press without pinching in your dough.
Here's more;
This press is constructed using high-temp seasoned cast iron for lifetime durability. This durable and well-made machine is effortless to operate. It comes with an extra metal screw to keep the press locked should you misplace the initial one.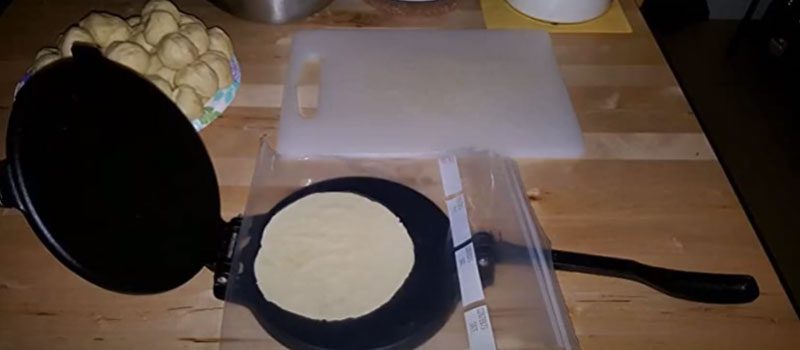 What are the drawbacks?
Unlike other pizza dough presses, users cannot adjust the thickness of this product. Unfortunately, this means you can only have thin crusts with the Victoria 8 Inch Cast Iron Tortilla Dough Press.
If you love a thicker crust, then you should clear off this press and opt for a product with an adjustable thickness feature. Another concern about this product is its handle, which seems flimsy and tends to break off.
Strengths:
Easy to use
Best used for tortillas but is also suited for pizza dough
Comes pre-seasoned with flaxseed oil
Heavy-duty cast iron construction
Weaknesses:
Only best used for thin-crust
The handle isn't durable
---
Things to Consider When Shopping for the Best Pizza Dough Press
The pizza dough press offers a basic function. But not knowing what to look for in these pretty simple machines might make the decision process a little complicated and overwhelming.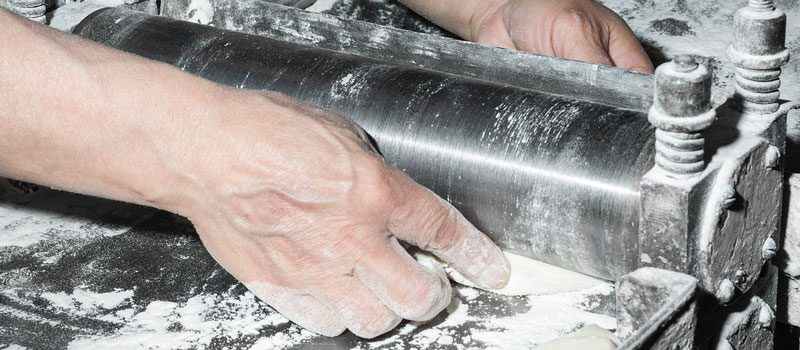 Thus, we've listed some of the key features to consider when trying to pin the right machine to press your pizza dough.
Build quality
To ensure you get the best value for your money, you want to stick with durable machines. Therefore, it's important to opt for a product made of heavy-duty stainless steel material. With this build quality, you don't have to worry about the machine corroding or rusting.
Also, you want to consider aluminum pizza dough presses. Both materials allow the machine to stand up to the rigors of daily use in your kitchen.
More so, it's important to ensure the materials are food-grade to prevent contaminating your dough with harmful materials or chemicals. As said earlier, it's paramount to settle for rust-resistant materials. Otherwise, you'll end up with a pizza dough press that requires a lot of maintenance to prevent it from rusting.
Not only that, rusting tends to flake off, which contaminates your dough and renders it inedible.
Ergonomics
If you want to get fatigued in making your pizza dough, you should settle for the traditional method. But since you're here, it means you wanted a convenient way of pressing your pizza dough.
Therefore, you should use a model that comes with a longer handle to allow you to press the dough with the least effort. Also, the handle should feature a non-slip grip to guarantee easy and safe handling.
Needless to say, the best pizza dough press should allow you to place and remove your dough without spelling trouble.
Stability
For people opting for a dough sheeter, it's best to go for a product that sits in place on the kitchen's horizontal surface. Feeding the crank and receiving the dough manually means you have no control over the system's stability.
A sturdy pizza dough maker should be well-balanced or include any sort of clips or vice to guarantee better stability and a wobble-free experience when using this product.
Ease of Cleaning
Pizza dough presses are large machines that won't fit into your dishwasher. Therefore, going for a system with a durable, non-stick surface makes cleaning a breeze. With such thoughtful construction, you can wipe the machine with a dry, soft cloth without picking a sweat. Keep in mind that the surface should be durable enough, so you don't have to be worried about the system rusting.
Some manufacturers suggest greasing the pizza sheeter to release trapped flour and food debris in the bearing. However, it's important to wipe away any vaseline or grease applied – to prevent contaminating the dough.
---
Pizza Dough Press Questions & Answered
---
What's a pizza dough press?
This system offers a basic function. The pizza dough press applies even pressure on both sides to flatten out the dough before adding your toppings and sauce.
Can I choose the preferred thickness with my pizza dough press?
If your pizza dough press has a thickness adjustable feature, then you can set the preferred thickness level. Otherwise, you can only make thin pizza dough.
What are the advantages of using a pizza dough press?
Aside from saving time, the pizza dough press allows you to achieve a thinner crust that is almost impossible with rolling pins.
What temperature should a pizza dough press be?
The temperature of a pizza dough press should depend on the type of dough you are using. For example, if you are using a traditional Italian-style dough, it should be pressed at around 250°F. This is hot enough to ensure that the dough cooks through without burning the outside.
Conclusion
All in all, we've reviewed the top 6 best pizza dough presses on the market. Now, it's up to you to make the decision. But if you are unsure which press to purchase, you stick with our top choice – DKN 19-Inch Pizza Dough Roller Machine.
Nonetheless, we are confident that whichever press you settle for will offer great value for your money.