Making pizzas at home with your family is a wonderful experience and a moment of bonding. However, when the right accessories are not used, the whole experience is not exciting but tiring.
Home-made pizza has a unique taste and flavor that makes it different from the ones gotten from pizzerias. Aside from the ingredients and oven, several tools ensure the pizza-making process is effortless and rewarding. A pizza-turning peel is one of those necessary accessories that every pizzaiolo needs.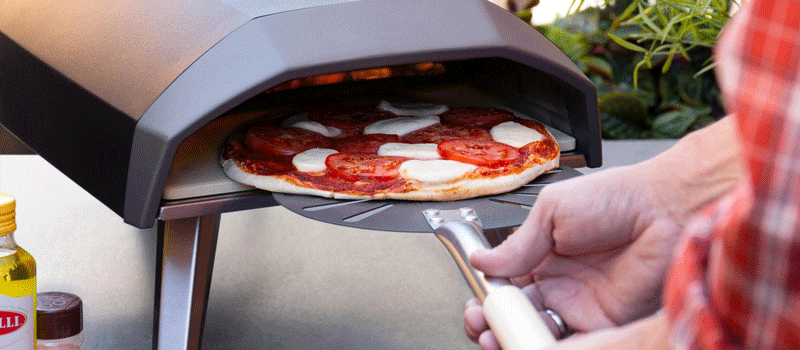 One of the greatest advantages of using a pizza peel is that your hands are safe from getting scorched by the heat of the oven. Whether a professional or a greenhorn in pizza making, a pizza-turning peel helps you step up your baking game.
There are tons of pizza peels on the market, but nothing beats any of our top 6 best pizza-turning peels. Let's get started,
Top 6 Pizza-Turning Peels
What You Need To Know When Buying A Pizza Turning Peel
Pizza-turning peels come in several designs, sizes, shapes, and materials to fit into various pizza ovens. Here are some of the factors to put into consideration before making a pick. They include: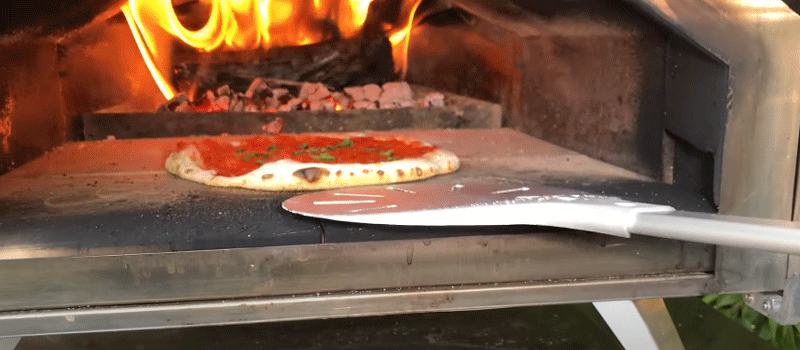 Material
The material of a pizza turning peel has a significant effect on its performance. There are different materials used in crafting the peel, which include metal or aluminum, wood, and even stainless steel.
Metal-turning peels are lighter and easy to use when compared to other materials. They get under the dough easily and are well-suited for taking the pizza out of the oven. However, the surface gets sticky because it doesn't absorb moisture.
Wooden peels are better suited for putting the pizza into the oven but harder to use when taking the crust out. They are quite heavy and difficult to maintain.
Stainless steel pizza turning peel, on the other hand, is heavyweight and challenging to maneuver. However, the paddle surface is often stronger and smoother than other materials.
Paddle Size
The size of the paddle ranges from 7-inch to 20-inch depending on the pizza size you want to often bake. For family-sized pizzas, it is advisable to get a bigger paddle size. And for individual-sized pizzas, a smaller paddle size is the best.
We recommend that you settle for a pizza size the same width as your pizza oven.
Handle Length
A pizza-turning peel is longer than peels for regular home use. This is because the turning peel is designed to reach every nook of the oven without causing any burn. The length of the peels varies from brand to brand, such as the pizza oven varies size.
Some handles are detachable or foldable for compact storage. However, we recommend a turning peel with a longer handle length that fits into your pizza oven with enough clearance outside.
How to use Turning Pizza Peel
The turning pizza peel is very easy to use. You just need to get one with a comfortable grip. Ensure to sprinkle some flour over the surface before preparing the pizza dough on it.

Move the peel to see if the dough will slide around without sticking. Then add the pizza fillings and sauce. Afterward, drop the dough on the preheated pizza stone in the oven swiftly but smoothly to avoid deforming the shape.
Use of Wood for Pizza Turning Peel
Most pizza makers love to use wooden peel because of its versatile usage and nonstick property. A pizza-turning peel made of wood absorbs moisture and is easier to use when flipping the pizza over in the oven. You don't have to worry about dusting the peel or the dough sticky to the surface.
---
Best Pizza Turning Peels Reviews
---
Do you love pizza but hate the mess it makes? Then you need a pizza-turning peel! These innovative devices make it easy and fast to turn your dough into delicious pizza without all the fuss. Here are the top 6 best pizza-turning peels on the market today.
1.

LRUI Turning 8" Round Turning Pizza Peel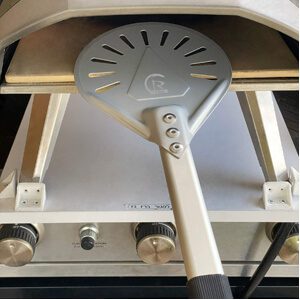 The LRUI Turning 8" Round Turning Pizza Peel is well built with top-grade aluminum material that is food safe. It is easy to maintain and perfect for outdoor pizza ovens. The handle features a loop for compact storage, and the head is perforated, offering minimal friction.
The total length of this product measures 20.5-inch, and the head is 8-inch round. It comes with a year warranty against the manufacturer's defects.
This commercial-grade peel is an excellent option for home cooks, professional pizzaiolo, and artisan bakers. Besides, the handle is not only triple riveted to the head but has a silicone material that is comfortable to hold even in extreme heat.
Verdict
This pizza peel is one of the best outdoor pizza accessories that every pizza maker needs. The lightweight and perforated design is an added advantage.
Strengths:
Aluminum peel head
Slip-resistant grip
Lightweight
An ideal gift item
Perforated design
Weaknesses:
Not safe for the dishwasher
---
2.

Chef Pomodoro 9-Inch Turning Pizza Peel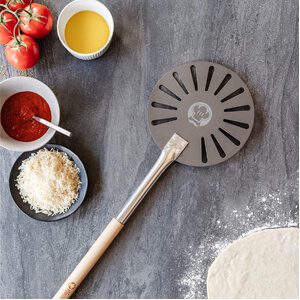 No matter how deep your pizza oven is, Chef Pomodoro's 9-Inch Turning Pizza Peel is designed to reach the farthest end. The hard-anodized aluminum peel head is resistant to warping and doesn't leak toxic substances into the crust.
With its 47-inch detachable wooden handle, you can be sure that your hands are protected from burns. Although the standard handle length is 28.6-inch, the paddle is approximately 9-inch.
The handle is made of natural pine wood that is resistant to high temperatures and moisture. Moreover, the edge of the peel is tapered for easy sliding of pizzas from the worktop to the oven.
Verdict
This commercial-grade turning pizza peel is one of the options with the longest handle. Thanks to the detachable design that offers compact storage.
Strengths:
Detachable handle
It offers a secure grip
Suitable for both home and commercial purposes
Perforated paddle
Easy to clean
Weaknesses:
Not well suited with the dishwasher
---
3.

Chicago Brick Oven Aluminum Turning Pizza Peel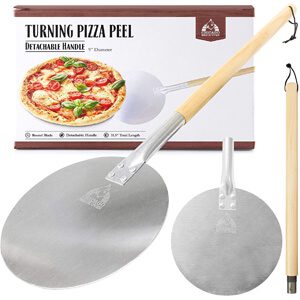 Chicago Brick Oven Aluminum Turning Pizza Peel is a USA-made pizza peel that makes the transfer of pizza and other pastries a walk-over task. This high-quality peel is handy in turning both small-sized and medium-sized pizzas up to 10-inch.
The removable handle measures 21.5-inch and the round aluminum peel head measures 9-inch, making a total length of 31.5-inch. The end of the handle features a leather strap for easy storage after use.
The entire pizza peel is easy to maintain and clean. However, hand washing the peel with nonabrasive detergents immediately after use is highly recommended.
Verdict
Although the aluminum blade is not perforated, the sharp edges make it easy for the paddle to slide under the dough without sticking to the surface.
Strengths:
Wooden handle
Top-quality aluminum material
Riveted joints
Storage friendly
It comes with a leather strap
Weaknesses:
Not perforated
The rivets are raised too high
---
4.

Komista Turning Pizza Peel Perforated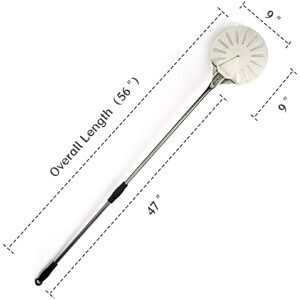 If you own a pizzeria and want to keep your hands from the high heat when making pizzas, Komista Turning Pizza Peel Perforated is the best pick for you. It comes with a 47-inch stainless steel handle that is heat resistant.
All parts of the pizza peel are made of low nickel stainless steel except for the handle which features a polymer material in the middle and at the end of the handle. The perforated edges help in reducing friction when turning or transferring the pizza from the table to the oven.
The handle is fastened to the handle with three rivets for stability and strength. Although this product is lightweight, it is built to last.
Verdict
This commercial-grade turning pizza peel is a perfect choice for brick ovens and pizzeria use. It is one of the best stainless steel turning pizza peels on the market that is budget-friendly.
Strengths:
Perforated stainless steel paddle
Non-slip handle
Durable
Lightweight
Easy to clean
Weaknesses:
The long handle is not detachable
---
5.

DareBuilt Metal Works Turning Pizza Peel
Unlike other products that are reinforced to the handle with rivets for stability, DareBuilt Metal Works Turning Pizza Peel is designed and constructed without any rivets. It is made from a single piece of food-safe stainless steel material that is scratch-resistant and durable.
This product is suitable for all kinds of cooktops ranging from gas, electric, and even wood. It is built to resist extreme temperatures and will not emit toxic substances. The slotted holes in the head give room for the excess flour to be sifted out.
The silicone material with a cool handle provides a secure grip and withstands high temperatures. With its 7-inch paddle, you can transport up to 12-inch pizza crust.
Verdict
DareBuilt Metal Works Turning Pizza Peel is not only made of quality materials but is also safe for the dishwasher, which makes cleanup an effortless task.
Strengths:
Silicone handle
Sturdy built
Well suited for smaller ovens
Features slotted holes
Weaknesses:
---
6.

Ooni Metal Long Handle Pizza Turning Peel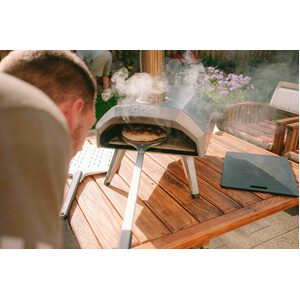 Last on this review is the Ooni Metal Long Handle Pizza Turning Peel. It is constructed from anodized aluminum that is nonstick with a glass-enhanced nylon handle. This pizza peel is well suited for both home-sized pizza ovens and professional ovens.
Ooni is a prominent brand that believes everyone deserves to eat great pizza. This product is an essential tool in making great pizzas. It makes the turning and removing of pizzas from the oven a simple task.
With this product, your pizza slides freely without losing its shape. The non-slip handle offers a secure hold and is easy to maneuver.
Verdict
Ooni Metal Long Handle Pizza Turning Peel emerges as one of the best because of its durability and builds quality. It is very useful for turning pizzas in the oven as they bake.

Strengths:
Smooth perforated surface
Well built
Compatible with several pizza ovens
Comfortable to grip.
Durable material
Weaknesses:
The handle is not removable
A bit pricey
---
Pizza Turning Peel Questions & Answered
What Can I Use Instead of a Pizza Peel?
If you are finding anything instead of the best pizza-turning peel, here are some substitutes. The less costly thing you can use is pieces of parchment pepper or any pieces of cardboard. Any serving platter or a chopping board can be used for it. Also, a rimmed baking sheet or a rimless cookie sheet could be a substitute as well.
How Do I Get My Pizza to Slide Off Peel?
It would be best to practice a proper direction or method for getting a perfect pizza to slide off the peel. Keep the pizza moving from side to side to remove it from the peel. To successfully slide your pizza onto the stone, first thrust the peel forward smoothly towards the middle of your stone, then pull swiftly back. The pizza's motion will drive it forward, allowing it to easily slide off the peel and onto your stone or steel.
Can I Make A Pizza Without A Pizza Pill?
You can make a pizza on your own without any pizza pill, but the thing is, it won't be an authentic pizza. If you want to have an authentic pizza, you have to use a pizza pill, pizza stone, and a couple more things. The round shape of the pizza peel with the beveled edge helps it go under the pie.
How Do You Make a Homemade Pizza Peel?
Yes, you can make pizza peel at your home with a baking pan, a spatula, and some glue. Firstly flatten your baking tray on one side to get a slippery side. On the other side, stick the spatula side with the baking tray and a good amount of glue. After drying the glue properly, your homemade pizza pill is ready to make a pizza.
Overall Final Verdict
The overall best product out of our top 6 best pizza turning peels is the Chef Pomodoro 9-Inch Turning Pizza Peel. This product is made out of the best materials and has the longest handle. It is suitable for both professional and amateur pizza makers.
We hope you will be able to make better decisions after reading through this post.