One of the essential tools for pizza dough makers and bakers is a pizza dough-proofing box. Basically, they are large containers with lids to allow you to get your dough out without any hassle and prevent drying out for a chewy and delicious pizza crust.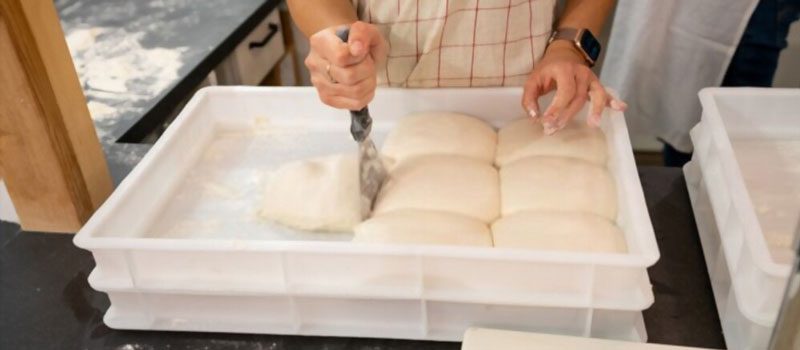 Making your favorite pizza from scratch at home gets easier with the best pizza dough-proofing box. But finding the right one can be challenging considering the plethora of options flooding the market today.
Luckily;
In this guide, we'll review the top 5 options, what to look out for when shopping, and frequently asked questions about a dough-proofing box to help you find the perfect product.
Top 5 Pizza Dough Proofing Boxes
Why Should I Use a Pizza Dough Proofing Box?
Using a pizza dough-proofing box can greatly enhance the quality and taste of your homemade pizzas. A proofing box provides a controlled environment for the dough to rise, allowing it to develop its flavors and textures more effectively. This is especially important in pizza making, as a well-risen dough results in a light and airy crust.
One of the main benefits of using a proofing box is that it maintains a consistent temperature and humidity level, which is crucial for the fermentation process. This helps the yeast to activate and produce carbon dioxide, causing the dough to rise. Without a proofing box, it can be challenging to achieve these optimal conditions, particularly if you live in an area with fluctuating temperatures or dry air.
Additionally, a proofing box allows you to have better control over the rising time of your dough. Different recipes may require longer or shorter proofing periods depending on factors such as ambient temperature or the type of yeast used. With a proofing box, you can set the ideal temperature and monitor the progress easily, ensuring that your dough rises at just the right pace.
In summary, using a pizza dough proofing box offers several advantages: it creates an optimal environment for fermentation, improves texture and flavor development, and allows for precise control over rising time. Investing in this tool will undoubtedly elevate your homemade pizzas to new heights!
---
Best Pizza Dough Proofing Boxes Review
---
1.

DoughMate Artisan Dough Tray Kit
Trying to pin down a pizza dough-proofing box to help ease your baking process? You can't go wrong with the DoughMate Artisan Dough Tray Kit. This model features a professional build quality and a sturdy feel every baker will surely love.
The DoughMate Artisan Dough Tray Kit is made of high-impact copolymer polypropylene, making it durable, lightweight, and heavy-duty. With such a rugged design, you don't have to worry about this tool breaking when handling a large dough. This kit comes with one lid, two dough trays, and one plastic putty scraper.
Also, the trays feature an interlocking design for an airtight seal. Plus, the set easily fits into any standard kitchen refrigerator.
On the downside, we'd have preferred if the DoughMate Artisan Dough Tray Kit seals out the air. This factor is important to help keep the pizza dough fresh and moist all the time. As such, this product leaves your dough a bit dry, which affects the overall pizza quality.
Verdict
While the DoughMate Artisan Dough Tray Kit boasts a durable and rugged design, it falls short in terms of properly sealing out air. This can result in dry dough, which ultimately affects the quality of the pizza. Despite this drawback, the kit includes essential components such as a lid, dough trays, and a plastic putty scraper.
Additionally, its interlocking design ensures an airtight seal when stored in the refrigerator.
Strengths:
Rugged and lightweight construction
Perfect for most standard kitchen refrigerators
Can handle large pizza dough
Made in the USA
Weaknesses:
Not suitable for high-hydration doughs
Not dishwasher safe
---
2.

Cambro Camwear Polycarbonate Pizza Dough Box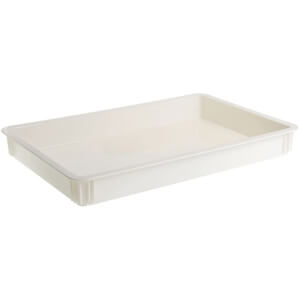 If you love baking from scratch, you will find the Cambro Camwear Polycarbonate Pizza Dough Box very handy for proofing your dough for an excellent result. This one-pie pan is 3 inches deep, making it a suitable choice for small and large pies.
This model is made of plastic which guarantees that this container will last almost a lifetime without rusting. Aside from its rust-free quality, the Cambro Camwear Polycarbonate Pizza Dough Box is safe to come in contact with your food.
This box is suitable for proofing and storing pizza dough. With its sturdy polycarbonate build, this unit won't lose its shape or bend. This box has a cover you have to purchase separately to help extend storage life and ensure the dough does not crust.
Plus, it's chemical, impact, and stain-resistant. We also love the reinforced smooth round edges for extra durability and safe handling. Even better, you can toss the Cambro Camwear Polycarbonate Pizza Dough Box into your dishwasher for a convenient cleaning experience.
Verdict
Overall, the Cambro Camwear Polycarbonate Pizza Dough Box is a reliable and durable option for storing your pizza dough. Its stackable design allows for efficient storage, making it ideal for busy kitchens. The sturdy plastic construction ensures that the box won't bend or lose its shape over time.
Additionally, the dishwasher-safe feature makes cleaning a breeze. However, one downside is that the lid needs to be purchased separately, which can be inconvenient and adds additional cost.
Strengths:
Stackable design for smart, space-saving storage
Sturdy and reliable plastic construction
Dishwasher safe
Won't bend or lose shape
Weaknesses:
The lid is sold separately
Quality control can be an issue
---
3.

GSM Commercial Quality Pizza Dough Proofing Box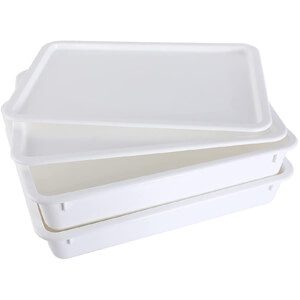 If you are running a pizzeria and looking for ways to make your dough production more efficient and safer, the GSM Commercial Quality Pizza Dough Proofing Box is your go-to.
This model is reliably constructed with commercial applications in mind. This simple-to-use dough box comes with covers and is rugged enough to withstand stacking. This proof box is made from BPA-free white plastic to guarantee you a food-safe tool to create high-quality pizzas and bread.
Considering its sturdy construction with lid, this is arguably the best pizza dough-proofing box that will last many years in your restaurant kitchen, creating the perfect pizza crust.
Another thing we love about the GSM Commercial Quality Pizza Dough Proofing Box is the stackable design when you remove the covers for smart storage. This nifty box has a generous space to accommodate your artisan pizza dough and fancy bread.
Verdict
Overall, the GSM Commercial Quality Pizza Dough Proofing Box is a top-notch choice for any restaurant kitchen looking to create the perfect pizza crust. Its durable construction and stackable design make it a long-lasting and space-saving option.
We especially appreciate the BPA-free plastic construction, which ensures safe food handling, and the dishwasher-friendly feature that allows for easy cleaning. The included covers are also a nice addition to keep your dough protected during proofing.
Strengths:
Stackable basins for easy storage
BPA-free plastic construction
Dishwasher friendly for convenient cleaning
Comes with covers
Weaknesses:
The basin bottom doesn't sit flat
---
4.

Central Restaurant PL-3N Pizza Dough Box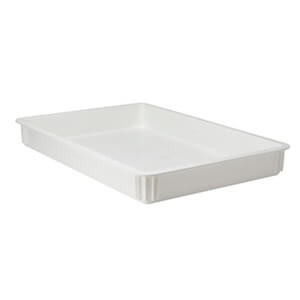 What's the best pizza dough-proofing box? Central Restaurant PL-3N Pizza Dough Box is a worthy contender. This model is designed to allow you to proof and store dough for outstanding results.
This nifty box features a BPA-free polypropylene construction, which the manufacturer touts to be sturdy and reliable. Hence, you don't have to worry about the box losing its shape or bending when stacked.
We love the stackable design, as it allows you to store these boxes conveniently without taking up more space.
Who wants to spend extra hours cleaning boxes?
Thus, the Central Restaurant PL-3N Pizza Dough Box is dishwasher-friendly for a fuss-free cleaning experience. Another thing worth mentioning is the versatile design that allows you to use it for other baking activities.
Verdict
The Central Restaurant PL-3N Pizza Dough Box is a reliable and versatile option for any baking enthusiast. Its sturdy polypropylene construction ensures durability while remaining lightweight, making it easy to handle. Cleaning is a breeze with its dishwasher-friendly feature, saving you valuable time and effort.
One of the standout features of this dough box is its stackable design, allowing for convenient storage without taking up excessive space in your kitchen. Say goodbye to cluttered countertops!
Strengths:
Reliable polypropylene construction
Lightweight and durable
Easy to clean
Stackable for easy storage
Suitable for proofing and storing dough
Weaknesses:
Slightly larger than the standard size
---
5.

Paderno World Cuisine Stackable Pizza Dough Container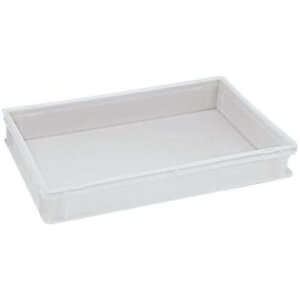 The Paderno World Cuisine Stackable Pizza Dough Container is designed with convenience and reliability in mind. This is a perfect proofing box for home bakers looking to make their favorite pizza at home.
This unit features a polyethylene material, which makes it rust-free and more durable last a lifetime. The container is stackable to save space and keeps the pizza moist and fresh for a delicious and crunchy crust.
Its durability is one of the highlights of this unit, but we are not sure if this dough container can be tossed into the dishwasher for a cinch cleanup. However, we are confident that Paderno World Cuisine Stackable Pizza Dough Container will make a perfect gift to your relative or friend looking to make homemade pizzas.
Verdict
Overall, the Paderno World Cuisine Stackable Pizza Dough Container is a fantastic addition to any home kitchen. Its sturdy and reliable construction ensures that it will last for years to come, making it a worthwhile investment. The stackable design is also a major plus, as it allows for space-saving storage in cramped kitchens.
One of the standout features of this dough container is its ability to keep pizza dough moist and fresh. This is crucial for achieving the perfect crust when baking homemade pizzas.
Strengths:
Sturdy and reliable construction
Stackable for space-saving storage
It keeps the pizza dough moist and fresh
Suitable for other baking activities
Available in different size options
Weaknesses:
It does not come with a lid
---
What is a Dough Proofing Box?
Basically, a dough-proofing container is a box designed to seal out air and store your pizza dough balls. Buses are available in different sizes and can hold up to 12 pizza dough balls, depending on the size.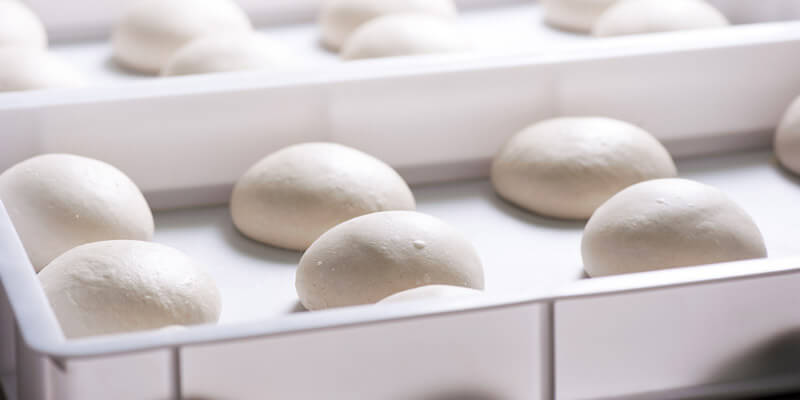 One of the benefits of using this airtight container over other options such as baking bowls with plastic wrap or Tupperware containers is its generous space to fit in more dough balls.
Proofing containers are stackable, which means you can easily place these boxes on top of one another for space-saving storage and a clumsy-free kitchen. This feature comes in handy for people with small or crowded kitchens. Another benefit of stackable proofing boxes is that they allow you to move many pizza dough balls quickly.
Importantly, you want to ensure that the container office and airtight seal prevent the dry crust from developing on the dough's surface when left for an extended period. Since this container is spacious, this means you can place your dough balls properly spaced, so they don't touch the edges of the container or one another.
With the dough balls evenly spaced, you can easily retrieve them without puncturing the dough and eliminate the hassle of dealing with cornicione. Using a pizza dough scraper, bakers should have no issue getting dough out of the proofing box.
These are something you don't enjoy or can't do with a baking bowl or Tupperware container. Besides, dough-proofing containers are reusable, and you don't have to toss them into the bin after each use, like plastic bags or plastic wrap.
Is a Pizza Dough Proofing Box Necessary?
If convenience and efficiency are a must for you, the pizza-proofing box is a useful tool. They come in handy in a professional or commercial environment to store lots of balls, and you don't have to deal with many containers. However, you want to consider this box as a home chef if you bake a couple of pizzas or need a much safer and more efficient way to store your pizza.
Turning out a sheer number of pizzas every night would be more efficient and easy with the pizza-proofing boxes in a commercial setting. A large container offers enough space to hold more than a dozen pizza dough balls at a time.
On the other hand, you might need a pizza-proofing box for home baking if you only occasionally bake a couple of your favorite pizzas. Keep in mind that storing your dough either long cold fermentation or short-term proofing, these containers are the perfect tool for the job.
Also, they are available in different size options, from small to large, for a commercial or busy kitchen. For instance, the DoughMate Artisan Dough Tray is perfect for baking large party-size pizzas and fits into your standard kitchen fridges. Plus, it's suitable for cold fermentation.
How to Shop for the Best Pizza Proofing Box?
Proofing boxes are not created equally, which means there are inferior quality models out there that do one thing better – running your pizza.
Therefore, it's important to consider the following essential factors to ensure you are purchasing a good unit:
Air-Tight
When choosing the right proofing container, you want to ensure the unit offers an airtight seal. This factor is a must, especially for week-long fermentation that can easily be ruined with dry crust developing on the dough's surface.
Storing a pizza dough without sealing it results in the development of a dry crust that can be problematic. To avoid this problem, then you should cover the container with a lid to seal out the air.
Stackable design
One of the many benefits a proofing box offers is storing lots of dough balls at once and conveniently. However, the best pizza dough-proofing box should allow you to stack these boxes on one another to maximize your space; with a tower-like design, you can easily carry these dough balls and containers at once without falling.
Material
Many years ago, Italians had their proofing boxes made out of wood. But the world has shifted to plastic boxes for a lot of reasons. While it's hard to argue the aesthetic appeal you get from wooden proofing containers, they are not as airtight as their plastic counterparts.
Also, the traditional models are large and heavy to move and handle. With such a heavyweight, it's nearly impossible to stack them on one another.
On the other hand, you might want to consider the plastic models for their smooth surface, offering a decent non-stick performance to release your dough with ease.
Size
Depending on your setting and needs, you want to choose a proofing container that suits you. In a commercial setting, where about 100 pizzas need to be turned out in an hour, you need a large proofing container offering a massive space to hold many pizza dough balls at a time.
However, a home chef looking to make pizzas for a couple of friends and family would not benefit from a large proofing box. It's best to stick with the smaller options offering enough space to fit 4 – 8 dough balls. Also, factors like stackability won't be necessary.
Nonetheless, height is another factor worth considering. If you are making New York or Neapolitan pizza, we recommend a proofing box about 3 inches high. There are also taller options out there for the proofing dough to create other pizza styles.
Proofing Box Materials
Now, let's dive deeper into these containers and how to pick the right one based on material. These proofing containers come in a wide range of materials offering some particular benefits over others.
Polypropylene
Boxes featuring polypropylene construction are food-safe and chemical resistant. Another benefit is they are dishwasher friendly. Plus, they can withstand temperatures from -10 to 160 degrees F.
Polycarbonate
When it comes to shatter-proof and durable proofing boxes that won't bend or lose their shape, polycarbonate is what you should be on the lookout for. They can handle temperatures from -40 to 210 degrees F. Even better, they are dishwasher-safe and resistant to oils and acids.
ABS Plastic
They are your go-to for impact-resistant and lightweight-proofing containers. You should have no issues using them between -4 and up to 176 degrees F. Plus, you can toss them into your dishwasher – a convenient cleaning experience.
Teflon® Co-Polymer
For a commercial environment, Teflon Co-Polymer proofing boxes can take a serious beating, thanks to their heavy-duty construction. Also, they are nonstick for easy food release, and you don't have to pre-soak them before washing the containers.
Aluminum
Need to stack your containers? Aluminum dough boxes feature a self-stacking design and can stand the rigors of daily use. In addition, they are quick to refrigerate.
Fiberglass
They are moisture and stain-resistant. These durable options are easy to clean and dishwasher-friendly. Useful Accessories to Consider After Purchasing a Good Pizza Dough Proofing Box
The best proofing box can do more with the right accessories to improve your business's efficiency. For instance, in a high-volume pizzeria, a dolly might come in handy to transport several dough boxes simultaneously.
In this section, we'll discuss proofing clothes, dollies, lids, etc., to guarantee an easy, seamless dough-prepping process.
Dough box covers
Not all dough-proofing boxes come with a lid. Therefore, it's important to purchase a lid to offer a tight seal to ensure your dough stays moist and fresh. Plus, the lid makes it easier to store your excess dough and supports stacking these basins on each other to declutter your workspace or kitchen.
Pizza Dough Container Dollies
If you handle lots of pizza per hour and need to keep up with the high demands, then you want to opt for stackable boxes. This is where pizza dough container dollies come in for easy, quick, and safe transportation. Dollies can handle up to 300 lbs of stackable containers.
Proofing Clothes
Another accessory that helps simplify and ease your baking process is proofing clothes. This accessory helps protect your pizza dough and traps moisture for soft and chewy crusts. The extra moisture trapped ensures the rolls and bread don't get soggy.
---
Frequently Asked Questions & Answered
---
What are alternatives to dough-proofing boxes?
You can make use of a Dutch oven or loaf pans for small dough balls.
What else can I use my dough-proofing container for?
These boxes are very versatile and can come in handy for making yogurts.
Is it worth buying a pizza dough box?
If you need to meet high demand per day, this product will make all the difference. For home bakers, you will probably be better off with a Dutch oven or loaf pans.
Should the pizza dough-proofing box be airtight?
Have you ever wondered why some pizza dough-proofing boxes are airtight, while others are not? The debate over whether a pizza dough-proofing box should be airtight or not has been going on for quite some time among bakers and pizza enthusiasts.

Some argue that an airtight box creates the perfect environment for the dough to rise and develop flavor, while others believe that allowing air circulation is essential for achieving the desired texture and crust.

So, should pizza dough-proofing boxes be airtight? The short answer is: it depends.
Conclusion
Not everyone needs a proofing box. If you bake pizza occasionally or bake only a couple per day, you might not see reasons to own a proofing box. But for a commercial setting or busy home kitchen, this product is a must-have and will easily earn a space in your heart.
In this post, we've reviewed the top 5 best pizza dough-proofing boxes with the DoughMate Artisan Dough Tray Kit as our best pick. Notwithstanding, we are confident that other options on our list will prove and store your dough without hassle.