A dough scraper or bench scraper can prove very useful for scraping your bowl or cutting dough for your bread. These tools are built for many kinds of tasks. The right dough scraper should make scraping and other tasks effortless to perform.
To make a perfect pie, pizza, cookies, and many more, you need to be able to manipulate the dough just as you want, and here's where the dough scraper comes in handy. This baking tool helps you retrieve your flattened dough from your workstation.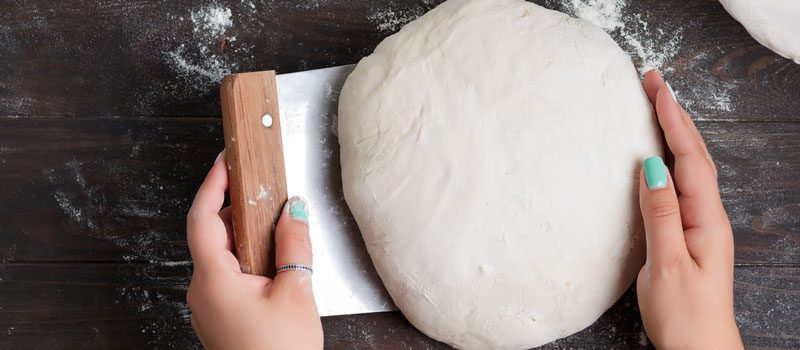 But with several options out there, choosing the best dough scraper can be a bit overwhelming. Luckily, this article reviews the top-six options on the market and how to identify the perfect one for baking needs.
Top 6 Best Dough Scrapers
What is Dough Scraper?
This baking tool comes in a rectangular shape and usually features a combination of plastic and metal. However, some manufacturers combine other materials like silicone, rubber, wood, or plastic.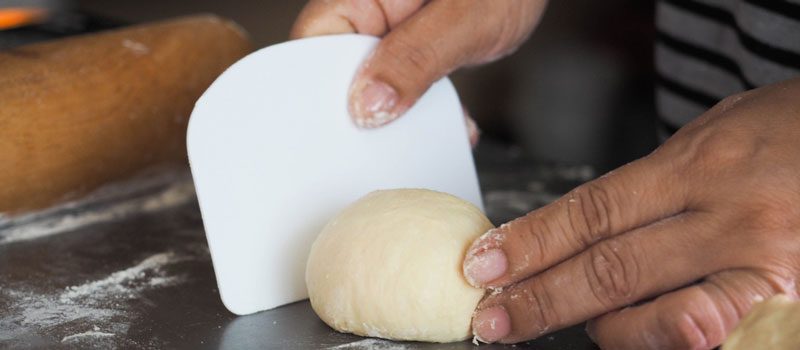 The dough scraper is also referred to as a bench scraper, pastry scraper, bench knife, and baker's knife. Regardless of what it is called, this tool is used in making bread, pastry, and any kind of dough to scrape off stuck dough from the work surface or bowl.
Another thing to know about this baking tool is its impressive versatility. It can be used to chop food, cut dough, transfer foods, and a lot more.
Use of a Dough Scraper
This tool's primary use is scraping stuck dough without leaving scratches on your work surface.
A dough scraper can be used to clean baking steel without damaging it
It's helpful when kneading your dough to quickly pull it off the work surface when it's stuck
It's also a perfect tool to cut the dough for your bread
A dough scraper is great for smooth frosting on a cake
How to Choose the Best Dough Scraper?
When it comes to choosing a dough scraper that best suit you and your baking needs, you need to consider these factors to ensure you make an informed decision:
Size
The size of the dough scraper is where you want to start from. Most products are 6-inch long and about 3 – 4-inch high. However, there are other size options offered. Thus, before settling for a baker's knife, consider the size, as it determines the ease of use. Large or bulky models can be tricky to use and spell trouble, especially for small hands.
Materials
There are mainly two types of materials used to make the body: metal and plastic. However, the handle can feature other materials like silicone, plastic, wood, and metal.
Metal dough scrapers
Metal dough scrapers feature a straight, thin edge, which allows you to cut through rolled dough vertically for creating cones, fudge, or brownies. This bench scraper comes with a ruler on either one or both edges for a precise cutting experience.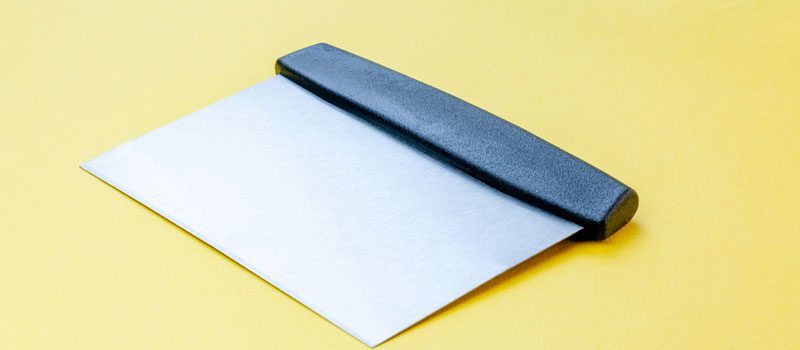 This product is made from stainless steel for extreme durability and a hassle-free cleaning experience. It features a handle running along the edge to guarantee a comfortable non-slip grip for secure handling.
Since metal dough scrapers have fine edges, this baking tool doubles well as a knife for chopping nuts, fruits, and herbs. Sadly, metal construction is not safe to use on non-stick surfaces. Another drawback about metal dough scrapers is their rectangular edges, which won't be suitable for scraping dough out of a mixing bowl.
Plastic dough scrapers
Plastic dough scrapers usually offer both curved edges and flat edges. Hence, they are great for scraping and cutting dough. Also, they can be used to mix the dough in the bowl without any hassle.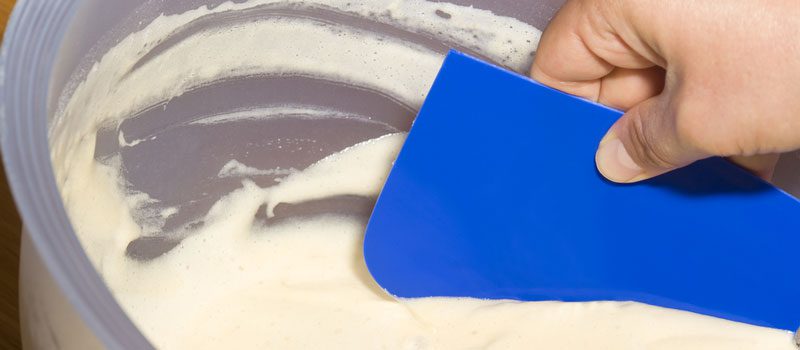 In addition, they feature a plastic construction, which makes them a lot safer to use on a non-stick surface and offers more flexibility than its counterpart.
Unfortunately, there are some downsides to using a plastic dough scraper. First, this type of baker's knife does not have a handle, making it not so comfortable to handle as its counterparts.
Also, using the plastic tool tends to create a lot of mess and is not as durable as stainless steel dough scraper. Plus, they are only perfect for cutting dough and are not very sharp to cut through other items.
Sharpness
This factor is important for people who intend to use the dough scraper for chopping some food items. The sharpness of a bench scraper is something worth considering to ensure the tool is sharp enough to handle cutting or chopping whatever it's thrown at it. Also, it's best to steer clear of plastic versions; they are not very sharp and only ideal for mixing and scraping. Your best bet is a heavy-duty stainless steel scraper.
Measuring Marks
Products with measuring marks make measuring easier while you cook. The measurement marks are usually on the blade's bottom. This is a factor to bear in mind if precise measurement is essential to your baking or cooking. Also, you want to ensure the ink won't fade off or alter your food's taste and flavor.
Handle
There are several kinds of handles, such as wooden metal and plastic. However, it's important to ensure the handle features a non-slip handle for secure and comfortable handling. In my opinion, rubber and plastic handles offer a better grip and are more comfortable to use than metal bench scrapers.
Shape
There are mainly two shapes of dough scrapers: flat edge and curved edge. The latter is best for mixing and scraping dough straight out of the bowl but won't do a great job of cutting and scraping the stuck dough off the work surface.
On the other hand, the flat edge is appropriate for cutting and scraping work surfaces but not suitable for getting the batter out of the mixing bowl.
---
Best Dough Scrapers Review
---
A dough scraper is a simple tool that can help make the process of cleaning up after baking a lot easier. Here are six of the best dough scrapers on the market.
1.

MS WGO Professional Bread, Dough Scraper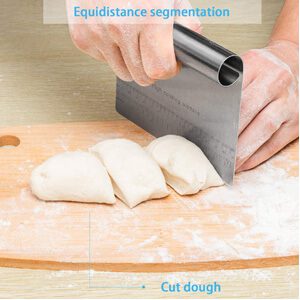 The MS WGO Professional Bread, Dough Scraper features a simple and modern style with cutting and scraping batter or dough in mind. This handy baking tool is a hassle to use and takes your baking skill to the next level.
With this top choice, you don't have to bother about wrist and hand fatigue. The dough scraper features heavy-duty stainless steel that guarantees rust-resistant and lifetime use. More so, it makes cleaning a breeze since you can easily toss it into your dishwasher.
Even better, it has a measurement mark at the bottom to allow you to cut pizza or dough into equal portions. This model also serves as a pastry scraper, pro dough cutter, pastry bread separator scale knife, or pizza cutter.
Strengths:
Easy-grip handle for comfortable handling
Heavy-duty stainless steel construction
Dishwasher safe
Sharp enough to use as a cutting tool
Weaknesses:
Not suitable for scraping-out batter or dough out of the mixing bowl
---
2.

Chef Craft Classic 6″ Plastic Dough Scraper
The Chef Craft Classic 6″ Plastic Dough Scraper is our top choice for the best plastic dough scraper. This tool is crafted with high-quality materials and features excellent design for impressive functionality. This amazing baking tool delivers outstanding results.
Its plastic construction is durable and sturdy which guarantees long-time use. Unlike other products, this model features durable nylon that makes this unit stand out from the competition. In addition, the edges are thin, which makes scraping and cutting the dough convenient.
On top of that, this dough scraper is dishwasher-safe, making it a decent choice for homemade bakers.
Strengths:
Easy to clean
Durable and sturdy plastic construction
It offers incredible flexibility
It features both flat and curved edges
Weaknesses:
The cutting performance is not up to par
---
3.

KitchenAid Flexible Silicone Bowl Scraper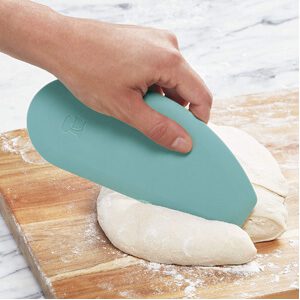 This tool is the best silicone dough scraper designed with incredible flexibility in mind. This model easily conforms to your bowl's shape to allow you to scraper out your batter or dough from your mixing bowl.
Even better, this bowl scraper is heat resistant up to 400 degrees F. The nylon pot scraper is ideal for scraping and can withstand heat up to 450 degrees F. The bowl scraper features straight edges to cut the dough into portions.
This best dough scraper from KitchenAid is dishwasher safe, which makes clean-up easy and quick. Above all, it's backed by a 1-year lifetime limited warranty which assures users of long-lasting performance.
Strengths:
Resistant to high heat
It's dishwasher safe
Safe for all working surfaces, including non-stick one
1-year lifetime limited warranty
Weaknesses:
The cutting performance is not impressive
---
4.

Lamson Stainless Steel Dough Scraper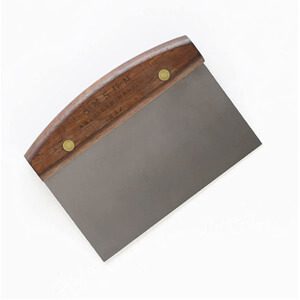 The Lamson Stainless Steel Dough Scraper is another innovative, traditional, stylish, and high-performing tool for homemade bakers. It's a great tool for turning and lifting bread and pastry dough.
The body is built using high-carbon stainless steel that guarantees lifetime durability. In addition, this device features riveted walnut handles for easy grip and secure handling.
However, this product is not dishwasher safe, which means you have to hand wash it for long-lasting performance. Another downside of this dough scraper is you have to treat the wooden handle with mineral oil when it appears dry.
Strengths:
Made in the USA
Easy to clean
Riveted walnut handle for better grip
High carbon stainless steel construction
Weaknesses:
---
5.

Lasenersm 2 Pieces Dough, Bowl Scraper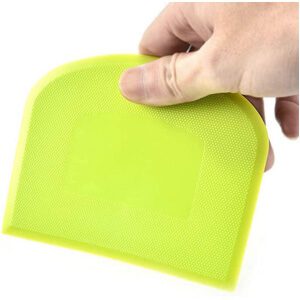 The Lasenersm 2 Pieces Dough, Bowl Scraper is available in two different colors – green and white. This unit is built with food-grade plastic, which makes it non-toxic and healthy to use. Also, its high-grade construction guarantees remarkable durability.
In addition, this bowl scraper is suitable for a wide range of applications from scraping, chopping cream, dough, chocolate, and many more. This scraper is dishwasher safe and safe to use with your non-stick working surface.
What else? The dough scraper has incredible flexibility to allow you to shape or move the dough or batter from the mixing bowl. Also, you can easily get every last bit from the bowl.
Strengths:
Made of food-grade plastic
It has impressive flexibility
It is easy to use
Two-color options
Weaknesses:
Durability is questionable
---
6.

Dr. Oetker Multi Funktional Plastic Dough Scraper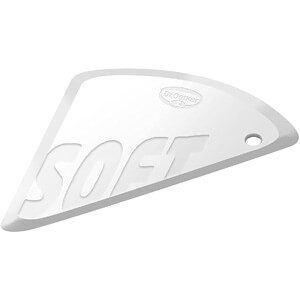 The Dr. Oetker Multi Funktional Plastic Dough Scraper is the way to go if you want a stylish baking tool. This unit features food-grade plastic construction, which means this unit is safe to use.
Furthermore, this model comes with a hole to allow users to hang it on the wall for easy storage after use and easy access. This versatile baking tool has both a sharp edge and a curved edge like other plastic dough scrapers. Hence, it is suitable for cutting your dough into portions and scraping the dough from the work surface to sprinkle flour for an easy kneading experience.
What's more? It's flexible enough to allow you to scrape every bit of batter from your mixing bowl without a sweat. This high-quality bench scraper is dishwasher-proof for an effortless cleaning experience.
Strengths:
High-quality plastic construction
Unique, stylish design
Feature a hole for easy storage
It has both curved and flat edges
Weaknesses:
It can be awkward to use due to its design
---
Dough Scraper Questions & Answered
---
What's the best size for a dough scraper?
It's best to choose a bench scraper between 3 – 6-inch long to allow you to hold easily and maneuver with ease. However, you might run into issues if it's too bulky.
What else can I use my dough scraper for?
If you have got a sharp metal dough scraper, you should be able to use the tool to cut and chop your food ingredients.
Can I toss my dough scraper into the dishwasher?
Most pizza scrapers are dishwasher proof, except the handles are made of wood.
What type of dough scraper is best?
The best type of dough scraper is one that is made of stainless steel and has a blunt edge. This type of scraper is ideal for scraping dough off surfaces without damaging them.
Conclusion
Choosing the best dough scraper can be a daunting task, especially if you don't know what to look for in such a baking tool. However, they are just two types of dough scrapers in terms of material and shape.
If you want a durable device to handle the rigors of daily use, it's best to settle for a metal bench scraper. On the other hand, the plastic counterpart is a great choice for people looking for better flexibility to scrape every bit of batter out of the mixing bowl.
Luckily, we've reviewed the top 6 options out there to serve as your guide when shopping for this essential baking tool. But if you are still not sure which one to go for, then you can't go wrong purchasing our favorite – MS WGO Professional Bread, Dough Scraper.