Making a great homemade pizza requires some essential kitchen tools, such as a pizza dough maker. This tool helps save time and allows you to make lots of pizza for a hungry crowd in a fraction of the time.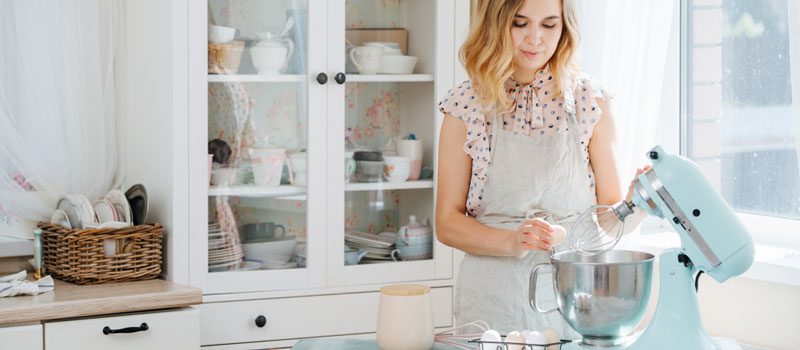 If you need the gadget to ease the pizza-making experience, the mixer is definitely a must-have. While you might use the traditional method of kneading the dough with your hands, this process is only suitable for making pizza for a small family.
Aside from kneading dough for pizza, this handy kitchen tool is perfect for many other purposes. Every baker can easily whip out a plethora of dishes in a short period.
So, investing in the best pizza dough mixer is a great idea if you love to bake at home.
Top 5 Pizza Dough Mixers
What Type of Mixer is Best for Pizza Dough?
When it comes to making pizza dough, the best type of mixer to use is a stand mixer. Stand mixers are designed with powerful motors and sturdy construction that can handle the tough job of kneading dough. They come with various attachments, such as a dough hook, which is specifically designed for mixing and kneading dough.
One popular brand that is highly recommended by professional chefs and home bakers alike is the KitchenAid stand mixer. It offers a range of models with different capacities and power levels, ensuring that you can find one that suits your needs. The KitchenAid stand mixers also have a reputation for durability and reliability, making them a great investment for anyone serious about making pizza dough regularly.
In addition, to stand mixers, there are also spiral mixers that are commonly used in commercial settings like pizzerias. These mixers have a unique design that mimics hand kneading by gently folding and stretching the dough. Spiral mixers are particularly efficient at handling large batches of dough and ensuring even mixing throughout.
However, they tend to be more expensive and take up more space compared to stand mixers, which may not be practical for home use unless you frequently make pizza in large quantities.
---
Best Pizza Dough Mixers Review
---
Without any further ado, let's check out the top 5 best mixers for pizza dough there;
1.

KitchenAid KSM8990DP Commercial Pizza Dough Mixer
The KitchenAid KSM8990DP Commercial Pizza Dough Mixer is one of the best options out there, with lots of positive feedback from many users – thanks to its various features and options offered.
This model has an 8 Qt capacity that is enough for most home bakers. The bowl is made of stainless steel and sports a bowl-lift design that guarantees it a rattle-free and noise-free operation.
Furthermore, this model is equipped with up to 10 dough mixing speeds offering an impressive level of flexibility to achieve the desired result. The KitchenAid KSM8990DP Commercial Pizza Dough Mixer features a bowl guard to keep the dough inside the mixer and prevent it from coming out accidentally during the kneading and mixing process.
On top of that,
This kitchen device runs on a 1.3 HP electric motor to handle just about anything thrown at it. Above all, this appliance is from a reputable brand, and it's backed by a 2-year manufacturer warranty that assures users of high performance, durability, and safety.
Additional Specification
Best For: Commercial User
Voltage: 120 Volts
Capacity: 8-Qt/7.6L
Horse Power: 1.3 HP
Bowl Material: Stainless steel
What We Liked:
Up to 10 mixing speeds
Comes with a bowl guard
The decent 2-year warranty period
Features stainless steel construction for impressive durability
What We Didn't Like:
Not suitable for large-scale commercial usage
---
2.

Dash Electric Pizza Dough Stand Mixer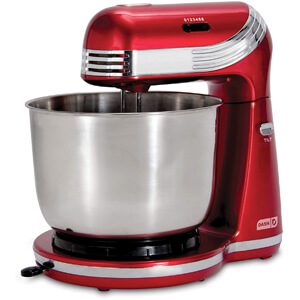 This is arguably the best electric stand mixer to assist with baking. The Dash Electric Pizza dough Stand Mixer is perfect for mixing ingredients and the dough without any hassle. With this kitchen tool, you can't possibly go wrong.
What's more?
This unit is a favorite for many bakers for its compact design and outstanding versatility. This kitchen accessory is perfect for frosting and mixing your pizza dough and other ingredients. Thanks to its lightweight design, this model is comfortable and easy to carry around.
Unlike our top choice, the Dash Electric Pizza dough Stand Mixer comes with six mixing speeds, from low to high, to suit your needs. This accessory will easily be your assistant and companion for all your baking projects.
Another impressive feature of this machine is its full tilting motorhead that allows no-hassle attachment and removal of the mixing bowl and other accessories.
On the downside;
The Dash Electric Pizza dough Stand Mixer can be a bit noisy, which we find quite disturbing. For the price, we expected a better build quality.
Additional Specification
Best For: Frosting, Meringue & More
Material: Plastic
Capacity: 3-Qt
Number of Speeds: 6
Bowl Material: Stainless steel
What We Liked:
Elegant design to match your kitchen
Spill-free and mess-free design
Lightweight design
Easy to use
What We Didn't Like:
On the pricey side
It isn't quiet
---
3.

Aucma Electric Stand Mixer with Dough Hook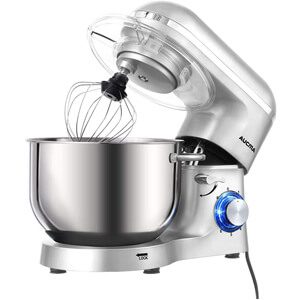 For bakers trying to pin down the best pizza dough mixer for a hands-free mixing experience, the Aucma Electric Stand Mixer with Dough Hook might just be what you need. This model is a go-to for many home bakers to make pizza dough and other food varieties.
Let's begin;
The Aucma Electric Stand Mixer with Dough Hook is equipped with a powerful motor offering variable speed control to meet your mixing needs. This model includes a large mixing bowl capable of handling any of your baking projects.
What we love about this machine is its ease of use. It features dual handles to make it convenient to hold.
Additionally, the Aucma Electric Stand Mixer rocks tilt-head and outside design to install and remove the mixing bowl and other accessories easily.
With this kitchen gadget, you have all the help you need to get your baking or cooking done faster without wearing you out.
On the brighter side;
The Aucma Electric Stand Mixer with Dough Hook includes multiple attachments such as a dough hook, whisk, mixing beater, and many more to make baking a lot easier. More so, it features an LED light that serves as a power indicator and stainless steel belt. Even better, its splatter shield ensures no spills, messes, or drops.
Sadly, the Aucma Electric Stand Mixer's power cord does not work with the standard outlets because of its wide size.
Additional Specification
Best For: Hands-free Mixing
Voltage: 120 Volts
Capacity: 6.5QT
Rated Frequency: 60Hz
Bowl Material: Stainless steel
What We Liked:
Best for hands-free mixing
Easy to use and no-stress cleaning experience
Offer great bang for the buck
Large mixing bowl for most baking needs
What We Didn't Like:
The power cord does not fit the universal outlet
Durability is not impressive
---
4.

Cuisinart SM-50BC Pizza Dough Stand Mixer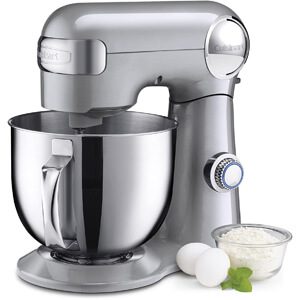 Another spot, another best mixer from a reliable brand – Cuisinart. This model looks appealing and eye-catching. It's built to knead the dough in a couple of minutes, making it a must-have for bakers.
This stunning tool comes with many features and several extra attachments to offer a versatile baking experience. This device is built to make kneading and mixing the dough with other ingredients seamlessly.
With this device, you don't have to knead the dough with your hands for more than an hour. All that's required is putting everything inside the mixer and waiting for a fluffy batter perfect for making your favorite homemade pizza.
Even better, you can use this machine to whisk ingredients to make other dishes.
Verdict
The dough mixer is a game-changer for avid bakers and cooking enthusiasts alike. Its efficient and user-friendly design simplifies the process of creating perfect dough in a matter of minutes. With its various attachments, this versatile device allows you to explore a wide range of baking possibilities.
Not only does the dough mixer save you time and effort by eliminating the laborious task of kneading by hand, but it also ensures consistency in your dough every single time.
What We Liked:
It features an elegant and top-notch design
Quiet mode of operation
Suitable for mixing batter, kneading the dough, and whisking ingredients
Its 12-speed options make it incredibly versatile
What We Didn't Like:
---
5.

Hamilton Beach Electric Stand Mixer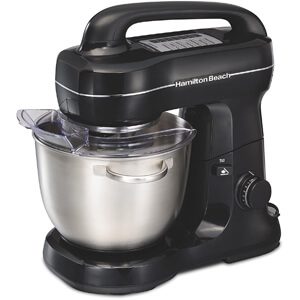 With the Hamilton Beach Electric Stand Mixer, you can enjoy total convenience and minimum stress while you bake. This best pizza dough maker from Hamilton Beach is a top product for many years.
This unit offers better performance compared to two-beater mixers. The Hamilton Beach Electric Stand Mixer sports a tilt-up feature to allow you to change the attachment without any hassle and add ingredients with ease.
This essential tool is equipped with planetary mixing rotates that guarantee an even and complete mixing. If you bake pastries and pizzas at home, then the Hamilton Beach Electric Stand Mixer is a great investment.
What I love;
The Hamilton Beach Electric Stand Mixer is a versatile machine with extra accessories such as a flat beater, whisk, dough hooks, and splash guard. More importantly, you can choose to control the mixing speed to your preference.
Unfortunately, the Hamilton Beach Electric Stand Mixer's durability is not up to par and tends to shake while in use.
Additional Specification
Best For: Any Baking Recipe
Voltage: 110 Volts
Capacity: 4QT
Color: Black with Top Handle
Bowl Material: Stainless steel
What We Liked:
It is easy to use
Versatile mixing experience
Planetary mixing for even and complete mixing
It comes with lots of accessories
What We Didn't Like:
Features some plastic components that might not stand the test of time
This model tends to shake violently and uncontrollably
---
Things to Consider When Shopping for the Best Pizza Dough Mixer
Before heading to your local or online store to purchase a dough mixer, you might want to consider some of these key factors to ensure you make the right investment.
Mixer Features
While most mixers come with some basic, standard features, you need to consider a model that offers some extra, handy features. These unique features are responsible for a better overall user experience.
For instance;
Only a few of these kitchen machines have a bowl guard to ensure the dough stays in the bowl without rolling up or coming out during the entire mixing process.
Furthermore, all pizza dough mixers will come with mixing attachments. However, some models include different accessories for a versatile baking experience. Also, you should consider models with a lift-up function if you intend to use a small third-party bowl with this machine.
With this feature, users can easily adjust the bowl's height to get close to the mixing head.
Size
When it comes to any kitchen appliance, you want to consider the size before making a choice. It's paramount that the capacity of the pizza dough mixer is large enough to mix the amount of dough needed to feed the intended number of people.
For home use, a 5 – 7 Qt pizza dough mixer should be enough. On the other hand, you want to go for models offering a large capacity between 30 – 60 Qt for commercial purposes. Therefore if you need to make large batches of dough, you should consider bigger models and smaller size models for home usage.
Ease of use
The best pizza dough mixer to purchase should be a model that is very, very easy to use and does not require a learning curve. An easy-to-use kitchen appliance saves users a lot of time. With this in mind, you should consider the dough mixer's controls.
Speaking of controls, most pizza dough mixers come with a speed control dial, but a few models feature an emergency button. Also, some models come with wheels for quick and stress-free transportation, especially commercial pizza dough mixers.
Price
Whether you are looking to purchase a used or brand-new pizza dough mixer, the price tag is an important factor that cannot be overlooked. However, you should ensure that the machine comes with the much-needed features worthy of its price. Furthermore, you don't have to settle for a high-end dough mixer if you only require the basic functions.
Keep in mind that products from reputable brands often come with a higher price tag.
Warranty
I often recommend buyers steer clear of products without a decent warranty period. Purchasing a pizza dough mixture can be a huge investment, and the only way to protect this investment is to settle for kitchen appliances with a generous warranty period.
More importantly, you should determine if the manufacturer stands by their warranty policies period. There is no telling when these machines can become faulty and require the manufacturer's help either for repairs or replacement.
---
Pizza Dough Mixer Questions & Answered
---
Can you use a hand mixer to make pizza dough?
Making pizza dough with your hand mixer won't get you far as these appliances lack the required power for this task.

However, if you own a stand mixer with a dough hook, you should get a better result with that. Otherwise, it would be best if you kneaded your dough with your hands. Keep in mind that there are several pizza recipes that do not require kneading the dough.
How long should you mix pizza dough?
You want to mix the dough until it forms a ball. This process should take about 5 mins.
Can you use a jiffy baking mix for pizza dough?
The Jiffy baking mix is suitable for making delicious, restaurant-grade pizza crust effortlessly.
Can you over-mix pizza dough?
The overmixed dough becomes weak and sloppy instead of strong and stretchy. Plus, it'll rip when stretched and won't retain its shape. It's difficult to shape an over-kneaded dough which results in a dense and tough pizza.
Conclusion
With one of the best pizza dough mixers reviewed on this list, you can never go wrong with baking. These essential machines assist you with kneading and mixing your dough and ingredients.
But with dozens of options offered at present, it's easy to get confused and overwhelmed. Thus, we've reviewed the top 5 pizza dough mixers out there and detailed buying guides to ensure you make the right investment.
However, if you're in a rush, then you can settle for our top choice – the KitchenAid KSM8990DP Commercial Pizza Dough Mixer. This appliance is built to make baking pizza easier and more fun.