Suppose you want your kitchen oven to mimic the performance of a wood-fired pizza oven without having to break the bank. In that case, the NerdChef Steel Stone will be a great acquisition.
| Strengths | Weaknesses |
| --- | --- |
| ✔ Easy to maintain | ✘ The edges are a bit sharp |
| ✔ Higher heat conductivity for fast cooking time | |
| ✔ Low-friction surface for excellent food release | |
| ✔ Sturdy steel construction for extreme durability | |
Making a pizza at home with your standard oven might end up being soggy. Without the right tools, it's nearly impossible to bake a great Neapolitan-style pizza using your standard kitchen tools.
And, here's why.
Your regular oven can't reach extreme temperatures above 600 degrees F and probably max out around 500 degrees F. Higher temperatures are essential to creating crunchy, crispy pizza. Thus, you need the best pizza stone – thick and solid enough to absorb and radiate the much-needed heat for excellent results.
But you don't have to go through hundreds of models out there; we already figured out the right one for the job – Nerd Chef Pizza Steel Stone Review.
Nerd Chef Pizza Steel Stone Review & Guide
---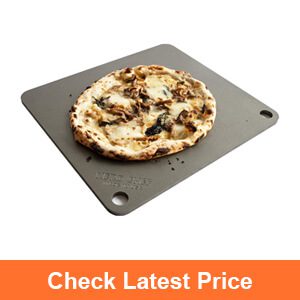 The Nerd Chef Pizza Stone is made of steel with an ultra-smooth surface to help create a crispy crust and well-cooked toppings every time. This model features sturdy steel construction with high heat capacity that delivers incredible heat transfer.
What's more?
It brings the performance of a wood-fired oven in your kitchen oven to go beyond 450 degrees F. This unit is guaranteed to last a lifetime and comes pre-seasoned with flaxseed oil to ensure you are sure right out of the box.
Plus, it features two finger holes to allow you to hang the bakeware in the water and handle the stone effortlessly.
Key Features
Thickness
The NerdChef Steel Stone comes in different thickness options to ensure you get the right product that matches your home oven performance. The thicker versions are heavier and retain more heat for perfect results. However, you shouldn't settle for thicker models; if your home ovens lack a top broiler – why? You want your pizza base and toppings to cook at the same rate. Else, you might come running back with a burnt or soggy pizza.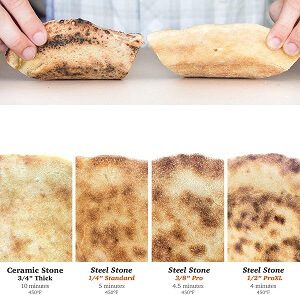 Build Quality
This stone is built with steel, which means you don't expect it to break at an extreme temperature like the ceramic versions. This Thick Pro Baking Stone from Nerd Chef has a bead-blasted and sanded smooth surface to ensure you get a smooth, crunchy, delicious pizza crust.
There's more: it comes pre-seasoned with flaxseed oil, which means you can use this pizza stone straight out of the box.
Design
This pizza stone comes in a rectangular design and is a large size to accommodate any dough size. Also, this shape and size offer more room to handle baking snacks and other products.
Additionally, large pizza steel stones are great for baking several batches of pizza consecutively since you can bake on both sides of the stone. Thus, allowing the unit to reheat properly in between pizzas.
More importantly, steel versions are heavier, which means handling can be difficult. Hence, the manufacturer included two finger-hole designs to make handling convenient. Besides, you can use the holes to hang the steel on a wall; thanks to its elegant black finish, it adds a touch of style and elegance to your kitchen settings.
Performance
The Nerd Chef Pizza Stone has a higher heat capacity and delivers super-fast heat transfer than ceramic pizza stones. Its unique construction allows this unit to bring the performance of a 1000-degree F brick oven to your home kitchen. Hence, this product's faster bake times help create gorgeous pizza crusts.
Our Thoughts and Test Results
The NerdChef Steel Stone is quite heavy, but the two-finger hole design comes in handy when trying to handle this steel. It looks great and has a nice texture. Plus, it feels sturdy, and the steel construction re-affirms that it should last a lifetime.
It has a smooth, textured surface to allow pizza to slide off easily. Easy food release shouldn't be an issue since this product gets really hot. This steel stone bakes faster with golden brown crispier results compared to our ceramic models.
Another reason we love this unit over the ceramic version, it's unbreakable durability. This steel can last a lifetime and won't crack or split at extreme temperatures.
Why Should You Consider
The NerdChef Steel Stone is available in three thickness options, which means there is perfect steel to help you convert your kitchen oven to a wood-fired model.
Not just that, it's more durable than most options out there, especially the ceramic models. Also, it brings an outstanding performance that you might not get with most hyped products. And if you want smart storage, you'll be glad to know this steel comes with two finger holes for hanging and easy handling.
NerdChef Steel Stone vs. Pizzacraft 20″ ThermaBond Pizza Stone
Similarities
Both pizza stones have high heat conductivity for a golden brown crispy result and faster baking time.
They come in a rectangular shape, which offers more room to bake large-size pizzas or several other numbers of pies at once.
These units are durable and won't break or scatter, thanks to their durable construction.
Differences
The NerdChef Steel Stone features steel construction. Thus, it's heavier than the Pizzacraft 20″ ThermaBond Pizza Stone, which is built with 100% all-natural FDA-safe Thermabond material.
The Pizzacraft 20″ ThermaBond Pizza Stone lacks finger holes like the NerdChef Steel Stone, which comes in handy for storage, easy access, and handling.
Conclusion
Baking a restaurant-style pizza at home requires using a stone. This device helps turn your home oven into a brick oven to create crispy results.
However, you don't have to sit through the hypes of several pizza stones out there. The NerdChef Steel Stone is our favorite option. It has been tested and true to live up to its promises. Thanks to its steel construction, this stone delivers high temperatures and lasts a lifetime.