Kalorik is a Belgium-based manufacturer known for its reliable and high-quality home appliances in Europe and worldwide. This brand has been a master creator of innovative appliances since 1930. Hence, it comes as no surprise that you're looking to purchase a pizza oven from this company.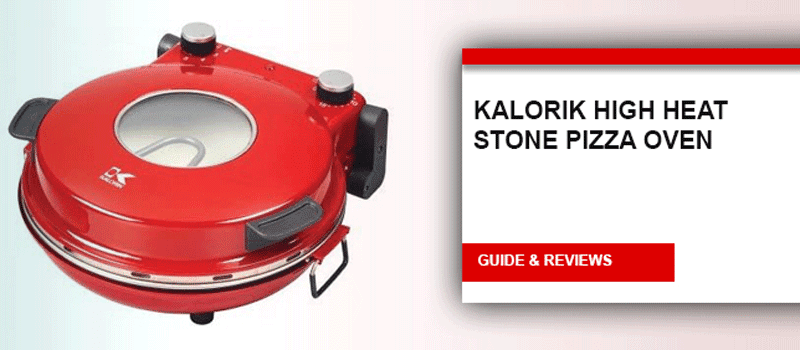 The Kalorik High Heat Stone Pizza Oven is one of the best pizza ovens out there for baking perfect crunchy, crispy pizzas. This unit delivers extreme temperatures up to 680 degrees F to mimic a wood-fired pizza oven's performance perfectly.
But before settling for this product, you might want to check out this detailed review to ensure you are making an informed decision.
Kalorik High Heat Stone Pizza Oven Review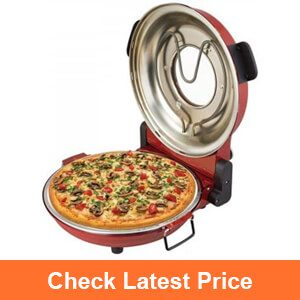 The Kalorik Red High Heat Stone Pizza Oven is an excellent acquisition for anyone looking for a machine to handle fresh, pre-baked or frozen pizzas. This unit comes with a removable pizza stone to absorb heat and radiate the heat to your pizza bake for an even and crisp result.

Furthermore, this model is equipped with a preheating function for fast baking time. In addition, this unit employs lower and upper heating elements to guarantee your pizza topping and crust are properly cooked.
Also, it offers bakers a variable temperature control of up to 625 – 680 degrees F for total control over their cooking performance. What else? It comes with a large see-through window to keep track of the baking process with ease.
Key Features
Size & Design
The Kalorik High Heat Stone Pizza Oven is a compact appliance with a sturdy exterior stainless steel body that assures users of extreme durability. Also, the body has temperature and timer controls for easy usability.
In addition, the manufacturer included a see-through window on the lid to allow you to keep an eye on your pizza. This flip-type pizza oven rocks two heating elements on both sides of the pizza maker. All in all, it measures 14.3 x 13.8 x 6.5 inches and weighs 9.4 pounds.
Power & Capacity
Although the Kalorik High Heat Stone Pizza Oven is a compact pizza maker, this appliance can whip up a 12-inch crunchy pizza. Unlike its competitors, this energy-efficient unit delivers authentic pizza taste and flavour in a fraction of the time.
Ease of Use & Functionality
When it comes to premium pizza makers, you want to check Kalorik High Heat Stone Pizza Oven. This user-friendly kitchen appliance is equipped with two heating plates, each in the base and lid of the machine, to help create an authentic wood-fired pizza in a couple of minutes.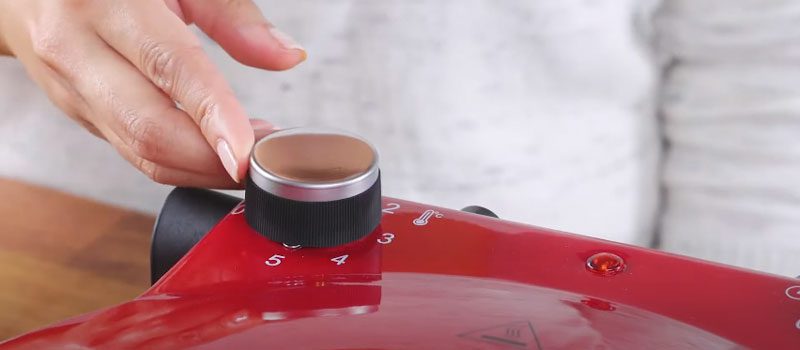 Its dual-sided heating elements guarantee crispy golden-brown pizza crust and properly baked toppings. But that's not all this pizza maker can do; it's also great for making quick meals and snacks such as cinnamon rolls, flatbreads, and many more. In short, this is a handy kitchen gadget with loads of valuable features to make baking a delectable pizza hassle-free.
Our Thoughts and Test Results
The first thing we love about this pizza oven is its compact size. It makes carrying it around a breeze and doesn't take up much space on your kitchen counter. Another thing that makes this appliance a favourite one is its short preheating time.
Kalorik High Heat Stone Pizza Oven heats up pretty fast. Its variable temperature control from 1 – 5 offers optimal control over the entire process. Also, we found the timer settings and a large see-through window essential for a hands-free baking experience.
Why Should You Consider
The most impressive thing about this model is its removable oven stone that allows you to cook your pizza traditionally in your kitchen. If you love to impart that authentic brick oven taste and flavour, the Kalorik Red High Heat Stone Pizza Oven could be your best bet.
With the pizza stone, this appliance comes with a preheating function to ensure this pizza maker can attain extreme temperature use to 630 -680 degrees F. If you need a machine that can get screaming hot to create your snacks in minutes, you won't be going wrong with this product from Kalorik.
Also, if you need an oven to handle frozen, pre-baked, and fresh dough pizza, there you have it – the Kalorik Red High Heat Stone Pizza Oven. Even better, you don't have to wait for a long time to get the machine ready to start cooking.
Additional Specification
Ideal For: Frozen, Pre-baked Pizzas
Dimensions: 14.3 x 13.8 x 6.5 inches
Oven Color: Red
Item Weight: 9.40 lbs
Material: Stainless Steel
Manufacturer: Kalorik
Heating Elements: Upper and Lower
Temperature Control: Up to 625 Degreef-680 Degrees
Strengths:
Suitable for all fresh dough, frozen, or pre-baked pizzas
It's equipped with a preheating function
It features lower and upper heating plates for even and uniform cooking
Stainless steel construction for extreme durability
Energy efficient
Large viewing glass window for easy food monitoring
Weaknesses:
It reaches a high temperature, which means you need to babysit this device
Poor durability
Kalorik High Heat Stone Oven vs Pizzacraft PC0601 Pizza Oven
Similarities
Both pizza ovens blend versatility and convenience to guarantee restaurant-style pizza crust consistently.
They are only capable of making 120-inch pizza.
Kalorik High Heat Stone Oven and Pizzacraft PC0601 Pizza Oven has efficient heat distribution to deliver perfect, crispy, restaurant-style pizza.
They preheat quickly and attain extreme temperatures for great results.
Difference
The Pizzacraft PC0601 Pizza Oven tends to max out at 600 degrees F while the other can go higher up to 680 degrees F.
The Pizzacraft PC0601 Pizza Oven comes with a built-in thermometer to bake your dough precisely.
How do You Clean a Kalorik Pizza stone?
Preheat the oven to 350 degrees F.
Place the pizza stone on the middle rack and bake for 15 minutes.
Remove the pizza stone from the oven and let it cool for 5 minutes.
Use a brush to clean the pizza stone with warm water and soap.
Let the pizza stone dry completely before using it again.
Related FAQs
What size pizza does it make?
The Kalorik High Heat Stone Pizza Oven can accommodate a 12-inch pizza.
What are the dimensions of the Kalorik High Heat Stone Pizza Oven?
The Kalorik High Heat Stone Pizza Oven has dimensions of 14.3 x 13.8 x 6.5 inches.
How do you cook a frozen pizza in a Kalorik pizza oven?
Cooking a frozen pizza in a Kalorik pizza oven is easy and straightforward. First, preheat the oven to 375 degrees Fahrenheit. Once it has reached the desired temperature, place the frozen pizza on the baking tray and insert it into the oven. Cook for 15-20 minutes or until the cheese is melted and lightly browned. Make sure to check on your pizza regularly to ensure that it does not burn.

When finished cooking, remove from the oven carefully using an oven mitt or kitchen towel and let cool for a few minutes before serving. Enjoy!
Summing Up
The Kalorik High Heat Stone Oven is an incredibly hot pizza maker that delivers delectable, restaurant-style pizza in a couple of minutes. It allows you to bake your pizza dough traditionally on a stone to impart that authentic wood-fired flavour and taste. Even better, the best pizza maker from this Belgium-based company is a must-have if you are looking for more convenient ways of making pizza.
And overall, this is a great machine that will always come in handy for baking any type of pizza and snacks; without taking up much space on your counter.