To use a Pizza Screen, remove the oven screen and replace it. You will have to use your pizza peel to insert the pizza screen into the oven. Bake the pizza in the package direction. When the pizza is done baking, remove the pizza screen helping with a pizza peel. And that's all.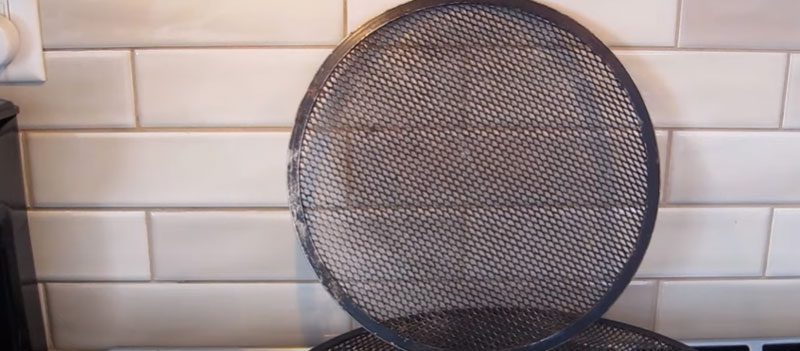 Pizza screens are constructed so that hot air may freely pass from beneath the dough to the edge of the pizza. Therefore, the pie bakes more appropriately than when using other cooking approaches.
Just take a little dive into this article to find out more details about the pizza screen or How to use a Pizza Screen.
What Does a Pizza Screen Do?
A pizza screen is one of the most regularly used items in the world of professional pizza makers. Pizza cooked on a screen has a crispier crust than other standard cooking methods and requires less time in the oven than in different ways.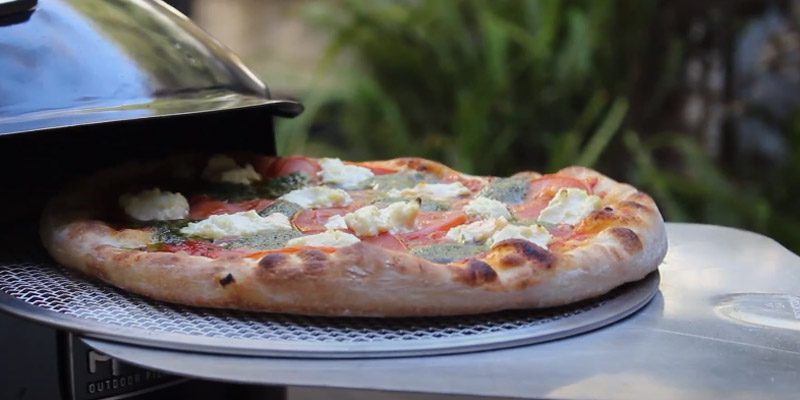 A pizza takes about 30 minutes to make on average. On the other hand, the pizza screen allows you to make pizza in 10 to 20 minutes. In a few minutes, all the cheese completely melts and becomes stretchy.
These holes in the metal plates allow hot air to circulate more effectively, allowing moisture to be drained more quickly and efficiently.
If you're using a pizza screen, you won't have any uneven edges on your pizza. As the pizza screen's seamless rims allow for easy airflow, your pizza will look great as an outcome.
---
Step-by-Step Guide to Handle a Pizza Screen
---
Let's look at properly using a pizza screen to make your pizza taste better like a professional cook.
Choose the proper size for the screen
Initially, you need to select the appropriate screen size for cooking pizza. As there are a variety of pizza screens on the market, it may be tough to find the ideal one for you.
However, keep in mind that the size of the pizza screen will vary depending on the type of oven you intend to use when making the purchase. If you know the dimensions of your oven, you can buy the ideal pizza screen for your needs.
Make your pizza dough properly
Shape enough dough and make neat dough balls of the required weight before beginning the pizza baking procedure. You can create this dough whenever you like, but keep it in a cool area if you don't plan to bake it within 30 minutes after making the dough.
Plastic containers with a bit of flour on the bottom help keep the dough fresh and secure. Meanwhile, keep an eye on the flour's moisture content. If the dough is excessively wet, extra flour should be added. Pizza dough must be soft and malleable enough to be shaped.
Also, it should not attach to the surface through gaps in the screen. Make sure your pizza balls are heavy enough to form a circle of the correct thickness.
Season your pizza screen
To keep the dough from adhering to your pizza screen, make sure you season it first. Wash your pizza screen with soapy hot water before seasoning it. Using a firm brush, scrub the screen well. Once rinsing it with water, gently pat it dry.
Pour ½ tablespoons olive oil (or other organic oil) into a bowl. Apply it using a baking brush to your pizza screen in a uniform layer, ensuring that every corner is covered. It is possible to apply spray oil to it to make it better to handle.
Heat the oven
It is now time to preheat the oven. The oven temperature must be between 350 and 400 degrees Fahrenheit. Let the pizza screen bake for one hour.
Turn off the oven once it's finished. Set the oven to cool down on the inside now. Your pizza screen is now ready for you to place your pizza dough on.
Add a tiny layer of oil to the screen
Though it is optional, a little layer of oil on the bottom of the screen adds moisture and makes adhering impossible. If you do not like adding extra fat to the pie, you can omit this step.
Place the dough on the screen
Place a small circle of pizza dough on each screen with care. If you notice any wrapped edges, gently try to fix them. It is best to place the dough on the surface using the peel. Otherwise, it can be completed manually.
Place the screen back in the oven
It's time to make your pizza's toppings. Begin by stuffing the crust with pizza sauce and a pinch of oregano for extra taste. Place the pizza screen in the oven once more, this time with the help of a pizza peel.
Place the pizza in the oven and bake it. When cooked correctly, lift the pizza screen with the peel.
---
How to Clean a Pizza Screen? – 2 Methods
---
Pizza screens are convenient to use, but cleaning them is a hassle. So, to make your chore easier, I've listed two simple procedures for cleaning a pizza screen in the following.
Method 1: Utilize hot, soapy water
To begin, boil 2-3 cups of water for 8 minutes. Use three drops of liquid dish soap every gallon of hot water for the most excellent results. Submerge the pizza screen and a stiff brush in hot soapy water to clean them thoroughly.
Scrub the screen gently with the brush to remove any dirt. This should aid in the removal of the screen's hard, scorched dough crust.
Method 2: Burn the Pizza Screen in the Oven
You can get rid of the stains by burning your pizza screen. Surprisingly, experts recommend this method. Because scrubbing and applying detergent to the screen can destroy the metal screen, it's preferable to avoid it.
Moreover, doing so may make removing the pizza from the screen more difficult later. It can be tough to get your pizza dough off your pizza pan, just as it can be difficult to get it off your pizza pan. Therefore, cleaning the pizza screen with heat will be easy.
For this procedure, set the oven temperature to 375 degrees Fahrenheit. Allow for twenty minutes. Finally, remove it from the oven. Use a wooden spoon or spatula to separate the dough bits from the scorched filling.
---
Related FAQs
---
Is the pizza screen worth it?
Yes, a pizza screen is worth it because it will aid you in getting an excellent, well-cooked pizza. Pizza screens can also keep premade pizza skins until they are utilized.
However, the skins must be cooled so that they do not leak into the screen's gaps and become permanently adhered to it. Lowering the dough's moisture content is also good to avoid sticking.
Metal pizza screens are best to use because they help to eliminate the need for cleaning hassles. Also, it's long-lasting and dishwasher-safe.
Can I use parchment paper on a pizza screen?
Parchment paper can be used on a pizza screen. Because not everyone wants a super-crispy crust, parchment is an excellent technique to tweak the crispiness without sacrificing the crust's overall quality.
Can you use a pizza screen on a pizza stone?
It is not recommended to use pizza screens and stones simultaneously. It can make things harder, and it could even make your pizza get stale. When making pizza at home, using a pizza stone or a pizza screen is effective.
Why does my pizza keep sticking to the pizza screen?
A pizza may stick to the screen if it has a thin middle and sauce seeps into the dough. Also, if it contains many moisture-rich toppings such as veggies in the core, or if it has a small hole in the center covered by sauce and cheese.
Is a pizza screen better than a pizza pan?
Crusty pizzas prepared in a convection oven benefit greatly from pizza screens, which optimize heat distribution and air circulation to the baking area. Additionally, pizza screens instead of pans are preferable for achieving a crispier crust.
Final Verdict
You can easily cook many pizzas in a short period using pizza screens. Even if you have a large outdoor wood or propane-powered oven, you can use these. Screens are easy to wash, and you can reuse them many times with good maintenance.
All-aluminum screens are the way to go for crisp, dry-crust pizza. They're also considerably easier for newbies who don't have enough experience with peels. Now you know more things about how to use a pizza screen? I hope you make the best pizza next time by using the pizza screen ideas in this article.