Nowadays, almost everyone is interested in making their favorite pizza at home. And the reasons are not far-fetched – a good slice of pizza can inspire, comfort, and unite. In fact, only a few things do it better. Plus, only a handful of food items can reduce such high-spirited discussion and debate about what should make up a good pizza.
Although purists tend to make a fuss, there are dozens of ways to make your pizza that suit your lifestyle or taste. Making one at home from scratch can be fun and might result in a truly sumptuous meal. After you have fully grasped how to make your favorite pizza at home, you might never want to go back to ordering from your then-favorite pizzeria. Luckily, many cookbooks are offering a step-by-step guide to making a crispy, gourmet pizza.
These cookbooks come in handy regardless of whether you're just getting started or already an old hand at making these delectable dishes. The ideas and recipes make a significant difference, making cookbooks relevant if you want to add pizza to your diet as vegan or gluten-free.
Without further ado, let's check out the best pizza cookbooks for more inspiration and new directions on making different pizza bases or cooking your favorite one.
Top 3 Best Pizza Cookbooks
What are the Benefits of Using a Pizza Cookbook?
Using a pizza cookbook can provide several benefits for both amateur and experienced cooks.
Firstly, a pizza cookbook can serve as a comprehensive guide, offering a wide range of recipes that cater to different tastes and dietary preferences. Whether you prefer classic Margherita or adventurous toppings like barbecue chicken or vegetarian options, a pizza cookbook can provide you with endless inspiration and ideas.
Additionally, a pizza cookbook can help improve your culinary skills by providing detailed instructions on dough preparation, sauce making, and baking techniques. This can be particularly helpful for those who are new to making homemade pizzas or want to elevate their skills to create restaurant-quality pizzas at home.
By following the step-by-step instructions provided in the cookbook, you can learn the art of creating perfectly crispy crusts, flavorful sauces, and well-balanced toppings.
Overall, using a pizza cookbook not only allows you to explore various flavors and combinations but also helps you develop your cooking abilities. It's an invaluable resource for anyone looking to expand their culinary repertoire and master the art of making delicious pizzas from scratch.
---
Pizza Cookbooks for Beginners Review
---
If you are just starting out, you need a well-detailed, easy-to-follow guide. It makes it easier to create the perfect pizza without any hassle. Here are the best pizza cookbooks for newbies:
1.

Flour Water Salt Yeast: A Pizza Cookbook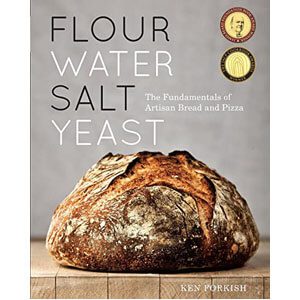 As a beginner, this book explicitly walks you through the basics of Artisan bread and pizza. The Flour Water Salt Yeast was written by a beloved Portland baker named Ken Forkish. This author has several New York Times best-selling cookbooks.
With this cookbook, the writer's intention to proffer an array of schedules and world-class bread and pizzas that work well with home bakers is so evident. The acclaimed baker shared the folkish-developed pizza recipes with clear instructions and a fail-proof formula to help beginners make a chef-like pizza and bread using their home oven.
The Flour Water Salt Yeast: A Pizza Cookbook is perfect for both serious bakers and total beginners. It includes recipes that resonate perfectly with anyone's time constraints and skill level. This step-by-step guide by Forkish is a go-to if you're looking to take your baking and skill to a higher level.
This New York Times Best Selling cookbook isn't just a collection of pizza and bread recipes – it's a guide to complete baking mastery via an explicit explanation of techniques and tools to create amazing artisan bread. Pizza enthusiasts can explore a wide range of sauces and dough on a cast-iron skillet or pizza stone to create the perfect pie.
Key features
Ideal for novice
A guide on baker's percentages
Demystifies the levain-making process
Combines bread baking schedules with lifestyle
---
2.

STARTER SOURDOUGH by Mark Sell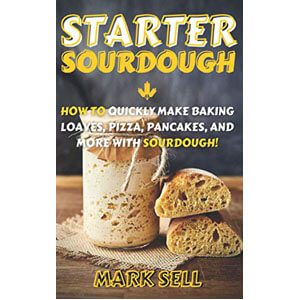 If you have a hard time with the start-up process, then this cookbook by Mark Sell might be your best bet. Starter Sourdough simplifies the preparation process of creating pizza, baguettes, biscuits, cakes, pancakes, sandwiches, and baking loaves in the comfort of your home.
Its simplified process is accessible to anyone regardless of your experience and ensures you make a perfect Italian sourdough. This cookbook offers a smart start and lets you in on the secret to creating a world-class Sourdough bread using only the basic recipe – water and flour.
Its recipes are easy and quick to grasp, even for a total beginner. Starter Sourdough provides readers with a wide range of creative variations, from cakes to wholemeal bread, biscuits, and pizza dough. Plus, it helps add a unique touch to your baked food items.
More so, it helps understand the 'hows' and 'whys' of pizza cooking to get started right away. Even for the pickiest eaters, this cookbook has a recipe and flavors for everyone. With its ultimate easy-to-follow guide, making a restaurant-grade pizza at home should come naturally.
Key Features:
Wide range of recipes
Ideal for beginners
Perfect for making an Italian Sourdough
Uses only basic recipes
Impressive creative variations
---
3.

Perfect Pan Pizza Beginners Cookbook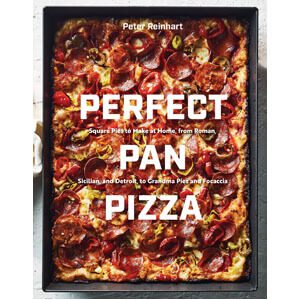 The Perfect Pan Pizza Beginners Cookbook is another book from a legend to help create everyone's favorite version of the doughy, crispy pizza at home without using specialized equipment such as pizza peels and stones. Peter Reinhardt's cookbook starts with a brief introduction to sourdough starts and easy recipes for three master doughs.
The Perfect Pan Pizza beginners cookbook demystifies the preparation process of a plethora of pan pizza styles, including Roman and Sicilian styles, focaccia and schismatic, and Detroit deep-pan pizza styles using photographs to illustrate each step. This way, even beginners can make restaurant-level pan pizza without any hassle.
The bread legend also unriddles classic toppings such as mushrooms and pepperoni, including an amazing array of delicious recipes like the blue cheese, Bacon and Egg with Tomato and Arugula Pizza; sandwich-spirited Philly-style Roast Pork and Broccoli Rabe; Reuben pizza; Baby Kale, Rosemary Garlic Potato, and Prosciutto Pizza Al Taglio; and Walnut Focaccia and Balsamic Onion Marmalade.
In our opinion, this piece resonates perfectly with both new home pan pizza makers and seasoned pro bread bakers, thanks to its informational, easy-to-follow structure for a novice, plenty of unique ideas, and inspiring and permissive tone to make it baking an excitement.
Key Features:
Simple-to-follow and methodical techniques
Educational and inspiration to cooking and baking enthusiasts of any level
Dozens of unique recipes
No need for special equipment such as pizza peels and stones
---
Italian Pizza Cookbooks Review
---
Almost everyone loves a slice of Italian pizza. For me, it's the authentic taste and flavor it offers. Making one at home doesn't have to spell trouble. While finding a book covering Italy's broad food history might seem impossible, we've handpicked the top three best Italian pizza cookbooks to help create an enjoyable Italian pizza.
1.

The Italian Baker, Revised: The Classic Tastes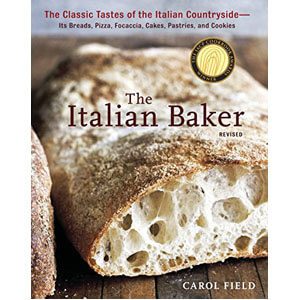 If you need a comprehensive, easy-to-understand cookbook on an Italian pizza, then The Italian Baker, Revised: The Classic Tastes of the Italian Countryside might just be what you are looking for. This book is available in Italian and English. It covers the gamut of Italian baking from pastries to breadsticks and cornetti.
This edition features 4-color photography, plus new equipment, ingredients, and recipes for new-generation home bakers. This cookbook by Carol Field discusses the techniques adopted by Italian bakers in simpler terms. This author spent over two years understanding the local and regional specialties across Italy, as every hill and city in this country is associated with its special baking traditions.
It's a perfect cookbook revealing the country's authentic recipes to wow any true Italian pizza enthusiast. Readers can easily make A1 Altamura bread from Puglia, Sicilian loaves topped with sesame seeds, simple bread studded with toasted walnuts, chewy porous loaves from Como, succulent fig bread, and rosemary bread sprinkled with coarse sea salt, dark ryes from the north.
Key Features
A golden collection of traditional Italian baked goods
Four-color photography for easy understanding
Offers a new perspective on the baking world
---
2.

Italian Cookbook of Famous Pizza Restaurant Recipes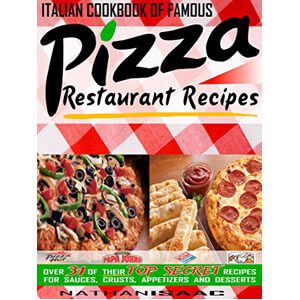 The Italian Cookbook of Famous Pizza Restaurant Recipes is a decent choice for anyone looking to recreate restaurant-style Italian pizza. This best Italian pizza cookbook is written by Nathan Isaac.
This chef and author are known for his passion for collecting the best classic food recipes and trying out great food worldwide. He is constantly creating new recipes using the classics as his basis. The Italian Cookbook of Famous Pizza Restaurant Recipes offers a modern touch to these classic dishes for an irresistible meal.
What we love about this cookbook is its ability to mimic the same special flavors of restaurant dishes. Plus, the book comes well structured, with each chapter discussing different types of restaurant-grade recipes.
Italian Cookbook of Famous Pizza Restaurant Recipes breaks down these tedious dishes into step-by-step instructions. In addition, it has full-color pictures and a complete ingredients list to ensure cooks of any level can easily and quickly make traditional Italian food.
Key features:
Detailed instructions
Complete ingredient lists
Full-color pictures
---
3.

Italian Cookbook: Famous Italian Recipes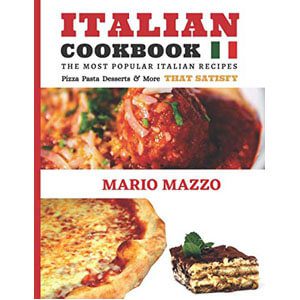 Want to recreate great restaurant-like Italian food? This book by Mario Mazzo reveals baking secrets for 27 great Italian recipes. The Italian Cookbook: Famous Italian Recipes That Satisfy helps you cook like an Italian chef in no time.
This book contains recipes for your favorite pizza, rainbow cookies, tiramisu, and chicken parmesan, including other foods and desserts. Additionally, the first half has bonus content: pizza stories and tips on how to create the best, mouth-licking, restaurant-style food ever.
The author boasts a perfect list of famous Italian recipes to inspire and educate both seasoned chefs and beginners. However, we would have preferred if the cook included pictures for easy understanding. Nonetheless, step-by-step pictorial processes are provided on the author's website.
On top of that, it introduces how to create three types of pizza: Sicilian pizza, Chicago deep-dish pizza, and calzone. And yes, it comes with a wide variety of pizza sauce recipes to ensure a perfect delightful dish.
If you want to create your parmesan dishes, lasagna, alfredo noodles, meatballs, and desserts, then the Italian Cookbook: Famous Italian Recipes That Satisfy by Mario Mazzo is a decent choice.
Key feature:
Dozens of recipes from pizza to desserts
Super easy direction
Italian-American Classic recipes
Available in E-Book
---
Pizza Oven Cookbooks Review
---
Regardless of whether tools you intend to use, the first step is finding good directions and recipes. Woodfire cooking is an easy task and a bit tricky. Thus, it would be best if you had a cookbook to make the cooking process a lot easier and increase your chances of getting it right. So, check out our top three best pizza oven cookbooks.
1.

Wood-Fired Oven Cookbook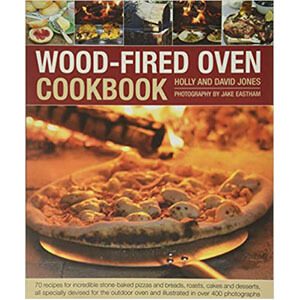 This cookbook is a bit different from most cookbooks reviewed in this guide. The authors, Holly and David Jones introduced several recipes alongside pizza baking recipes, which allows readers to get the most out of their wood-fired oven.
With this book, you get to try out up to 70 recipes for pizzas, bread, roasts, cakes, and desserts in your wood-fired oven. It contains a lot of recipes particularly devised to make outdoor oven cooking fun, easy, and memorable. Unlike some cookbooks, the Wood-Fired Oven Cookbook illustrates using enough pictures for newbies and pro chefs to get the point across easily. Plus, the pictorial illustrations make cooking more interesting.
Even better, the authors provided detailed information on the best place to situate your wood-fired oven for people looking to build their first tool in their homes. More so, the Wood-Fired Oven Cookbook features detailed guidelines on how to light the oven and even season the oven.
By now, you should have figured out that this book is more than just a collection of awesome-tasting pizza and baking ideas but a chance to know everything about wood-fired ovens. In our experience, this book can provide you with the motivation needed to set up your outdoor oven and start hosting weekend cookouts with friends and family.
Also, you get a lot of great-tasking pizza and baking recipes to try out with your new or exciting wood-fired ovens.
Key features:
More than 70 recipes
Over 400 photo illustrations
Tips and tricks on how to use a wood-fired oven
Guidelines on how to set a wood-fired oven
---
2.

From the Wood-Fired Oven Cookbook by Richard Miscovich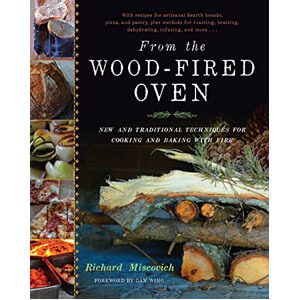 In the past two decades, there has been a dramatic increase in interest in wood-fired ovens. However, most books tend to mainly discuss how to bake pizza or bread using this oven. Fortunately, From the Wood-Fired Oven Cookbook by Richard Miscovich offers a lot of techniques for artisan and home bakers, from making pizza and baking bread to ensuring you get the most out of the wood-fired oven, from drying wood for another session to roasting.
This book introduces traditional techniques with simple, detailed instructions to inspire novices to take their baking skills to the next level. The author, Richard Miscovich, helps readers achieve optimal heat utilization. It offers an extensive collection of delicious recipes for a variety of bread.
The Wood-Fired Oven Cookbook has step-by-step instructions on making pizza; roasting meats and fish; frying, braising, steaming, and grilling; clarifying butter and rendering animal fats; infusing oils, and food dehydration; and several other ways of using the residual heat of your oven.
Key Features
The basic principle of a wood-fired oven
Helpful tips and advice on how to get the best out of your oven
New and traditional baking and cooking techniques
Discuss how to regain the lost wisdom and fellowship associated with outdoor cooking
---
3.

The Complete Kiwi Pizza Oven Cookbook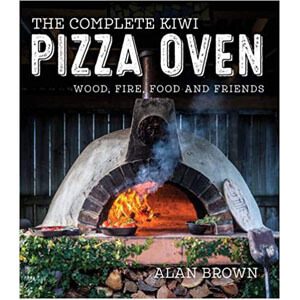 If you want to use your pizza oven for more than just making bread, pizzas, and slabs of meat, this book by Alan Brown is the way to go. The Complete Kiwi Pizza Oven Cookbook reveals other foods you can cook with your pizza oven, from brioche butter pudding to meringues and apple tarts.
His aim, which was evident in his book, was to prove that pizza ovens can do more than just cook meat, bread, and pizza. This 285-page book contains lots of recipes to validate his point. Some recipes were developed by him, along with others passed down for generations.
The author's life revolves around culinary experiences, which extend to his cooking techniques – sourdough bread-making, cheese-making, sausage-making, hot and cold smoking, distilling, and producing wines.
Key features:
Detailed instruction
More cooking options and recipes
Easy, convenient cooking techniques
---
Pizza Cookbook Questions & Answers
---
How Many Recipes Are In the Average Pizza Cookbook?
The average pizza cookbook should contain at least 20 recipes to have enough options to explore.
Must a Pizza Cookbook Come with Photo Illustrations?
It's much easier to understand and follow when a pizza cookbook has several photo illustrations, especially for novice home bakers.
Are Recipes on Blogs Or Websites the Same as Those In a Pizza Cookbook?
Pizza cookbooks offer detailed information and more recipes compared to blogs. Besides, there are several techniques for cooking a particular recipe, which might easily leave you confused. You might want to stick with pizza cookbooks, which are designed to walk you through the baking process step by step.
Conclusion
If you need a good pizza cookbook to start with, you can't go wrong purchasing the Flour Water Salt Yeast A Pizza Cookbook. This book has everything to make your new journey a fun-filled one with excellent results. It has different pizza recipes a couple of dough recipes and useful information on the best pizza-making practices.
The dough recipes and their detailed illustration are the reason why the cookbook is our top recommendation. Most cookbooks do not pay enough attention to creating different types of dough. Nonetheless, we are confident that whichever option you go for among our top picks for best pizza cookbooks will improve your baking skills and help you create a world-class pizza.