The gluten-free pizzas are the real deal with a perfect crust that feels, looks, and tastes incredibly great. This pizza style does not include any strange ingredients or require a complicated procedure to achieve mind-blowing results.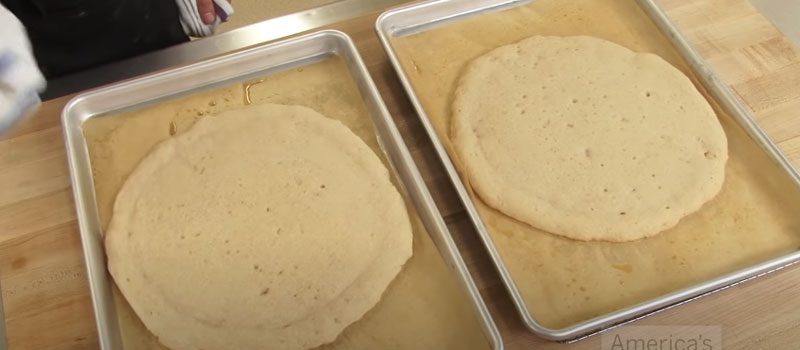 For people with gluten intolerance who still want to enjoy a real pizza, gluten-free pizza is your best bet. There are recipes out there with a pizza crust that does not contain milk, egg, or cauliflower.
So, read on to find out more about the best gluten-free pizza base recipe.
Three Ingredient Gluten-Free Pizza Base Recipe
If you want your pizza base to taste great, you need three main ingredients, and it will only take less than 15 minutes before adding the toppings. With this recipe, you get a crispy, lovely crust and a freshly-baked bread taste. This recipe is dairy-free, vegan, GF, and low FODMAP as well.
Ingredients list for a gluten-free pizza recipe
260g plain coconut yogurt (however, any plain yogurt would work, including greek yogurt)
250g gluten-free self-raising flour
¼ tsp xanthan gum (if your flour contains this ingredient, then you can omit it.
Other optional ingredients include:
½ tsp salt
½ tsp gluten-free baking powder
Pizza toppings
Fresh basil
Garlic infused oil
Pepper and salt
Oregano
Passata
Cheese ( vegan, dairy-free, regular, or lactose-free)
Any of your favorite toppings.
It's also best to explore and allow your imagination to run wild.
How To Make Gluten-Free Pizza Dough
Step 1 – preheat the oven to 200 degrees F and turn off the appliance once it gets to 100 degrees F.
Step 2 – mix the instant yeast, all-purpose gluten-free flour, salt, and gluten-free baking powder in a bowl. Stir properly for an even mix.
Step 3 – Heat a large glass of water to 110 – 115 degrees F for about 45 seconds. It's important to have warm water in that temperature range, as hot water kills the yeast. Therefore, check the water's temperature with a thermometer.
Step 4 – for a vegan option, add pure maple syrup instead of honey to the water and stir until it's dissolved.
Step 5 – pour the honey and warm water mixture into the large bowl containing the gluten-free flour mixture and mix using a mixer on low settings.
Step 6 – add the apple cider vinegar and olive oil into the dough mixture and mix for about 2 minutes on low speed for a sticky dough.
Step 7 – Place the sticky pizza dough in an oven-safe bowl (greased with olive oil) and cover it with a towel before placing it in a warm oven for about half an hour to rise.
Step 8 – take out the dough and preheat the oven to 425 degrees F.
---
Gluten-Free Pizza Base Recipe FAQs
---
Can I use gluten-free plain flour instead of gluten-free self-raising flour?
If you want to use gluten-free plain flour, then it's compulsory to use xanthan gum and baking powder. The self-raising flour usually contains traces of baking powder and xanthan gum, unlike the gluten-free plain flour.
Can I reheat the pizza base in the microwave?
Although it is not recommended, you can reheat them. Keep in mind that they won't be as crisper as freshly-baked pizza but still maintain their incredible softness and flexibility. However, it's best to reheat it in an oven instead.
Conclusions
In conclusion, this gluten-free pizza base recipe is a simple, healthy, and affordable alternative to the store-bought dough. You can leave out the cheese or top it with your favorite toppings to make it just the way you like it.
Gluten-free pizza bases are inexpensive and easy to prepare, making them a desirable choice for those who are trying to eat healthier. Top with your favorite veggies for a fresh pizza taste!