If you own a kamado grill, then you already have the best ceramic grill out there. These machines are a go-to for their hassle-free use of temperature controls and ability to reach 750°F., making them perfect for cooking a wide range of foods.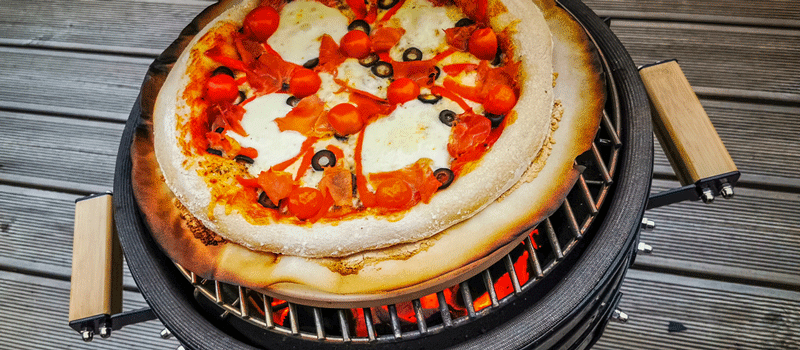 For those looking to make superior Napoleon pizzas with their kamado grill, then you need a stone to guarantee a crispy, crunchy result. However, there are hundreds of options out there touted to be the right option for you.
In this guide, we'll consider the best pizza stones for kamado grills on the market.
Top 5 Pizza Stones for Kamado Grills
---
Pizza Stones for Kamado Grills Reviews
---
1.

Kamado Joe KJ-PS23 Ceramic Pizza Stone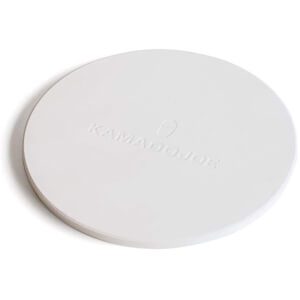 The Kamado Joe KJ-PS23 Ceramic Pizza Stone is an excellent choice for making authentic wood-fired pizzas. This product is a high-impact ceramic stone to deliver even heat distribution and absorbs excess moisture from your dough base for a crispy crust.
As said earlier, this stone is crafted from top-quality ceramic material. It features a unique design to ensure it works with any cooking style or surface. The Kamado Joe KJ-PS23 Ceramic Pizza Stone warms up quickly for a fantastic outdoor grilling and baking session.
This unit helps make pizzeria-quality pizzas with a decently crisp crust in less than 10 minutes. However, cooking at 525 degrees might cause a charred base. Hence, it's best to keep the temperature around 450 degrees for perfect results.
Also, you might want to use parchment paper to eliminate the need to sprinkle cornmeal and for a convenient cleaning experience.
Verdict
The Kamado Joe KJ-PS23 is a great pizza stone for outdoor use, offering an affordable price tag and decent quality. It receives positive reviews regarding its durability and ability to offer perfect pizzas for outdoor barbecues or entertaining.
Strengths:
Produce mouthwatering restaurant-quality pizzas
High-impact ceramic construction
Available in 15 and 20 inches
Excellent heat distribution
Weaknesses:
---
2.

Kamado Joe KJ-DJ DōJoe Classic for Grill
If you own a Kamado Joe Classic I, II or III, your best bet is the Kamado Joe KJ-DJ DōJoe Classic for Grill. This stone features a wedge design to allow you to maintain a steady temperature from 400 – 700 degrees F without any hassle.
The Kamado Joe KJ-DJ DōJoe Classic for Grill transforms any Kamado grill into an outdoor conventional pizza oven. This stone is a perfect choice for both seasoned chefs and beginners alike. It offers exclusive support for the Kamado Joe Heat to guarantee a convenient cooking experience.
What's more?
This ceramic stone, coupled with deflections, offers uniform heat distribution and excellent moisture absorption for a consistent crispy result.
Verdict
This stone is great for people who love cooking on the grill. It can be used to cook delicious pizzas, fish and more. It is made from quality materials that are durable and resistant to wear and tear. This stone also features a versatile design that makes it easy to use.
Strengths:
Works well with Kamado Joe Classic I, II, and III
Special design for constant temperature
Available in two size options – 18 inches and 24 inches
Wide temperature range: 400°F to 700°F
Weaknesses:
Heat retention could be better
---
3.

Unicook 17″ Pizza Stone For Kamado Grill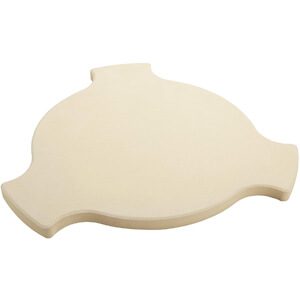 Another decent pizza stone worth considering is the 17-inch model from Unicook. The first thing that will catch your attention is the design. This model is made of Cordierite for excellent thermal shock resistance, unrivalled heat retention and superior strength.
The Unicook 17″ Pizza Stone For Kamado Grill is compatible with AKORN Kamado Grill, Char-Griller 6201, and Large Big Green Egg. This unit is built to transform your kamado grill into an outdoor convection oven.
In addition, this stone is great for low 'n' slow-smoking chicken, ribs, or roasts, and baking pizzas. Although a drip pan was not included, it's advised to use the stone to catch drippings and ensure a mess-free cooking experience.
Verdict
This pizza stone is high-quality with a large surface. It s durable, sturdy, and is a great value for the price. It s ideal for outdoor cooking enthusiasts who want to make the most of their kamado grill.
Strengths:
Durable cordierite construction
Excellent heat retention
Easy to clean
It improves airflow to prevent charring and burning
Weaknesses:
---
4.

BBQ Future Pizza Stone for 18″ Kamado Grill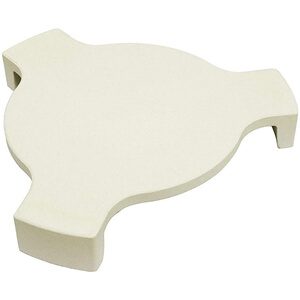 Next on the list is the BBQ Future Pizza Stone for 18″ Kamado Grill. This ceramic model promotes uniform heat distribution and absorbs moisture from the dough for a crunchy, crispy result.
Unlike other options out there, this stone's surface does not turn black. Thus, making it effortless to clean after baking your pizza. Plus, it works well with a host of cooking machines, including Char Grill, Big Green Egg Grill, etc.
In addition, it offers an 18-inch cooking surface to allow you to cook bread, biscuits, pizzas, and even a whole chicken. With a 0.71-inch thickness and being made of cordierite material, this stone promotes optimal heat retention.
On top of that, this model features a 3-edged vertical extension to prevent the dough from sliding off your grill's grate. Thanks to its versatile design, you can use this stone as a gap creator to keep your food from the intense heat.
Verdict
If you want to add pizzas and other food items to your grilling menu, this stone is one of the best options out there. It comes with a low price tag and does not disappoint in terms of heat retention. This is a versatile option for cooks who like to experiment with new recipes.
Strengths:
Made of ceramic
Large 18-inch cooking surface
Ergonomic design for a versatile cooking experience
Compatible with a wide range of food safety
Weaknesses:
---
5.

Hisencn 18″ Cast Iron Plate For Kamado Grill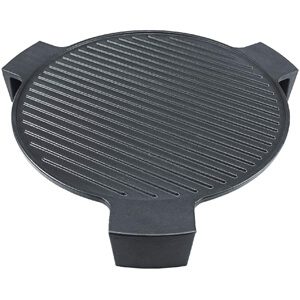 This kamado grill features a three-leg design and is made of high-density cast iron for exceptional durability. Also, it delivers better stability and bearing capacity. More so, this plate features a grooved surface design to trap the fat for enhanced flavour.
Furthermore, the grooved surface design leaves beautiful grill marks on your food. Furthermore, it delivers even heat distribution across the plate's surface and fosters your food's natural flavour. The Hisencn 18″ Cast Iron Plate For Kamado Grill works well for indirect cooking or as a cooking surface.
All in all, it's suitable for baking, low 'n' slow smoking chickens, roasts, briskets, or ribs, cooking bread, pizzas, and even cookies.
Verdict
The Hisencn 18 Cast Iron Plate For Kamado Grill is a must-have for your barbecue. The grill plate makes grilling delicious food easy and fun. It is made of solid cast iron that lasts longer. Also, it is durable and retains heat well.
Strengths:
The cooking surface features a grooved design
Made of durable, high-density cast iron
Even heat distribution
Easy to clean
Weaknesses:
It might not fit your grill
---
What Need To Know When Buying Pizza Stone For Kamado Grill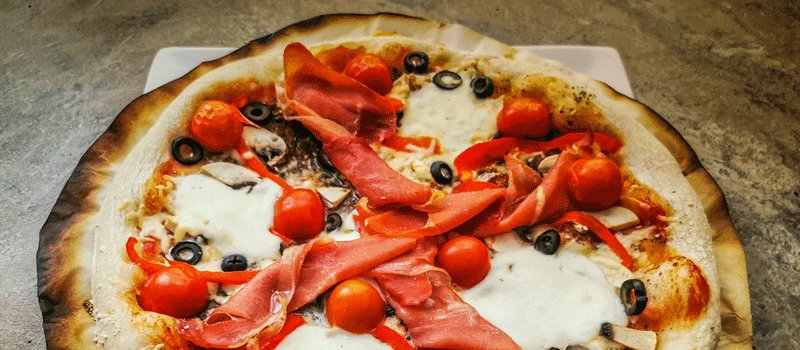 Material
Different types of stones are used to make a pizza stone, such as clay, Cordierite, and ceramic. However, some manufacturers use cast iron and steel instead to alter the stone's cooking performance.
For example, clay pizza stones need to be preheated before use to prevent cracking, while cordierite counterparts have excellent thermal shock resistance that makes them suitable for transforming a regular oven into a high-performing pizza oven.
In addition, these materials can alter the taste and quality of your food. Some models come pre-seasoned to allow you to use them straight out of the box and guarantee, a wood-fired authentic pizzeria-style taste.
Also, not all types of stones are easy to clean. Most pizza stones are not dishwasher safe or washed with soap and water for a fuss-free cleaning experience. On the contrary, cast iron and steel pizza stone can be cleaned with mild soap and water, making the cleaning process a cinch.
Dimension and shape
Similarly, there are different shapes and sizes of pizza stones available. The shape and size do not play any role in the overall performance of the stone. However, choosing the wrong shape and size can lead to ruined pizza and effort.
In terms of shape, there are three main options – round, rectangular, and square. The right shape for you boils down to whatever will fit in your oven or on your grill without any fuss.
Heat resistance
The best pizza stone should be able to handle high temperatures from 700 – 2,000 degrees F. When it comes to stones with a wide temperature range; you want to stick with Cordierite. This material is the perfect choice for anyone looking to use a pizza stone on their grill.
Finish
By now, you should've figured out that not all pizza stones are available with a finished surface. Some products do not come with a glazed surface. Unfinished models can be challenging to clean since their surface becomes more porous over time.
The glaze prevents the stone from absorbing the oil from your pie for a hassle-free cleaning experience. Basically, the glaze finish keeps the stone surface less porous for a convenient wash with dish soap.
Weight
The size and kind of stone will influence the weight of the product. However, the weight does not affect the overall performance of the product. Thus, it's up to you to decide if you want a light or heavy pizza stone for your grill.
Warranty
Pizza stones are built with the intent to last for many years. Sadly, these products run into design errors and other issues, causing the product to crack. Thus, you want a stick with a product backed by a decent warranty to protect you from any manufacturer defects.
Even better, you might want to opt for products with a 30-day money-back guarantee which allows you to try the stone and determine if it lives up to the hype.
Conclusion
After extensively researching hundreds of products, we've carefully handpicked the top 5 best pizza stones for the kamado grill. Now, it's up to you to make a choice depending on your needs and preference.
But if you're still on the fence, you can go for the Kamado Joe KJ-PS23 Ceramic Pizza Stone. It has a wide temperature range and is made of high-impact ceramic to deliver outstanding cooking performance.