It's important that your delivery service is up to par with the customer's dining experience at your pizzeria. You want your customers to enjoy their sumptuous, great-tasting pizzas, regardless of where they are – at home or your restaurant.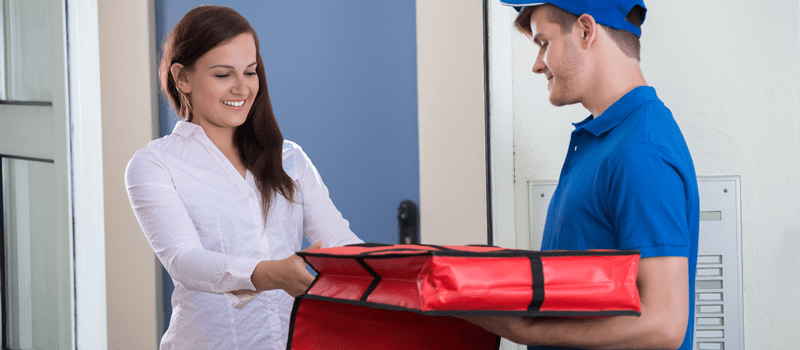 One of the right tools to protect food quality during delivery is the insulated pizza delivery bag. However, it's tricky to choose the right one since they are not all created equal. Plus, the plethora of options out there can make the decision process overwhelming.
Hence, we've expertly handpicked the top 6 best pizza delivery bags and included a comprehensive guide to ensure you make an informed decision.
Top 6 Pizza Delivery Bags
Use of a Pizza Delivery Bag
Perfectly baked goods from your kitchen can turn out bad without the right tools before reaching your customers. The distance from your pizzeria to your customers is long enough for the food to get cold or get shuffled around in the containers.
The food delivery bags help deliver your foods at the right serving temperature – cold or hot. These tools protect your pizza from external factors, including water. Even better, it makes transporting these orders from your pizzeria to your customer a breeze.
It offers incredible versatility to any commercial catering, delivery, or food service operation. These bags are great for a wide range of applications from carrying wings to subs, wraps, strombolis, mozzarella sticks, pizza, or french fries side orders.
The best food delivery bag should feature a soft-sided cooler to allow you to transport bottles, sub sandwiches, takeout containers, cans, etc.
What Need To Know When Buy a Pizza Delivery Bag
Choosing the right bag to handle your deliveries can be challenging, considering the number of options out there. However, it's crucial to pick the best product for the food service operation.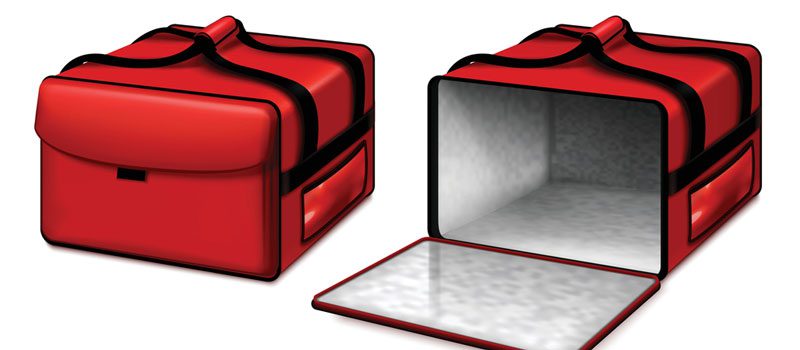 Insulated bags help keep the orders warm and protected from external factors such as rain. They are perfect for delivering beverages, pizzas, pies, ribs, wings, etc.
Without further ado, let's check out the key factors that should influence your decision:
Exterior Construction
These bags are made of either nylon or vinyl. The latter is a non-breathable material that traps moisture inside the bag. Hence, it tends to ruin packed food.
On the other hand, nylon offers impressive breathability, allowing moisture to escape for safer storage space. So, it's recommended to stick with nylon bags, especially if you're not budgeted and have to make long deliveries.
Interior Designs
Similarly, the delivery bag's interior is available in either PVC or nylon. We prefer the nylon interior for its reliable breathability and water-resistant attribute. These characteristics are essential to preserving the pizza crunch crust and keeping harmful bacteria at bay.
While PVC breathability performance is not up to par with the nylon material, it's incredibly easier to clean and maintain. This material is leak-proof and won't absorb moisture.
In short, you might consider the PVC lining for proximal deliveries. But for rich-quality foods and long-distance delivery, you should stick with nylon material.
Type of Configurations
Again, there are two types – end loading and top loading. The latter is best suited for catering operations requiring you to stake your orders. Also, the top-loading bags are great for holding beverages, deli trays, and takeout containers – among many other things.
On the other hand, the end-loading delivery bags allow you to slide your pizza boxes into them for convenient deliveries. Both configurations will make deliveries more efficient. Notwithstanding, if your orders usually include a variety of items, it's best to purchase both top and end-loading pizza delivery bags.
Types of Insulation
Polyester, PVC, and Polyurethane are the three main types of insulation. The PU (polyurethane) features an open-cell design for excellent breathability and an odor-free experience. Plus, it's durable, lightweight, resilient, and flexible. On the downside, it can be a bit pricey.
The PVC option comes in soft and hard forms, and it usually comes with a lower price tag. They are easy to clean and resilient to grease and oil. More so, it's a semi-open cell foam.
Lastly, polyester foam insulations are breathable, durable, flexible, cut-resistant, and lightweight, which justifies their high price.
---
Best Pizza Delivery Bag Reviews
---
1.

Winco 20-inch Pizza Delivery Bags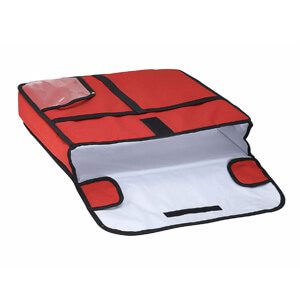 The Winco 20-inch Pizza Delivery Bags takes our top spot as the best food delivery equipment with insulated lining for proper thermal insulation. This unit is designed to keep your freshly baked pizza warm for a longer period.
This product is spacious enough to fit two large-sized pizzas at once. It's made from heavy-duty polyesters that guarantee superior durability and reliable performance.
Talking about construction, the Winco 20-inch Pizza Delivery Bags features a zipper closure and foam interior for unbeatable thermal insulation. Plus, its grommet holes help get rid of the excess steam to prevent a soggy pizza crust.
According to the manufacturer, this delivery bag keeps your pizza hot for up to 6 hours. Aside from its well-thought design and construction, this product is from a reliable and trusted brand Winco.
Verdict
This 20-inch pizza delivery bag is a great choice if you want to enjoy a hot pizza on your way home. It is well-constructed and designed to last for many years of use. It also fits two large pizzas at once.
Strengths:
Holds two large pizzas
Excellent heat retention
Heavy-duty polyester construction
Affordable price point
Weaknesses:
No strap handles for a more convenient carry
---
2.

Brandzini Insulated Pizza Delivery Bag
Earning a spot on this list is the Brandzini Insulated Pizza Delivery Bag with its commercial-grade construction. This equipment features a thicker insulation coating which makes it a clear winner in its category.
Brandzini Insulated Pizza Delivery Bag measures 20 x 20 x 6 inches, with enough space to hold 2 – 3 18-inch pizzas. In fact, this equipment features 7MM EPE Foam to offer excellent insulation to keep your pizzas hot, crispy, and fresh for up to 3 hours.
One of the highlights of this pizza delivery bag is the ID window at the top to keep receipts, business cards, or order tickets. Another thoughtful design is the carry handle, which is sturdy to handle the weight for a comfortable carrying experience.
On top of that, the manufacturer stands by this black delivery bag with a 30-day full refund policy. This way, purchasing the Brandzini Insulated Pizza Delivery Bag is actually risk-free and worth trying out.
Verdict
This black pizza delivery bag is designed to deliver pizzas in a safe, secure, and mess-free manner. It features 7MM EPE foam that keeps your pizzas warm for up to 3 hours. Moreover, the carry handle is sturdy to ensure a comfortable and easy carrying experience.
Strengths:
Comfortable carry handle
Superior insulation with 7MM EPE Foam
Keeps pizzas hot and crispy
30-day money-back guarantee
Weaknesses:
The insulation lining could be more durable
---
3.

Rubbermaid Insulated Pizza Delivery Bag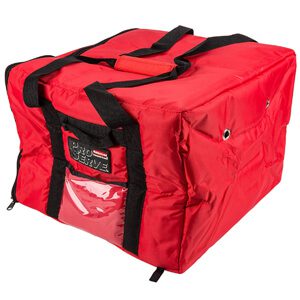 Delivering hot, freshly baked pizza requires the best food delivery bags like the Rubbermaid Insulated Pizza Delivery Bag. This product features a premium design with commercial-grade zippers and hooks 'n' loop closures to perfectly trap your foods' heat.
Furthermore, it features metal grommets for releasing excess steam to preserve your food's quality and taste profile. Even better, it keeps the foul odor and moisture free,
Rubbermaid Insulated Pizza Delivery Bag comes with easy-carry, padded straps for convenient handling and carrying during transportation. Plus, it features a hanging loop that comes in handy for smart storage and efficient drying.
What's more?
This model measures 17 x 17 x 13 inches to offer an extra-large size, perfect for delivering up to 6 14-inch pizzas at once. Also, you can easily arrange your groceries, pizzas, and other items without a fuss.
In addition, this unit features a heavy-duty nylon exterior which the manufacturer claims offer many years of reliable performance. The best part is this pizza bag can be tossed into your dishwasher for a convenient cleaning experience.
Like Brandzini Insulated Pizza Delivery Bag, this beautiful red delivery bag has a clear ID window to label your orders, temperatures, and dates.
Verdict
If you're looking for a pizza delivery bag that works for businesses, this is the product for you. The nylon exterior can withstand regular use and tear, so it should last for many years to come. Also, its large size enables you to organize plenty of items at once.
Strengths:
Dishwasher safe
Easy to use
Fit up to 6 14-inch pizzas
Commercial-grade nylon exterior for unparalleled durability
Superior heat retention
Weaknesses:
The zippers aren't as rugged as touted
---
4.

YUOIOYU Uber Eats Pizza Delivery Bag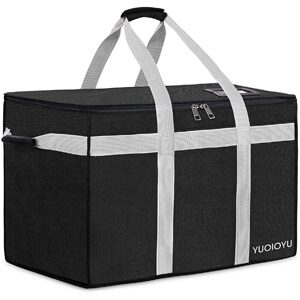 When it comes to handling the high demands, the YUOIOYU Uber Eats Pizza Delivery Bag is your best bet.
To begin with, this product offers ample storage space to accommodate several large pizza boxes from 4 to 12 inches. Its generous capacity allows you to deliver multiple items at once without compromising the quality of the items. This enormous insulated delivery folds easily when not in use for easy storage. That aside, the YUOIOYU Uber Eats Pizza Delivery Bag is made with high-grade insulated polyester material to offer long-lasting insulation to keep your pizza hot or your cold items cool for a longer period.
With its lightweight 5mm PF foam insulation, the YUOIOYU Uber Eats Pizza Delivery Bag is convenient to carry while retaining the bag's heat for 15 minutes and maintaining the food's temperature for 45 minutes.
Talking of its performance, it's equipped with an aluminum foil inner lining to offer an extra insulation layer to keep your items cold or hot longer.
Worth mentioning is the Jet black design offering excellent stain resistance, which makes cleaning this product a breeze. Besides, the manufacturer opted for robust steel zippers to prevent heat loss.
Verdict
The YUOIOYU Uber Eats Pizza Delivery Bag is an excellent product that can help you keep your food hot or cold for longer.
Strengths:
Thick polypropylene fabric for excellent durability
Transparent card holder
Padded, convenient carrying side handles
Large holding capacity
Easy to clean
Weaknesses:
It might look awkward for short people due to its large size
---
5.

RediHEAT HP160 Heated Pizza Delivery Bag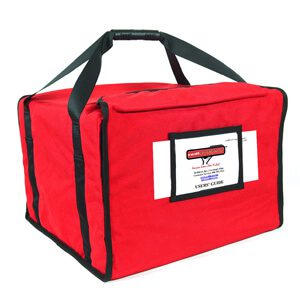 Whether you're looking to deliver burgers, ribs, wings, or pasta, the RediHEAT HP160 Heated Pizza Delivery Bag is your best bet for getting it there hot. This product lives up to its promises with its heated food delivery system.
Now, let's get to the nitty-gritty of the system. It consists of a sturdy insert, a durable heating element, and a cord.
Before delivery, this delivery bag is heated by plugging into a power source (AC) to raise the bag's temperature to about 180 degrees F for a 9 – 11min warm-up time.
With such a preheating system, this product delivers your pizza hot and perfect to your customers. Further, it's made with 1000 Denier nylon for incredible durability. Plus, it comes with a carrying handle for easy transportation.
Verdict
The Oven Fresh pizza delivery bag is a must-have for pizzerias that want to offer a hot and fresh product to their customers.
Strengths:
Sturdy build quality
Equipped with a rugged insert for extra stability
Handles for easy carrying
Reliable heating system
Quality thermal bag for proper insulation
Weaknesses:
Customer service is not impressive
---
6.

TheBiker Backpack Pizza Delivery Bag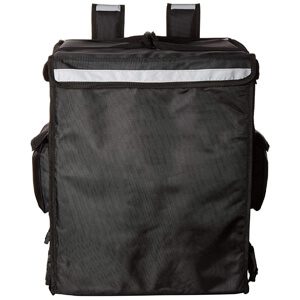 Designed to transport food from your kitchen to your customers, this TheBiker Backpack Pizza Delivery Bag is the best thermal backpack to deliver your orders hot.
This backpack features an isothermal coating to allow you to keep your food or order at the right temperature – cold or hot – for a longer period. Thanks to its resistant 1680D Nylon construction, you don't have to worry about its durability; it's sturdy enough to handle the rigors of daily use.
Also, it comes with an internal rod system to keep a rigid structure to allow you to easily arrange your pizzas or orders. Another thing about the TheBiker Backpack Pizza Delivery Bag features interior separators making it perfect to deliver three separate orders.
Even better, it has a side pocket that comes in handy for holding notebooks, mobile phones, accessories, etc.
Verdict
TheBiker Backpack Pizza Delivery Bag is an excellent option for delivery services and restaurants. Its robust construction, multiple storage options, and impressive design make it a great choice.
Strengths:
Two carrying modes: Carrier Model: top carrying handles and backpack
Heat insulated Pearl Cotton materials
Keeps pizzas hot for about 4-5 hours
Interior separator for organized orders
Weaknesses:
No instruction manual included
---
Frequently Asked Questions & Answers
---
Is the pizza delivery bag waterproof?
Certainly yes. This delivery equipment features an external shell made of nylon or vinyl, making the backpack waterproof.
What are food delivery bags made of?
These backpacks feature PU or PVC lining, while the external shell can be vinyl or nylon. Also, the best pizza delivery bag should feature an insulating material like EVA foam for better heat retention.
Are delivery bags only meant for pizza?
Some models are designed to allow you to transport everything from pasta to wings, pies, trays, subs, deli, beverages, sandwiches, etc.
Conclusion
We've reviewed the top 6 best pizza delivery bags in this post and included a comprehensive guide to ensure you make an informed decision. If you are still unsure which backpack to settle for, the Winco 20-inch Pizza Delivery Bags might be an excellent tool for your food service operation.
Notwithstanding, we are confident that any of the products on our list will preserve your pizza quality and ensure your customers get a hot and crispy order.