Every pizza lover understands the crucial role pizza cutters play in the preparation process. However, pizza cutters, even the best ones, lose their sharpness which makes it difficult to slice your pizza easily. Sadly, a dull pizza cutter rips your pizza apart, hence ruining your favorite homemade pizza.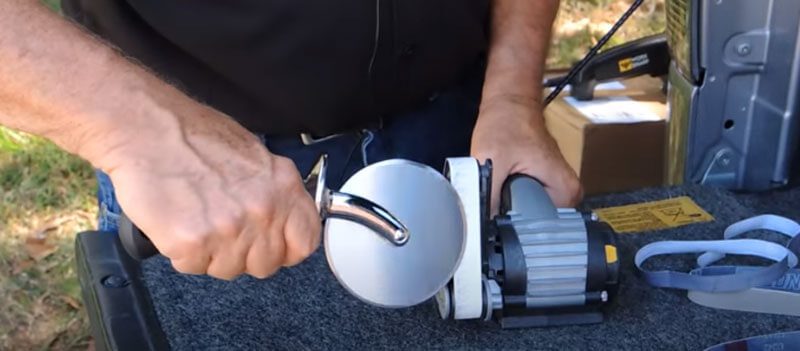 Turns out, you don't have to throw away your pizza wheel if it goes blunt; instead, purchase a sharpener to regain the blade's acuteness. But with hundreds of options available, choosing the right one can be a daunting task.
Luckily, we've handpicked the top 5 best pizza cutter sharpeners and included a detailed buying guide to ensure you make an informed decision.
Top 5 Pizza Cutter Sharpeners
Why Should I Invest in a Pizza Cutter Sharpener?
Investing in a pizza cutter sharpener can be a wise decision for several reasons.
Firstly, a sharp pizza cutter ensures efficient and effortless cutting of pizzas, reducing the risk of uneven slices or tearing the crust. This is especially important for businesses in the food industry that rely on quick and consistent pizza preparation.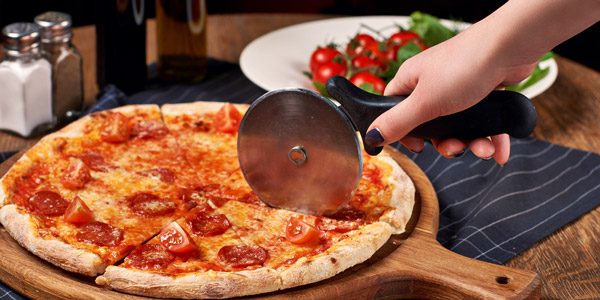 Additionally, maintaining a sharp pizza cutter prolongs its lifespan, saving you money in the long run. Regular sharpening prevents the blade from becoming dull and ineffective, ensuring that your investment remains functional for an extended period.
Lastly, a sharp pizza cutter promotes food safety by minimizing the chances of cross-contamination. A dull blade can drag toppings across the pizza, potentially spreading bacteria or other contaminants. By investing in a pizza cutter sharpener and keeping your blade sharp, you can prioritize both efficiency and hygiene in your kitchen operations.
But before that, check out what you need to know when buying a Pizza Cutter Sharpener in our buying guide section:
Things to Consider When Shopping for the Best Pizza Cutter Sharpener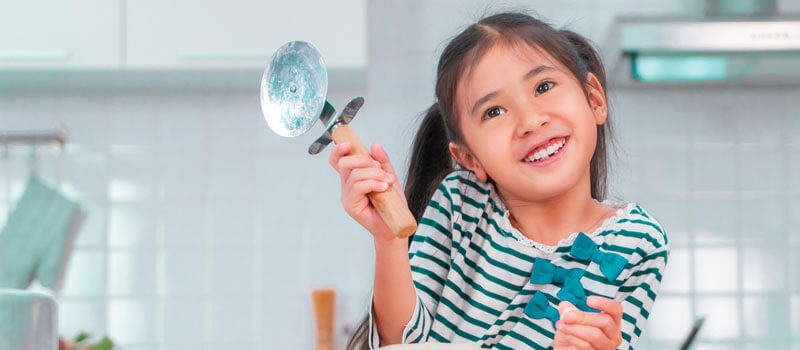 Electric vs. Manual
The electric models are expensive and perfect for people with a flexible budget or looking to customize their knives' grind angles. Also, they are more consistent and faster than the manual pizza cutter sharpener. Thus, making them a good choice for anyone with a high budget.
Ease of Use
Ease of use and convenience should not be ignored, especially when purchasing a knife sharpener. Messy countertops, time-consuming steps, and inconsistency might be reasons people stay away from whetstones. But for more convenient and faster results, you should consider a V-notch pull-through or electric sharpener.
Versatility
While most sharpening tools out there can handle different pizza sizes, it's better to double-check the grind angle and blade type before purchasing a pizza cutter sharpener. Most slicers are durable and hassle-free to maintain with a honing rod or whetstone.
Most electric or v-notch sharpening tools sharpen your cutter at 15-degree angles. Sadly, regrinding your knife at this angle shortens your blade's life and requires constant sharpening. More so, you want to go for a model that allows you to sharpen both serrated knives and straight knives. Using the wrong tool on the serrated blade will ruin your knife.
Safety
Working with sharp tools demands safety features that shouldn't be ignored. Electric models are much safer than handheld pull-through sharpeners. With this sharpener, it is easier to make a deadly mistake. Thus, it's better to purchase the countertop V-notch sharpeners. For whetstone, the edge of the blade should be pointed away to prevent accidents.
---
Review of the Best Pizza Cutter Sharpener
---
1.

KitchenIQ 50009 Edge Knife Sharpener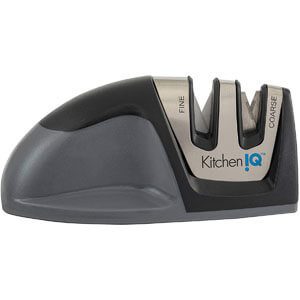 Our top choice is the KitchenIQ 50009 Edge Knife Sharpener, which features a nonslip base for better stability and a wobble-free sharpening experience. This product has a soft grip rubber handle for easy handling and a secure grip.
This device is a perfect choice for regaining your pizza cutter's edges and damaged ones. This sharpener comes in handy for polishing your slicer or touch-up your already sharp cutter quickly.
Thanks to its patented Edge Grip feature, this model allows you to sharpen on your countertop or table's edge, eliminating any risk of damaging your expensive counter as you drag your knives.
Even better, this product features a compact design for smart and easy storage. The KitchenIQ 50009 Edge Knife Sharpener has carbide blades that offer a snappy coarse edge setting and fine ceramic rods to hone the edges. It's suitable for both serrated-edge blades and straight-edge blades.
Strengths:
Small footprint
Edge Grip for incredible flexibility
Non-slip base for more stability
Soft grip rubber handle for better control
Weaknesses:
The coarse grit might be too harsh on your knives.
No directions on how to use it properly
---
2.

Sharp Pebble Premium Whetstone Knife Sharpener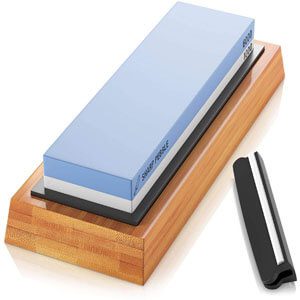 This sharpening kit comes complete with double-sided high-quality whetstone on a bamboo base to hold the stone for a stable sharpening surface. This kit also includes a detailed ebook, a step-by-step instruction manual, and a knife sharpening angle guide to make it easier for anyone to use.
This long-lasting and durable professional-grade knife sharpener stone sharpens any blade thrown at it, from paring knife to chef knife, butcher knife, pizza cutter, and many more. Even better, the Sharp Pebble Premium Whetstone Knife Sharpening Stone can sharpen your chisel, straight razor, and even an ax.
For the sake of safety, this kit includes a silicone base to keep the stone secured inside the bamboo base while sharpening. Thanks to the knife sharpening angle guide, it's much easier for anyone to maintain the right angle and pressure without sustaining any injuries.
This product is super easy to assemble and user-friendly. Plus, it does not require pricey honing/sharpening oil while sharpening. Also, you don't have to deal with any mess, and cleaning afterward is a breeze.
Strengths:
Two-sided grit: 1000 and 6000
No need for honing/sharpening oil
Non-slip rubber base for better stability
Made from aluminum oxide(corundum) material
Weaknesses:
---
3.

Presto 08800 EverSharp Electric Knife Sharpener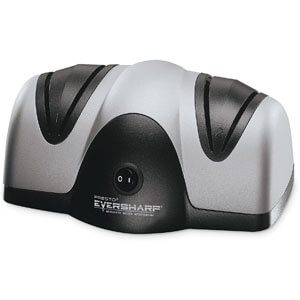 The Presto 08800 EverSharp is arguably the best electric pizza sharpener. This product rocks a sleek, modern design that compliments any kitchen decor. It comes in a black and silver motif, with soft edges, and a round shape making it a treat to the eye.
This 3-pound knife sharpener is equipped with three suction cups for good stability when in use. This machine has a two-stage sharpening system to help you regain your blade's acuteness. The first stage sharpens your knife roughly to eliminate any damage or abuse, while the second stage is appropriate for delicate sharpening and polishing.
Although this product was designed with home use in mind, its construction features premium materials, which makes it suitable for professional applications. This machine is touted to last almost a lifetime for an average kitchen. The sharpening wheelers are crafted from one of the hardest materials on earth – Sapphire.
Furthermore, the electric motor is built to withstand heavy-duty applications, making this machine a high-quality option for anyone looking to purchase the best pizza cutter sharpener.
Strengths:
Two stages for sharpening
Durable, long-lasting sharpening wheels
One-year limited warranty.
High precision
Suitable for professional applications
Weaknesses:
Cause a bit of mess on your counter
---
4.

Sharp Pebble Puck Multipurpose Waterstone Sharpener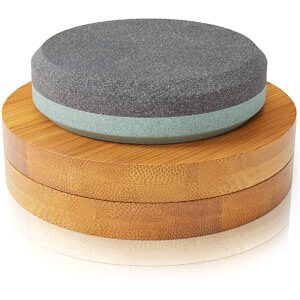 Seasoned pros and beginners will find this double-sided whetstone handy. It comes with an angle guide for people new to sharpening with a whetstone. This sharpener has two grit strengths rated 1000 and 6000. The formal is a bit coarse and ideal for sharpening dull tools and knives, while the latter is best used to achieve a stunning end polish.
However, you should expect some learning curve if this is your first time using this sharpener. Another thing to love about this multipurpose sharpener is its waterproof bamboo nonslip base for added stability. This feature allows you to focus on sharpening without hurting yourself.
Besides, it comes with a guidebook that includes step-by-step instructions on how to use the product. So, if you've got axes and carving tools that require honing maintenance, then this is one more reason to purchase the Sharp Pebble Puck Multipurpose Waterstone Sharpener. Plus, it's compatible with a wide variety of blades.
Strengths:
Non-slip bamboo case
Two grit options: 1,000/6,000 Waterstone
Free knife sharpening guide and angle guide
Suitable for most blades
Weaknesses:
Polishing might be a bit challenging.
---
5.

Knife Sharpener BOJ with Ergonomic Handle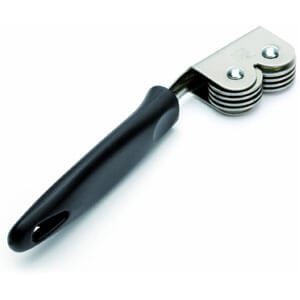 The BOJ knife sharpener is another tool designed to make your blade razor-sharp in a few strokes. It features a portable design with an ergonomic, easy-to-grip handle for secure and safe handling. This device has a hanging hole for convenient storage and easy access.
This sharpening tool is engineered with both left and right-handed people in mind. The handle is about 4.5 inches long to prevent accidental cuts. Its sturdy construction ensures it serves your purpose for a long period. On top of that, this device can withstand a drop without falling apart.
Furthermore, the manufacturer stands by its patented wheel system and offers a 100% money-back guarantee, which shows a high level of confidence in this tool. Unlike most products with two sharpening stages, the BOJ knife sharpener features just one effective sharpening stage to create a razor-sharp edge with fewer strokes.
However, it's not advised to sharpen your ceramic knives with this product.
Strengths:
Easy and safe to use
Tough, ergonomic handles
Portable design
Money-back guarantee
Weaknesses:
---
Related FAQs
Can I sharpen the pizza cutter?
Yes, you can sharpen your pizza cutter. The best way to do this is with a sharpening stone or a sharpening steel. You can use the same technique as if you were sharpening a kitchen knife. Start by holding the blade at a 20-degree angle and then slide it across the stone in an arc motion. Move the blade from one side of the stone to the other until you have achieved a sharp edge.
What is the best tool to cut the pizza?
The best tool to cut a pizza is a pizza wheel. Pizza wheels are designed specifically to cut through the crust of a pizza with ease and precision. They come in various sizes and feature a sharp, stainless steel blade that easily slices through even the thickest crusts.

Additionally, they have an ergonomic handle that provides a comfortable and safe grip when cutting.
How can I make my cutter sharp again?
Sharpening a cutter can be done in a few different ways, depending on the type of cutter you have. For a manual knife, you can use a sharpening stone to sharpen the blade.

You'll want to use a coarse grit side of the stone first, followed by a finer grit side. Make sure to keep the blade at an angle while sharpening and use long strokes along the length of the blade.
Can I use any type of pizza cutter with a sharpener?
Most pizza cutters can be used with a sharpener; however, it's essential to check if the specific model you own is compatible with the sharpening tool before purchasing one.
Conclusion
We hope our best pizza cutter sharpener review and the detailed buying guide make your decision process easier. In our opinion, the KitchenIQ 50009 Edge Knife Sharpener is a decent option for people still on the fence. It has a nonslip bamboo base that won't slide around while working for full concentration on the blade.
Also, if you've got a flexible budget, you can't go wrong purchasing the Presto 08800 EverSharp Electric Knife Sharpener. This sharpening tool offers consistent and fast results. All in all, any of the products discussed in this post will help maintain your pizza cutter edge for razor-sharp blades/wheels.