For casual cooks, the digital kitchen scale might seem like an unnecessary device and will only end up cluttering your cabinets. While nothing beats skilled intuition, cooking with great precision delivers a consistent sumptuous meal.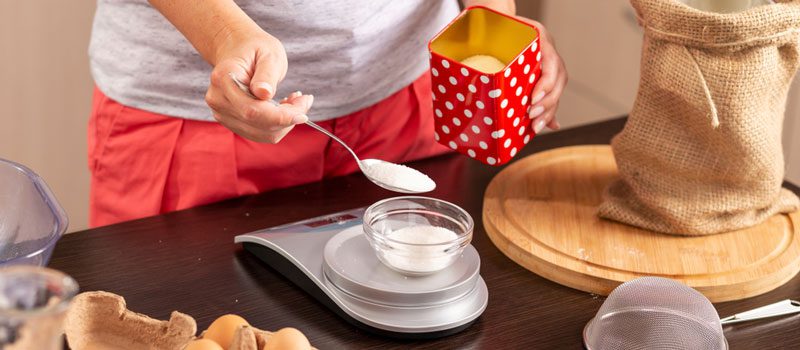 Regardless of your experience, many baking recipes require measuring the exact amount of ingredients to get the best results. Besides, it's a decent way for a novice to improve their baking skill, streamline their meal prep, and effortlessly get right at the kitchen chores.
With the food scale, you don't have to guess the right recipe measurements or size, which often is the underlying cause of your unsuccessful baking attempts. This device will always come in handy as a multipurpose gadget and help you free up your cupboard – fewer measuring cups and spoons to own.
And the best part, is you don't have to spend a fortune to own this scale. There are several brands offering high-quality products at affordable prices. Thus, in this post, we'll be looking at the top 7 best digital kitchen scales and how to make the right choice.
Top 7 Digital Kitchen Scales
What's a Digital Kitchen Scale?
This device is designed to precisely and accurately weigh food ingredients, which helps you get rid of guesswork. With this handy scale, bakers can easily measure the right amount according to dietary requirements or just achieve consistent cooking and baking results.
The food scale is a must-have in any kitchen, especially for novices in Europe looking to try out several new recipes, as the ingredients featured are measured by weight.
But before you buy one of these essential kitchen tools, you might want to check out these key factors to ensure you make the right call.
Things to Consider When Purchasing a Food Scale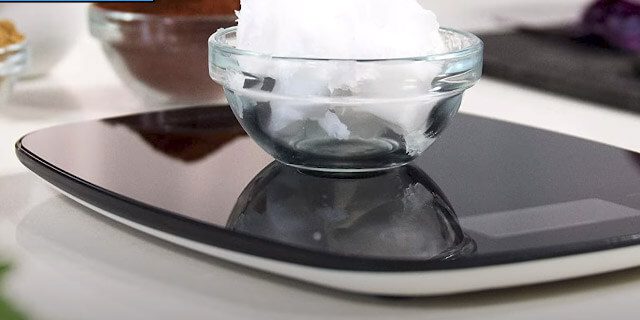 Digital vs. Analog
There are two types of kitchen scales – digital and analog scales. The latter uses an innerspring and a rotating pin to show the weight of your food ingredient. However, digital or electronic food scales have a display screen to read out the weight.
The electronic versions offer lots of perks, including storing data. Most scales out there today are digital versions and come with a digital readout showing decimal values. Thus, the digital models offer more accurate readings compared to the mechanical versions.
Capacity & Sensitivity
Also, you want to consider the kinds of food you are most likely to need a scale to measure. This will help determine the capacity of the scale that's best for your needs. If you want to weigh lightweight items of about 16 ounces, such as nuts, spices, and herbs, then you might be better off with sensitive scales. However, other models allow you to measure up to 25 pounds, which makes them fit for weighing items like whole poultry and cuts of meat.
Digital Features
Electronic models come with a host of features that will always be handy to get the task done with ease. Some models allow you to measure your items in different units of measurement – kilogram, grams, ounces, and pounds. Even better, the best digital kitchen scale should allow you to switch between these units effortlessly.
Another enhanced feature you might want to look out for is the tare function, which allows the gadget to display the content's weight only without adding the weight of the container. This function takes away the hassle of doing the maths yourself and saves you time. Also, there are models equipped with a baker's clock and time.
Some digital models feature calorie readings for a wide range of foods, which allows you to customize the recipes. Also, these appliances are equipped with memory features to keep track of your calories.
Platform & Container
Scales come in different platform sizes. Therefore, it's best to opt for a model with a decent-sized platform to let you weigh a wide range of items with ease. In addition, it might be best to choose a model with a container to contain your food with either wet or dry ingredients.
More importantly, the container should be easy to detach for a hassle-free cleanup experience. Some units include a measuring bowl attachment to measure your ingredients without any hassle.
Easy-to-Read Digital Display
Electronic versions feature different types of digital displays; some are large and easy to read, while others can be small and slightly annoying to read. In addition, you might want to settle for a product with a display placed for a convenient readout, as some models' displays get covered when trying to weigh your items. However, we prefer models with a pull-out display for the most convenient readout.
Ease of Storage
If you intend to leave the tool on your kitchen counter, it's important to go for a gadget to enhance your kitchen decor. There are a host of styles out there to add style and elegance to your kitchen. We recommend purchasing stainless steel models that would look great on any kitchen counter.
With these factors in mind, you can check out our detailed review of the best digital food scale to take your cooking to the next level and meet your dietary needs.
---
Digital Kitchen Scales Review
---
Digital kitchen scales have revolutionized home cooking by making prepping ingredients and measuring food easy and accurate. They come in a variety of styles, sizes, and prices, so finding the best one for you can be a daunting task. Here are seven of the best digital kitchen scales that are both affordable and feature-rich.
1.

Ozeri ZK14-S Pronto Digital Multifunction Kitchen Scale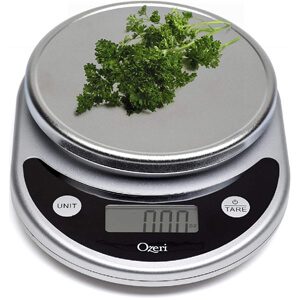 If you need to complete the smallest and largest cooking project without sweat, the Ozeri ZK14-S Pronto Digital Multifunction Kitchen Scale will be a great tool in your arsenal. This product comes in an elegant design and is available in different color options to match your kitchen decor.
This accurate electronic scale can handle an item's weight up to 5,100 grams (11.24 lbs) with precise graduations of 1 gram (0.05 oz) for a seamless cooking experience. It has an Automatic Unit Button that we really find helpful for converting between 5 measurement units – ml, g, lbs: oz, oz, lbs. The weight values are displayed on its easy-to-read LCD screen.
That's not all: the Ozeri ZK14-S Pronto Digital Multifunction Kitchen Scale is equipped with a Precision Tare Button to offer the actual weight reading of the content without considering the weight of the container or bowl. This scale stole our hearts with its latest enlarged weighing platform featuring an elegant chrome finish. Also, it comes with two large buttons for audible click confirmation.
This scale is powered by two AAA batteries, which are included in the package.
Here's another thing: it features a 2-minute auto power-off function to help preserve the battery life. In addition, it's easy to replace the battery thanks to its easy-access battery compartment.
Strengths:
Two AAA batteries included
Available in a wide range of colors
Widescreen LCD displays
It's equipped with a precision tare function
Weaknesses:
Its construction seems flimsy
---
2.

Etekcity Digital Food Kitchen Scale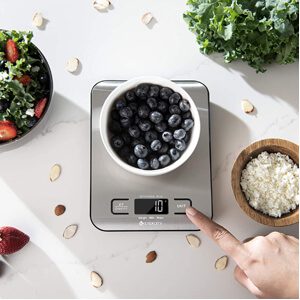 Next on our list is the Etekcity Digital Food Kitchen Scale. This model features a compact design that makes this scale easy to store and travel-friendly. Its food-grade stainless steel platform allows you to measure liquids, small items, and food with total confidence. This functional and essential tool supports weighing your ingredients using multiple measurement units for convenience.
Wait, there's more: the Etekcity Digital Food Kitchen Scale sports the tare function to allow you to take the net weight of your item without the container's weight. This model features a stainless steel surface that makes cleaning after using a cinch. Also, this multipurpose kitchen device is built to handle about 11 pounds.
Furthermore, it sports a clear LCD that offers a reliable readout. Also, you get a low battery indicator, which means you can't suddenly run out of juice. Sadly, you can't get decimal points, which might be a deal-breaker for people looking for precise measurements. Also, some users have complained about the device being inaccurate after a couple of months of use.
Strengths:
It is equipped with the tare function
Clear LCD display
Food-grade stainless steel surface
Compact design for impressive portability
Weaknesses:
It provides just whole numbers
---
3.

Escali Primo P115C Precision digital Kitchen Scale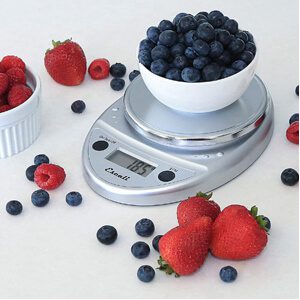 This is the best digital kitchen scale from Escali. This product has a 5,000-gram (11 lb) capacity and offers precise graduations of 1 gram (0.05 oz) for a seamless cooking experience. Even better, users can easily change the unit of measurement: g, lb: oz, oz.
Another thing we love about this model is its sealed display and buttons for extra protection and a worry-free experience against accidental spills. This scale comes with just two buttons to operate the gadget without stress.
Aside from the two-button programming, it rocks the tare and automatic shut-off feature. This accurate, simple-to-use food scale comes in a chrome finish to enhance your office or kitchen decor.
Talking about the design, this model features compact, quick-clean, and spill-proof construction, which also feels sturdy. But the best part for us is the large LED face that gave one of the easiest readout experiences on this list.
Furthermore,
The Escali Primo P115C Precision Digital Kitchen Scale is available in a wide range of fun, playful colors to match your style. More importantly, it runs on two AA batteries with an easy-access battery compartment.
Strengths:
Easy 2-button operation
It's equipped with tare and automatic shut-off features
Easy and snappy to clean
Spill-proof design
2-year manufacturer warranty
Weaknesses:
---
4.

Ozeri Touch Professional Digital Kitchen Scale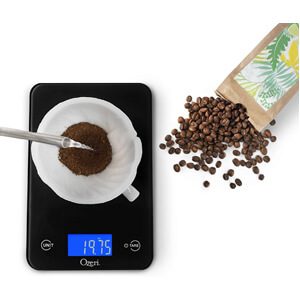 The Ozeri Touch Professional Digital Kitchen Scale packs a lot of perks to guarantee a seamless experience. This product is equipped with an advanced touch-sensitive button which makes this scale very intuitive and user-friendly. On top of that, we love its large LCD screen for snappy readout. It displays the weights in ounces, grams, kilograms, and pounds, and switching between these units of measurement is foolproof.
What's more?
This unit features a colored tempered glass surface touted to be a better and stronger alternative to normal glass. But what impressed us is its unique thin design. This model rocks the four latest high-precision GFX sensors to guarantee accurate measurements from 0.05 – 12 lbs.
Still, on its bright side, this model is equipped with the precision tare feature, which ensures the scale does not consider the weight of the container/bowl. Thus, it automatically does the maths and displays the net weight of the items. The Ozeri Touch Professional Digital Kitchen Scale comes with two lithium batteries, which do not require a screwdriver to get access.
Strengths:
New bright LCD with an improved viewing angle
Automatic shut-off feature to preserve battery life
It displays net weight in both the US and international metric systems
It's equipped with 4 high-precision sensors for superior accuracy
Weaknesses:
It runs on expensive batteries
---
5.

Taylor Digital Glass Top Household Kitchen Scale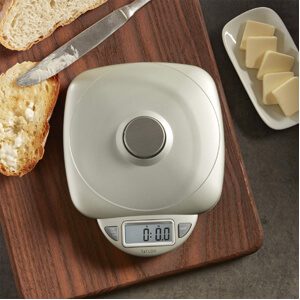 This product comes from Taylor, one of the best brands offering reliable kitchen products. This scale features top-quality products for accurate measurement. This device measures your ingredients in both standard and international metric units up to 5 kg / 11 lbs in 1g/0.1oz increments.
This model features a versatile design with a sturdy, tempered glass platform. This material is stain-resistant and easy to clean. Furthermore, this model sports several intuitive features such as the tare and auto-off features. The latter makes it easier to weigh your content with the container while only displaying the net weight of the items.
What else?
This model is equipped with a Low Battery Indicator to let you know when you run out of juice and need to replace the two AAA batteries. In addition, it has a 0.5-inch LCD readout that provides crisp, clear digits.
Strengths:
Wide LCD readout
Easy to clean
It is equipped with tare and auto-off functions
It comes with a Low Battery Indicator
Stain and odor-resistant weighing platform
Weaknesses:
The display has no backlit
---
6.

Cuisinart KML-KO3B PrecisionChef Kitchen Scale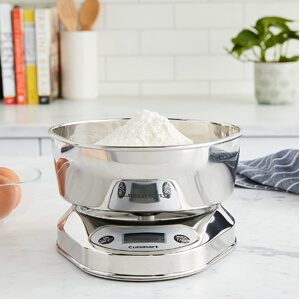 The Cuisinart KML-KO3B PrecisionChef Electronic Kitchen Scale is another decent choice. It comes with a tempered glass platform that feels sturdy and will stand the test of time. This model comes with a removable stainless steel cover, or use the additional bowl sanitary to allow you to handle your food safely.
The additional stainless steel bowl features a versatile design. It has gradient marks to allow you to measure the items with ease. At the same time, when inverted, it functions as a protective cover that also adds style and elegance to your kitchen countertop.
Further, it sports a large LCD readout to display the weight in metric or imperial mode, which we find easy to read at a glance. But what we love most about the Cuisinart KML-KO3B PrecisionChef Electronic Kitchen Scale is the Add-on Weight feature that lets you measure several ingredients simultaneously without having to start all over.
Strengths:
Large illuminated LCD readout
Touchpad buttons for easy control
Dishwasher-safe bowl for a snappy cleaning experience
Durable and sturdy tempered glass weighing platform
Weaknesses:
It tends to shut off quickly
---
7.

Taylor Digital Waterproof Kitchen Scale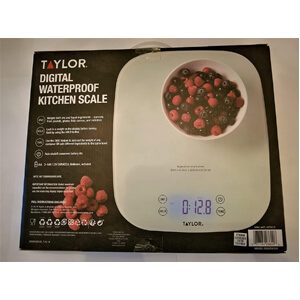 Another spot is another kitchen scale from Taylor This product is suitable for measuring both dry and wet ingredients. It measures your items in pounds, millimeters, fluid ounces, and grams.
The Taylor Digital Waterproof Kitchen Scale comes with two functions that make it one of our favorite kitchen scales. This device has a Hold button to lock the value displayed on the screen before removing the content.
Next is the Tare feature to measure the net weight of the content in the container. Also, this scale has an auto shut-off feature to preserve the battery life for prolonged use. Talking about batteries, it comes with three AAA batteries and an easy-access compartment.
Strengths:
White, sleek design
It's equipped with the tare feature
Auto shut-off to conserve battery
Waterproof for extra durability
Weaknesses:
---
Digital Kitchen Scales Questions & Answered
---
How accurate are digital kitchen scales?
The accuracy of this device varies. Some models weigh food in 0.05-ounce or 1-gram increments, while others display the readings in 0.1-pound increments. Thus, it's best to choose a product that weighs foods in the smallest increments.

Also, you might want to choose a food scale with a "tare" feature to allow you to get the right net weight of the content without considering the container's weight.
How should I store my digital kitchen scale?
It's best to store this device in free space in your cabinet. You don't want to stack stuff on top of the scale. This would damage the weight sensors leading to inaccurate readings. Keep in mind that your scale might be spill-proof and not waterproof. Thus it's advisable to wipe it down before storing it.
Can I purchase an analog kitchen scale?
We prefer the electronic scale for its convenience and accuracy. However, if you've another reason, then you can settle for a mechanical scale.
Which kitchen scale is most accurate?
There is no definitive answer to this question as accuracy can vary depending on the brand and model of the kitchen scale. That said, some scales are more accurate than others, so it's worth doing your research before purchasing one. When looking for a kitchen scale, be sure to consider factors such as weight capacity, precision, and whether it has a tare function.
Conclusion
The best digital kitchen scale will come in handy for both professional and home cooks. This essential tool makes meal prepping a breeze without cluttering your countertop with a host of measuring tools.
However, there are models out there, from good to great; but we hope our review helps you make the right choice. But if you're still not sure which scale to bank on, then check out our buying guide to ensure you make an informed decision.