Pizza is one of the most delicious inventions of man. It has almost everything enjoyable about food, packed in a single bite! I mean, who does not enjoy the crispy crunchiness mixed with the gooey elasticity of cheese? Add in the savor of tomatoes together with your favorite toppings – it makes for a truly irresistible dish!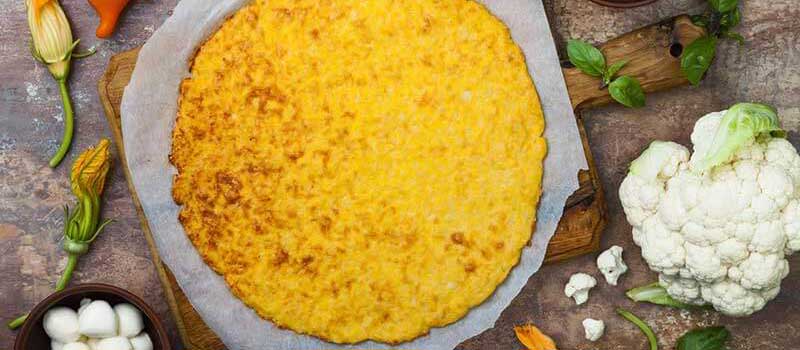 But with all the goodness that comes with our favorite food, it is not always healthy for us, especially when we need to cut weight and decide on a low-carb diet. Or, for those who are gluten-intolerant, our love for pizza can quickly put us in a real dilemma.
However, this does not have to be the case. Because you can enjoy pizza without the complications of wheat-based flour.
Cauliflower Pizza Crust
And on that note, I introduce to you the Cauliflower Pizza Base Recipe.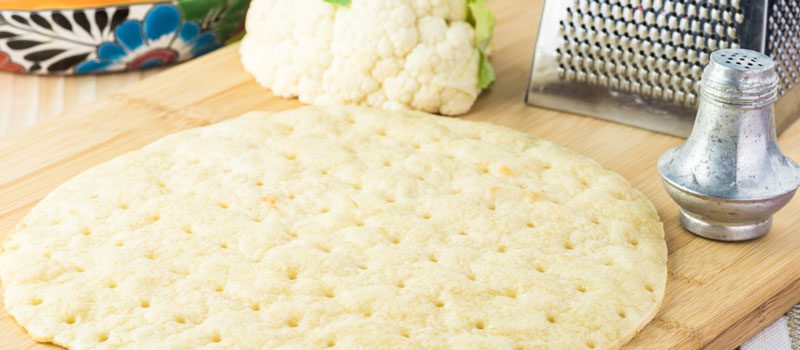 Cauliflower is a cruciferous vegetable, a distant cousin of broccoli and cabbage. It has a very high fiber content, which helps you digest food better and makes you full for longer (especially when you are trying to lose weight).
The vegetable also contains antioxidants that protect against cancer—an excellent source of vitamins that strengthen bones.
But perhaps more importantly, Cauliflower serves as an excellent pizza crust. With that said, let's get into the
Ingredients:
2-pound Cauliflower (riced)
2 eggs (beaten lightly)
½ cup grated Parmesan
½ cup shredded mozzarella
½ teaspoon dried oregano
½ teaspoon salt
Instructions
Rice the Cauliflower: You want to process your raw Cauliflower into a fine, rice-like consistency.
To do this:
Remove the stalk from your Cauliflower and break it into florets.
Pour the florets into a steamer basket and put them in a pot to steam.
Cover the pot and steam the Cauliflower till it is soft.
Bring out the food processor, pour the steamed Cauliflower in it, and process till it achieves a fine, rice-like consistency.
Dry the Cauliflower: This is the secret to getting a crusty imitation of flour-based pizza. You have to drain the processed Cauliflower to remove all moisture in it. Get a clean dish towel and pour the steamed cauliflower rice into it. Squeeze out as much moisture as you can – till the rice is dried.
Mix the ingredients: Get a large bowl and pour the processed cauliflower rice into the bowl; add the Parmesan, mozzarella, lightly beaten eggs, and salt. Mix up the content of the bowl till it is even.
Put the dough on a baking sheet: Line a baking sheet with parchment paper (to make it easy to flip). Then press the dough and spread it into a flat circle on the sheet.
Bake in an Oven: Preheat the oven to 400 degrees Fahrenheit. Slide onto the baking sheet and bake for about 30 minutes. Aim for a dry and golden texture. Then flip the sides using the parchment paper – baking for about 15 minutes more for the other side to achieve the same texture.
Add Topping: Bring out the crust from the oven and add sauce, cheese, and your preferred toppings. Return the baking sheet back to the oven and bake for a few more minutes.
---
Frequently Asked Questions & Answered
---
Why is my cauliflower pizza crust soggy?
For some people, cauliflower pizza crust just doesn't work. Why? You may ask. Well, the number one reason is that it's soggy. So what can you do to fix this? Don't over-steam your cauliflower and add a bit of rice flour and baking powder to help bind everything together in order to get a nice and crispy crust with your favorite toppings!
Is cauliflower pizza crust healthier than regular crust?
For some people, eating pizza is an indulgence. However, some people are looking for ways to lighten up the dish to make it healthier for them. Cauliflower crust can be a healthier alternative to traditional pizza crust, but is it better? That answer varies depending on how the crust is prepared.
What is a cauliflower pizza crust made of?
The cauliflower pizza crust is a low-carbohydrate, gluten-free alternative to traditional pizza crust. It's made from only cauliflower and cheese.

It can be a great option for those on a calorie-counting diet, or people with gluten sensitivities or allergies.

For those who choose cauliflower over grains, it might not be as satisfying as a traditionally doughy crust, but it'll still be a fresh and healthy meal.
Conclusion
Hopefully, you enjoyed our cauliflower pizza base recipe. Remember to dehydrate the cauliflower rice to get a crispy crust properly. Slice your pizza and serve it warm. For those looking to lose weight, you will be delighted to know that a cup of chopped Cauliflower only has about 27 calories!
Note that you won't be getting the same taste as a dough crust. Instead, you will be getting a newer, tasty, and irresistible treat.